When you're run down and stressed out, the delicate skin under your eyes takes a beating, causing it to appear more puffy and wrinkled. And what can be better to rev them up than some eye pads that fusion a juicy cocktail of skin goodies? Although eye patches won't miraculously erase wrinkles, they're a great way to plump and nurture the skin with hydrating and nourishing ingredients. Not to mention, they're totally Instagram-worthy and can make for the perfect selfie moment.
We scoured the internet and found the absolute best eye patches for wrinkles. They are loaded with hyaluronic acid, vitamin C, amino acids, and a whole host of other ingredients that work together to leave your skin looking supple and radiant. But before we go to the good bit, let's dive into some tips to help you optimize their effectiveness.
Apply them on clean skin: Be sure to thoroughly cleanse your eye area and remove any makeup or debris before applying them. This will allow the ingredients to penetrate the skin more effectively.
Chill your eye patches: Stash them in the fridge before using them to give them an extra cooling effect that can help reduce puffiness.
Leave them on for the recommended time: Trust us, we know it can be tempting to leave your eye patches on for hours on end, but if they contain retinol, overdoing it can lead to some serious dryness. On the flip side, if you don't leave them on long enough, you won't get their full benefits.
Apply eye cream afterward: After using eye patches, follow up with a hydrating eye cream to further nourish your skin.
The best eye patches for wrinkles
---
1
Peter Thomas Roth Lift & Firm Hydra-Gel Eye Patches
Revive your tired, dull eyes with these hydrating patches packed with moisture-boosting humectants like hyaluronic acid, aloe juice, and glycerin. But let's talk about the real star of the show: colloidal gold, which not only does it help other ingredients penetrate deeply but also provides a firming and lifting effect. As an added bonus, they contain caffeine to constrict blood vessels and reduce puffiness and dark circles.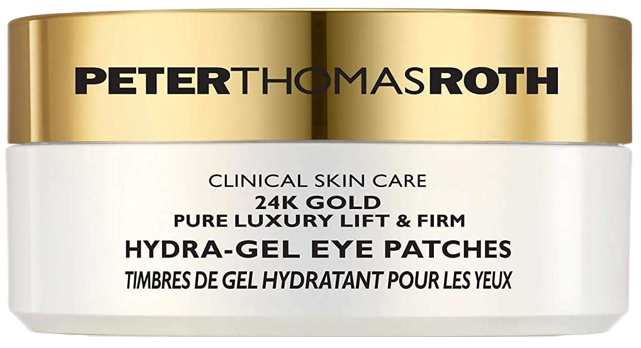 ---
2
Skyn Iceland Hydro Cool Firming Eye Gels
A quick 10-minute wear of these eye patches promises to de-puff and revitalize the skin and make it appear more toned. They contain a type of peptide that calms muscles under the skin, which in turn reduces fine lines look, and a meaningful concentration of Icelandic glacial water, rich in fortifying minerals. Plus, the formula is free from parabens, fragrances, and silicones, and opthalmologist-tested, so even those with easily-reactive skin and sensitive eyes can indulge without worry about irritation.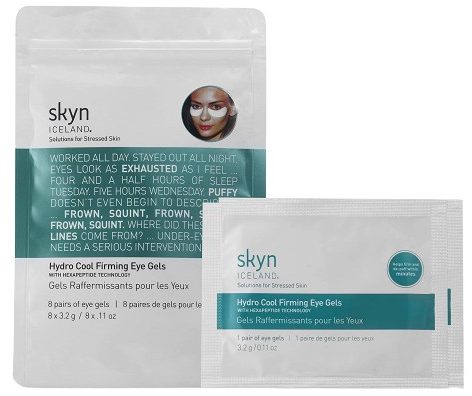 ---
3
Doppeltree Under Eye Masks
Get 8 hours of sleep in 20 minutes with these all-natural eye patches. They rely on the collagen-boosting power of gold and oat peptides to effectively reduce the appearance of crow's feet and wrinkles. What's more, vitamin C and licorice root team up to diminish dark circles and get rid of under-eye puffiness. You get 18 pairs of these masks for less than 20 bucks, giving you the best bang for your buck.
---
4
Shiseido Benefiance Pure Retinol Eye Mask
No room for doubt, when it comes to tackling signs of aging, retinol is where we're at. Shiseido has incorporated this wrinkle-fighter into these eye masks to get you firm and smooth skin in no time. They're also laced with hydrating squalane and brightening vitamin C to eliminate two common under-eye skin woes: dryness and dark circles. We absolutely love that the formula delivers a one-two punch and can also be applied around the mouth area to soften those laugh lines. One downside is that these masks contain synthetic fragrances and alcohol, which are potentially irritating ingredients for some people.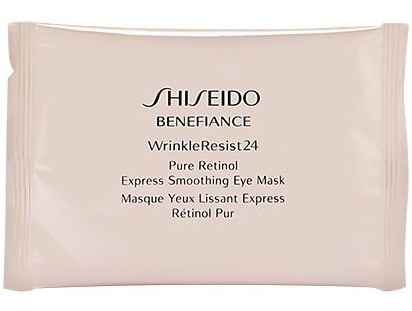 ---
5
Grace & Stella Energy Drink Under Eye Patches
Grace & Stella is a brand whose eye patches have been endorsed by countless A-listers, including Jessica Alba, Leona Lewis, and Jennifer Bryant. These ones are particularly good at smoothing out wrinkles with the help of vegetable proteins and amino acids. Meanwhile, glycerin, trehalose, and hyaluronic acid hydrate and soothe. Plus, they're extra thin, flexible, and never slide so you can multitask while wearing them.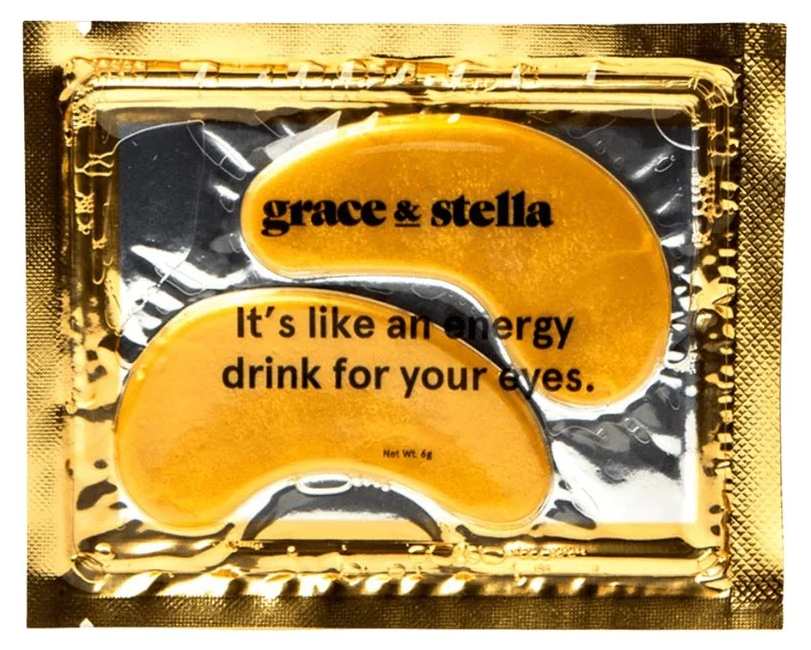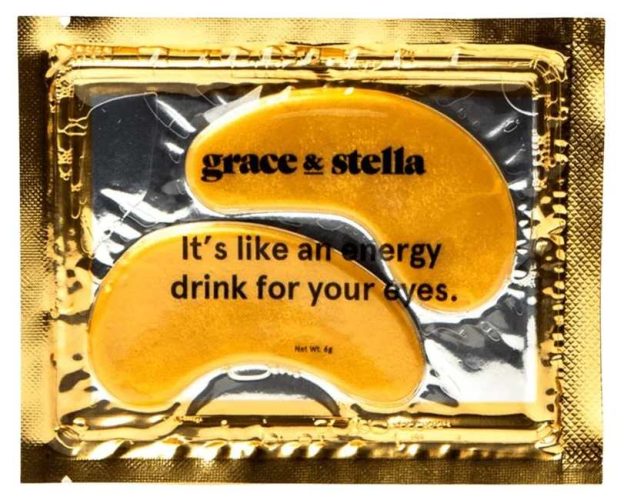 ---
6
Chanel Le Lift Flash Eye Revitalizer Kit
If you're open to splurging, consider Chanel's kit. The kit comes with a roll-on serum and ten sets of hydrogel patches, which means you get plenty of product to indulge in. The hydrogel patches are loaded with a blend of skin-loving ingredients that will have your under-eye area feeling refreshed and looking firm. Notable ingredients in this formula include tartaric acid, cereal extracts, yeast extracts, and mushroom extracts. On top of that, the serum is made with Chanel's legendary Le Lift signature ingredient, dicaffeoylquinic acid. Say that five times fast! But seriously, this ingredient is the real deal. It works hard to restore skin suppleness and improve elasticity and firmness.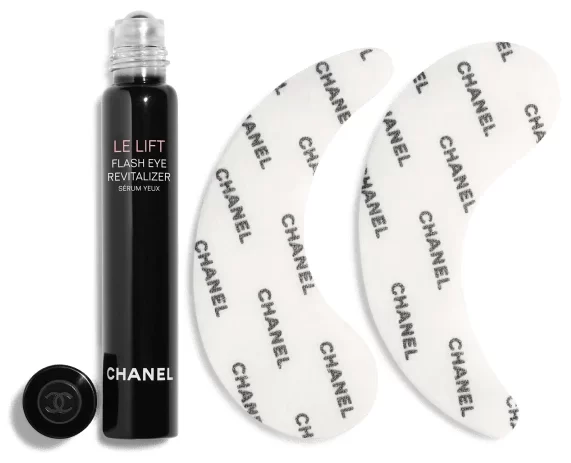 ---
7
Wander Beauty Baggage Claim Eye Masks
These little wonders enjoy a great deal of attention for a reason. The magic is in what they're made of—we're talking peptides that pump up the collagen and a whopping 17 amino acids that keep your skin super hydrated. There's also a mix of botanicals, such as aloe juice and calendula, to soothe and ease swelling. Although they're not designed specifically for wrinkles, these patches are true multi-taskers, providing calming, plumping, and restoring benefits all at once.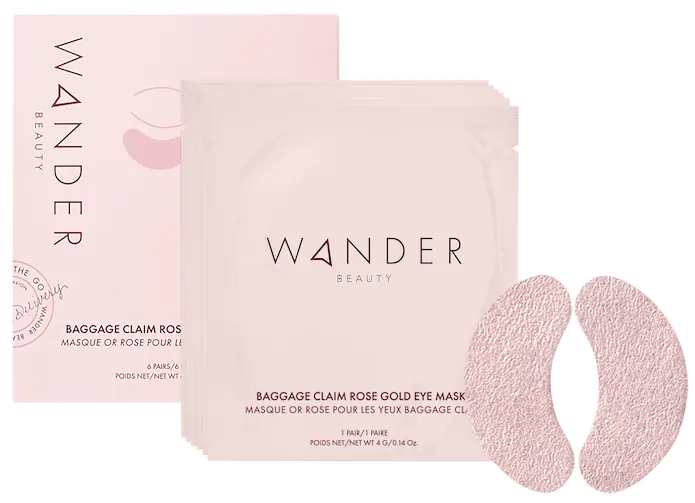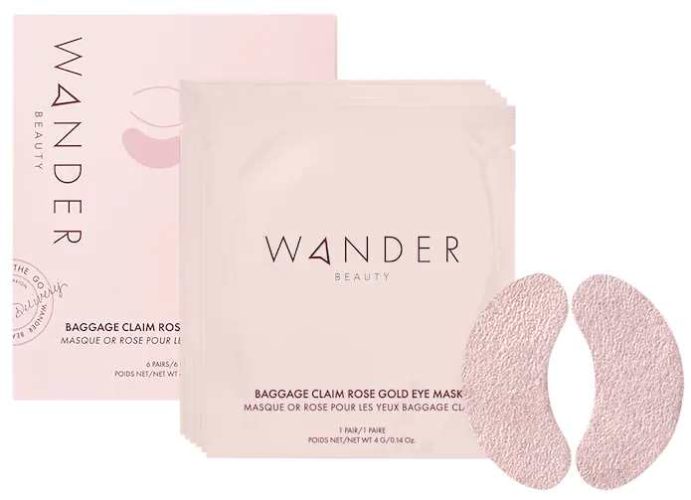 ---
8
Le Gushe Under Eye Patches
If your under-eye skin feels parched and tight, these pads will give you a serious dose of hydration that'll make it appear bouncier in no time flat. Seaweed polysaccharides work in tandem with collagen to give your skin a big gulp of hydration, while peptides and nano-gold kick in to protect and strengthen against aging. Le Gushe Under Eye Patches work best when worn for a solid 30 minutes.