We've all heard a glass of orange juice is a great way to kickstart the morning, yet giving your skin that same healthy dose of brightening antioxidants is an essential part of a nutritious skincare breakfast. Just a simple daily addition of vitamin C boosts your skin's natural defense against environmental stressors and promotes a more radiant, youthful complexion. And the best vitamin C toners solve the dilemma of using stronger vitamin C products and their risk of irritation with super conditioning, potent, and multi-tasking formulas. So these toners make adding antioxidant protection to your routine a hassle-free step.
What does vitamin C toner do?
Vitamin C is one of the first things dermatologists recommend to promote healing since it hikes up collagen levels. Plus, its natural brightening properties and UV protection are a must for anyone desiring a more even, smooth complexion. For these reasons, vitamin C is a favored antioxidant for combating aging signs, fighting hyperpigmentation, and shielding against free radicals.
Unlike typical vitamin C serums that have wait times between products, these toners combine steps for faster application. Their more lightweight formula helps to drive actives deeper into the skin, improving texture and conditioning at the same time.
The best vitamin C toners
Below, the best vitamin C toners to give your skin an extra glow.
---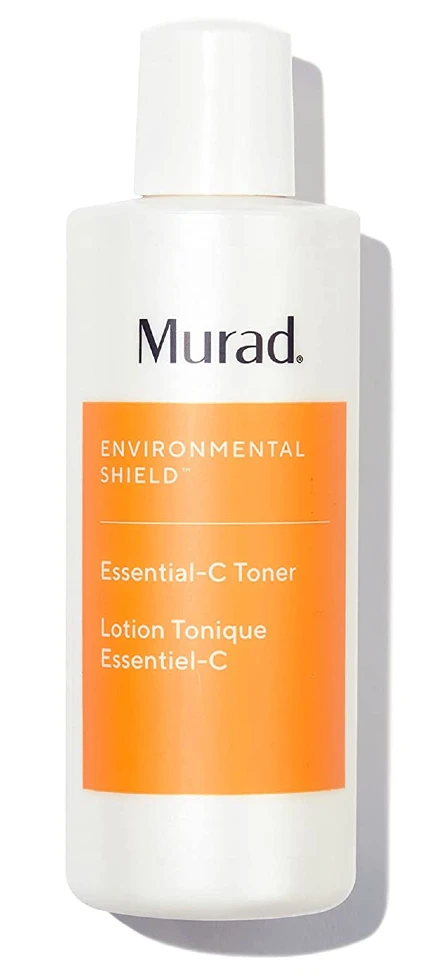 1
Murad Essential-C Toner
The best vitamin C toner to up your skin's defense against environmental aggressors and promote a youthful appearance comes from Murad. It offers two different fortifying forms of vitamin C, super stable ascorbyl palmitate and free-radical defender chitosan ascorbate. That's not all; a multitude of vitamin C-rich citrus fruits and coneflower extract, also known as echinacea, fight UV damage and repair the protective outer layers. The nano-particle size and enhanced absorption of these antioxidants are aided by anti-aging amino acids to further target fine lines and exfoliate dead cells.
---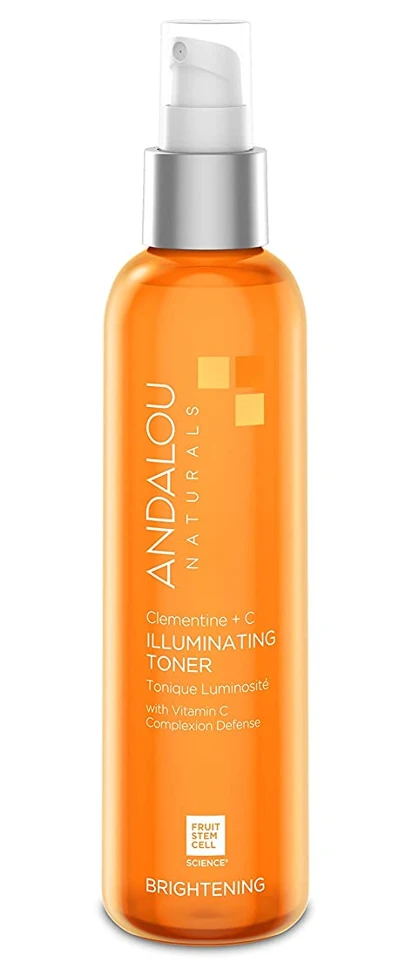 2
Andalou Naturals Clementine + C Illuminating Toner
Beating irritation while still getting intense brightening effects is the name of the game for this illuminating toner, which uses a gentler and better-tolerated form of vitamin C, magnesium ascorbyl phosphate. The super stable formula means this toner won't lose potency outside the fridge, plus plant-powered actives like clementine (great for discoloration), melon, sunflower, and aloe vera keep the formula more natural. The best vitamin C toners are all about nonabrasive efficacy, so the product uses rooibos and white tea extract to reduce skin damage.
---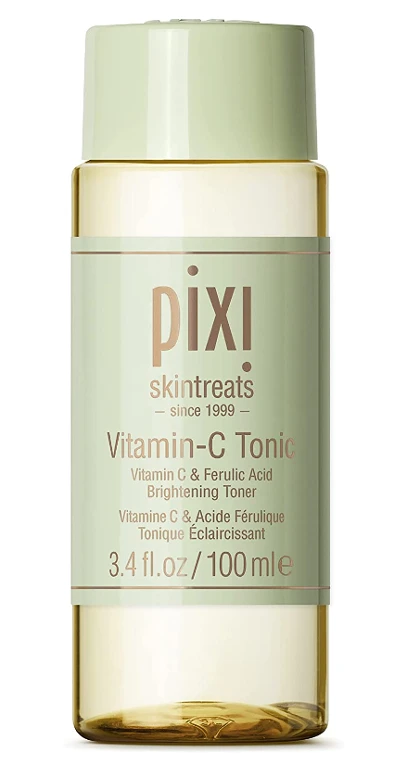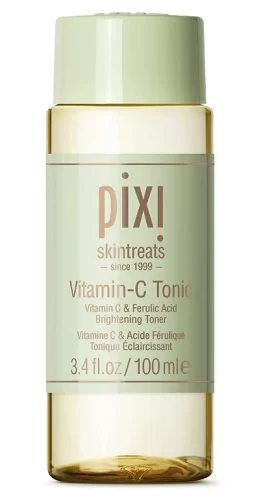 3
Pixi Beauty Vitamin-C Tonic
Refresh your skin by patting in Pixi's antioxidant blend of vitamin C, ferulic acid, vitamin E, and caffeine; with a yummy mimosa smell and quick absorption, it's the perfect morning wake-me-up. An even lighter version of toner, this tonic solution bursts hydration levels with aloe vera, hyaluronic acid, and glycerin while exfoliating with willow bark and fruit extracts for a dewy, fresh complexion.
---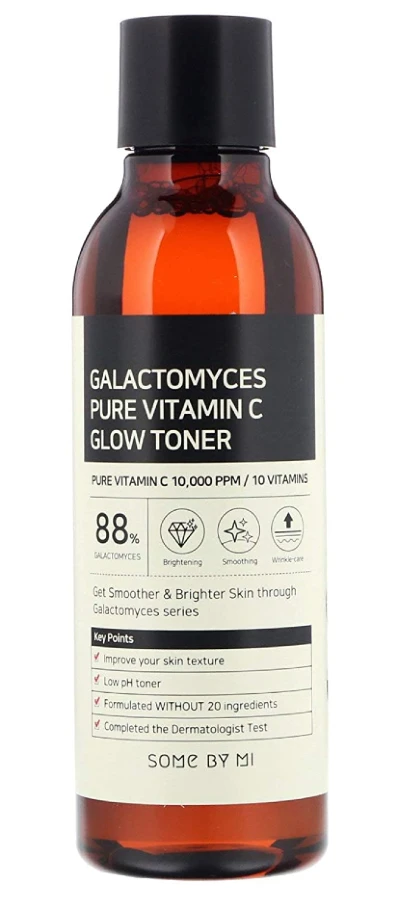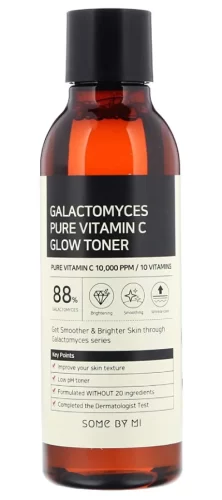 4
Some By Mi Galactomyces Pure Vitamin C Glow Toner
Containing 88% galactomyces, a byproduct of sake fermentation made famous by miracle worker SK-II, this toner guarantees a super evening and brightening makeover. Don't worry; they didn't forget the vitamin C either; the 99% pure ascorbic acid keeps potency up without sensitizing high concentrations. An additional ten liposomal vitamins and numerous anti-aging extracts mean this best vitamin C toner only has room for skin-effective ingredients.
---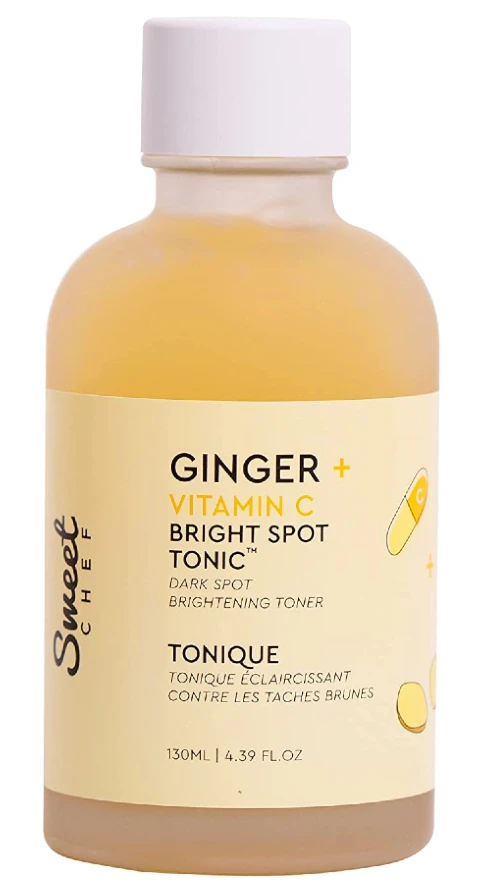 5
Sweet Chef Bright Spot Tonic with Vitamin C
This superfood product is 100% skincare goodness. Formulated without typical nasties like sensitizing alcohols, fragrance, and parabens, you probably still shouldn't drink it, though the smell sure is tempting. It's the best vitamin C toner for mature skin because the added turmeric is a revitalizer and protector, while curcumin is super effective at preventing cellular oxidation — a big driver of skin aging. Coupled with vitamin C, these two give you a glowing look all day long.
---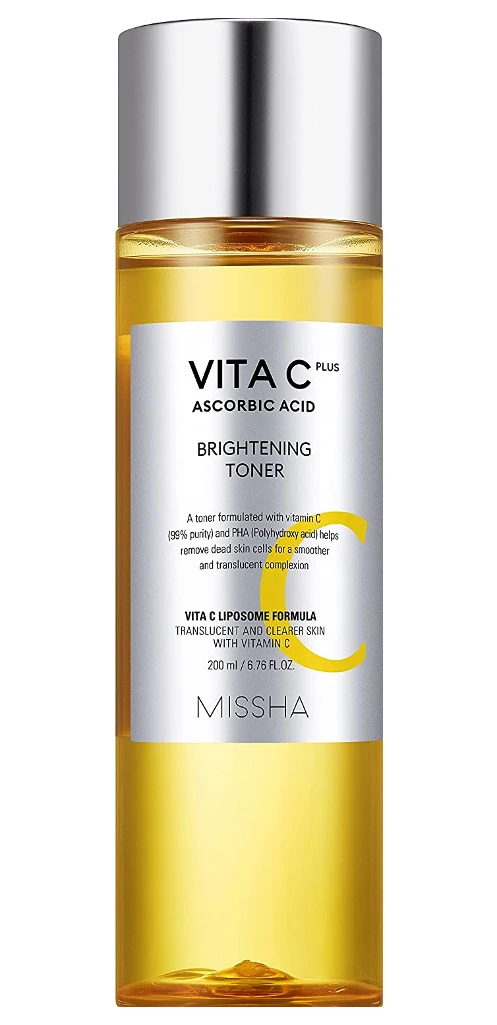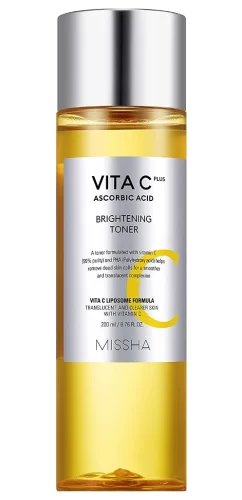 6
Missha Vita C Plus Facial Toner
A hit in Korea, the plus in the name refers to an extensive list of ceramides, collagen, hyaluronic acid, and antioxidants, all coming to the rescue of dull, tired skin. The light toner's finish hides the activeness of exfoliating PHA, which removes dead cells for improved texture. This best vitamin C toner rocks two other amazing antioxidants, vitamin E and fullerene, a free-radical sponge reputed for being both light and heat stable, for more extended daily protection.
---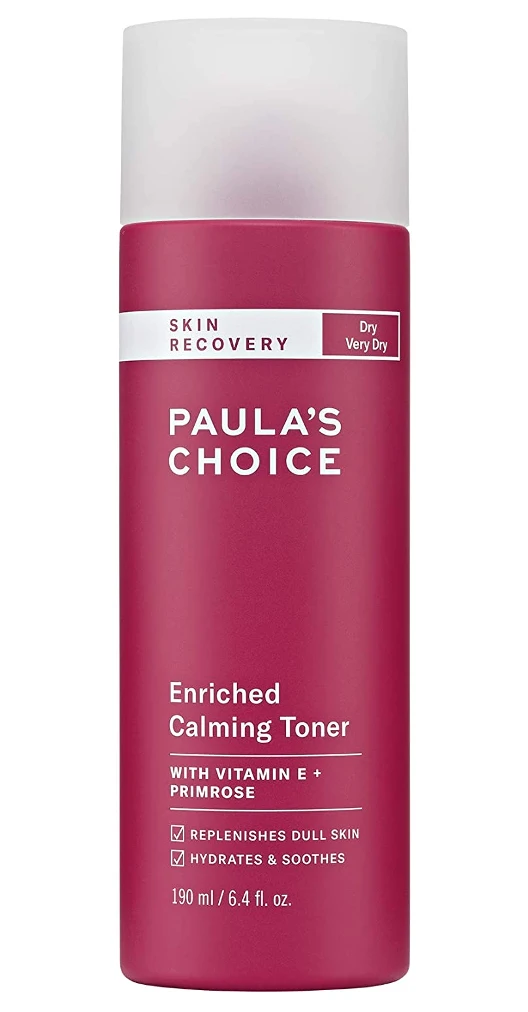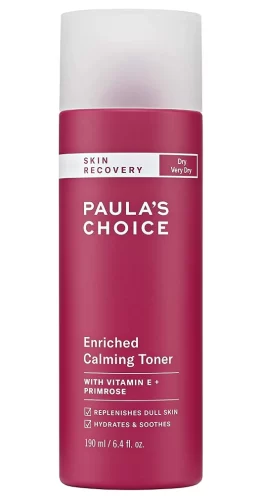 7
Paula's Choice Skin Recovery Enriched Calming Toner
The silky feel of this milky toner, with soothing panthenol, quickly cools off inflamed, irritated skin. In addition to redness calming borage oil, the toner's unique oil-soluble form of vitamin C, ascorbyl palmitate, is safe for easily aggravated sensitive, acneic skin. This is the best vitamin C toner for healing a damaged barrier due to the formula's rich fatty acid content and regenerative agents like niacinamide and allantoin.
---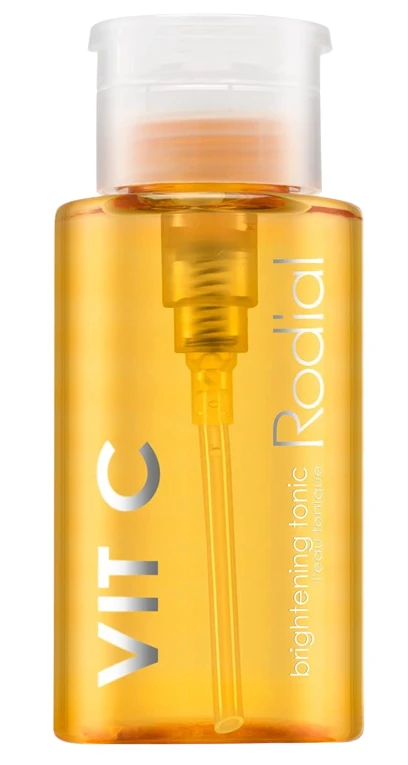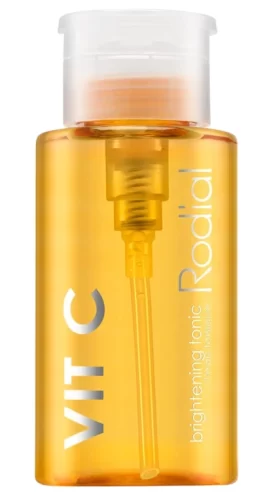 8
Rodial Vit C Tonic Deluxe
There's a lot to love about this tonic, but I'm personally a big fan of the lid. Keeping the focus on effortless skincare, the waste-free pump offers quick application with just a swipe of cotton. The 5% acid complex, made up of glycolic, lactic, and salicylic acids, doesn't hurt either, offering speedy exfoliation in a time crunch. The ideal vitamin C toner for improving clarity, the product's fruit acids, and added humectants like sodium lactate support natural glowing skin.
---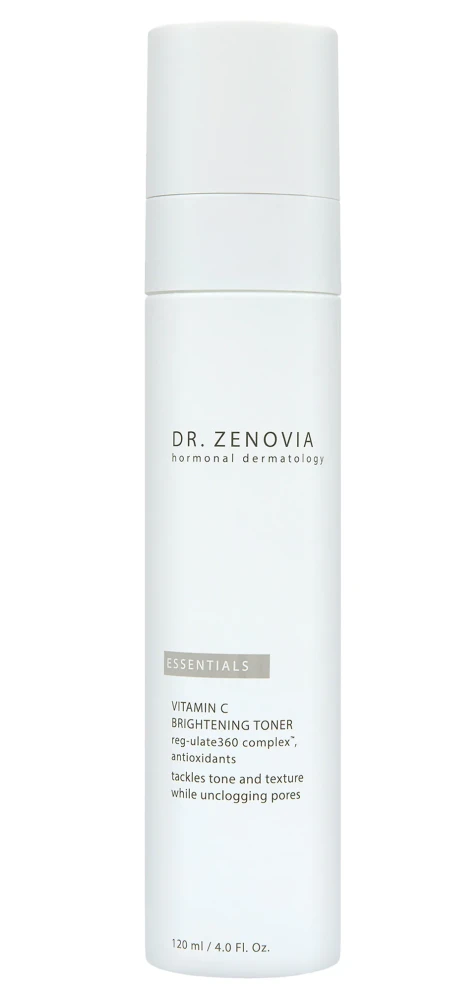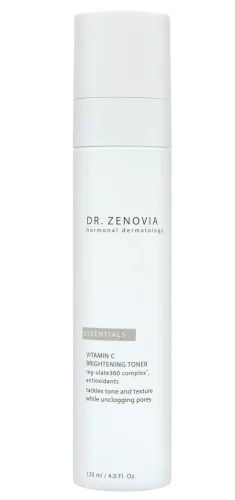 9
Dr. Zenovia Skincare Vitamin C Brightening Toner
A quick shake and this vitamin C-infused toner is ready to go! It might not turn back time, but it sure tries to enhance skin's appearance with renowned anti-agers like resveratrol and bakuchiol (retinol alternative) for increased cellular turnover. Besides, it's rich in redness calming green tea polyphenols, and softening vitamin E, providing a natural barrier to skin stressors.
---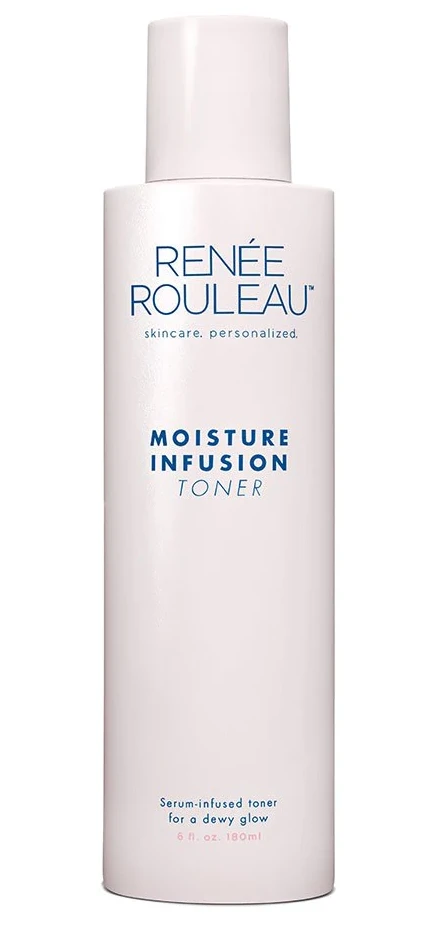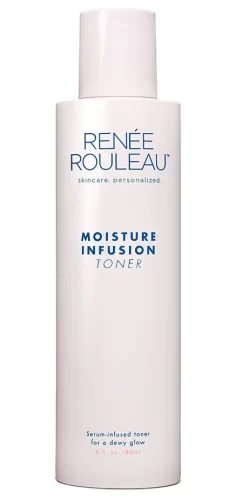 10
Renee Rouleau Moisture Infusion Toner
Living up to the name, this warming rosewood scented toner's super moisturizing phospholipids help maintain intracellular hydration while omega-rich black raspberry and blackberry oils intensely nourish dehydrated skin. Gentle ascorbyl palmitate sinks deep into the skin as this oil-soluble vitamin C takes advantage of the toner's rich fatty formula.
---
The takeaway
Beauty lovers have no dispute that a good antioxidant, especially one as effective as vitamin C, is an essential part of any skincare routine. That doesn't mean you're limited to conventional serums. When used in toner, however, it offers skin-friendly benefits to boost antioxidant protection with the added benefit of other potent actives and hydrators. Plus, waking up to their delightful citrusy scent is heaven.
---
FAQ about vitamin C toners
Can you use vitamin C toner every day?

Applying vitamin C toner every day is one of the best ways to keep skin shielded against environmental aggressors. It also gives a boost of radiance in the morning, perfect to kickstart the day.

Is vitamin C toner good for sensitive skin?

Since vitamin C toners aren't highly concentrated in actives and are also filled with hydrating and soothing ingredients, they work perfectly fine on all skin types, including sensitive ones.

Is vitamin C toner good for acne?

As long as the formula is non-comedogenic, vitamin C toners are great at relieving breakouts and reducing the redness and swelling that often come with acne.

Can you use vitamin C toner with vitamin C serum?

You can have vitamin C in both your toner and serum to boost antioxidant protection and promote a brighter complexion.