Oh, vitamin C toners, or as I like to call them, the quick skin boosters. Though not as concentrated as serums, toners work really well to give your skin an instant glow and swoop lingering impurities left behind by your cleanser. Their lightweight and liquid texture allows the active ingredients to sink into the skin and deliver their targeted benefits where it's actually needed. And when it comes to vitamin C toners, you get everything you could ask for. I'm talking about antioxidant, brightening, and collagen-stimulating benefits without overtaxing your skin with high concentrations of actives.
Now, don't expect a vitamin C toner to miraculously fade your dark spots or wrinkles overnight—they're not that powerful. Most types of toners are very much about hydration. They can be effective for revitalizing dull, tired skin and adding an extra layer of moisture and protection. Plus, they prepare your skin and help it absorb the rest of your skincare routine better.
Here are the best vitamin C toners to give your skin an extra glow:
The best vitamin C toners
---
1
Murad Essential-C Toner
This toner is powered by two forms of vitamin C and a mix of vitamin C-rich citrus fruits and works really well to brighten and energize stressed-out skin. Plus, with the addition of a hefty dose of astringent witch hazel water, you can expect tight pores and balanced oil production. And to top it all off, the formula blends a multitude of amino acids to condition your complexion and enhance its ability to retain moisture, ensuring all-day hydration even in the driest months of winter.
Price: $42
Size: 6.0 oz / 177ml
Pros: Contains two forms of vitamin C and hydrators
Cons: Pricey, and some find the orange scent too strong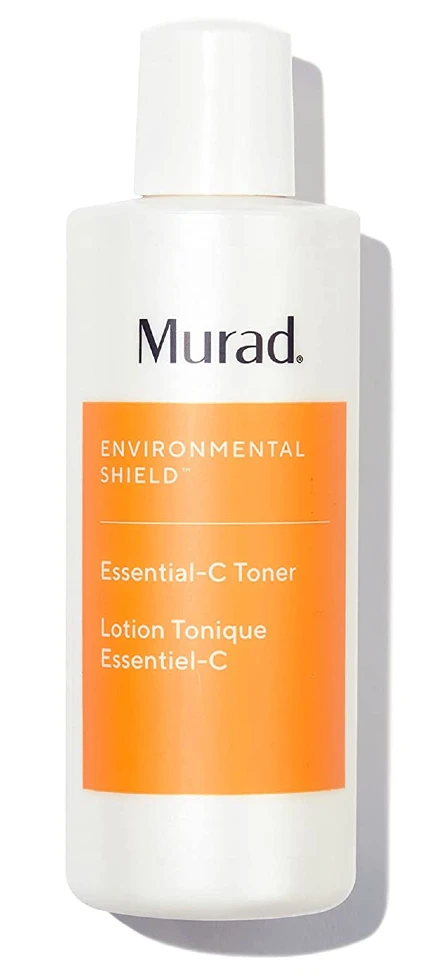 ---
2
Good Molecules Niacinamide Brightening Toner
If your goal is more luminous skin, this toner can help. The formula fuses some of the best brightening ingredients that are gentle on the skin. Niacinamide, arbutin, licorice root extract and vitamin C work together to attack hyperpigmentation from every possible angle so that you can enjoy radiant, glowy skin. And if you thought it couldn't go any better, you were wrong: This toner doesn't include harsh ingredients like alcohol or fragrances, so it won't leave your skin feeling parched.
Price: $14
Size: 4 oz / 120ml
Pros: Chock-full of brightening ingredients
Cons: It contains only 0.1% vitamin C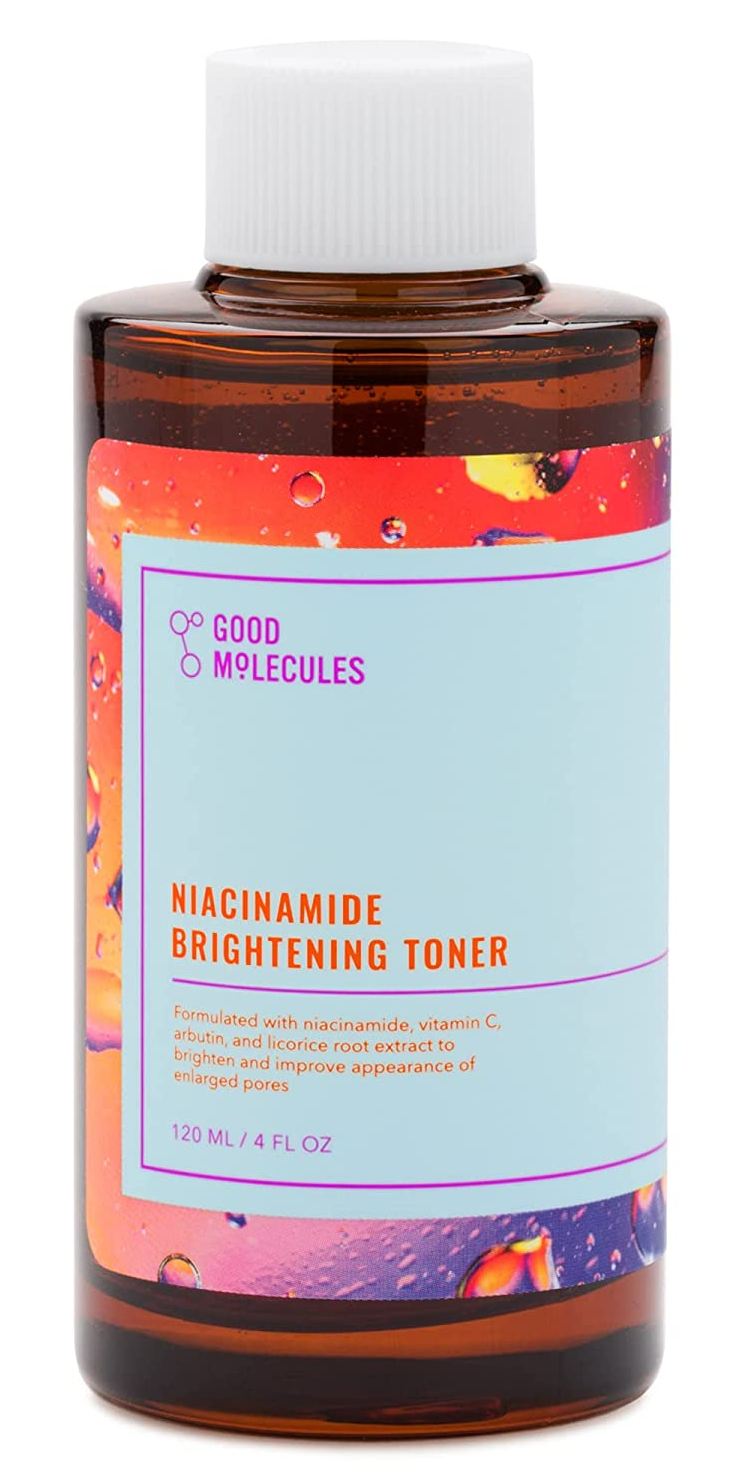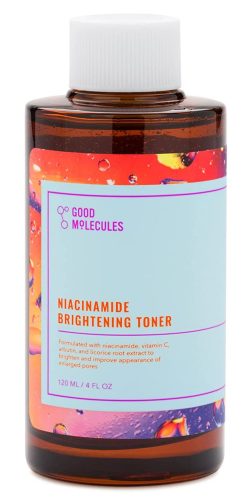 ---
3
Andalou Naturals Clementine + C Illuminating Toner
Beating irritation while still getting intense brightening effects is the name of the game for this illuminating toner, which uses a gentler form of vitamin C, magnesium ascorbyl phosphate. The super stable formula means this toner won't lose potency outside the fridge, plus plant-powered ingredients like clementine (great for discoloration), melon, sunflower, and aloe vera give the product a natural vibe. This one is all about balancing gentleness with efficacy, so it packs rooibos and white tea extract to reduce sensitivities and soothe irritation.
Price: $14.99
Size: 6 oz / 177ml
Pros: The spray dispenser makes it easy to use
Cons: Strong scent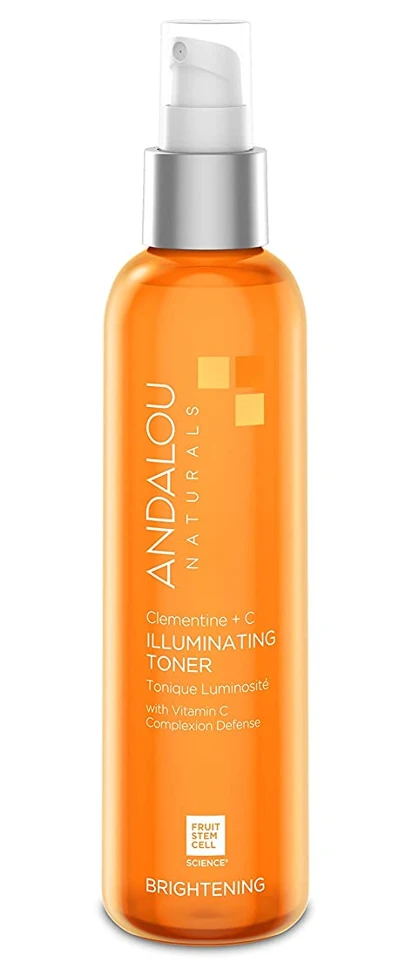 ---
4
Pixi Beauty Vitamin-C Tonic
Refresh your skin by patting in Pixi's antioxidant blend of vitamin C, ferulic acid, vitamin E, and caffeine; with a yummy mimosa smell and quick absorption, it's the perfect morning wake-me-up. An even lighter version of toner, this tonic solution bursts hydration levels with aloe vera, hyaluronic acid, and glycerin while delicately exfoliating with willow bark and fruit extracts for a dewy, fresh complexion.
Price: $15
Size: 3.4 oz / 100ml
Pros: The small aperture makes it easy to pour on a cotton pad
Cons: Might not be ideal for sensitive skin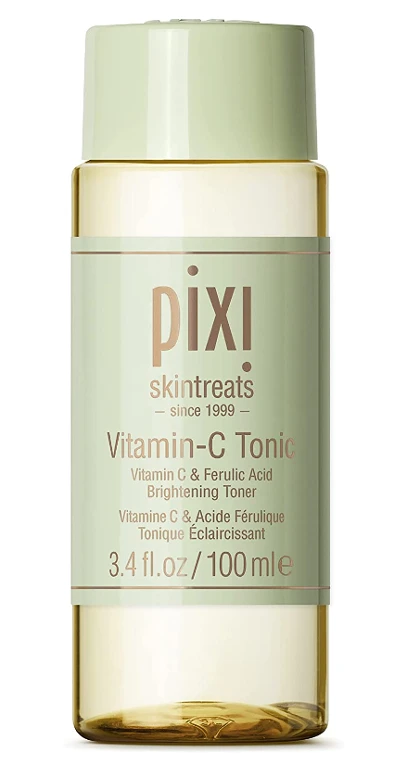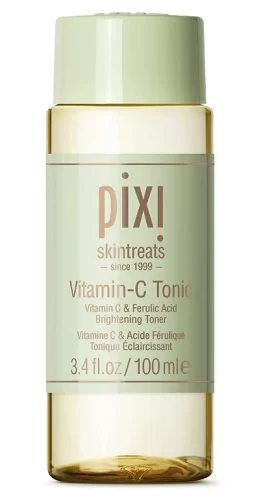 ---
5
Some By Mi Galactomyces Glow Toner
Containing 88% galactomyces—a byproduct of sake fermentation made famous by miracle worker SK-II—this toner guarantees a super moisturizing and brightening makeover. Don't worry; they didn't forget the vitamin C either. The 1% pure ascorbic acid holds potency up without sensitizing the skin. An additional complex of 10 vitamins and numerous anti-aging extracts means this toner only has room for skin-effective ingredients.
Price: $22.50
Size: 6.76 oz / 200ml
Pros: It's made in a base of moisturizing galactomyces, and it has 1% pure vitamin C for intense brightening
Cons: Might be difficult to find across online stores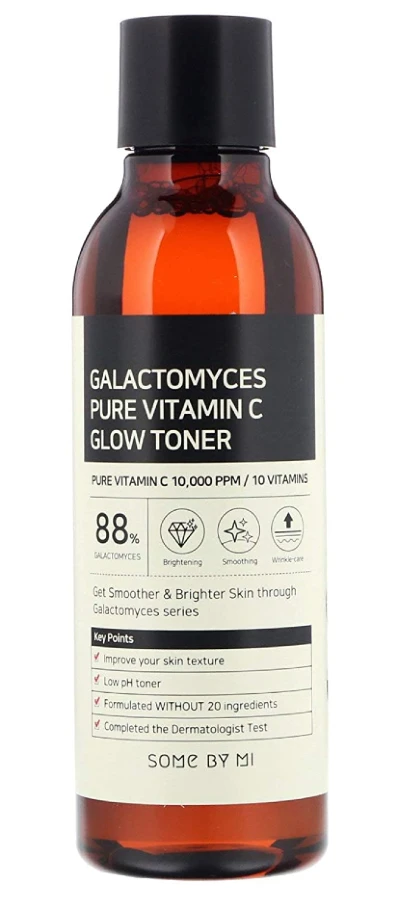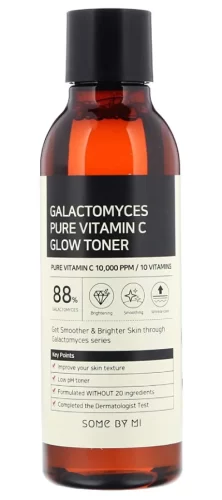 ---
6
Sweet Chef Bright Spot Tonic
This superfood product is 100% skincare goodness. Formulated without typical nasties like sensitizing alcohols, fragrances, and parabens, you probably still shouldn't drink it, though the smell sure is tempting. It's one of the best vitamin C toners thanks to the added turmeric, a skin revitalizer and protector, and curcumin, which is super effective at reducing cellular oxidation—a big driver of skin aging. Coupled with vitamin C, these two give you a glowing look all day long.
Price: $18
Size: 4.39 oz / 130 ml
Pros: It has a thick texture that feels moisturizing
Cons: It can be challenging to get the product out of the bottle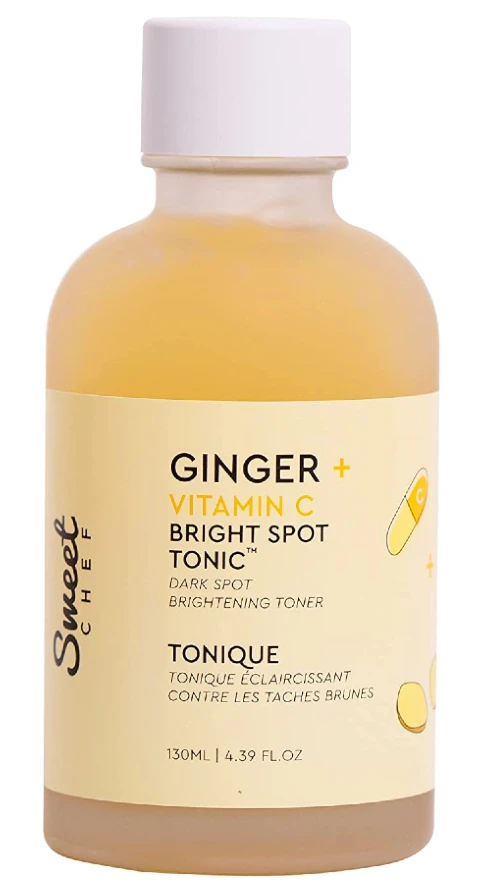 ---
7
Missha Vita C Plus Facial Toner
This toner is a hit in Korea and a true crowd-pleaser, and the plus in the name refers to an extensive list of ceramides, collagen, hyaluronic acid, and antioxidants—all joining forces to rescue dull and dry skin. The lightweight texture of this toner cleverly conceals the powerful exfoliating prowess of PHA, which removes dead cells for improved texture and cleansed pores. The vitamin C-infused formula rocks two other amazing antioxidants, vitamin E and fullerene, a free-radical sponge reputed for being both light and heat stable, for more extended daily protection.
Price: $38
Size: 6.76 oz / 200 ml
Pros: It uses 33% encapsulated vitamin C for enhanced penetration
Cons: It includes essential oils which may be irritating for some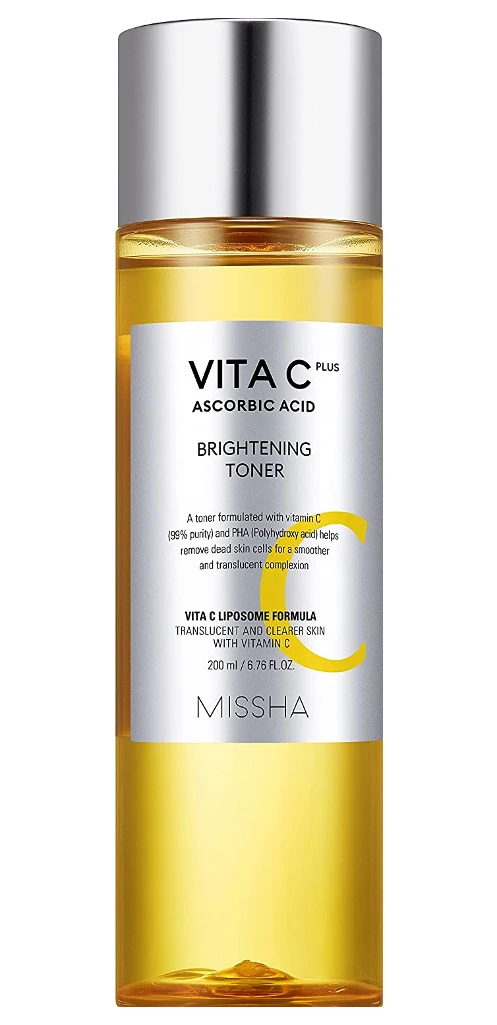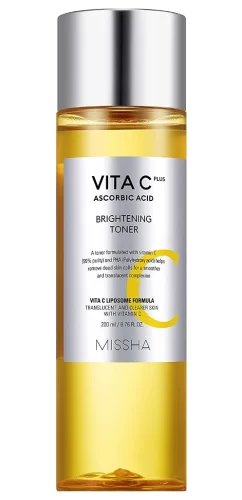 ---
8
Paula's Choice Enriched Calming Toner
This milky toner is ideal for healing damaged skin since the formula is rich in fatty acids and regenerative agents like niacinamide and allantoin. It also contains an oil-soluble form of vitamin C, ascorbyl palmitate, which is safe even for sensitive, acne-prone skin. The silky feel quickly cools off inflammation, while the soothing panthenol provides a burst of hydration.
Price: $23
Size: 6.4 oz / 190ml
Pros: It has a milky texture that feels nourishing
Cons: It's made with a considerable amount of silicone that some people might be sensitive to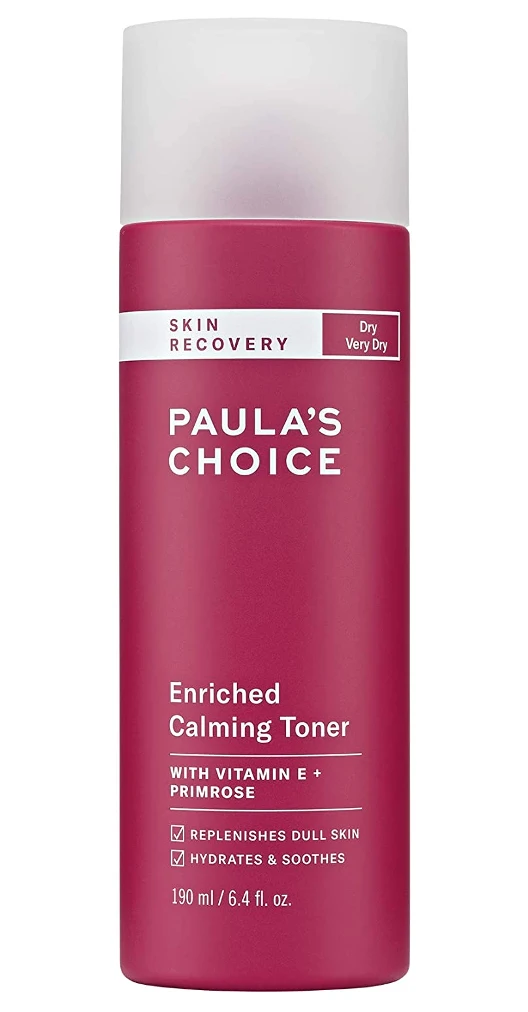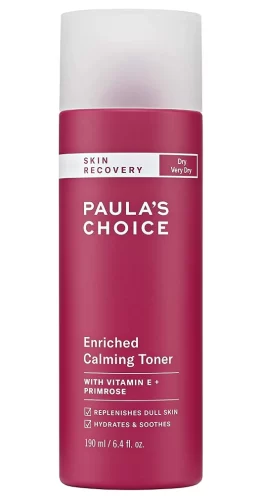 ---
9
Cosrx Refresh ABC Daily Toner (AHA BHA Vitamin C)
As the name suggests, this toner is made with the ABC of skincare: alpha- and beta-hydroxy acids and vitamin C. While the exfoliating acids retexturize the skin and smooth out uneven texture, vitamin C minimizes dark patches and promotes an evener tone. However, what truly sets this toner apart from the rest is its base, which may come as a surprise. Unlike typical toners that use water as their base, this one boasts an extraordinary 30% kiwi extract. This natural source of vitamin C works by strengthening your skin's antioxidant defense system, giving it an added boost like no other. All in all, it's a great toner if you're concerned about large pores, acne, flaky skin, and textural irregularities.
Price: $28
Size: 9.46oz / 280ml
Pros: Hypoallergenic formula and the complex of exfoliants and vitamin C effectively minimize pores and revive dull skin.
Cons: Not concentrated in pure vitamin C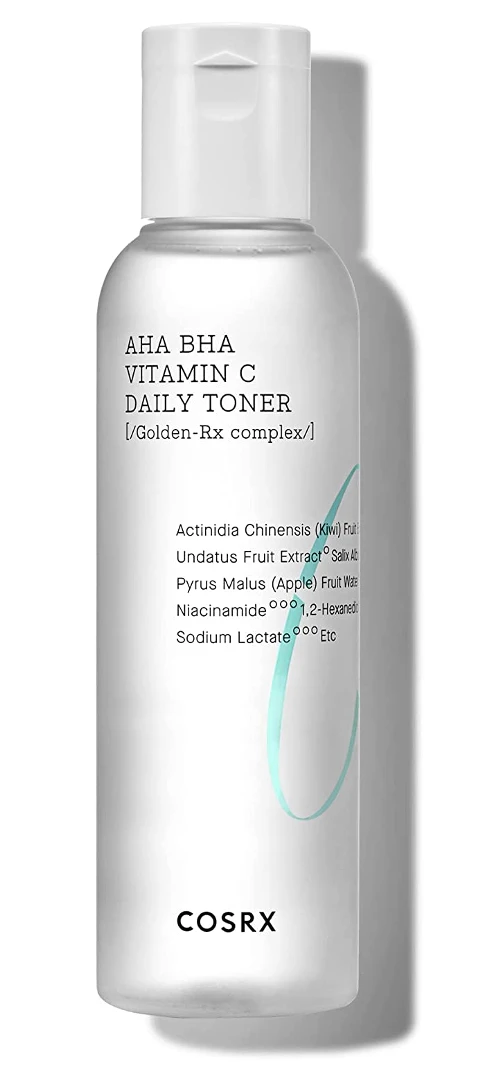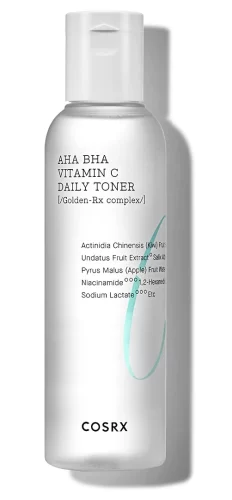 ---
10
InstaNatural Vitamin C Toner
There's a lot to love about this tonic, but I'm personally a big fan of the lid. Focusing on hassle-free and waste-free skincare, the pump offers quick application with just a swipe of cotton. The skin-brightening complex, made up of vitamin C, green tea and licorice root, and antibacterial witch hazel water, doesn't hurt either, offering speedy luminosity and purification in a time crunch. An ideal vitamin C toner for improving clarity, the product's added herbal extracts and oils support glowing skin.
Price: $20
Size: 4oz / 120ml
Pros: Rich in vitamin C and soothing natural extracts
Cons: Might leave sticky residues and can cause breakouts in people with very sensitive, dry skin.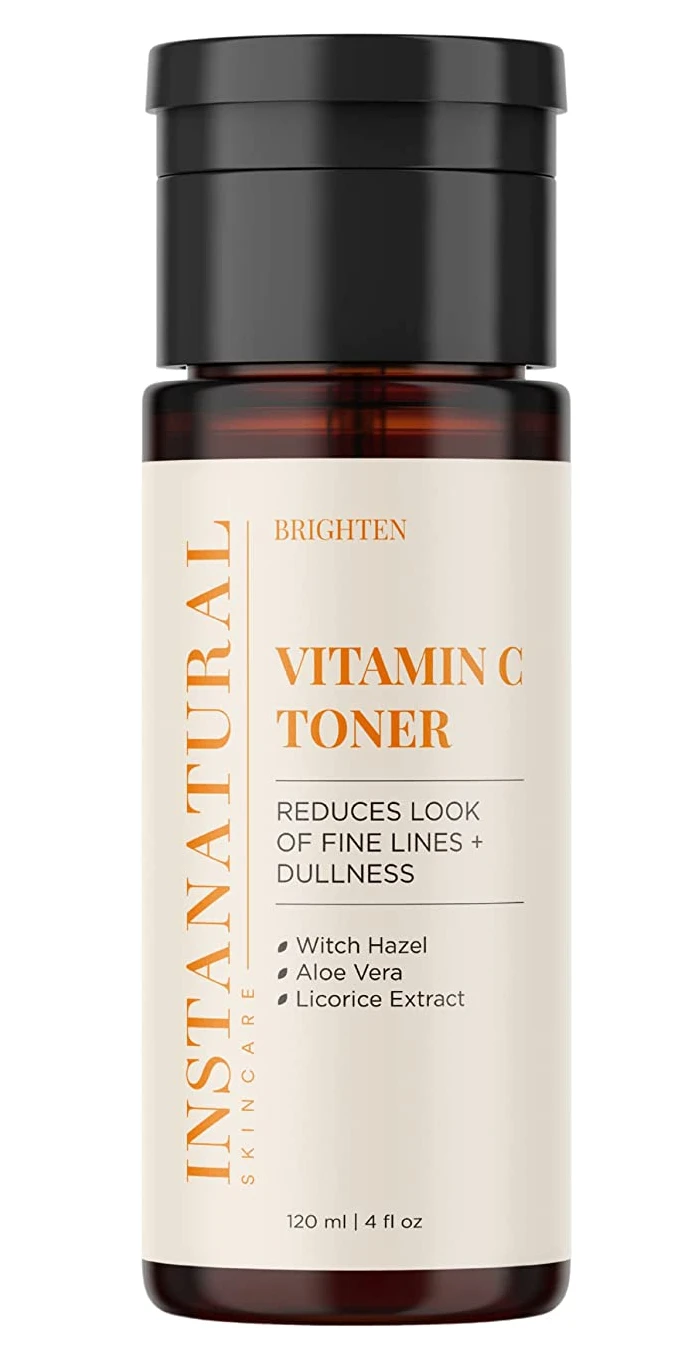 ---
11
Dr. Zenovia Vitamin C Brightening Toner
A quick shake and this vitamin C-infused toner is ready to go. It might not turn back time, but it sure tries to enhance skin's appearance with anti-agers like resveratrol and bakuchiol (retinol alternative). Besides, it's rich in redness-calming green tea polyphenols and softening vitamin E, providing a natural barrier to skin stressors. The lightweight toner soaks in very well and leaves the skin feeling smooth and looking brighter. It doesn't strip moisture either.
Price: $38
Size: 4.0 oz / 120ml
Pros: It's suitable for all skin types and improves a wide range of concerns such as large pores, dullness and uneven texture
Cons: A bit pricey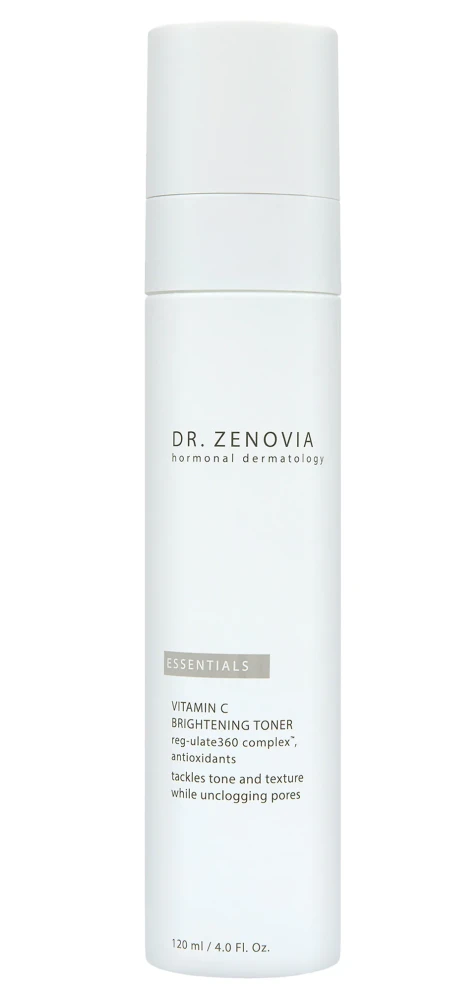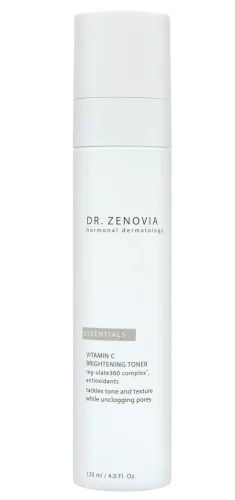 ---
How to choose your vitamin C toner
To find the best vitamin C toner for you, consider factors such as your skin's sensitivity, oiliness, or dryness, and make sure the toner is compatible with the rest of your skincare routine.
Now, if you've got sensitive skin, you wanna steer clear of toners with alcohol and synthetic fragrances. Those are common irritants that can be real troublemakers and might damage your skin. Instead, watch for toners with soothing ingredients like allantoin and panthenol. The one that really hits the mark for sensitive skin is Paula's Choice Skin Recovery Enriched Calming Toner—it's gentle and restores your skin without any fuss.
Or in case your skin is dry, you need a toner that brings serious hydration, like Missha Vita C Plus Facial Toner. It packs ingredients like hyaluronic acid and ceramides that are great for increasing moisture and relieving dryness. On the other hand, for an oily complexion with large pores and acne, an exfoliating toner like Cosrx Refresh ABC Daily Toner is a much better fit. 
The takeaway
Beauty lovers have no dispute that a good antioxidant, especially one as effective as vitamin C, is an essential part of the skincare routine. That doesn't mean you're limited to conventional serums. While traditional serums have their merits, toners offer a convenient alternative and allow you to seamlessly incorporate vitamin C into your daily routine.
With these toners, you have the flexibility to combine vitamin C with other powerhouse ingredients like retinol to achieve picture-perfect skin. Moreover, vitamin C toners elevate your antioxidant protection and enhance brightness in a delicate fashion, and you can use them every day to get that glow. Plus, waking up to their delightful citrusy scent is heaven.
---
You ask, we answer
Can you use vitamin C toner every day?

Yes, there is nothing wrong with using vitamin C toner twice a day in your morning and evening skincare routine. In fact, it offers a range of benefits, such as enhanced antioxidant protection and increased skin radiance.

Is vitamin C toner good for sensitive skin?

Since vitamin C toners aren't concentrated in active ingredients and are filled with hydrating and soothing compounds, they work perfectly fine on sensitive skin. They're also suitable for rosacea and eczema-prone skin.

Is vitamin C toner good for acne?

As long as the formula is non-comedogenic, you can use vitamin C toners if you have acne. They're effective at reducing breakouts and relieving the redness and swelling that often come with acne.

Can you use vitamin C toner with vitamin C serum?

You can use a vitamin C toner with a vitamin C serum in your routine. However, consider the concentration of active ingredients in each product, as applying too much vitamin C can slightly burn your skin. Moreover, toner before serum actually creates an acidic environment for vitamin C to deliver maximum benefits.

Can you use vitamin C toner with retinol?

Yes, you can use your vitamin C toner before retinol serum. It creates a perfect canvas to allow retinol molecules to pass through the skin more efficiently and balances the skin's pH to improve retinol's efficacity.