Before I was a pro in skincare, I used to enjoy staying in the sun, often without sunscreen. Obviously, it had consequences on my décolletage, and let's not mention the dark spots I've been left with. Now, my routine never ends at the face, and I'm diligently taking care of my neck and décolletage areas too. Thus, I was incredibly excited to try out the CurrentBody Skin LED Neck and Dec Perfector. I have been using the device for two months, and I'm not planning to quit using it. Ever.
What is CurrentBody Skin LED Neck and Dec Perfector
CurrentBody Skin LED Neck and Dec Perfector is an FDA-cleared device that combines red and ultra red lights to rejuvenate skin, smooth rough patches, and help even tone. This is possible because the device induces collagen production, boosts blood flow, and encourages cell turnover. And it's all science-backed. As the name suggests, CurrentBody Skin LED Neck and Dec Perfector is intended for the neck and décolletage. But guess what? You can use it on your back, too. I like the flexible material that doesn't feel heavy, which is essential because I want my rejuvenating sessions to be relaxing. And they are!
How to use it
I use the device three or four times weekly, together with the CurrentBody Skin LED Mask, for a double dose of rejuvenation. I cleanse my neck and decollete, strap on the device and press the only button to initiate the session. I like a lot that the device shuts off after 10 minutes, so I don't have to worry about the time. This is it — so effortlessly and safe to use.
Aftercare
It's essential that the products you apply after LED therapy are in harmony with your concerns. Due to the increased blood flow and cell turnover, the formulas sink deeper into the skin, so using a targeted serum and a moisturizer to trap everything in is key. Since my concerns are dark spots and I want to prevent losing more firmness, vitamin C is king for me. This being said, Exponent Brightening Boost Vitamin C System and Ole Henriksen C-Rush™ Brightening Double Crème are my allies for supporting the therapy with CurrentBody Skin LED Neck and Dec Perfector. I'm telling you, they team up so well!
As an aside, it's crucial that the device is used post exfoliation as the accumulation of dead cells might hinder the light penetrating the skin.
Results
As soon as I take the device off, my skin is a bit red for the next 30 minutes due to the increased blood circulation. After following with the serum and moisturizer, my skin appears luminous and tight. I haven't noticed a dramatic improvement in my dark spots, but this is definitely something that takes longer than just two months. However, I love using the CurrentBody Skin LED Neck and Dec Perfector as a preventative measure against premature decollete fine lines and wrinkles.
To end, this device is the perfect addition for everyone who wants to complement their skincare routine on the neck and decollete. The thing is that while skincare products work more on the top and superficial layers of the skin, LED therapy can reach the deeper layers (up to 5 mm), triggering significant changes when used regularly.
---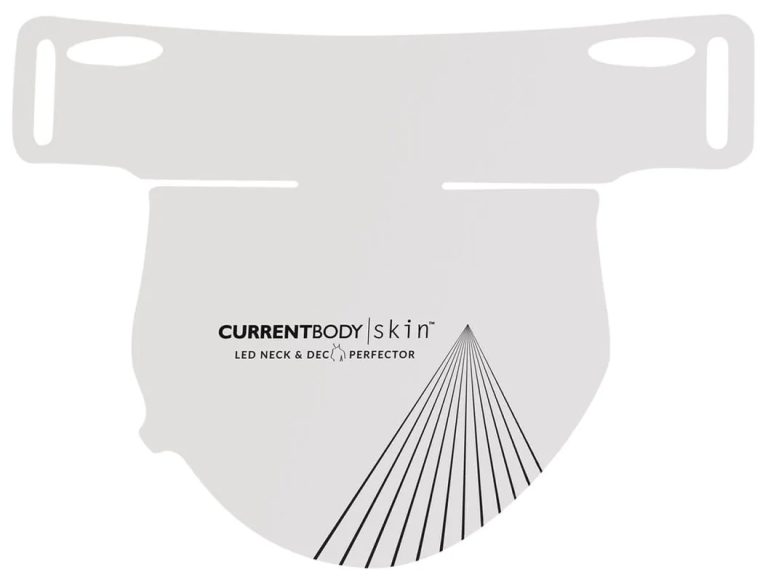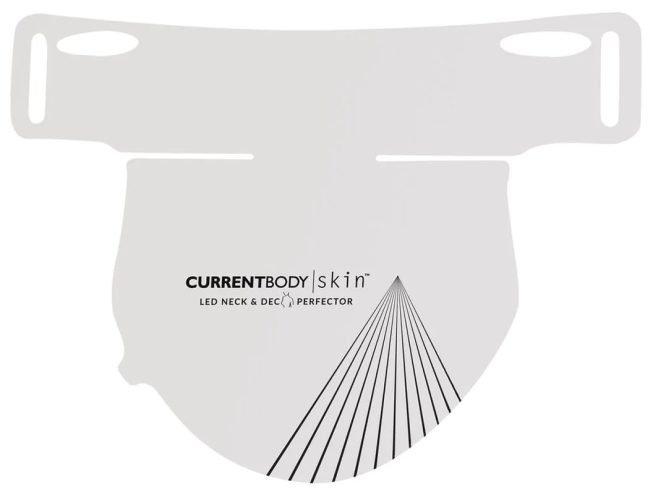 Where to buy CurrentBody Skin LED Neck and Dec Perfector
Price $339
Use our exclusive code WCCBLED to get 15% OFF on all CurrentBody LED devices.
---
Final words
Before you go, keep in mind that the benefits of using the CurrentBody Skin LED Neck and Dec Perfector always depend on the condition and expectations of each, and the results differ from one person to another. To me, the device works like a charm, and I'll keep using it along with my skincare routine because I believe they complete each other to bring me A-class skin. Oh, yes!
Read next: 10 Best LED Masks for Fine Lines and Wrinkles