Foundation can be a double-edged sword for those with acne-prone skin. Choosing an unsuitable formula can worsen breakouts, but with the best clean foundations for acne-prone skin we've rounded up for you, it's easy to keep skin balanced and breakout-free. All formulas here lack pore-clogging elements and are enriched with ingredients that aim to speed up pimple healing — think salicylic acid and zinc — without skimping on coverage. They promise to camouflage blemishes and even tone without feeling heavy while assuring a radiant look throughout the day. And because we know the foundation is not one-size-fits-all, we cover all textures, finishes, and coverage levels so everyone can find their perfect match.
How to find the best clean foundation for acne-prone skin
Acne-fighting ingredients
The best foundation for acne-prone skin should be infused with ingredients that aim to balance sebum and soothe skin, such as salicylic acid, tea tree oil, and zinc. At the same time, those with acne should avoid foundations containing agents that may exacerbate pimples, like comedogenic oils, lanolin, lauric acid, sodium chloride, and silicones.
Won't clog pores
When your pores become clogged from certain compounds, they attempt to flush out, resulting in pimples and blackheads. Most derms recommend powder foundations over liquid ones for acne-prone skin since powders are less likely to clog pores due to their larger pigment particles. However, not everybody likes powder foundations, so the ones mentioned ahead also cover liquid formulas, which won't clog pores, obvs.
Lightweight formula
Breakout-prone skin needs lightweight formulas that deliver enough coverage without drawing more attention to pimples. Finally, the best foundation for acne-prone skin should leave a matte finish, offsetting the look of excess sebum, a thing most acne sufferers struggle with.
The best clean foundations for acne-prone skin
Ahead, the best clean foundations for acne-prone skin that'll make you look further to doing your makeup.
---
1. Oxygenetix Oxygenating Foundation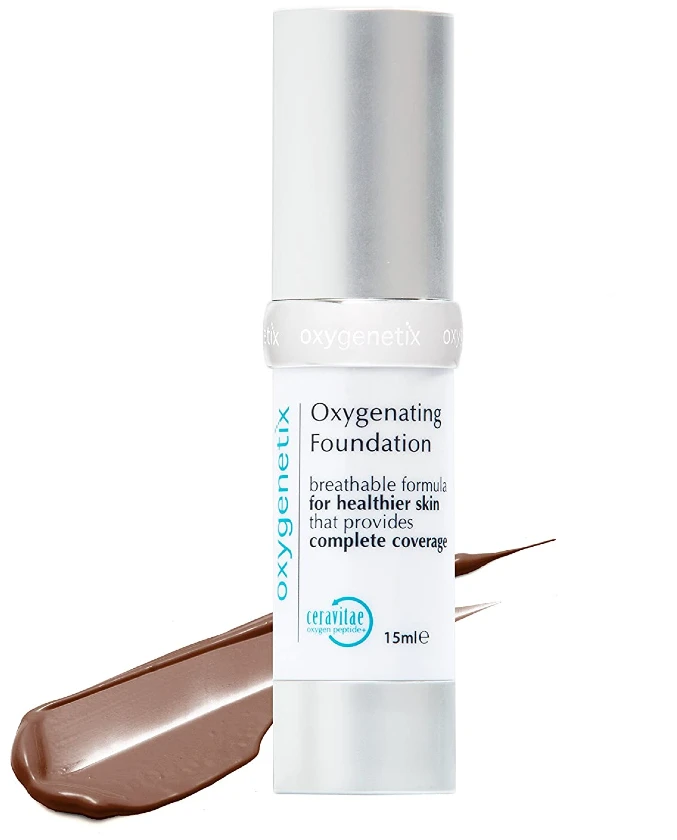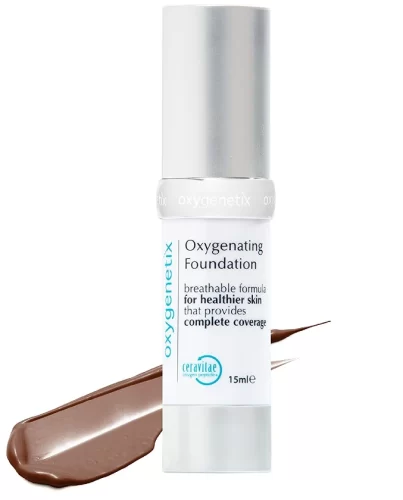 A foundation made with antibacterial and calming aloe vera gel base — right what acne-prone skin needs. Not only that, but Oxygenating Foundation is infused with yeast extract, great at increasing skin hydration, which in turn balances sebum. The formula is clean, free of any potential acne-causing ingredients, and has a breathable texture and natural finish. Plus, it's water-resistant and non-transferable, so excess oil won't stand a chance. Now you know why this one takes the spotlight on the best clean foundations for acne-prone skin.
---
2. Perricone MD No Makeup Foundation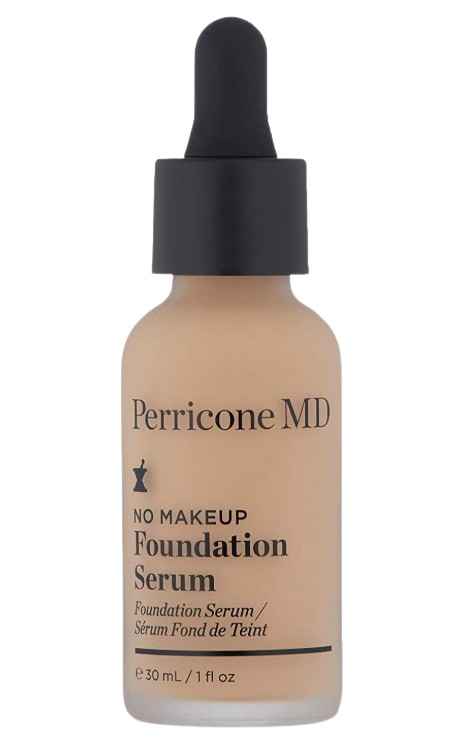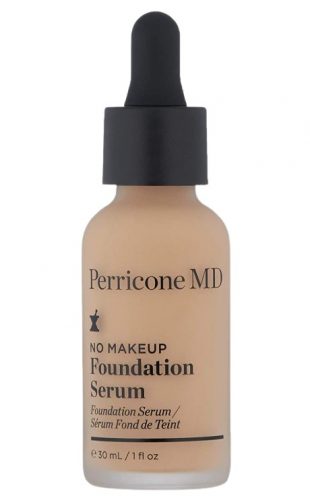 This foundation is where makeup meets skincare, and it's a great pick for acne-prone folks. With 8.26% zinc as an active ingredient, Perricone No Makeup Foundation not only covers but has anti-inflammatory benefits and helps relieve redness and irritation.
That's not it: the foundation packs a blend of neuropeptides, great at strengthening the barrier, which may calm breakouts. We love that it goes on smoothly, covers naturally, is breathable, and leaves a semi-matte finish, ideal for those who struggle with excess sebum. In the end, Perricone MD products always deliver high performance.
---
3. PÜR 4-in-1 Pressed Mineral Makeup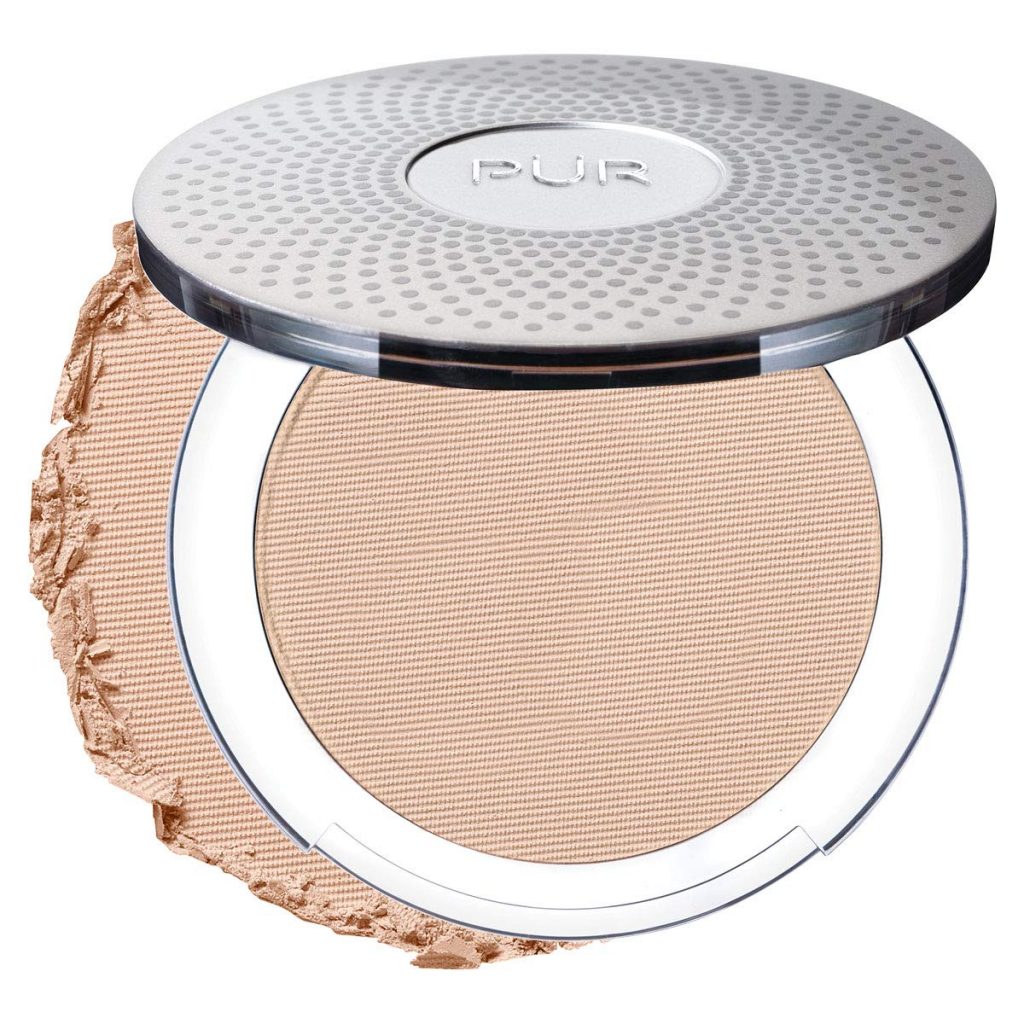 For those who prefer a multitasker, PÜR Pressed Foundation can't be beaten — you get a foundation, concealer, finishing powder, and SPF protection. Plus, it's packed with skin-loving ingredients, like minerals, vitamin C, retinol, ceramides, ferulic acid, lactic acid, and plant extracts. The powder texture is great at soaking up excess sebum, the dream of most acne sufferers. Bonus: it's got an extensive shade range, so you can find your perfect match in no time.
---
4. bareMinerals Blemish Rescue Powder Foundation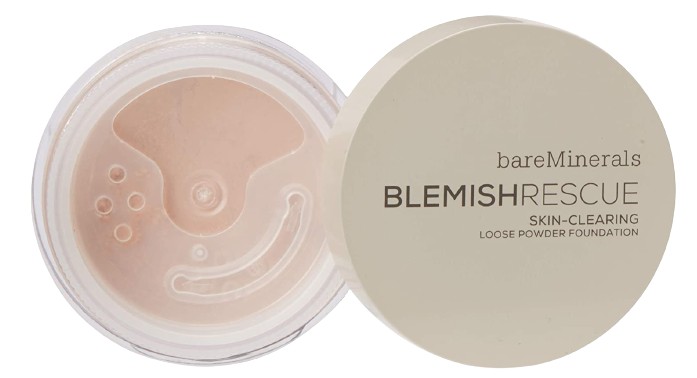 Do you know what makes this one of the best clean foundations for acne-prone skin? First, it's made with 0.5% salicylic acid, one of the most potent acne-fighters that balance oil and unclog pores. Secondly, the formula contains zinc and kaolin, both antibacterials that speed up breakouts healing. Third, bareMinerals Powder Foundation is filled with soothing compounds, such as honey, green tea, chamomile, and aloe, to calm blemishes. Finally, it's non-comedogenic and gives buildable full coverage and a natural finish, like your skin, but better.
---
5. Chantecaille Future Skin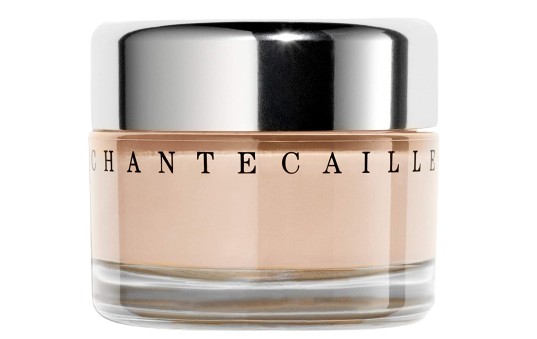 If you prefer a dewy, natural finish, Chantecaille Future Skin truly stands out. It's made with 60% water and is oil-free, making it super lightweight, almost undetectable on the skin, yet the formula doesn't skimp on coverage, assuring buildable full coverage. In plus, the light-diffusing pigments give you that maybe-she's-born-with-it skin, whilst the plant extracts (green tea, rosemary leaf, chamomile) soothe the skin.
---
6. One/Size by Patrick Starrr Turn Up The Base Versatile Powder Foundation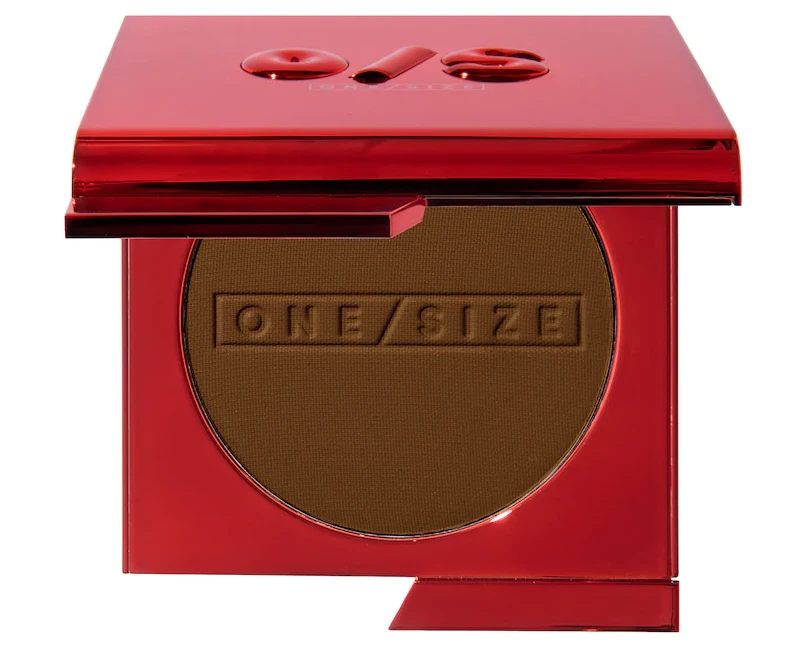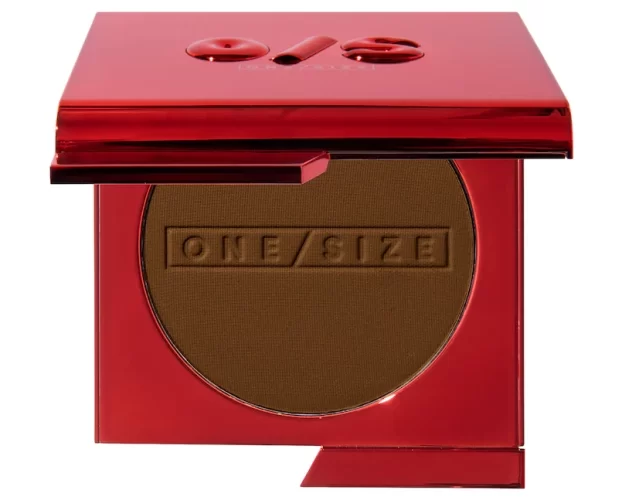 Patrick Starrr made another of the best clean foundations for acne-prone skin with a gentle powder formula. Infused with rice silk powder, it creates a soft-focus appearance, visibly blurring the look of large pores and pimples. It's ideal for blotting excess oil due to the powder texture, and the soft matte finish makes it even better for breakout-prone skin. Did I mention it's filled with kaolin and zinc too? And with the 32 true-to-skin shades, you don't have to settle for close enough.
---
7. Jane Iredale Beyond Matte Liquid Foundation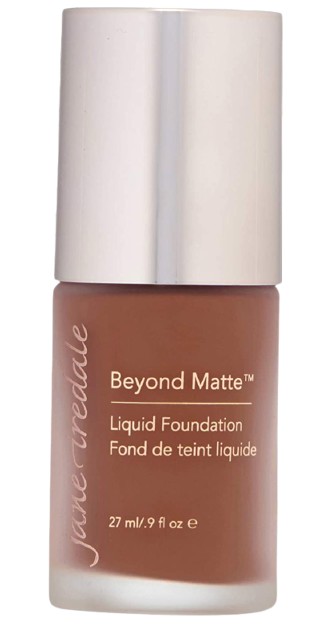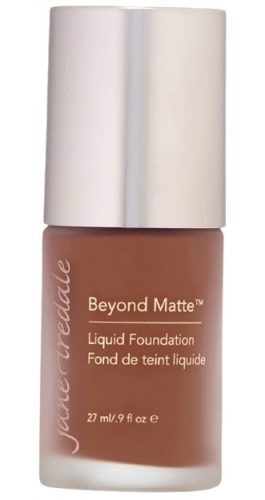 Here's why this is one of the best clean foundations for acne-prone skin: it's a 3-in-1 foundation that acts as a primer and concealer, too, eliminating the need to use more products, so it's a resources saver. The weightless, liquid formula is made with a water base, skin-nourishing plant extracts, and glycerin to hydrate, making it ideal for regulating sebum and soothing the complexion. Plus, this foundation is super concentrated, so a little goes a long way. P.S.: it has a semi-matte finish.
---
8. Dermablend Cover Creme Foundation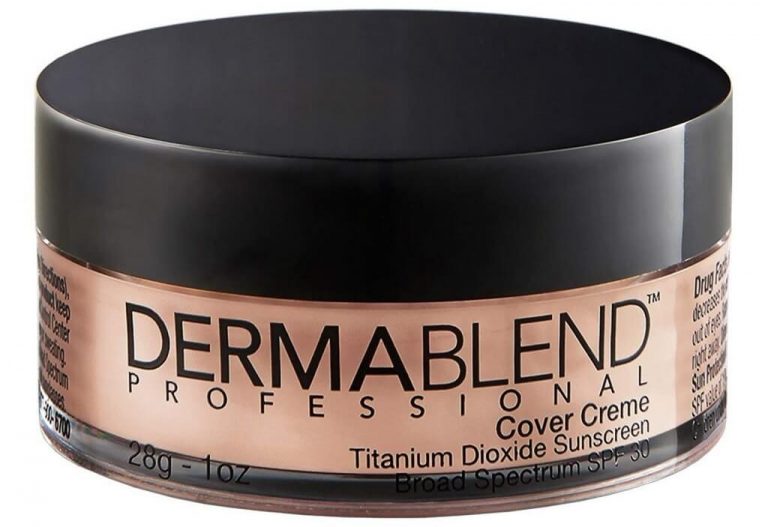 Dermablend Cover Creme Foundation is suitable for acne-prone skin as it's non-acnegenic and non-comedogenic. Also, it's made with minerals (titanium dioxide, magnesium, iron, kaolin), high-performance pigments for great coverage, and provides SPF 30 for ultimate protection. The creamy texture layers smoothly, protecting your skin barrier against external foes without ever looking cakey.
---
9. Juice Beauty Phyto-Pigments Serum Foundation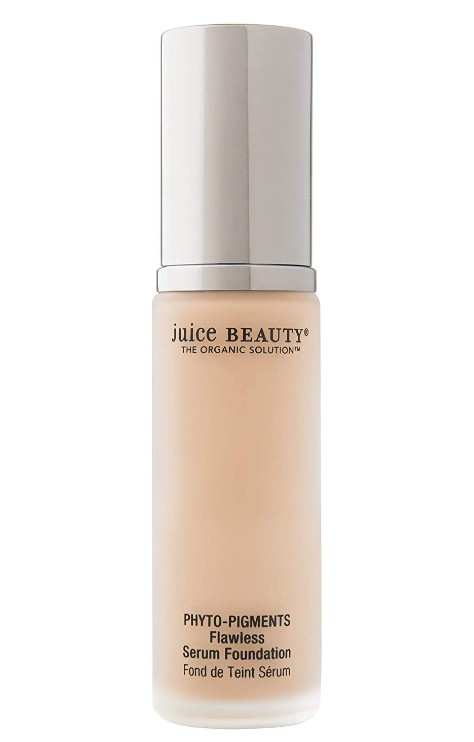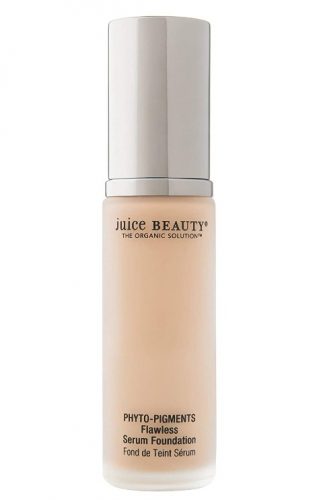 This foundation is among the most-loved Juice Beauty products ever. With Juice Beauty Serum Foundation, you get a flawless finish while the antioxidant-enriched formula works to protect against free radical damage. The feathery foundation glides on as a gentle serum and dries into a lightweight natural, flawless finish, so you get that infallible look. Plus, the aloe juice base gives it acne-fighting, anti-inflammatory, hydrating, and soothing benefits, being one of the best clean foundations for acne out there.
---
10. bareMinerals BarePro Skin-Perfecting Powder Foundation
Are you an organic beauty lover? Because this foundation is made with 90% natural ingredients, including vitamins, minerals, and powerful natural pigments, supporting a healthy complexion while being lightweight and breathable. Oil-free, with a matte finish, it gives that natural coverage of your dreams and stays put throughout the day. Non-comedogenic, bareMinerals BarePro Powder Foundation helps reduce pore size look and controls shine, boosting skin clarity without clogging or causing breakouts.
---
11. Clinique Acne Solutions Liquid Makeup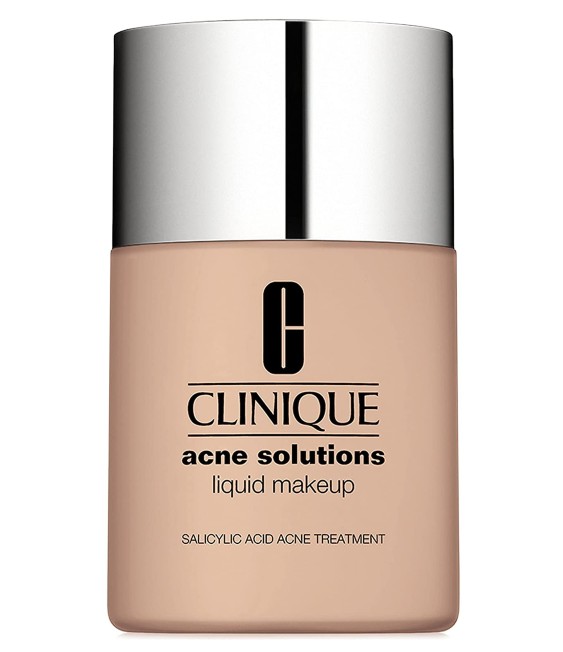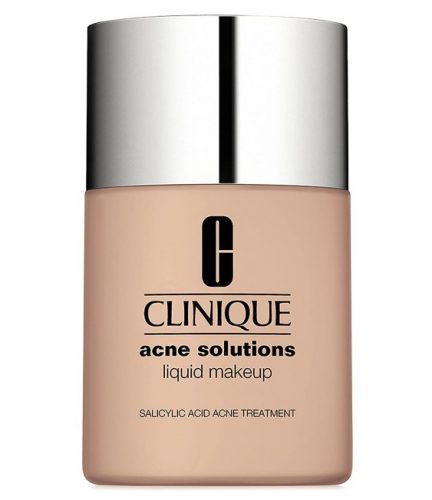 This foundation was made for acne-prone skin peeps with salicylic acid as an active ingredient, acting as a healer for pimples. Caffeine, vitamin E, and brown algae give it antioxidant benefits, assuring some protection against pollutants too. Clinique Acne Solutions Foundation is made without oil and has a simple formula, making it the ideal clean liquid foundation for acne-prone skin. It leaves a natural matte finish and gives moderate coverage.
---
12. Isdinceutics Skin Drops Foundation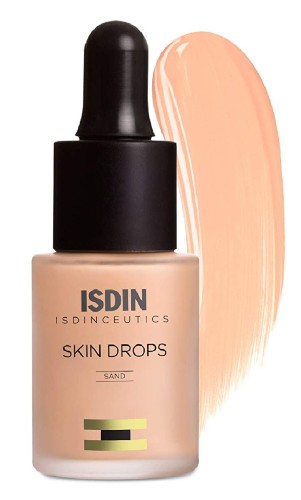 As one of the best clean foundations for acne-prone skin, Isdinceutics Skin Drops is oil-free and non-comedogenic, so no worries about congesting pores. It creates a matte complexion with a velvety finish that stays put for up to 12 hours and is a great choice if you aim for full coverage yet a lightweight feeling. Since it only comes in 3 shades, it's limiting for skin tone selection, so here's a minus for that.
---
13. La Bella Donna Loose Mineral Foundation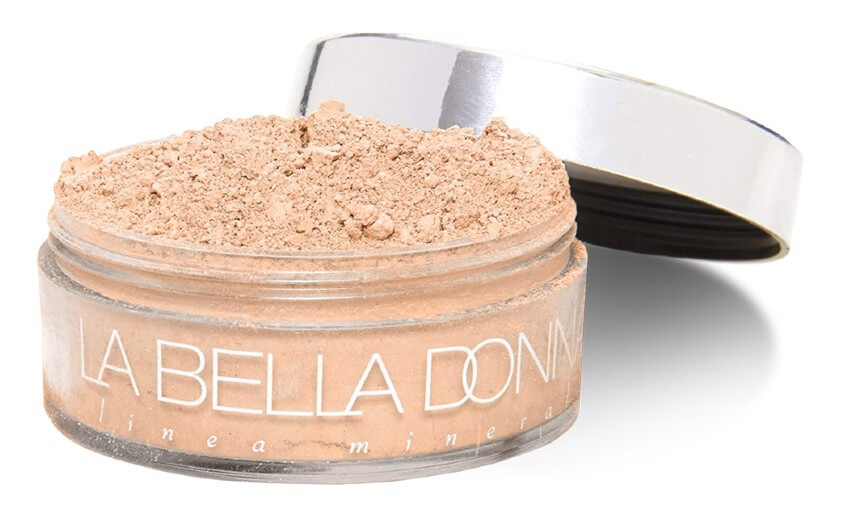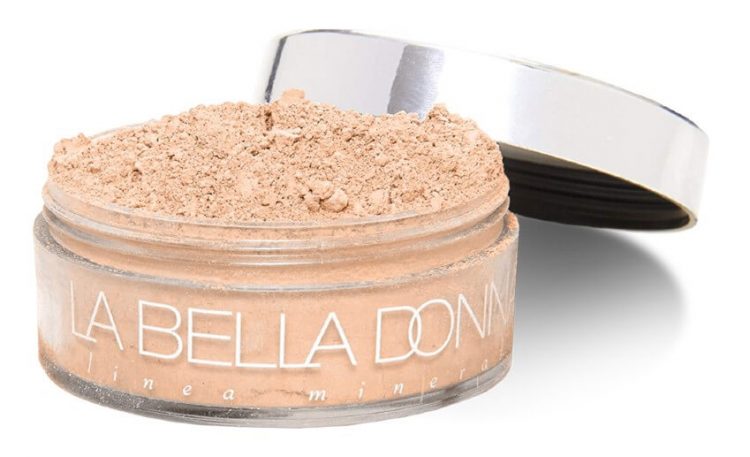 If you want to cover, protect and nurture your skin throughout the day while having light, even coverage, this is it. La Bella Donna's mineral foundation is free of all the harmful chemicals that may cause breakouts, does not clog pores, absorbs oil, and protects your skin against sun rays with SPF 50 — which comes from natural minerals, obviously.
---
14. Au Naturale Semi-Matte Powder Foundation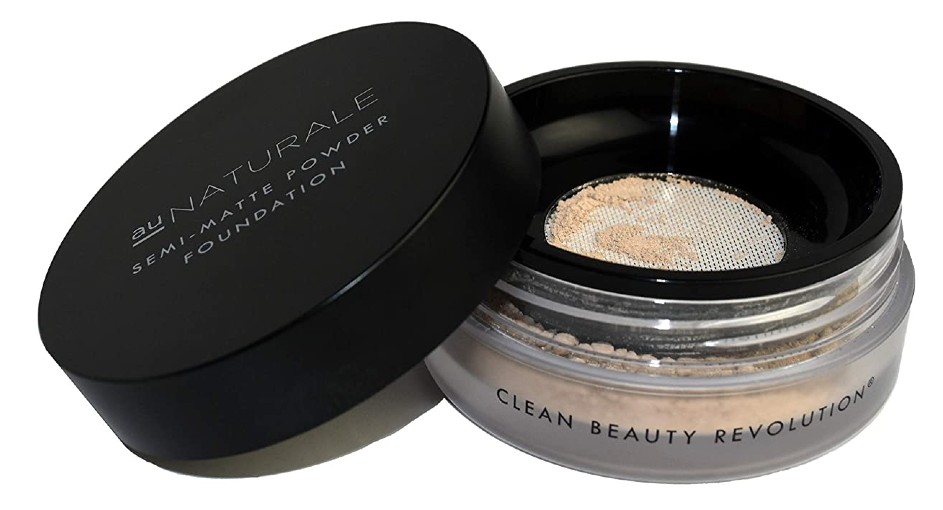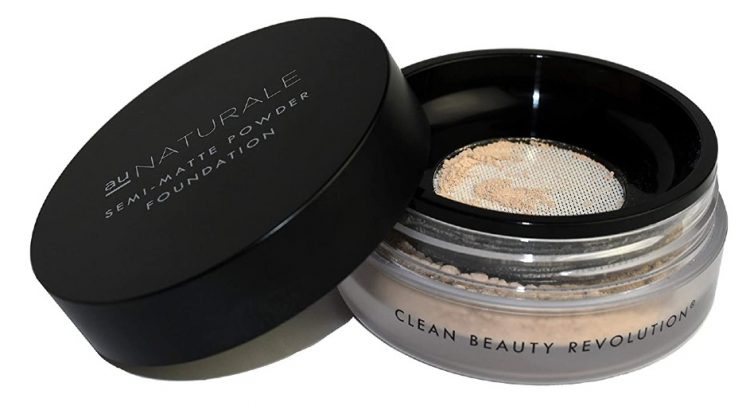 Do you want your foundation to be 100% natural, vegan, protect and nourish your skin simultaneously? Then go for Au Naturale. First of all, it's made with four minerals, among which zinc, which is great at decreasing oil and protecting against inflammations and acne-causing bacteria. Secondly, it has a powder-light and airy texture that you don't feel like wearing, leaving an air-brushed natural finish. Just perfect!