Foundation can be a double-edged sword for those with acne-prone skin. The coverage and lasting power are key factors to consider, but you also need a formula that won't exacerbate excess sebum, clog pores, worsen breakouts, or trigger irritation. Switching to a clean foundation when your skin is prone to acne is a smart call. This way, you eliminate a ton of unnecessary compounds like PEGs, parabens, fragrances, and heavy metals, which are linked to allergies and sensitivities and may aggravate breakouts in some people.
However, finding a foundation for acne-prone skin can be daunting with all the nebulous about what "clean" means in beauty. This is mainly because these claims often go unchecked as there's no standard set upon the definition of "clean," so brands can use it however they please.
What does this mean? Your duty as a consumer is to sort through the vast market and select products that have truly clean formulas. We know this can be daunting, so we rounded up the best clean foundations for acne-prone skin that deliver without breaking your skin out. And because we know the foundation is not one-size-fits-all, we included a wide array of coverage levels, textures, and finishes so everyone can find their perfect match.
What to look for in a foundation if you have acne-prone skin
Acne-fighting ingredients
A good foundation for acne-prone skin should include ingredients that balance sebum and keep pimples at bay, such as salicylic acid and zinc. Humectants, like hyaluronic acid and glycerin, are also great to have in your foundation since they hydrate the skin. Keeping acne-prone skin quenched is important because dehydration causes the sebaceous glands to secrete more sebum in an attempt to replenish the moisture loss, so there are more chances of breakouts.
At the same time, people with acne should avoid foundations containing agents that may exacerbate pimples, like comedogenic oils, lanolin, lauric acid, sodium chloride, and silicones.
Won't clog pores
When your pores become clogged from certain compounds, they attempt to flush out, resulting in blackheads and pimples. So avoid foundations containing comedogenic ingredients, like oils, lanolin, lauric acid, sodium chloride, and silicones. Most derms also recommend powder foundations over liquid ones for acne-prone skin since powders are less likely to clog pores due to their larger pigment particles. However, not everybody likes powder foundations, so the ones mentioned ahead also cover liquid formulas, which won't clog pores, obviously.
Lightweight formula
Breakout-prone skin needs lightweight formulas that deliver enough coverage without looking cakey or drawing more attention to pimples. You'd also want complete coverage to camouflage pimples and acne scars in a weightless foundation that stays put throughout the day
Matte finish
Finally, people with acne should look for a foundation that leaves a matte finish, as it helps offset excess sebum and the shiny look, a thing most acne sufferers struggle with.
The best clean foundations for acne
Scroll on to find the best clean foundations for acne-prone skin. All formulas here lack pore-clogging elements and are enriched with ingredients that aim to speed up pimple healing — think salicylic acid and zinc — without skimping on coverage and lasting power. They promise to camouflage blemishes and even tone without feeling heavy while assuring a radiant look throughout the day.
---
1
Oxygenetix Oxygenating Foundation
This foundation is made with an antibacterial and calming aloe vera gel base — right what acne-prone skin needs. Oxygenating Foundation is also infused with yeast extract, which is great at increasing skin hydration, therefore balancing sebum. The formula is clean, free of any potential acne-causing ingredients, and has a breathable texture and natural finish. Plus, it's water-resistant and non-transferable, so excess oil won't stand a chance. Now you know why this one takes the spotlight on the best clean foundations for acne-prone skin.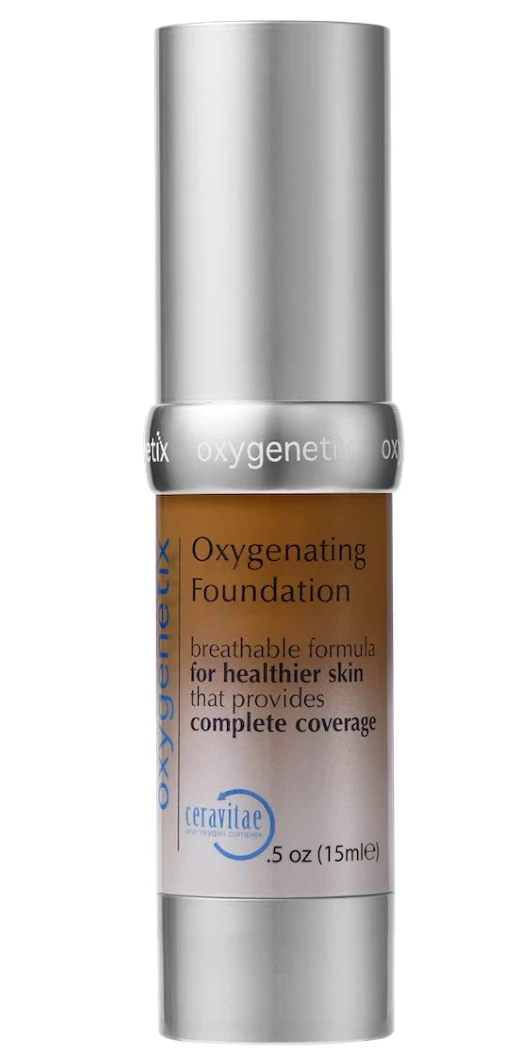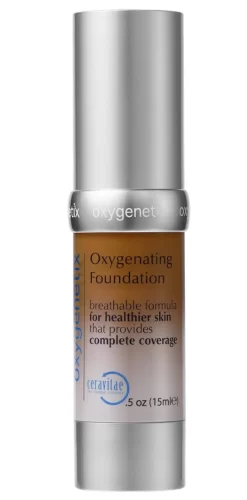 ---
2
Juice Beauty Phyto-Pigments Serum Foundation
This foundation is one of the best-selling products of Juice Beauty and for good reason. You get a flawless finish while the antioxidant-enriched formula protects against free radicals, known culprits that trigger breakouts. The feathery foundation glides on as a gentle serum and dries into a lightweight natural, flawless finish, so you get that infallible look without heaviness. Plus, the aloe juice base gives it acne-fighting, anti-inflammatory, hydrating, and soothing benefits.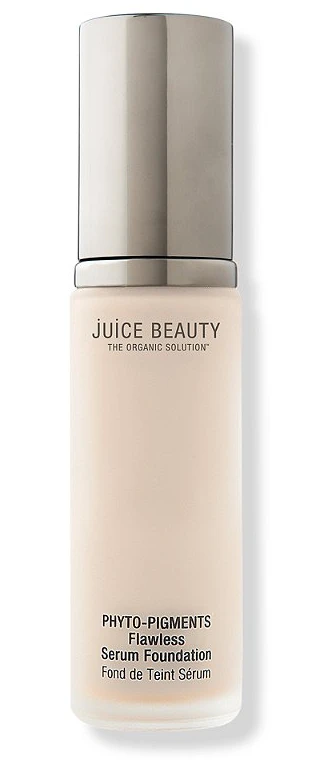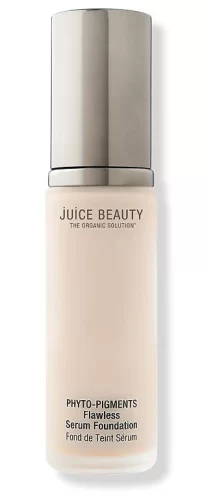 ---
3
Ilia Super Serum Skin Tint SPF 40 Foundation
Squalane is a great ingredient for acne-prone skin because it regulates sebum and soothes, and this foundation loads a lot of it. A true skincare-makeup hybrid, Ilia Super Serum Foundation delivers light coverage and a dewy finish, and it's packed with skincare ingredients good for acne, such as niacinamide, hyaluronic acid, and aloe leaf juice. There is also 12% zinc oxide, which has the role of defending against sun rays but also helps relieve redness and swelling caused by pimples. Rest assured, the formula is non-comedogenic, so it won't cause you breakouts.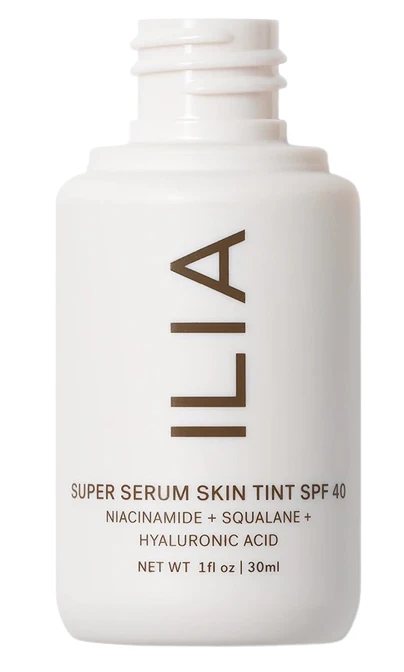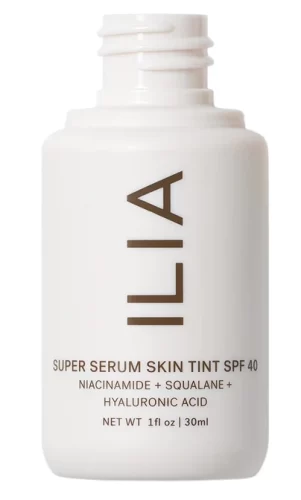 ---
4
Sappho Essential Foundation
This foundation is made with 82% organic ingredients, including antibacterial aloe vera and anti-inflammatory jojoba oil, both of which improve acne. Sappho Essential Foundation has a breathable feeling and a weightless texture that doesn't feel heavy on the skin and provides a silky finish with coverage that skews towards the more sheer side but can easily be built up. A favorite for those with oily and breakout-prone skin and definitely one of the best clean foundations for acne sufferers.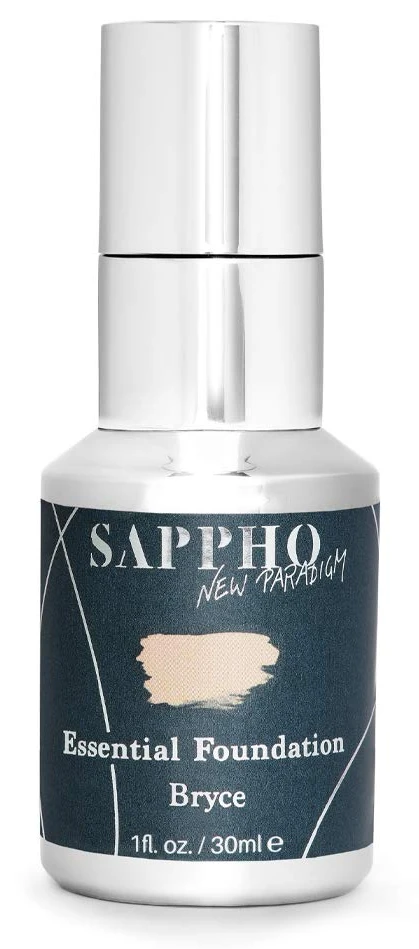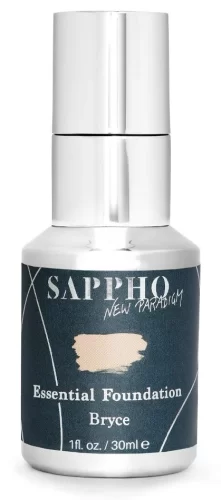 ---
5
100% Pure Fruit Pigmented Foundation
True to its name, this foundation got its pigments from fruits and is chocked-full of antioxidants to protect against free radical damage, a boon for acne-prone skin. The watery texture allows it to sit on the skin without feeling heavy while effectively covering pimples and textured skin. We love that it gives full coverage and a satin, slightly dewy finish for a naturally glowing complexion. With 19 shades you can choose from, you don't have to settle for close enough.


---
6
PÜR 4-in-1 Pressed Mineral Makeup
For those who prefer a multitasker, PÜR Pressed Foundation can't be beaten — you get a foundation, concealer, finishing powder, and SPF protection. Plus, it's packed with skin-loving ingredients, like minerals, vitamin C, ceramides, ferulic acid, lactic acid, and plant extracts. The powder texture is great at soaking up excess sebum, the dream of most acne sufferers. Bonus: it's got an extensive shade range, so you can find your perfect match in no time.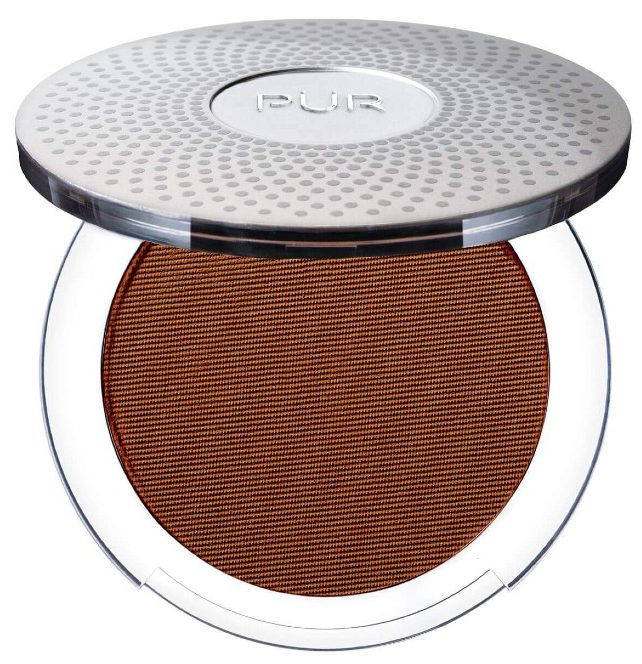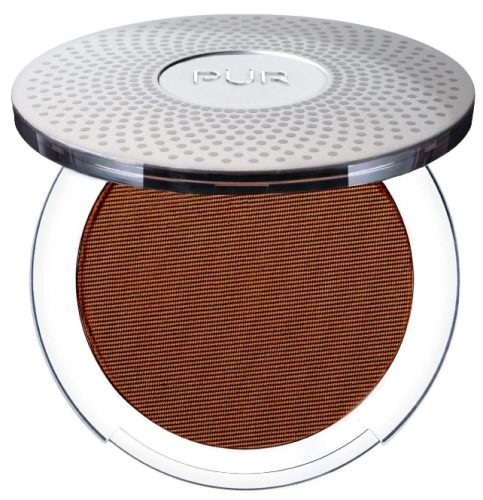 ---
7
bareMinerals Blemish Rescue Powder Foundation
What makes this a reliable option for acne-prone skin? First, it's made with 0.5% salicylic acid, one of the most potent acne-fighters that balance oil and unclog pores. Secondly, the formula contains zinc and kaolin, both antibacterials that speed up breakouts healing. Third, bareMinerals Powder Foundation is filled with soothing compounds, such as honey, green tea, chamomile, and aloe, to calm blemishes. Finally, it's non-comedogenic and gives buildable full coverage and a natural finish, like your skin, but better.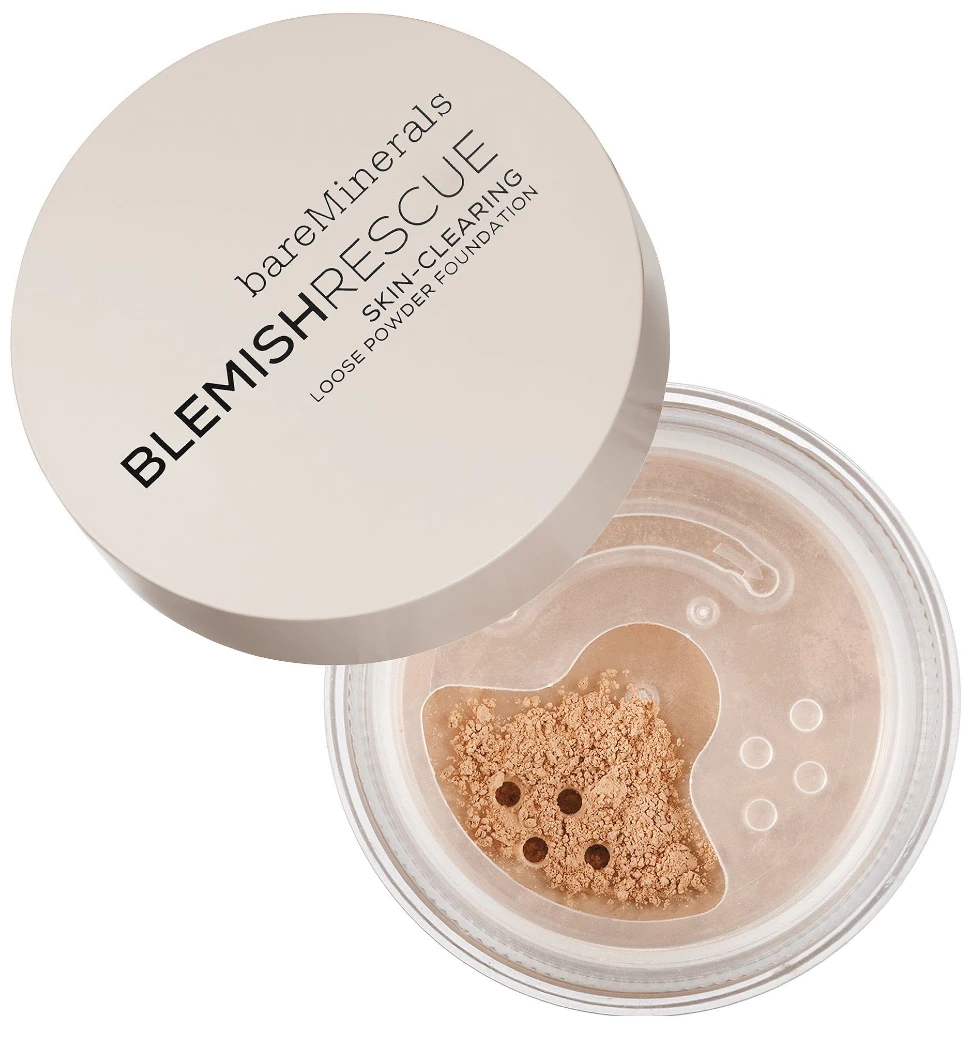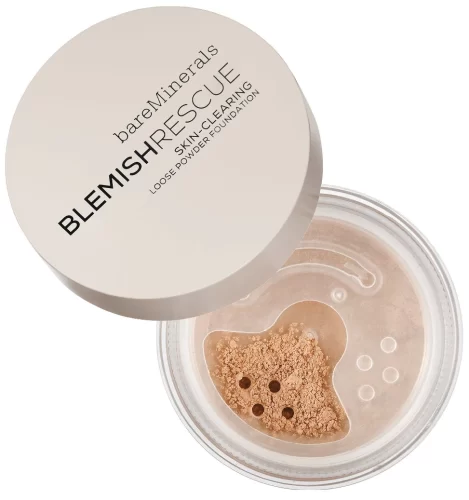 ---
8
Chantecaille Future Skin
If you prefer a dewy, natural finish, Chantecaille Future Skin truly stands out. It's made with 60% water and is oil-free, making it super lightweight and almost undetectable on the skin, yet the formula doesn't skimp on coverage. The light-diffusing pigments give you that maybe-she's-born-with-it skin, whilst the plant extracts (green tea, rosemary leaf, chamomile) soothe the skin.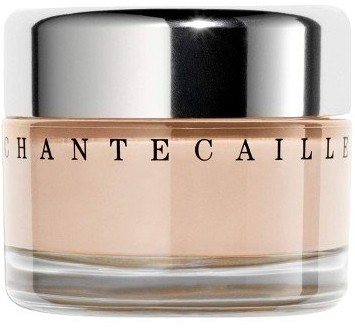 ---
9
La Bella Donna Loose Mineral Foundation
Incredibly, this mineral foundation contains only four ingredients, including zinc which has anti-inflammatory benefits, and micronized titanium dioxide, which offers SPF 50. It does not clog pores, absorbs oil, and provides light coverage and a radiant finish without causing irritation. Available in 13 shades.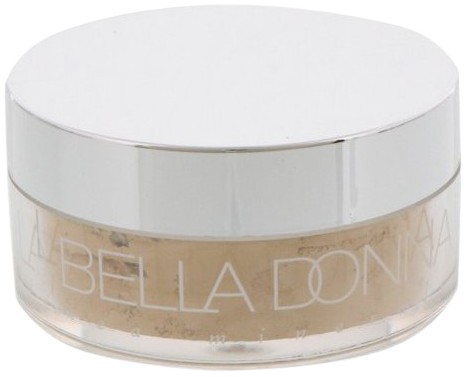 ---
The takeaway
Our best overall pick is Sappho Essential Foundation because it's made with problematic skin in mind, contains 82% organic ingredients, feels light, and gives great, long-lasting coverage. To compile this list, we spent hours researching the best clean foundations for acne-prone skin and evaluated their key features and what reviewers say. The foundations we picked comprise all ranges of shades, consistencies, and finishes so that everyone can find their match.