The best anti-aging kits ahead are not only great for simplifying your skincare routine, but they also save you a pretty penny and make a lovely gift from you to you. Besides, if you're a "try before buy" type of person, several of these bundles come with trial-size products, perfect for taking your routine on the go or sampling new formulas without breaking the bank.
There's no room for discussion here; the anti-aging kit that is worth your hard-earned cash should include products that deliver transformative results. From softening fine lines and wrinkles to fading dark spots to renewing skin and stimulating the production of proteins, they should be doing it all. Briefly, the kit should contain products made with gold-standard ingredients for supporting skin aging, such as retinol, vitamin C, peptides, hyaluronic acid, niacinamide, and glycolic acid.
That being said, at the bare minimum, the collection must come with a serum and moisturizer for a minimalist routine. Or, if you're the 9-step skincare routine kind of person, rest assured, the ones I'm about to share will equip you with all that's necessary to fight aging signs.
The best anti-aging kits available now
Hurry up, as they're selling like hotcakes, and some are limited-edition.
---
StriVectin Power Starters Anti-Wrinkle Trio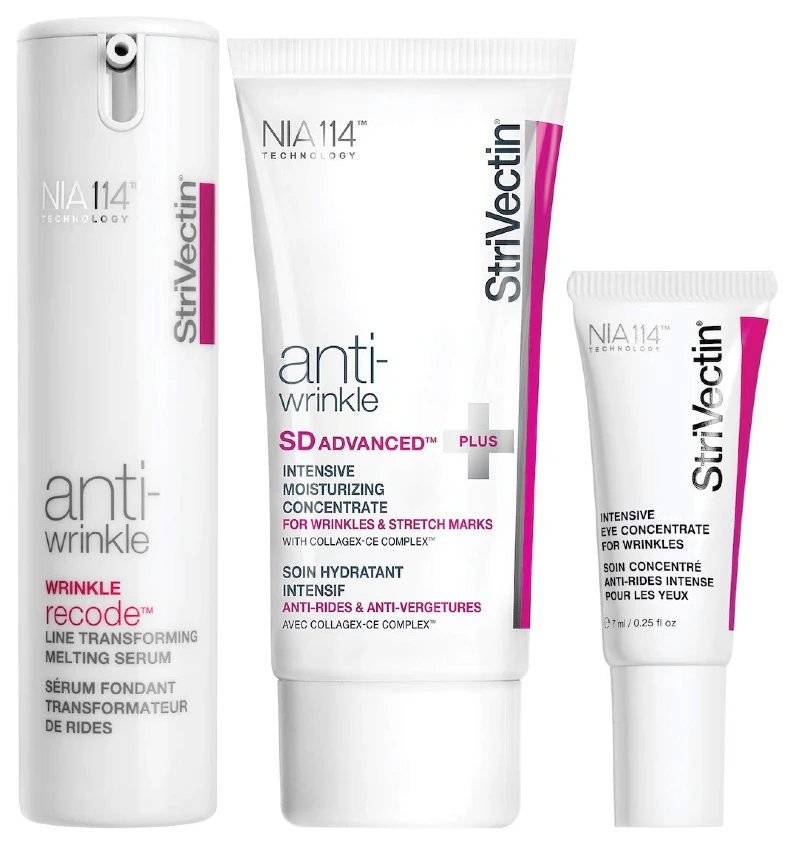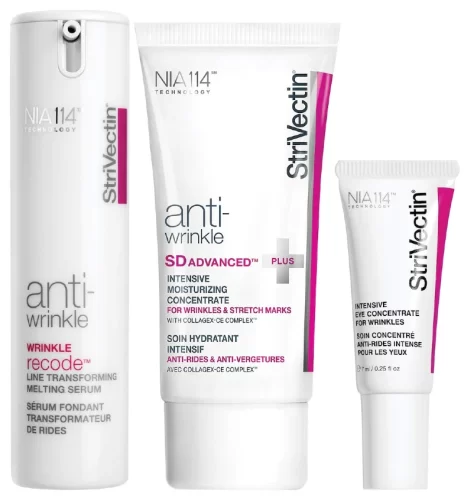 StriVectin has been leading the charge in anti-aging skincare by constantly striving to provide formulas that bring consistent, long-lasting results. This trio set consisting of some of their best-selling products is a testament to this dedication. It has been specifically designed to combat the most stubborn aging signs, such as wrinkles, sun spots, crow's feet, puffiness, lack of firmness, and dullness.
The secret lies in their in-house complex, NIA-114. It's an optimized form of niacinamide that's super effective at strengthening the barrier, building collagen, and adding extra nourishment. The products are also backed by the Collagex-CE complex, a blend of six peptides that work to skyrocket collagen levels and enhance skin elasticity and firmness.
---
Murad Active Renewal Regimen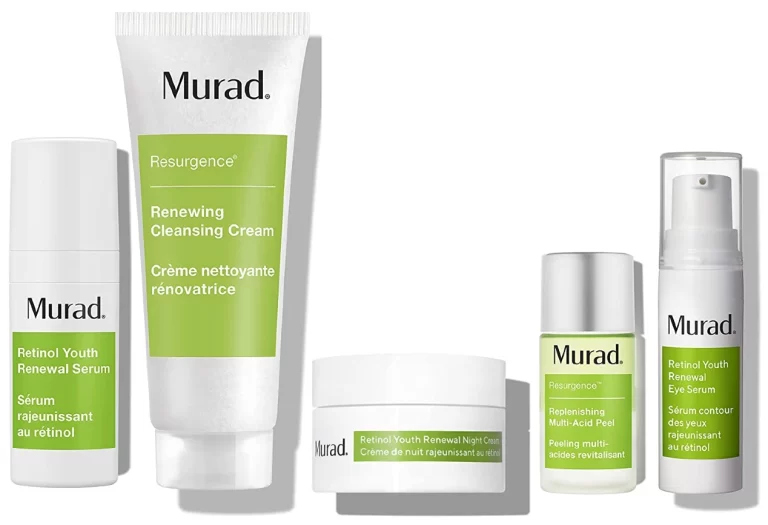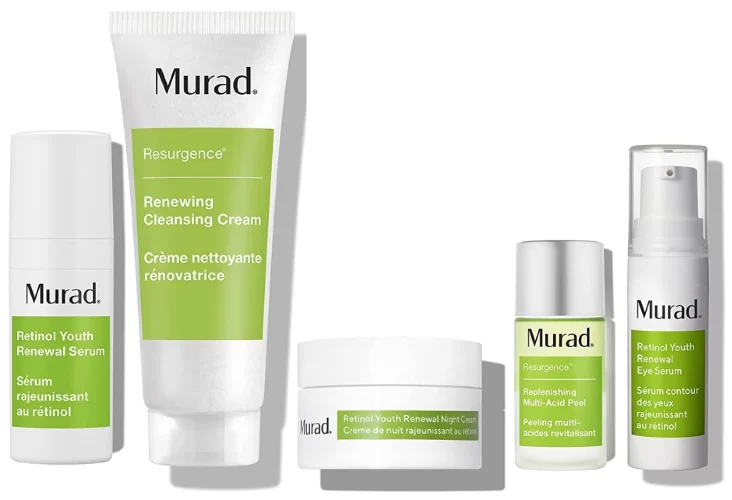 Murad is one of your best choices for an age-fighting kit that covers all skincare essentials. The bundle consists of a cleansing cream to kick off your routine, a first-class retinol serum to encourage cell renewal and support collagen production, and a retinol-powered night cream. As a bonus, the kit also comes with an eye serum powered by retinol and a facial peel formulated with chemical acids to stimulate skin regeneration.
While retinol is Murad's main selling pitch, these products are also powered by yeast amino acids (nutrients that encourage damage repair and increase moisture retention) and plenty of squalane and ceramides to counteract possible dryness and sensitivity.
Murad Active Renewal Regimen Kit is a total steal—for just $44.95, you get products that are worth a whopping $98!
---
Ole Henriksen Ole Glow Icons Skincare Set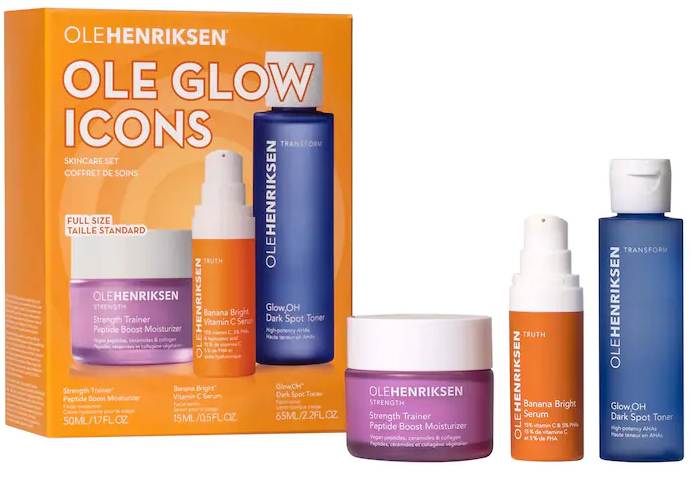 With this kit, powered by vitamin C, chemical exfoliants, and peptides, you'll say goodbye to tired, dull skin and hello to a glassy, glowy complexion—we promise.
Start with the toner, which sloughs off impurities and dead cells accumulated throughout the day. Thanks to its potent blend of chemical acids, glycolic and lactic, this toner also works hard to reduce dark spots and retexturize your skin. Next up is the Banana Bright Serum, a true superhero in the beauty scene. Infused with 15% vitamin C, this serum is the ultimate fighter against harmful free radicals that cause premature aging. It also spurs collagen growth, which means you'll enjoy firmer and bouncier skin over time.
Finally, complete your routine with the moisturizer, which is perfect for both day and night use. It's loaded with a plethora of peptides, ceramides, and fatty acids, all of which contribute to a healthy barrier, less noticeable fine lines, and more elastic skin.
The Strength Trainer Peptide Boost Moisturizer has a regular size of 1.7 oz, while the other two products come in travel-friendly sizes.
---
Versed Aging Skin Regimen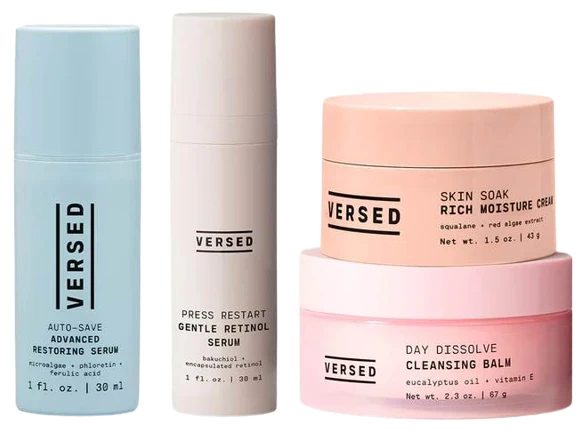 Consider this kit if you're looking for a ready-made routine to fight aging signs, dryness, and dullness without breaking the bank.
Versed Aging Skin Regimen contains a gentle cleansing balm that effectively dissolves makeup and impurities without stripping the skin to start off your routine. For daytime, they've got a Restoring Serum that firms, hydrates, and protects with 3% microalgae, 3% vitamin C, and 0.5% ferulic acid, to name a few.
For the night, the kit grants a serum that contains 0.10% encapsulated retinol to delicately stimulate cell renewal and collagen production and 1% squalane, a sebum-like substance that seals moisture. The Skin Soak Rich Moisture Cream hydrates, hinders water loss, and strengthens the moisture barrier for day and night, helped by hyaluronic acid, squalane, and vitamin E. Have I mentioned they all come in full sizes and are vegan, cruelty-free, and dermatologist-tested?
---
Juice Beauty Anti-Wrinkle Solutions Kit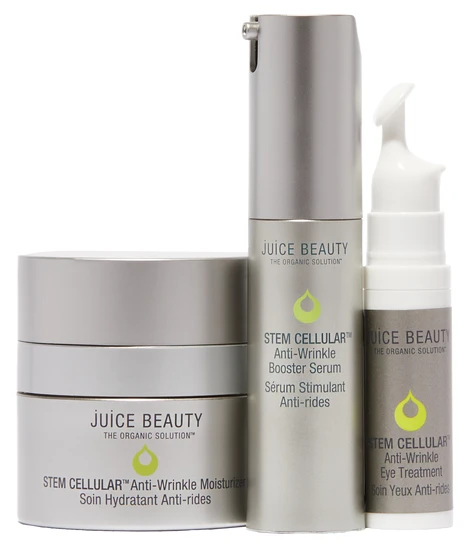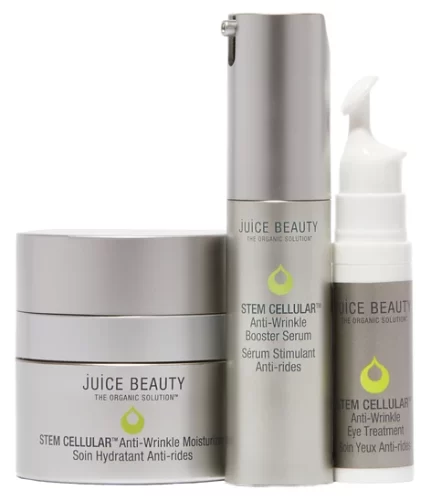 Hands down, this is the best anti-aging skincare set for those who want products made with certified organic ingredients and plant-derived compounds that don't sacrifice results. It's a killer combo that improves the skin on all fronts—reduces aging marks and evens out tone while delivering not only hydration but a dose of protection as well.
Juice Beauty has made it even easier to indulge in its luxurious and effective formulas by introducing the travel sizes of its most popular products in an affordable bundle. Including an eye cream, serum, and moisturizer, the kit is just perfect for a minimalist natural beauty regimen. Common ingredients include fruit stem cells, vitamins C and E, and shea butter, all of which contribute to protecting, restoring, and softening the complexion. As an added bonus, they're all soaked in a base of organic apple, white grape, lemon, and aloe leaf juices to provide intense antioxidant benefits and promote healthy skin.
According to the brand, 100% of people reported improved skin hydration, 87% saw less noticeable fine lines, and improved skin tone and luminosity after six weeks of use with Stem Cellular Anti-Wrinkle Solutions.
---
SkinCeuticals Brightening Skin System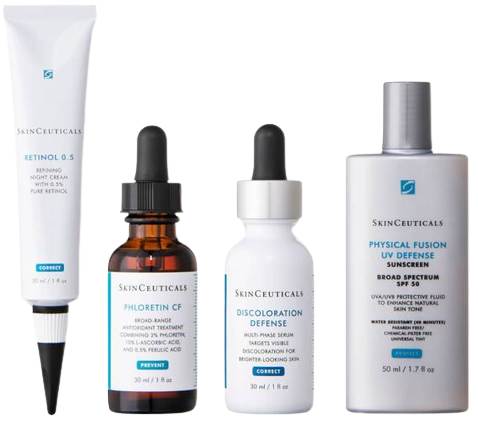 Discoloration, sun spots, and hyperpigmentation are common in aging skin, and we consider SkinCeuticals Brightening Skin System the best to address all of the above and then some. The four-product regimen fades dark spots and improves radiance through multiple modes of action: antioxidant protection, pigment inhibition, sun defense, and cell renewal.
For one, you get a day serum that fuses 10% pure vitamin C with other potent antioxidants to protect your skin from external threats and prevent dark patches. Another serum aims to banish discoloration, sun spots, and anything in between with 3% tranexamic acid, 5% niacinamide, and 1% kojic acid. To ensure your skin stays shielded against harmful UV damage—likely to cause early wrinkles and dark spots—SkinCeuticals includes a physical sunscreen that gives SPF 50, too.
For the night, SkinCeuticals' System holds a cream infused with 0.5% retinol stabilized in a delivery system that improves hyperpigmentation while softening fine lines and wrinkles.
Although it's a bit pricier, this anti-wrinkle kit will get you the pinnacle for skin brightness in full sizes products—definitely worth saving for.
---
Estée Lauder Nighttime Necessities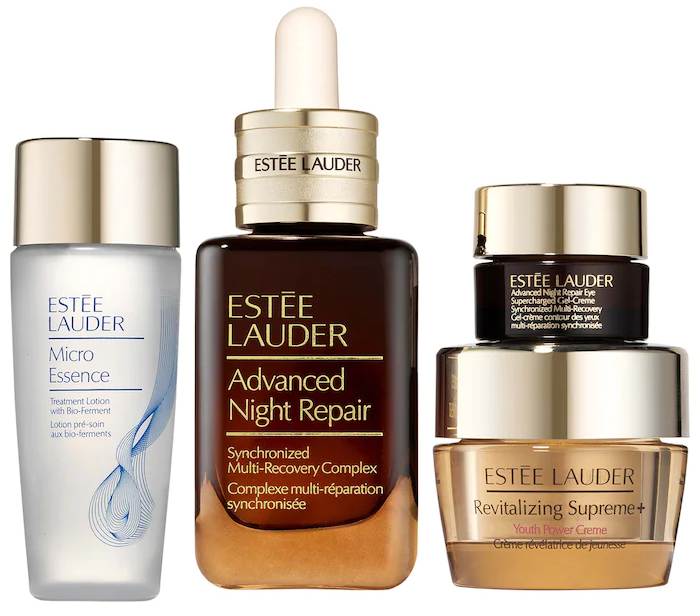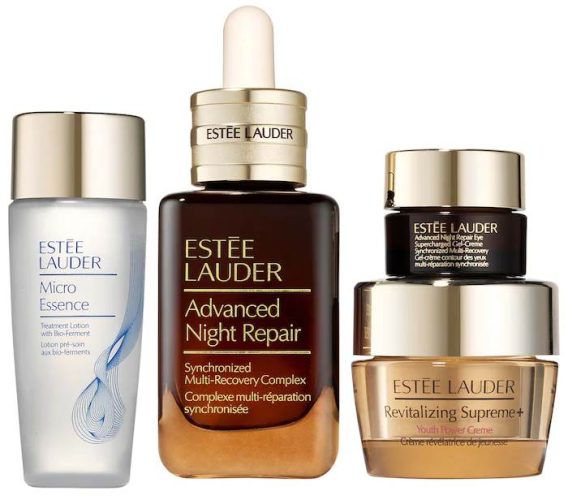 At nighttime, when we sleep, the skin is in a recovery state, and that's why it's essential to support the regeneration process with skincare products that aim to recoup the very best version of your skin. This is what Estée Lauder's kit is for: To help maximize the restorative power of night and deliver accelerated visible skin renewal.
The star item in this kit (which comes in full size!) is the Advanced Night Repair Serum, an iconic staple in people's routines for over three decades, touted for its ability to reduce aging signs and repair the skin. There's also a travel-size micro essence made with 98% probiotics that promise to fortify, nurture and ease dryness and an eye gel cream to minimize dark circles, hydrate and soften the eye area. Lastly, the Revitalizing Supreme+ Moisturizer—which is an Estée Lauder's bestseller—reduces facial lines and wrinkles and makes skin appear more lifted and firmer after four weeks, as per the brand's claims.
All in all, you get some of the best-performing anti-aging products from Estée Lauder valued at $191 for $115, which is a hell of a deal.
---
Dermalogica Age Defense Kit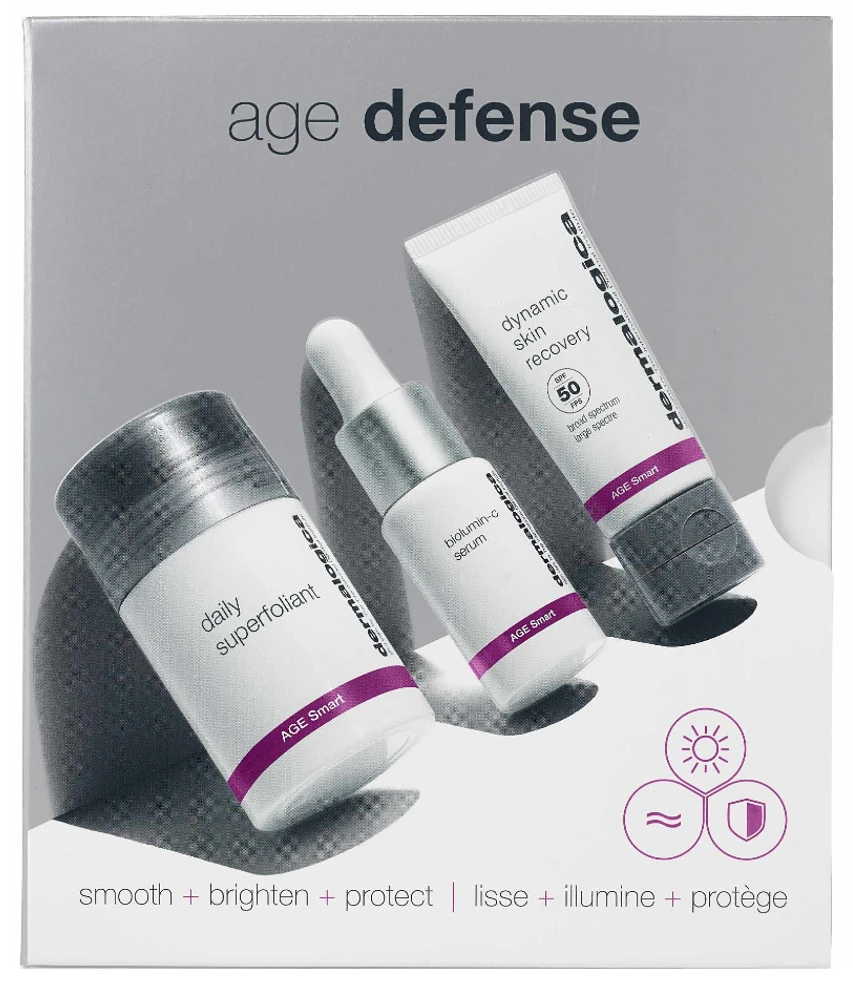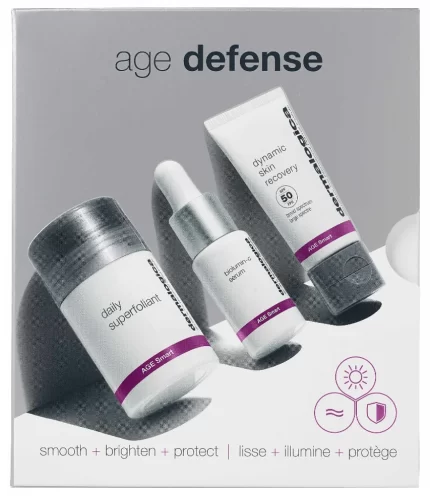 Dermalogica Age Defense Kit is ideal for those looking for preventative skincare against early aging signs, which are usually triggered by pollution and UV exposure.
In the first step, the Daily Superfoliant delicately sloops off dead skin and encourages cell turnover, eliminating impurities and prepping your skin to drink the serum you layer afterward.
Further fuelling the anti-aging benefits, the indispensable vitamin C serum is also spiked with collagen-boosting peptides and hydrating hyaluronic acid, so expect plumper and bouncier skin. Plus, Dermalogica Age Defense Kit gives you the first line of defense against skin damage—an SPF 50 sunscreen that's also infused with skin-loving ingredients, such as peptides, squalane, hyaluronic acid, and nourishing oils.
---
Kate Somerville Kateceuticals Age Repair Set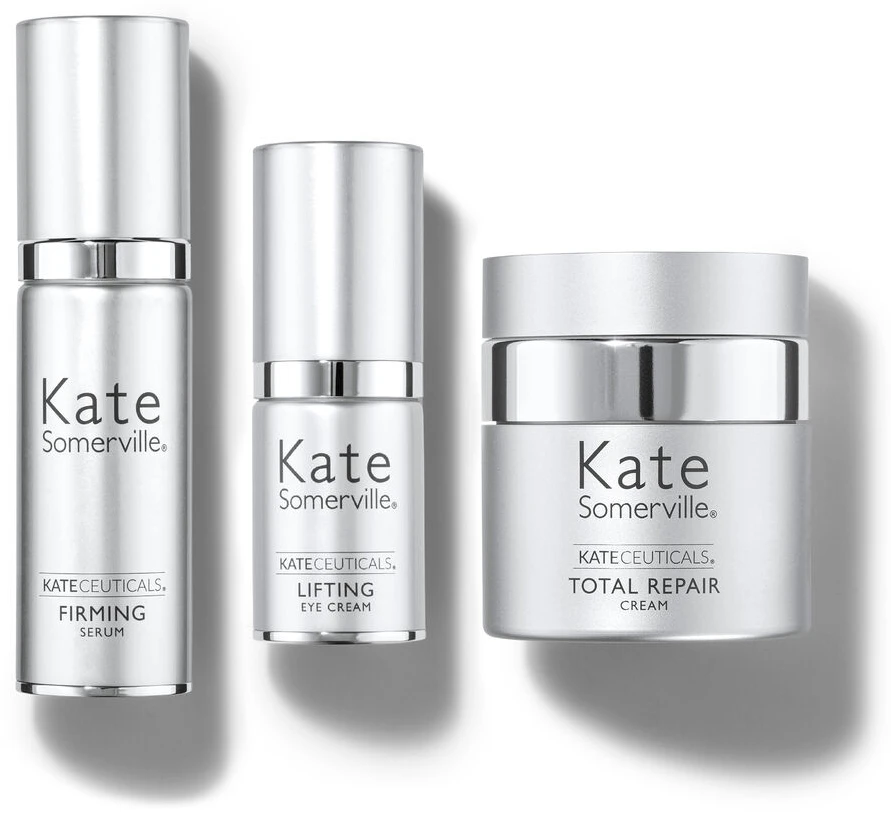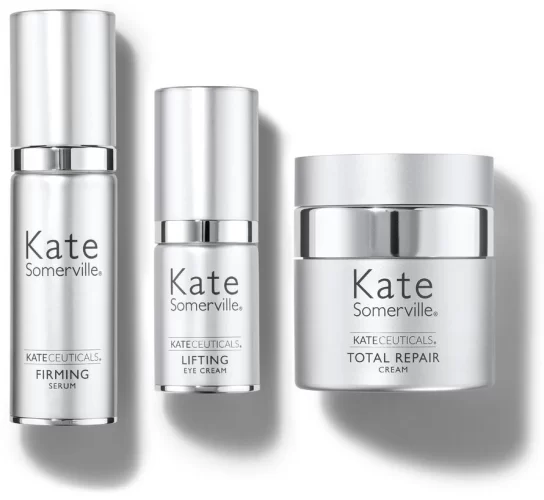 This set by Kate Somerville has all the skin saviors—eye cream, serum, and cream—you need to repair sun damage, minimize fine lines, de-puff, and improve skin luminosity. Briefly, Kate's Clinical Age Repair Set leans on peptides, ceramides, and cholesterol to reinforce the skin and smooth fine lines, hyaluronic acid to attract moisture, and adenosine to energize cells, stimulate collagen and promote skin repair. And they're all in full sizes, so you get an excellent deal from this bundle: More precisely, you pay $220 for a $390 value—where do we sign up?
---
Sunday Riley Go To Bed With Me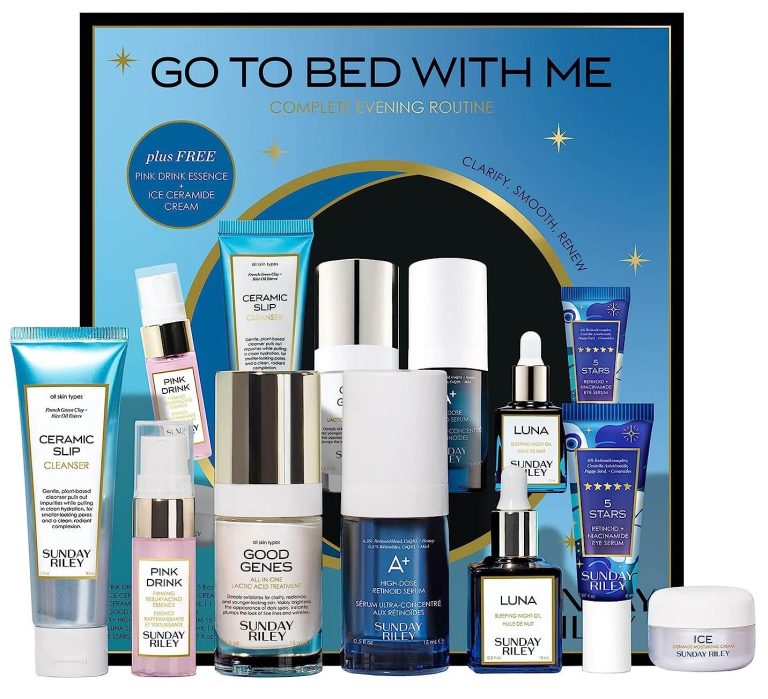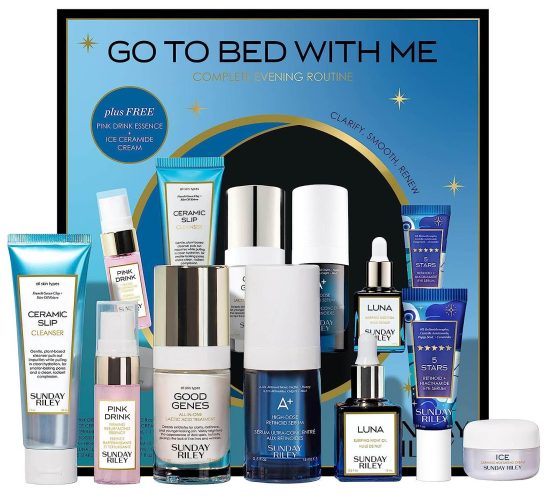 Sunday Riley's 6-piece anti-aging night kit includes everything your skin needs for an indulgent (and complete) PM skincare ritual. First, you get a cleanser and a resurfacing essence to prepare the perfect canvas for the entire routine. Next, the kit offers a small size of Good Genes Lactic Acid Treatment, one of Sunday Riley's bestsellers that gives mild exfoliation to brighten dark spots and blemishes.
Now, here come the items that target wrinkles and sagging skin: the A+ Retinoid Serum and Luna Sleeping Night Oil, two celebrated products thanks to their ability to accelerate cell renewal, promote elasticity and reveal clearer and smoother skin. The kit also includes a retinol-infused eye serum and a moisturizing cream made with ceramides which you're supposed to massage across the face, neck, and décolletage to lock in all the benefits and wake up to a healthy, supple complexion.
As per the value, Sunday Riley Go To Bed With Me Anti-Aging Night Kit helps you save 53% as it's priced at just $93 for $196 value.
---
Biossance Overachievers Set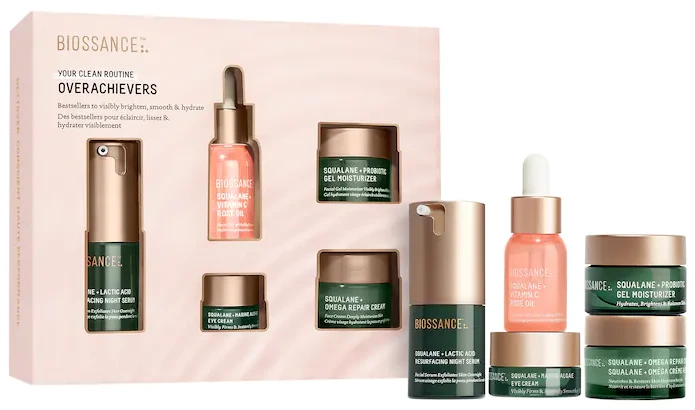 This set makes the perfect introduction to Biossance's natural formulas, featuring travel sizes of their best sellers that'll make you ask for more. The Resurfacing Night Serum and Omega Repair Cream are some of the most sought-after by skincare freaks, and Biossance Overachievers Set gets you both for under $60 — that's a game-changing deal.