The best anti-aging kits featured here are not only great for simplifying your skincare routine, but they save you a lot of cash in the long run and make a lovely gift from you to you. Besides, if you're a "try before buy" person, some of these skincare sets come with trial-size products, perfect for sampling new products without breaking the bank. Aham, a win-win.
Now, what should an anti-aging kit include to be worth your cash and deliver transformative results for fine lines and wrinkles? Briefly, the kit should contain products spiked with powerful anti-agers — think retinol, vitamin C, and peptides — as well as hydrating and skin-protecting ingredients like niacinamide, antioxidants, hyaluronic acid, and ceramides. That being said, the kit must, at the bare minimum, come with a serum and moisturizer for a minimalist routine. Or, if you're the 9-step skincare routine kind of person, rest assured, the ones I'm about to share complete your arsenal with cleansers, eye creams, sunscreens, and exfoliators.
The best anti-aging kits of 2022
I know finding the perfect anti-aging kit match for you sounds like a challenging task, but fear not. To help you in the quest for flawless skin, I've rounded up the best anti-aging skincare sets that have the right actives to fight aging signs for real. Hurry up, as they're selling like hotcakes, and some are limited-edition.
---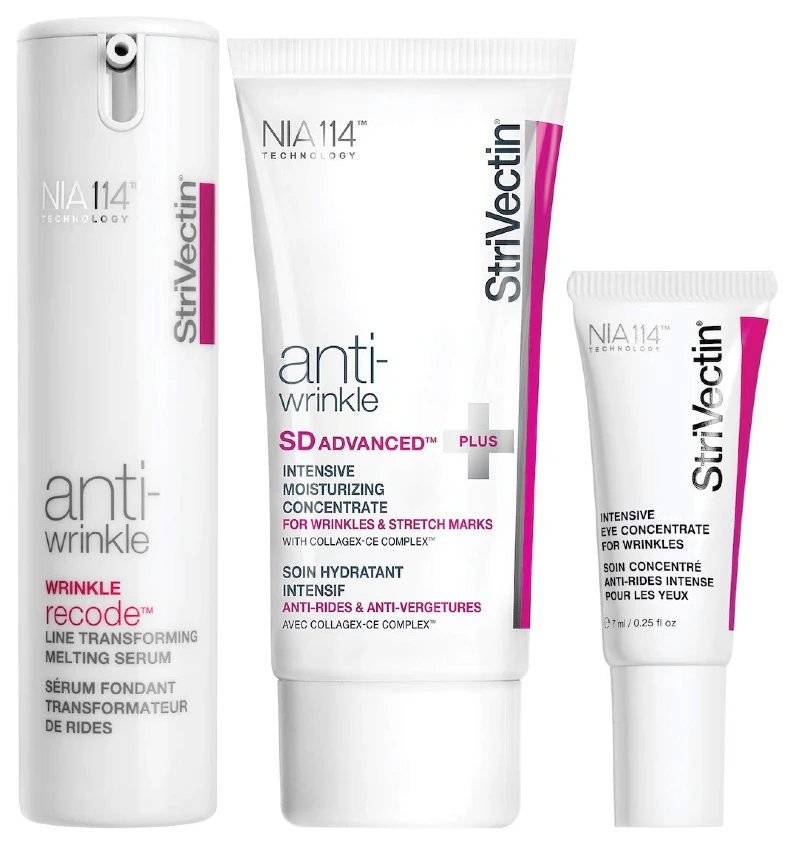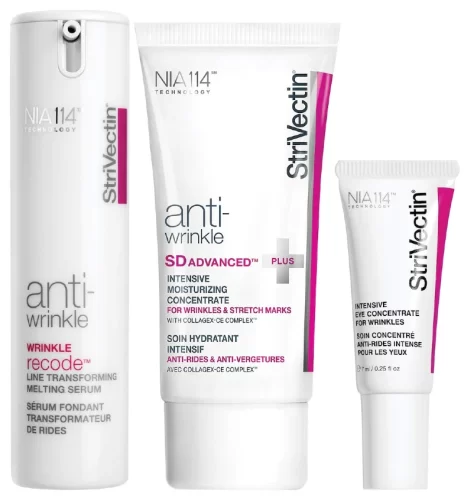 StriVectin Power Starters Anti-Wrinkle Trio Full-Size Routine
StriVectin is a pioneer and cult-favorite brand in anti-aging touted to deliver potent formulas that actually change the skin. This anti-wrinkle trio set includes three of their best-selling products that aim to diminish even the most stubborn aging signs. Fine lines, wrinkles, crow's feet, puffiness, lack of firmness, dullness — you name it, StriVectin's best anti-aging kit tackles them all. The secret lies in their in-house complex, NIA-114, an optimized form of niacinamide, super effective at strengthening the barrier and adding extra nourishment. The formula is also backed by the Collagex-CE complex, which is a blend of six peptides that work to skyrocket collagen levels, visibly enhancing skin elasticity and radiance.
---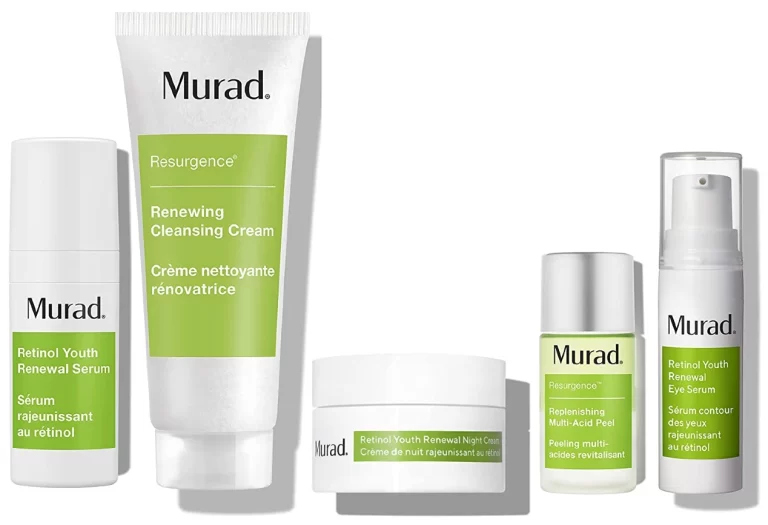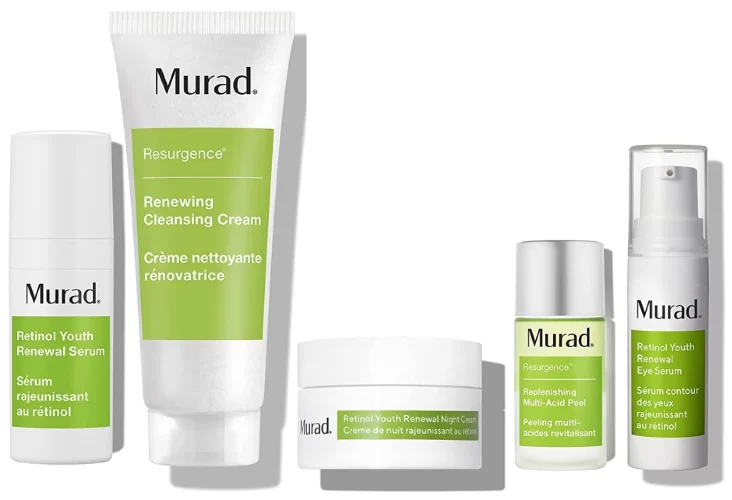 Murad Active Renewal Regimen Anti-Aging Kits
Another best anti-aging skincare set comes from Murad, a brand beloved by dermatologists for its medical-grade formulas. The kit includes a first-class retinol serum, cleanser, night cream, eye serum, and peel, making up a complete routine to keep wrinkles at bay. While retinol is Murad's main selling pitch, these products are also powered by yeast amino acids (antioxidants with skin-protecting benefits) and plenty of squalane and ceramides to counteract possible irritations. This is your best bet if you want to try Murad, as you get five sample-size products for only $45.
---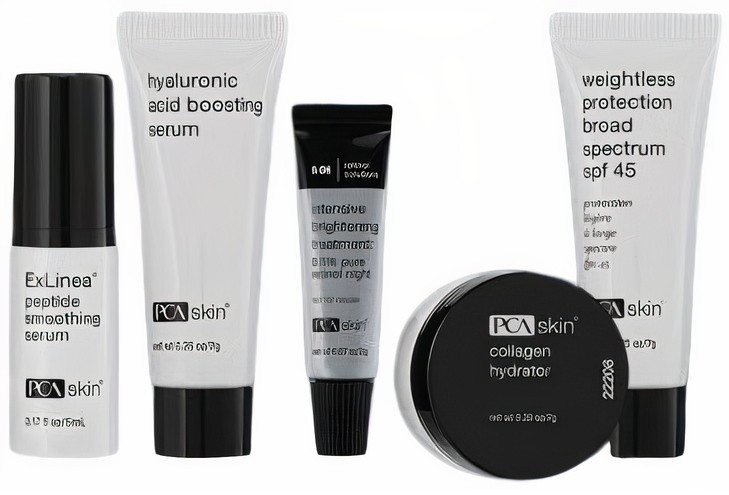 PCA Skin Makeup, Life and Love's A+ Anti-Agers
This starter kit gives you the chance to test some of the greatest anti-agers of PCA Skin. It was created by Jamie Lewis and packs a serum infused with peptides to smooth fine lines, one with hyaluronic acid to boost hydration, and a brightening treatment with 0.5% retinol. There's also a rich moisturizer to help firm mature skin and a weightless sunscreen to shield against sunbeams with SPF 45. These products are free of irritants like synthetic dyes and fragrances, working like a charm for every skin type, including problematic ones.
---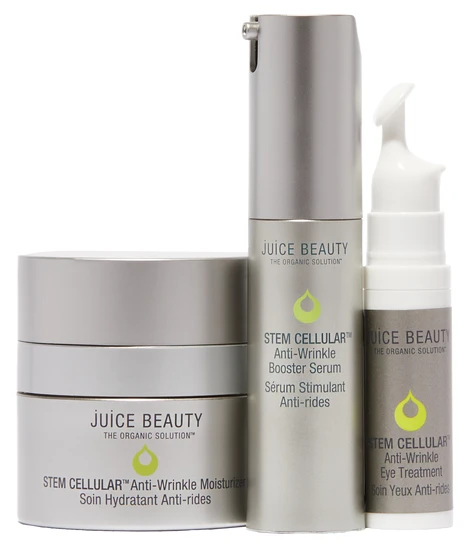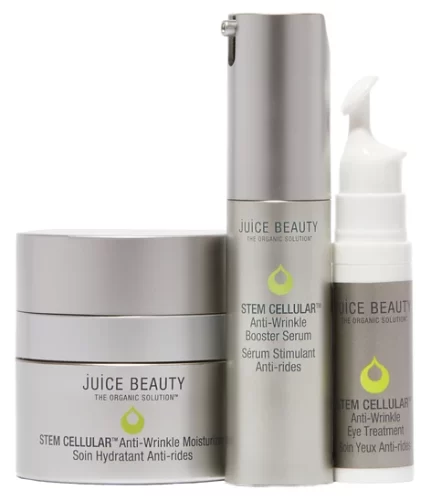 Juice Beauty Stem Cellular Anti-Wrinkle Solutions Kit
Juice Beauty Stem Cellular Solutions Kit stands out as the best anti-aging kit for natural skincare lovers, packing a moisturizer, serum, and eye cream. This killer trio improves the skin on all fronts — reduces aging marks, and evens out tone while delivering not only hydration but a dose of protection as well. The star of the show is Juice Beauty's own proprietary blend of fruit stem cells and vitamin C soaked in a grapeseed base rich in antioxidants to soften, hydrate, and rejuvenate.
---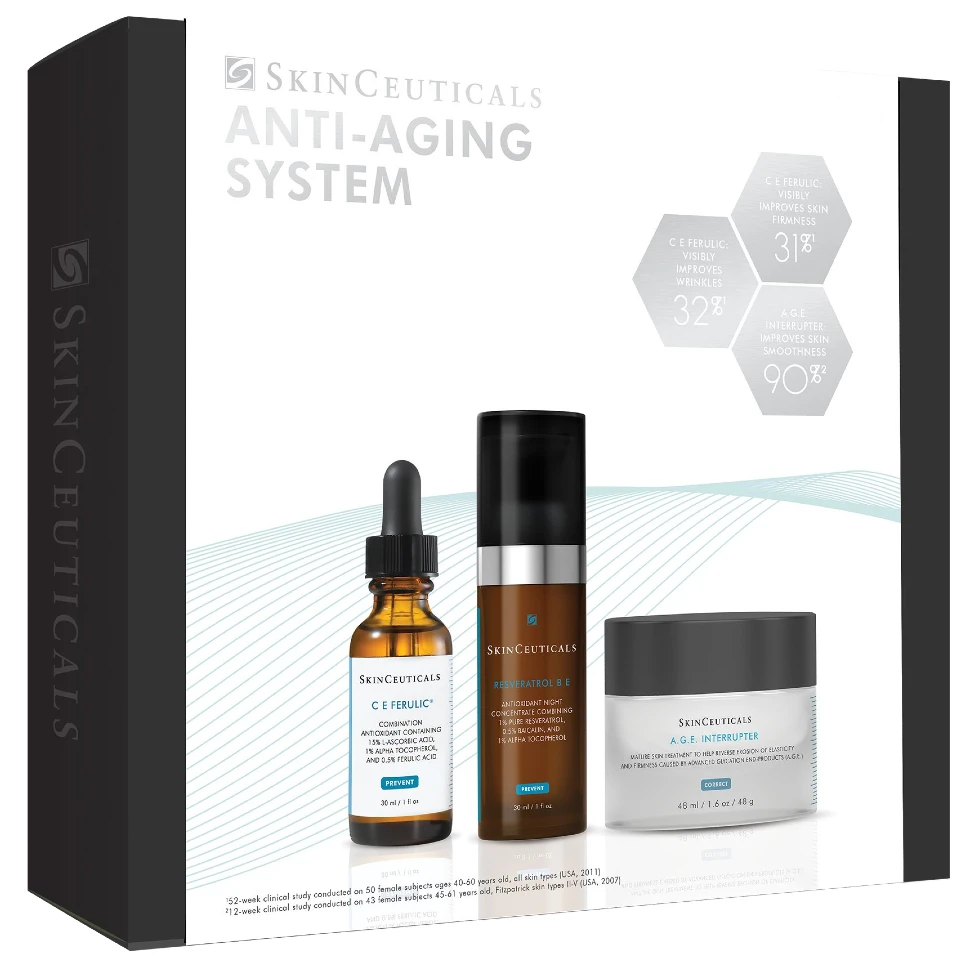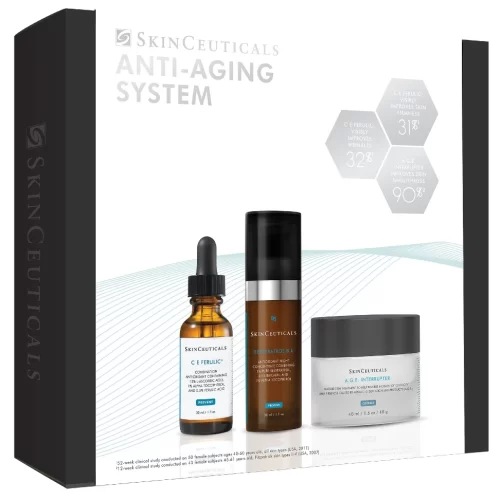 SkinCeuticals Anti-aging Skin System
SkinCeuticals holds nothing back with this three-product skincare set targeting not only skin aging but the body's own defense system, boosting it to fight daily aggressors. It'll get your skin on steroids with 15% vitamin C, 1% vitamin E and 1% resveratrol, working day and night to diminish visible wrinkles and enhance the skin's firmness. Although it's a bit pricier, this best anti-aging kit will get you three of the SkinCeuticals' most loved products at full size — definitely worth saving for.
---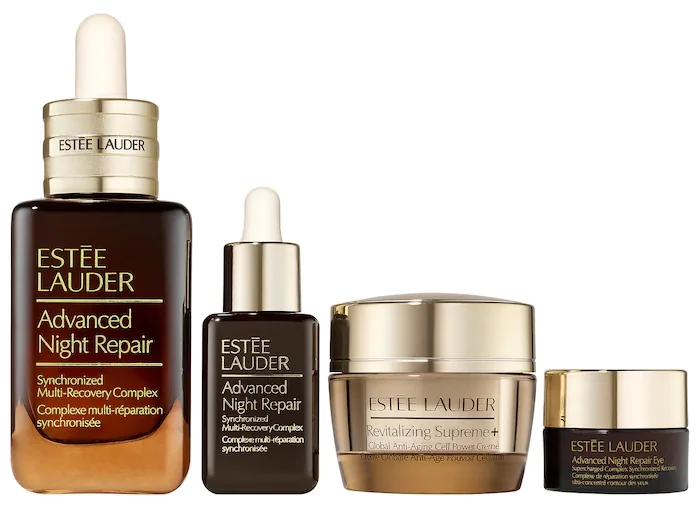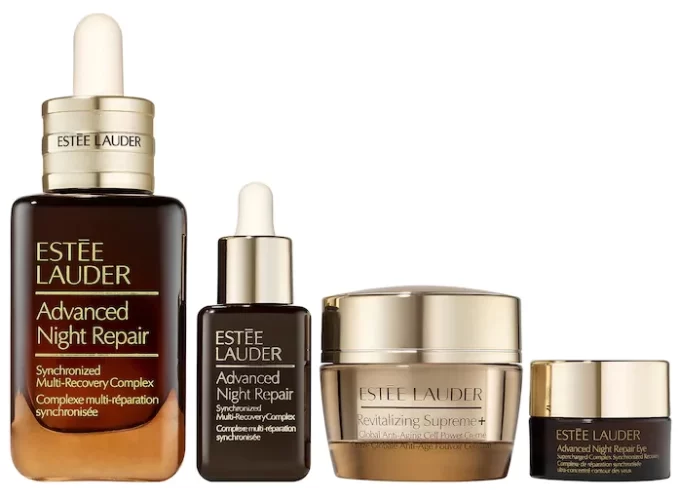 Estée Lauder Nighttime Necessities Repair + Firm + Hydrate
Whether you're looking to gift it to someone or use it to pamper yourself, Estée Lauder has prepared one of the top-performing anti-aging sets. It puts on the table the brand's best-seller product at full size — Advanced Night Repair Serum — a cult favorite that promises to make skin appear younger, bouncier, and more radiant than ever. You'll also get the travel-size version of this serum, plus other Estée Lauder iconic products, including a revitalizing cream and eye treatment to repair, firm, and hydrate the skin all day long (and night).
---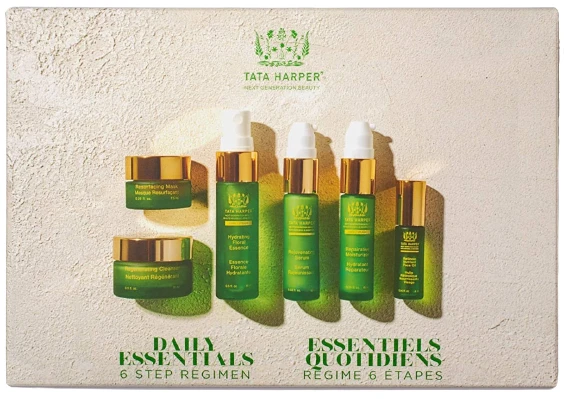 Tata Harper Daily Essentials Set
Or, you can build a complete age-defying skincare routine with Tata Harper Daily Essentials Set, featuring 100% natural products. It boosts your complexion with a whole host of botanical oils and extracts, plus replenishing ingredients such as lactobacillus ferment, hyaluronic acid, and willow bark to resurface, rejuvenate and hydrate the skin. In other words, it's an all-in-one solution for anti-aging with clean and non-toxic products that everyone can use.
---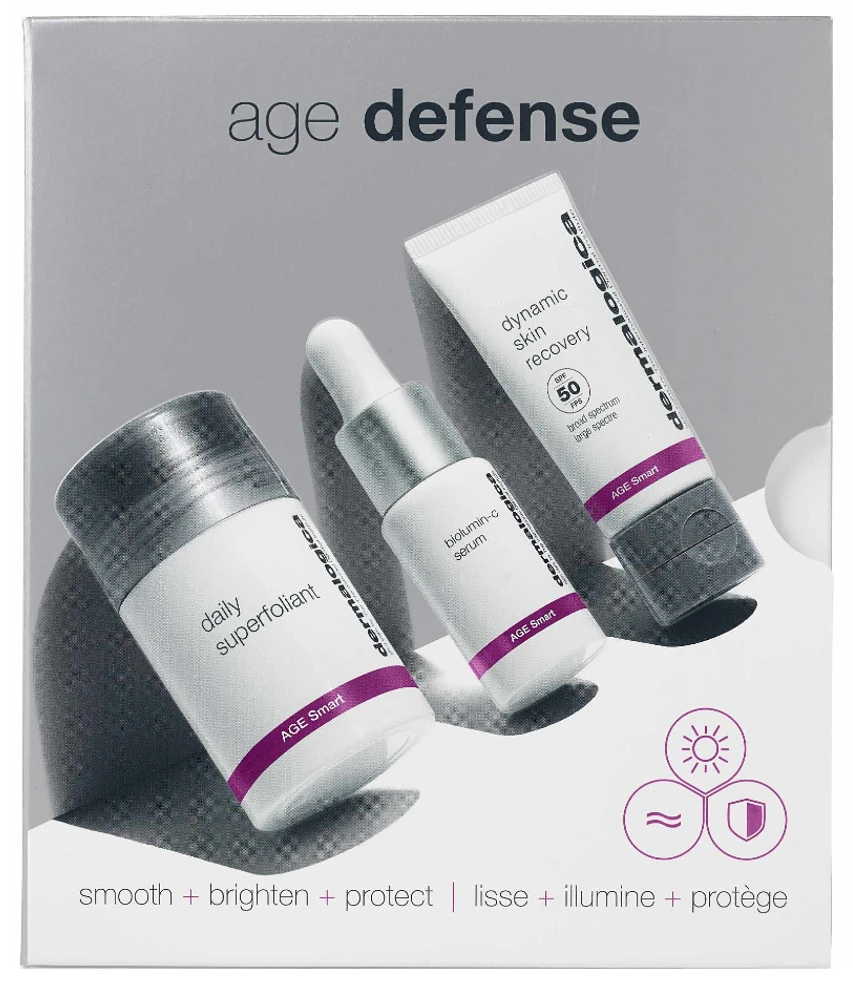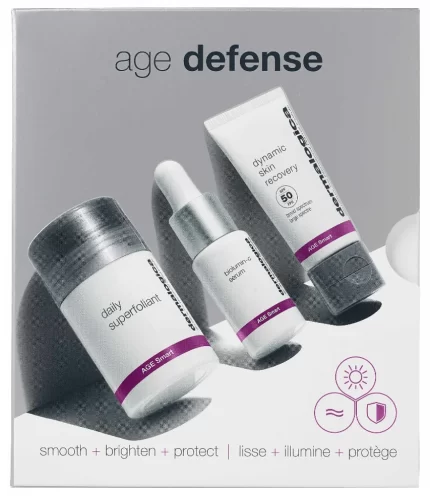 Dermalogica Age Defense Kit
As one of the best anti-aging skincare sets, Dermalogica Age Defense Kit contains a resurfacing exfoliant, brightening serum, and moisturizer chocked full of rejuvenating actives like vitamin C, niacinamide, hyaluronic acid, lactic acid, and peptides. That brighter, dewy and flawless complexion of your dreams is just three bottles away with Dermalogica's bestsellers — and everything for just $58.
---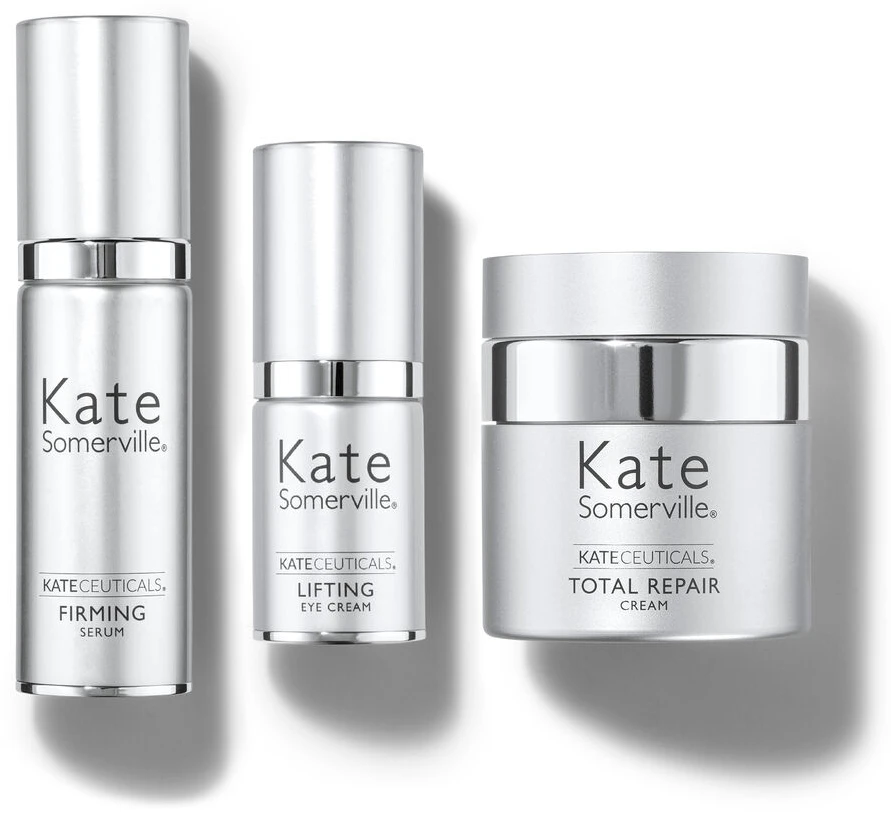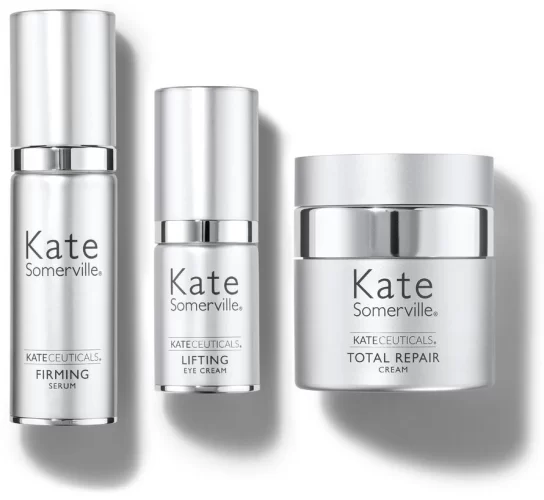 Kate Somerville Kateceuticals 3-Piece Clinical Age Repair Set
This set by Kate Somerville has all the skin saviors you need to brighten, smooth, and rejuvenate aged skin. While KateCeuticals Firming Serum loves your skin with a complex of peptides and hyaluronic acid, KateCeuticals Total Repair Cream shields it with ceramide, squalane, and adenosine — a dream team of anti-agers. Finally, KateCeuticals Lifting Eye Cream makes tiered eyes, puffiness, and dark circles things of the past.
---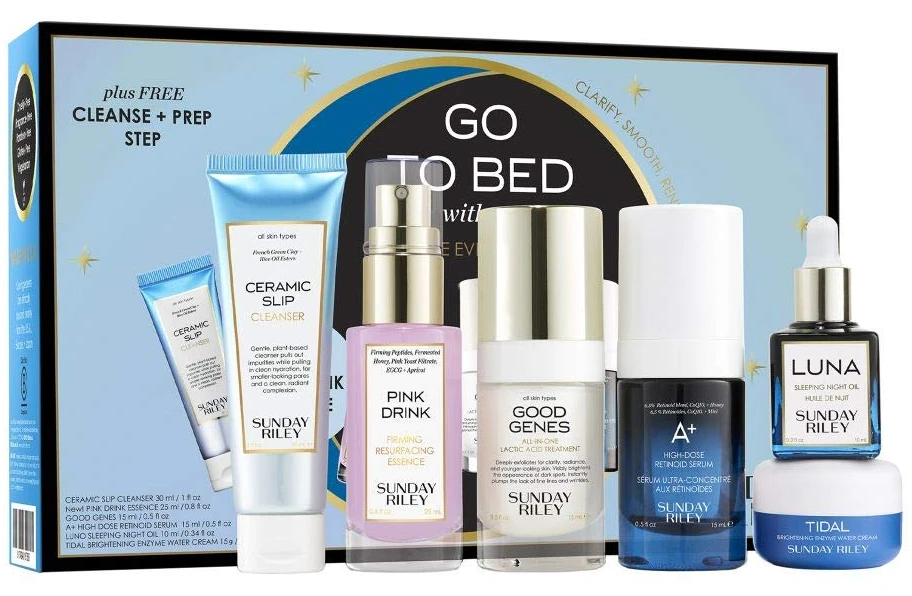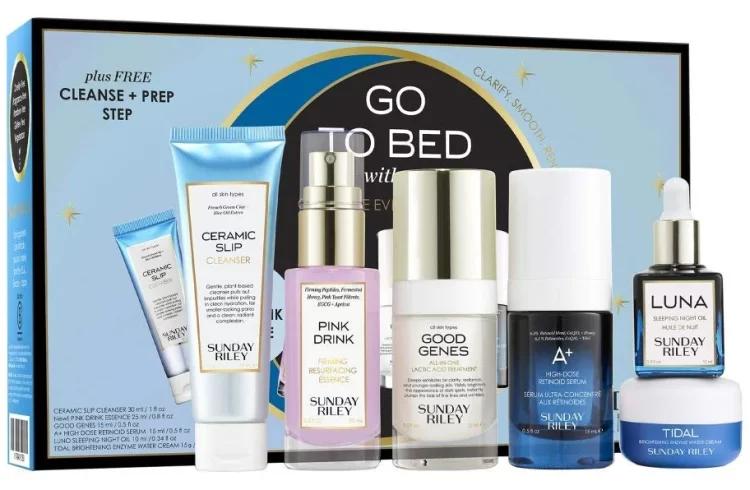 Sunday Riley Go To Bed With Me Anti-Aging Night Kit
Sunday Riley's 6-piece anti-aging bundle includes everything needed for an indulgent skincare ritual to minimize the look of fine lines and wrinkles. Retinol, lactic acid, ceramides, hyaluronic acid, coenzyme Q10, peptides — this kit has them all, working the night shift to minimize aging signs, so you wake up to revitalized, plump, and hydrated skin.
---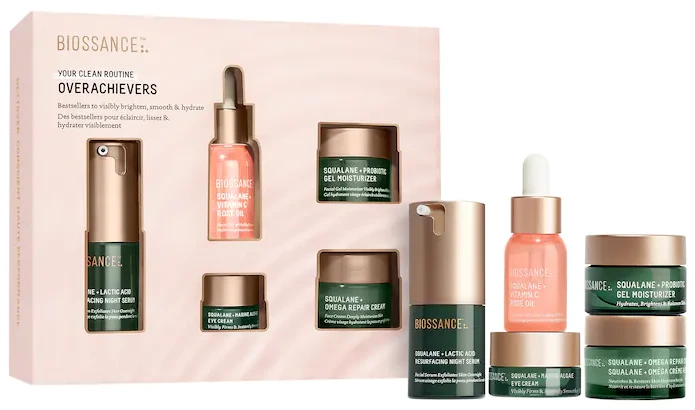 Biossance Overachievers Set
This skincare set makes the perfect introduction to Biossance's natural and potent formulas, featuring travel sizes of their best-selling products that'll make you ask for more. The Resurfacing Night Serum and Omega Repair Cream are some of the most sought-after by skincare freaks, and Biossance Overachievers Set gets you both for under $60 — that's a game-changing deal.