The best chemical peels for oily skin are crucial for controlling excess sebum and keeping pimples at bay. As an oily skin type, I learned that lesson the hard way. Trust me; whether you want to reduce breakouts appearance or prevent the sebaceous glands from going into overdrive, you need to use these chemical peels for oily skin. They work just as well for renewing the complexion while maintaining its integrity, giving you more chances to get transformative results overall.
What chemical peel is best for oily skin?
It'd be fair to say the best chemical peel for oily skin is salicylic acid. Since it's oil-soluble, salicylic acid can penetrate the fat layer, decreasing sebaceous glands' activity. In other words, it works to unclog the pores and regulate sebum production — exactly what you want for oily skin. So you should look for products containing salicylic acid or its derivatives (think lipo hydroxy acid). It's even better if it has other exfoliants such as glycolic, lactic, or malic acids, as this will give you more intense benefits.
Do chemical peels help oily skin?
Chemical peels are really good for oily skin because they eliminate the buildup of the dead cells from the epidermis and balance sebum, helping prevent pores from clogging and reducing breakouts. As such, chemical peels are one of the best practices to control oily skin from bursting out. Not only that, but chemical peels can also improve the appearance of large pores, even skin tone, fade scars, and minimize aging marks, revealing radiant and youthful skin.
How often to use chemical peels for oily skin?
The thumb rule is that oily skin shouldn't use chemical peels more often than once per week. Over-exfoliating your skin can disrupt the skin barrier and dehydrate your skin, leading to increased sebum production and more breakouts. So better avoid that.
How often you peel your skin also depends on the product on hand and what concentrations of peeling agents it uses. For instance, superficial peels that use less than 10% peeling solution can be used on a weekly basis (if your skin can tolerate it), while deeper peels should be performed every two to five weeks, preferably in-office.
How to use chemical peels
First, use the chemical peel in your evening routine since it can make your skin susceptible to sun damage.
Make sure your skin is cleansed and completely dry.
Do a patch test to see how your skin reacts to the chemical peel. Apply the first layer evenly across the face according to usage instructions.
Leave on for about 10 minutes and rinse off.
Mild tingling, irritations, redness, and dryness may be experienced. Don't panic. These are normal.
Apply a hydrating moisturizer to soften irritations and calm the skin.
In the morning, apply sunscreen.
For beginners, it's best to start with a concentration below 10% once every two weeks and slowly build your tolerance while gradually increasing the concentration and frequency of chemical peels. You should also constantly check how your skin reacts to chemical peels and make changes according to that.
What else?
There are a few do's and don'ts of using chemical peels for oily skin:
Pay attention to dryness and irritations. Chemical peels work by causing a controlled burn in skin tissues, which makes them feel harsh. While mild irritations and dryness are normal, if anything goes too uncomfortable, discontinue using that specific product.
What you do before and after a chemical peel is deadly important. After the chemical peel, your skin is more sensitive, and the chances of irritations are real. So make sure you apply hydrating and regenerating ingredients.
The moisturizer you use after a chemical peel should accelerate the skin healing process and fortify the protective barrier.
Avoid heavy ingredients such as retinoids, tea tree, vitamin C, or other acids before and after a chemical peel.
Don't use chemical peels if you had laser treatment, tanning bed, or microneedling one week prior to the treatment.
Now that all your questions are answered, below are the best chemical peels for oily skin our team swears by:
---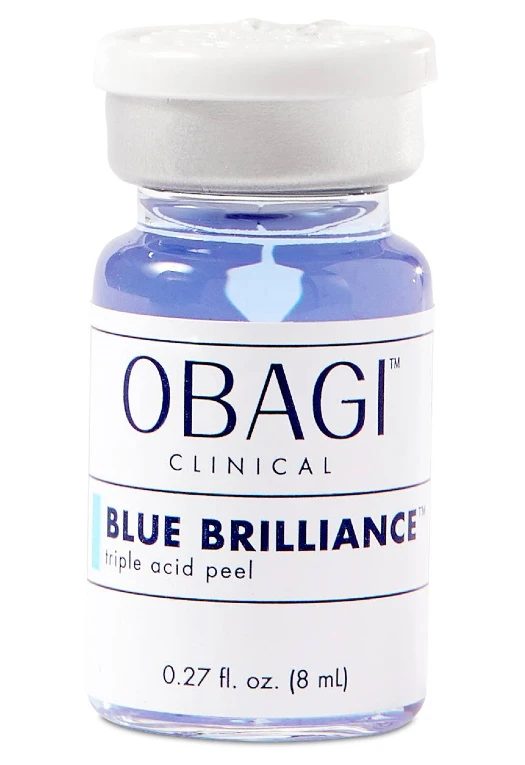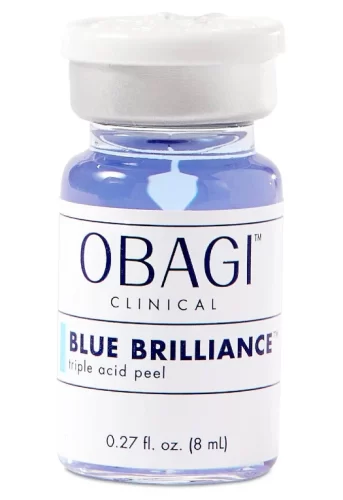 Obagi Clinical Blue Brilliance Triple Acid Peel
Obagi Clinical Blue Brilliance Triple Acid Peel uses the three powerhouses of chemical peels, aka glycolic, lactic, and salicylic acids. It's one of the best chemical peels for oily skin because it has salicylic acid in the highest concentration, followed by glycolic and lactic acids. There's also glycerin to increase hydration, licorice extract to brighten the skin, and willow bark to shrink large pores. With such potent formula, the peel promises to minimize the look of dull and uneven skin, keep pores clean, and reduce excess sebum. The price is not bad as the kit of four vials is said to last two months.
---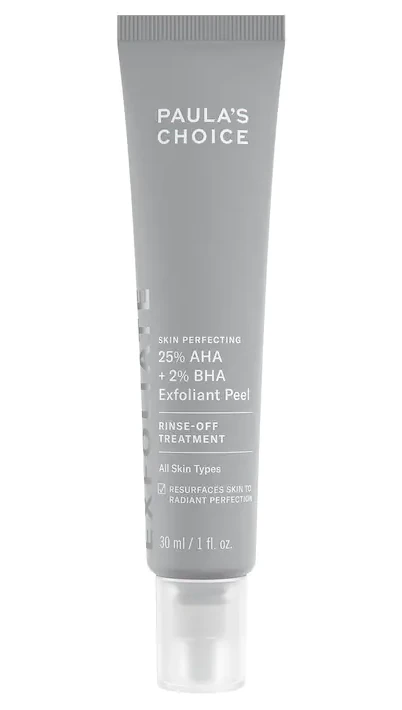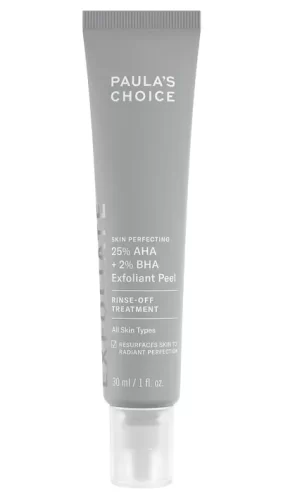 Paula's Choice Skin Perfecting Exfoliant Peel
If your skin craves a cocktail of peeling agents, Paula's Choice Skin Perfecting Exfoliant Peel is the one. It contains no less than six acids, including 25% AHAs (glycolic, lactic, mandelic, tartaric, and malic acids) and 2% BHAs (salicylic acid) combined with vitamin E, anti-irritants (bisabolol and allantoin), and hydrating ingredients (sodium hyaluronate, glycerin). This multi-acid peel is literally good at everything, from softening and resurfacing the skin to minimizing wrinkles appearance, regulating excess oil, and improving pores' look.
---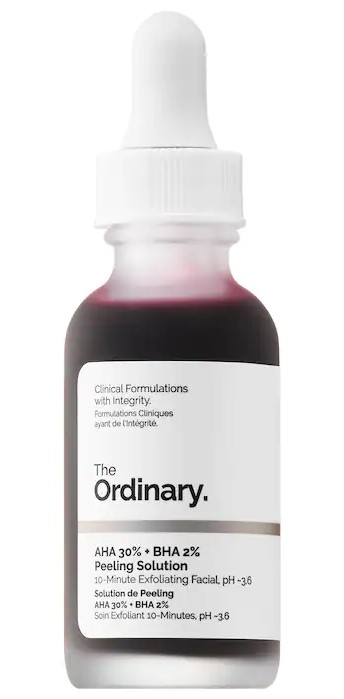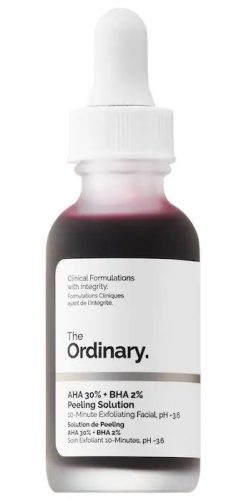 The Ordinary Peeling Solution
The Ordinary puts on table one of the best, most popular, and affordable chemical peels for oily skin in a simple and effective formula that I love. This super-concentrated peel contains a blend of AHAs and salicylic acid mixed with sodium hyaluronate, glycerin, and vitamin B5 (all great humectants) to give intense exfoliation without irritations. Tell your uneven tone, dark spots, excess oil, and dead cells buildup is over, The Ordinary Peeling Solution has got your back!
---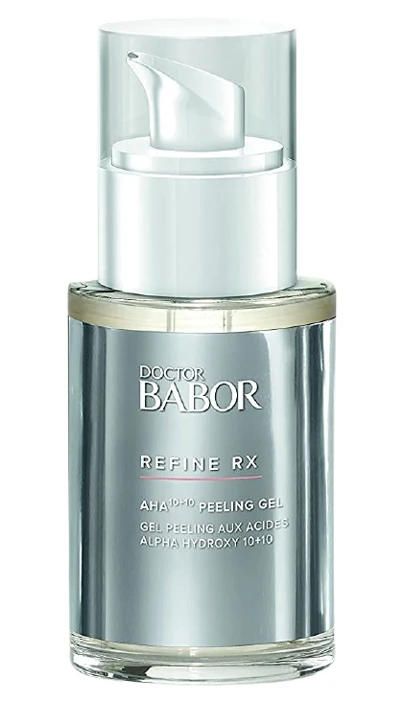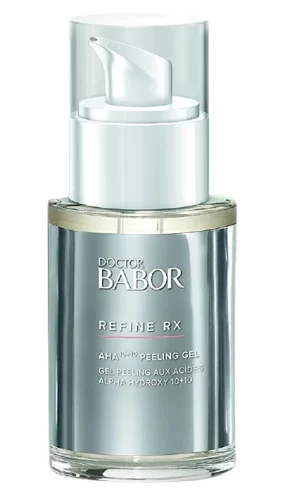 Doctor Babor Refine RX Peeling Gel
This peeling gel is where glycolic, lactic, and salicylic acids meet the well-established vitamin C. Doctor Babor Refine R.X. works to remove dead skin cells, unclog pores and refine skin texture, while vitamin C provides extra protection against external aggressors. As you'd guess, it's the one to go to if your skin is cornered by wrinkles, fine lines, or dark spots. I'm telling you, Babor products never disappoint.
---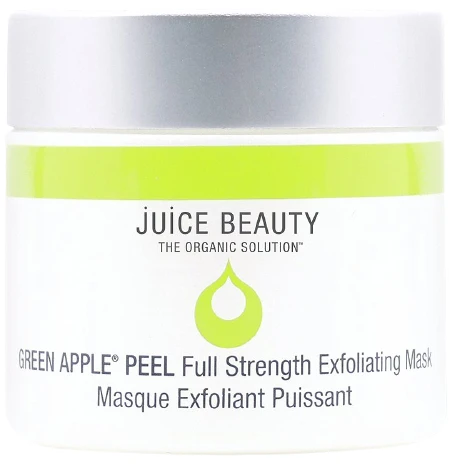 Juice Beauty Green Apple Face Peel Exfoliating Mask
Anyone looking for an organic exfoliator should stop at Juice Beauty Green Apple Face Peel Exfoliating Mask. The peel not only is filled with glycolic and lactic acids but also with an amalgam of vitamins, including A, C, and E. Besides, since the peel's base is made of apple, lemon, and aloe juices, it's soothing and hydrating, plus it doesn't strip the skin from its natural moisture. The lemon and aloe juices also provide antioxidant protection thanks to their vitamins- and flavonoids-rich content. Ten minutes once weekly, and you can say hello to brightener skin.
---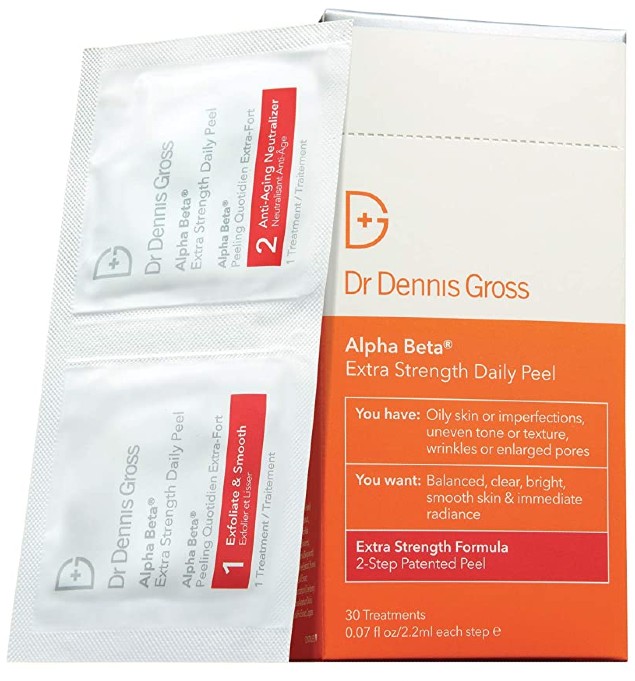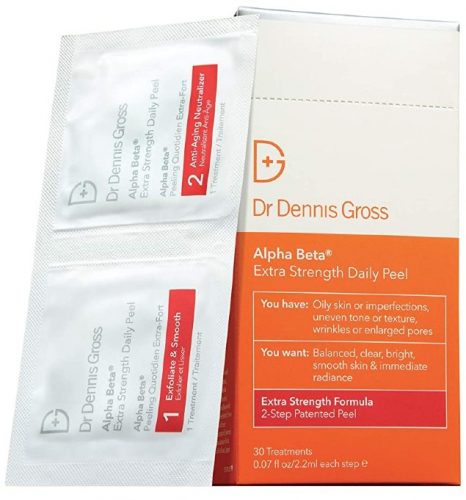 Dennis Gross Skincare Alpha Beta Extra Strength Daily Peel
If you find exfoliating pads easier to use, you'll be delighted with what Dr. Dennis Gross has right here. It's an extra-strength chemical peel split into two steps that target all skin concerns you could possibly think of, including wrinkles, large pores, breakouts, dark spots, excess sebum, acne scars, uneven tone, and rough texture. The first step is meant for a deep exfoliation using a blend of seven acids (including salicylic acid) while also relieving the skin thanks to chamomile. After two minutes, apply the second step, which contains retinol and green tea.
Now, here's a pro tip for you: cut the pads in half to save on cost; you'll get the same benefits anyway. Thank me later!
---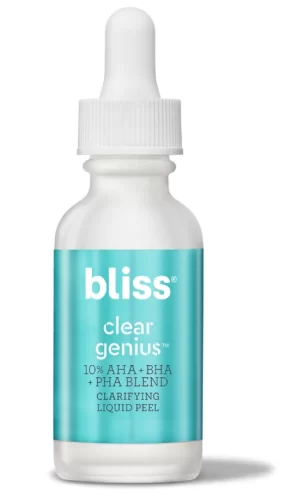 Bliss Clear Genius Clarifying Overnight Liquid Peel
Bliss made a leave-on chemical peel working overnight to clear pores and revitalize the skin while removing the buildup of dead cells. Besides a blend of 10% AHAs and BHAs, this chemical peel also uses polyhydroxy acid (PHA), a gentle exfoliant that supports cell turnover without irritating or drying the skin. It's clean, vegan, affordable, and gentle enough to be used twice weekly.
---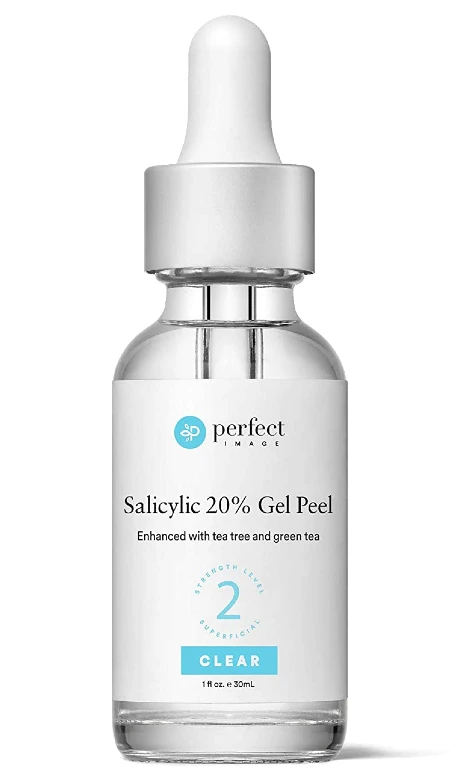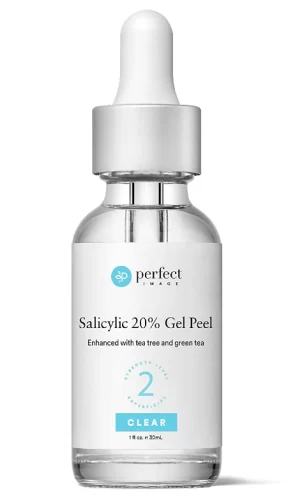 Perfect Image Salicylic 20% Gel Peel
Perfect Image Gel Peel is among the best chemical peels for oily and acne-prone skin types because it's made with 20% salicylic acid. In addition, the peel contains tea tree oil and green tea extract, both known to have pore-clearing abilities and antimicrobial properties against acne-causing bacteria. The main goal of this chemical peel is simple: to clear out the excess oil that induces breakouts and pimples. It's just perfect for reducing the greasy look too.
---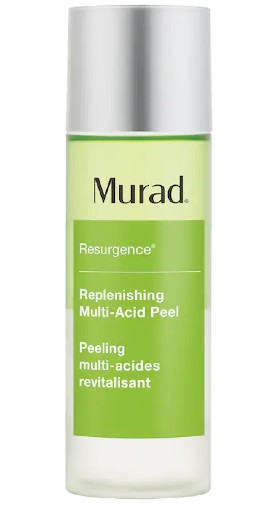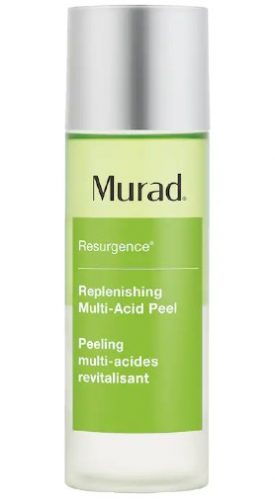 Murad Replenishing Multi-Acid Peel
If you feel like your skin needs daily facial peels to keep its glow and radiance, there's no better option than Murad Replenishing Multi-Acid Peel. Although it's advertised for dry skin, this peel does the job just fine for oily skin folks too, working to regulate sebum, unclog the pores, and nourish the skin for a healthier-looking complexion. It does that thanks to a blend of AHAs and BHAs, backed by natural extracts, yeast amino acids, trehalose, and betaine — which are all skin-loving ingredients. There's also moringa oil that mimics the skin's natural sebum and stabilizes sebum production in oily skin.
---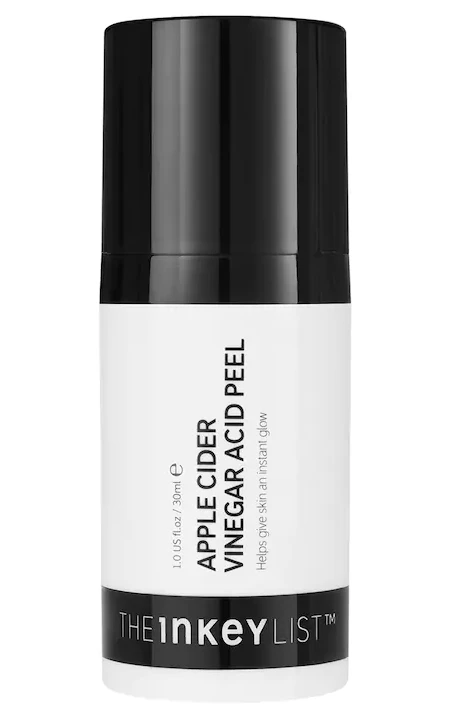 The Inkey List Apple Cider Vinegar Peel
The best chemical peel for oily skin that won't break the bank was made by The Inkey List, one of our forever-favs. It packs 10% glycolic acid, plus a mingle of multi-fruit acids providing chemical and enzymatic exfoliation. And if it wasn't enough, the formula includes 2% apple cider vinegar, great at targeting acne-causing bacteria, just in case you need it. Yep, it's pretty strong, but the addition of glycerin and sea buckthorn oil offset dryness while lactobacillus ferment strengthens the skin barrier, so no worries about irritations — just bye uneven texture and farewell excess sebum.