The best chemical peels for oily skin are crucial for controlling excess sebum and keeping pimples at bay. As an oily skin type, I learned this lesson the hard way. Trust me; whether you want to reduce acne or prevent the sebaceous glands from going into overdrive, regularly exfoliating with a chemical peel can help. Because breakouts usually occur as a result of excess sebum and dead cells that clog pores, a chemical peel can be the perfect ally in your battle against pimples. Once they're applied to the skin, chemical peels sloop off dead cell buildup, gunk, and impurities, which in turn helps decongest pores and minimize the chances of breakouts. In addition, chemical peels help the skin renew, diminishing post-acne marks and leaving skin baby-soft.
What chemical peel is best for oily skin?
Chemical peels can use alpha-hydroxy acids (lactic, glycolic, and malic acids) and beta-hydroxy acids (salicylic acid) to remove the top layer of the skin and promote cell renewal. Of all, the most effective chemical peel for oily skin is salicylic acid. This BHA is oil soluble, meaning it can penetrate the fat layer to go deep into the skin where it dislodges dead cells and bacteria that block pores. Plus, it regulates sebum and has anti-inflammatory benefits, which help ease swelling.
However, to get the most out of chemical peels, it's best to use a combination of AHAs and BHAs. This is because AHAs work more on the skin's surface due to their large molecules while BHAs go beneath the first layer of the skin to clear the pores and balance sebum. By using both, you let the acids work on different skin layers for increased efficacity.
How often should you do a chemical peel at home?
The rule of thumb is that oily skin should use an OTC chemical peel twice or thrice weekly. You don't want to overdo it because over-exfoliating your skin can disrupt the protective barrier and dehydrate your skin, which, ironically, leads the sebaceous glands to go into overdrive and produce more sebum. However, to play safe, start with once-a-week use and gradually increase frequency to observe how your skin tolerates the product at hand.
How to use chemical peels at home
If you're a facial peel beginner, here's how to do a chemical peel at home safely and effectively that's just right for your oily skin:
Always do a test patch before you use a product to see if your skin reacts to it.
Use the chemical peel in the evening because it can make the skin photosensitive.
Apply your chemical peel on cleansed and completely dry skin.
Apply the first layer evenly across the face according to usage instructions.
Leave on for 5-10 minutes and rinse off with tepid water.
Apply a gentle, hydrating moisturizer to ease dryness and calm the skin.
In the morning, apply sunscreen with at least 30 SPF.
To play on the safe side and minimize the risk of damaging your skin, we recommend starting slow and low. That means for the first months use a superficial peel with a low concentration of acids to help your skin build tolerance. For oily skin, a 2% BHA or 10% AHA peel would be ideal to start things off. As the skin adjusts to the chemical solution you can gradually increase the strength of the peel.
Do's and don'ts
There are a few do's and don'ts of using chemical peels for oily skin:
Pay attention to dryness and irritations. Chemical peels work by causing a controlled burn in skin tissues, which makes them feel harsh. While mild irritations and dryness are normal, if anything goes too uncomfortable, discontinue using that specific product.
What you do before and after a chemical peel is deadly important. After the treatment, your skin is more sensitive, and the chances of irritations are real. So make sure you apply hydrating and regenerating ingredients, like hyaluronic acid and Centella asiatica. As the skin lipid barrier is left vulnerable after a chemical peel, you also need to work on reinforcing it by applying a cream rich in barrier-strengthening ingredients such as ceramides, cholesterol, and fatty acids.
The moisturizer you use after a chemical peel should accelerate the skin healing process and fortify the protective barrier.
Avoid heavy ingredients such as retinoids, tea tree, vitamin C, or other acids immediately before and after a chemical peel.
Don't use chemical peels if you had laser treatment, tanning bed, or microneedling one week prior to the treatment.
Now that all your questions are answered, below are the best chemical peels for oily skin our team swears by:
---
Obagi Clinical Blue Brilliance Triple Acid Peel
This one is of the best chemical peels for oily skin because it has salicylic acid in the highest concentration, followed by glycolic and lactic acids. There's also glycerin to increase hydration, licorice extract to brighten the skin, and willow bark to shrink large pores. With such potent formula, the peel promises to minimize the look of dull and uneven skin, keep pores clean, and reduce excess sebum. The price is not bad as the kit of four vials is said to last two months.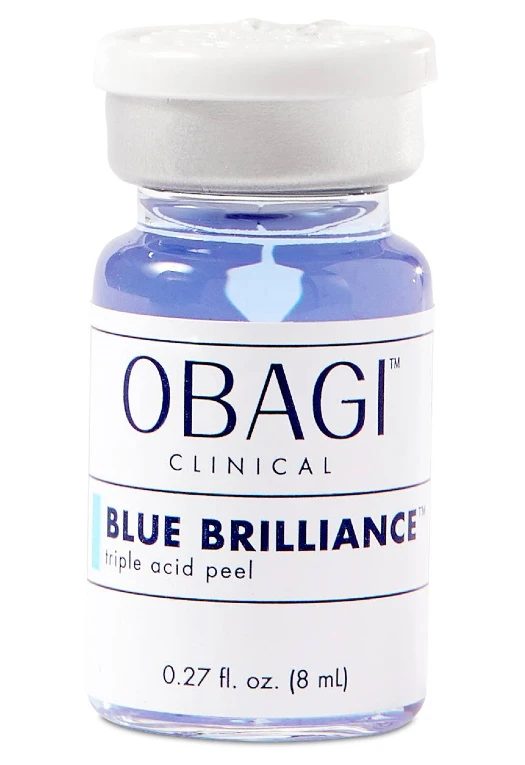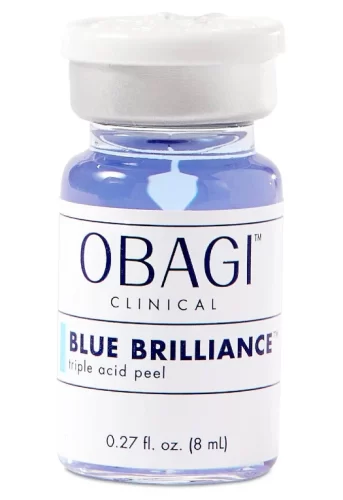 ---
Paula's Choice Skin Perfecting Exfoliant Peel
This peel loads a generous amount of 25% alpha-hydroxy acids and 2% salicylic acid to target excess oil, clogged pores, and uneven tone and texture. Despite how powerful the formula is, the addition of hyaluronic acid, vitamin E, and chamomile extract helps counteract possible dryness and irritation. And its nice lilac color comes from the butterfly pea flower, which also plays a role in calming the skin and soothing it. Most people gave this guy 5-star reviews on Amazon, and those with sensitive skin said they did not encounter any irritation while using the product.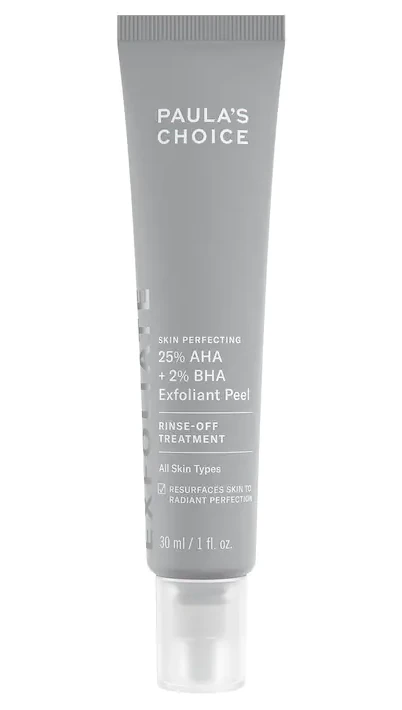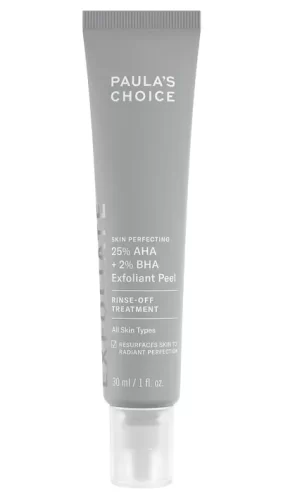 ---
The Ordinary Peeling Solution
The Ordinary puts on the table one of the best and most affordable chemical peels for oily skin in a simple and effective formula that I love. This super-concentrated peel contains a blend of AHAs and salicylic acid mixed with sodium hyaluronate, glycerin, and vitamin B5 (all great humectants) to give intense exfoliation without irritation. Tell your uneven tone, dark spots, excess oil, and dead cell buildup is over, The Ordinary Peeling Solution has got your back. However, because this peeling solution is formulated at an acidic pH of 3.5, it can be harsh for some people, so it might not be the best option for chemical peel starters.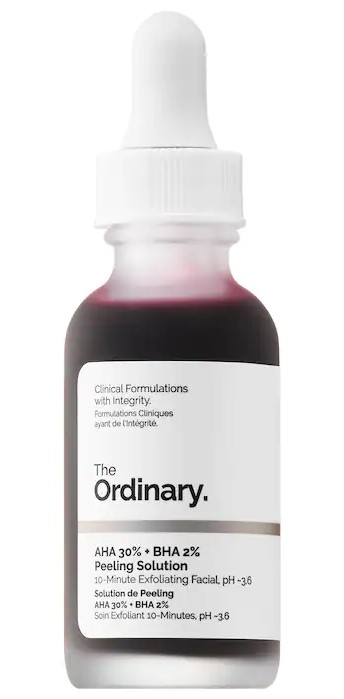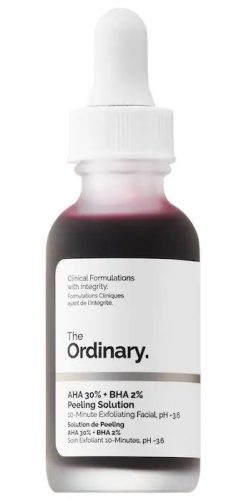 ---
Doctor Babor Refine RX Peeling Gel
This peeling gel is where glycolic, lactic, and salicylic acids meet the well-established vitamin C. Doctor Babor Refine RX. works to remove dead skin, unclog pores and refine texture, while a stable form of vitamin C provides brightening benefits. As you'd guess, it's the one to go to if your skin is cornered by wrinkles, fine lines, or dark spots. I'm telling you, Babor products never disappoint.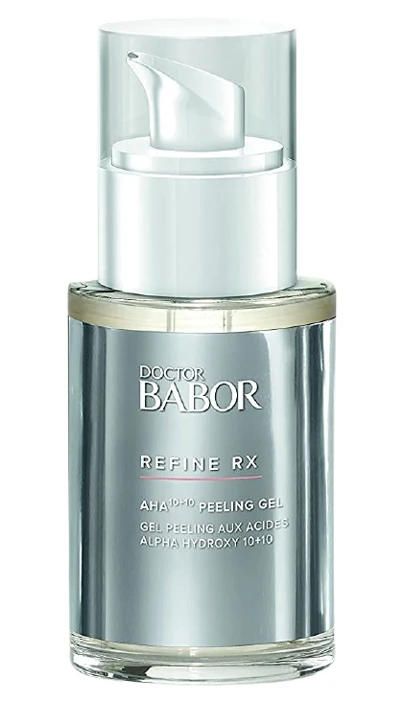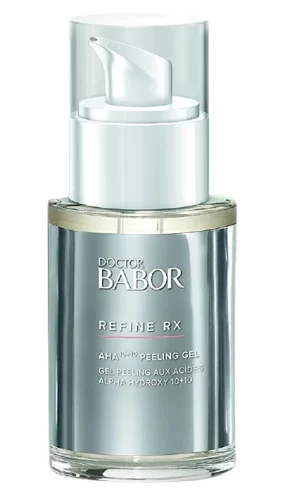 ---
Juice Beauty Green Apple Face Peel Exfoliating Mask
This is not a chemical peel solution, but it works like one, just that it is gentler and crafted with organically sourced exfoliating acids. The mask is filled with glycolic and lactic acids to sloop off dead skin and helps purify the pores, while willow bark—which is a natural source of salicylic acid—reduces oil and blemishes. Juice Beauty Exfoliating Mask is made on a base of aloe vera juice, which gives it high hydrating, soothing, and antibacterial benefits. It's the perfect choice for those who have post-breakout marks and large pores. It's also going to make your complexion a lot less greasy.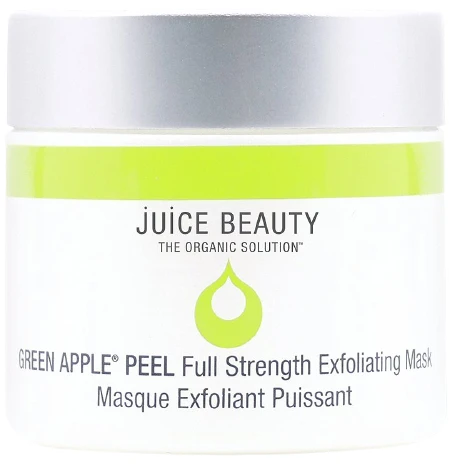 ---
Dr. Dennis Gross Alpha Beta Extra Strength Daily Peel
If you find exfoliating pads easier to use, you'll be delighted to try Dr. Dennis Gross Alpha Beta Daily Peel. It's an extra-strength chemical peel split into two steps that target all skin concerns you could possibly think of, including large pores, breakouts, dark spots, excess sebum, acne scars, and rough texture. The first step is meant for a deep exfoliation and cell turnover using a blend of seven acids, including the MVP for oily skin, salicylic acid. The second step soothes and encourages skin repair with resveratrol, vitamin E, and green tea.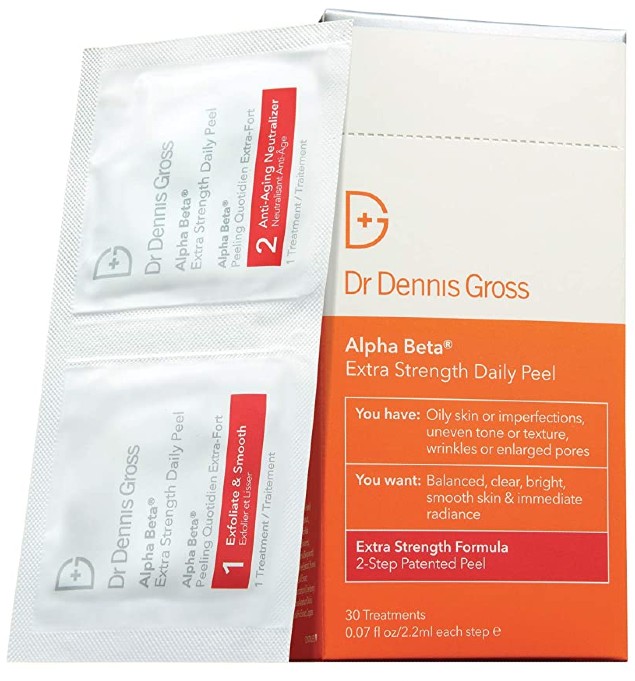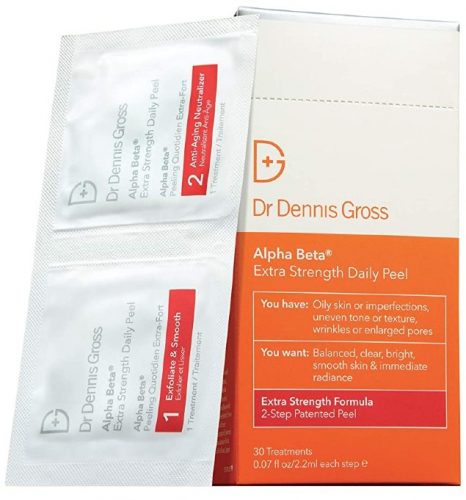 ---
Bliss Clear Genius Clarifying Overnight Liquid Peel
Bliss made a leave-on chemical peel that works overnight to clear pores and revitalize the skin while removing the buildup of dead cells. In addition to a blend of glycolic, lactic, and salicylic acid, the formula is powered by polyhydroxy acid (PHA), a gentle exfoliant that supports cell turnover without irritating or drying the skin. Bliss Clarifying Peel works hard to decongest pores and minimize blackheads and pimples, while, due to licorice root and green tea, it does a great job at brightening dark spots, too.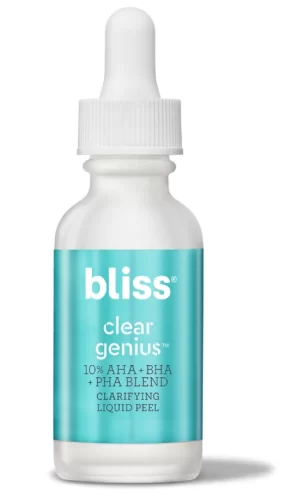 ---
Perfect Image Salicylic 20% Gel Peel
The closest you're going to get to a professional-grade peel at home, Perfect Image loads 20% salicylic acid, so it's serious business for exfoliating. It also loads tea tree oil to fight bacteria and green tea extract to soothe and nourish. You should apply this peel using a cotton pad and gently move it in circular motions across the skin and rinse after one minute or even less. Do I need to repeat it? Don't leave this peel for more than one minute to act on your skin.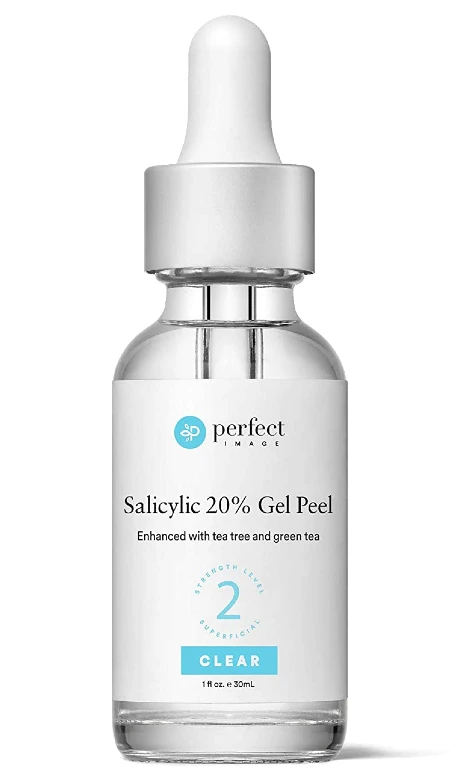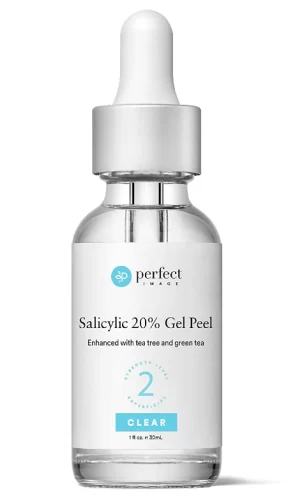 ---
Murad Replenishing Multi-Acid Peel
If you feel like your oily skin needs daily gentle exfoliation to keep sebum balanced and prevent pimples, there's a no better option than Murad Replenishing Multi-Acid Peel. It does the job thanks to a blend of AHAs and salicylic acid, and it also packs tranexamic acid, which interferes with melanin production, brightening dark patches. The gentle bi-phase formula is backed by yeast amino acids, trehalose, and betaine, to counteract possible irritation or dryness. Basically, it should be used like a toner: After cleansing, pour the liquid on a cotton pad and glide it across your face, then follow up with your regular nighttime routine.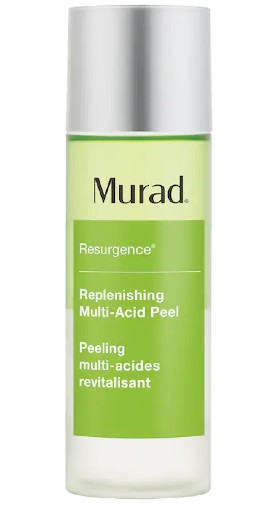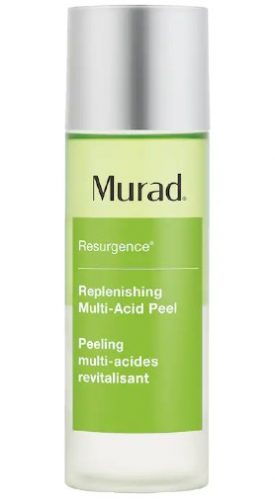 ---
The Inkey List Apple Cider Vinegar Peel
The Inkey List made the best chemical peel for oily skin that is also wallet-friendly. The formula is loaded with 10% glycolic acid to resurface and encourage cell turnover, minimizing sebum and retexturizing, while 2% apple cider vinegar targets bacteria to control breakouts. And if it wasn't enough, the formula includes fruit enzymes to exfoliate the surface of the skin, revealing a softer and smoother complexion. Apply a grape size amount and let it act for 10 minutes before rinsing it off. Use PM once weekly.