Korean beauty is known for its 10-step routine en route to glass, flawless skin, and that's one of the reasons we're in love with it. So, looking for the best Korean vitamin C serums is the first step to achieving great skin, indeed. Everybody needs vitamin C in their routines to protect against free radical damage (from UV, pollution, and smoke), which often leads to premature aging. And then, you need vitamin C to enhance collagen production, brighten dark spots, and keep skin glowy. In a nutshell, vitamin C is the multi-duty compound you can all benefit from that addresses an array of concerns and works like a charm for all skin types.
The best Korean vitamin C serums
The serums we found for you come in various forms and strengths of vitamin C so that you can easily find your perfect match. Some address aging signs, some aid in evening tone, and others are packed with a bunch of antioxidants to offset oxidative stress.
Is infallible skin on your agenda? Keep scrolling.
---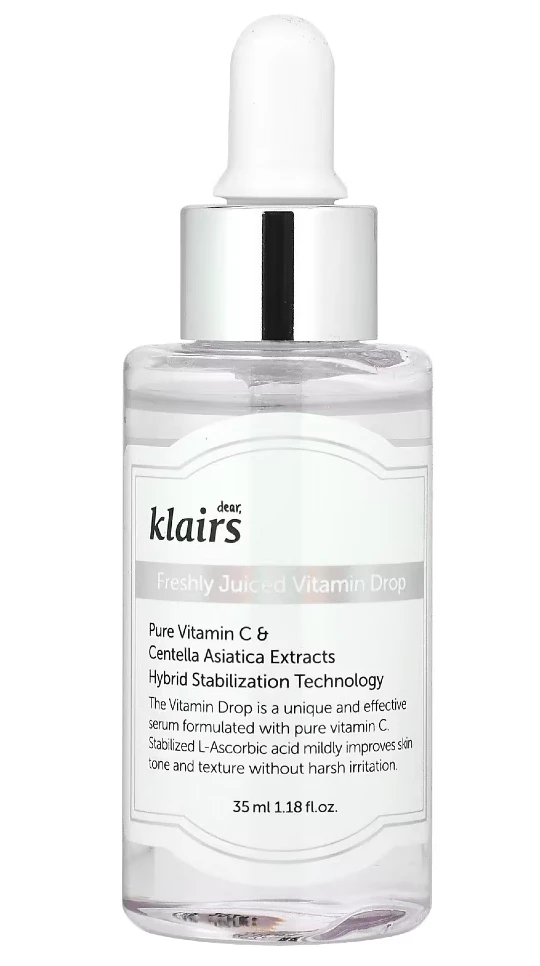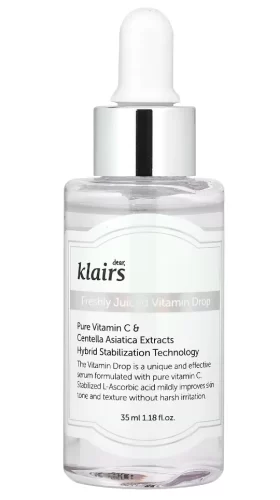 1
Klairs Freshly Juiced Vitamin C Drop
Fragrance-free
Vegan
Non-comedogenic
Suitable for sensitive skin
Won over 15 awards
With 5% ascorbic acid, this serum is potent yet gentle enough for all skin types, addressing dark spots, fine lines, and dullness. It contains a core trifecta of hardworking ingredients that enjoy a lot of popularity in the K-beauty world: Centella asiatica to boost hydration, Yuja fruit extract to induce collagen, plus a blend of amino acids and peptides to increase firmness and elasticity. It's, without a doubt, worthing a spot in your anti-aging routine.
---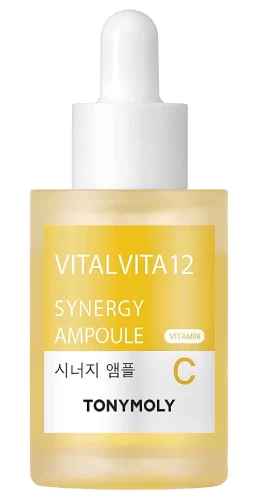 2
Tonymoly Synergy Ampoule
Stable form of vitamin C
Fragrance-free
Cruelty-free
Lightweight texture
Clean formula
Besides a very stable form of vitamin C that's soluble in both water and oil (meaning increased skin penetration), this serum packs a punch of actives that aim to brighten and improve elasticity. Among these there is niacinamide, vitamin B5, Centella asiatica, adenosine, and sodium hyaluronate, to name a few. Tonymoly's seemingly tireless serum evens tone, diminishes fine lines, and shields against free radical damage — making it one of the best Korean beauty vitamin C serums everyone needs in their routine.
---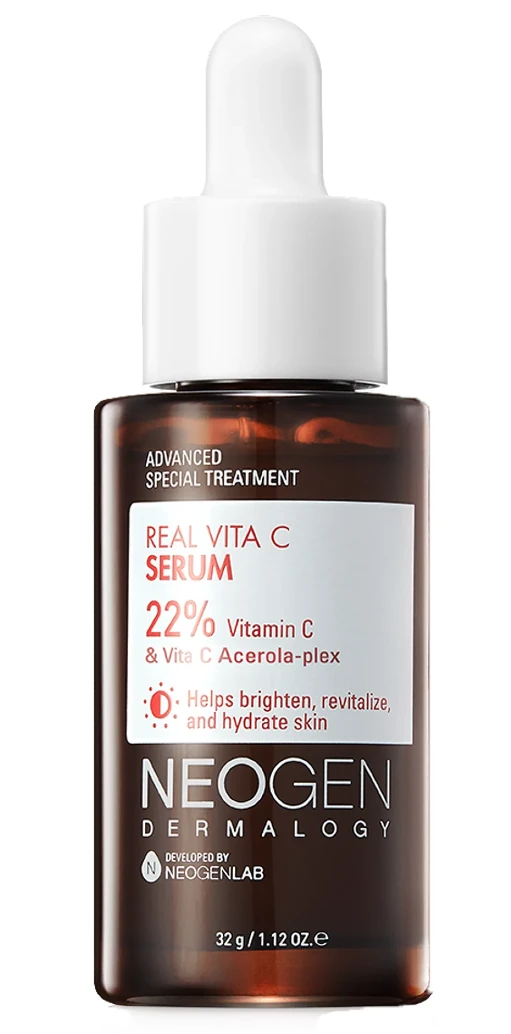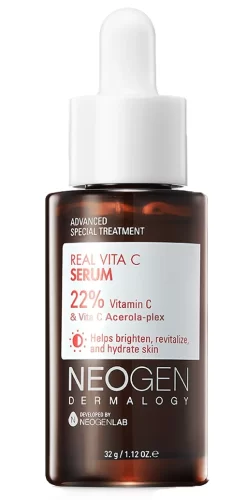 3
Neogen Moisturizing Vitamin C Serum
Lightweight texture
Alcohol- and fragrance-free
Potent
This one right here is one of the best Korean vitamin C serums because it's infused with 22% Vita C Acerola-plex (vitamin C-rich fruits ) and sodium ascorbyl phosphate in the first place. Secondly, it's enriched with niacinamide and a blend of plant and fruit extracts that work synergistically to brighten and firm skin for a youthful look. The runny texture goes on nicely and absorbs quickly, and the scent is not overwhelming but minimal and comes from natural sources. Neogen Moisturizing Vitamin C Serum aids skin brightening while plumping, moisturizing, and mitigating a dull appearance.
---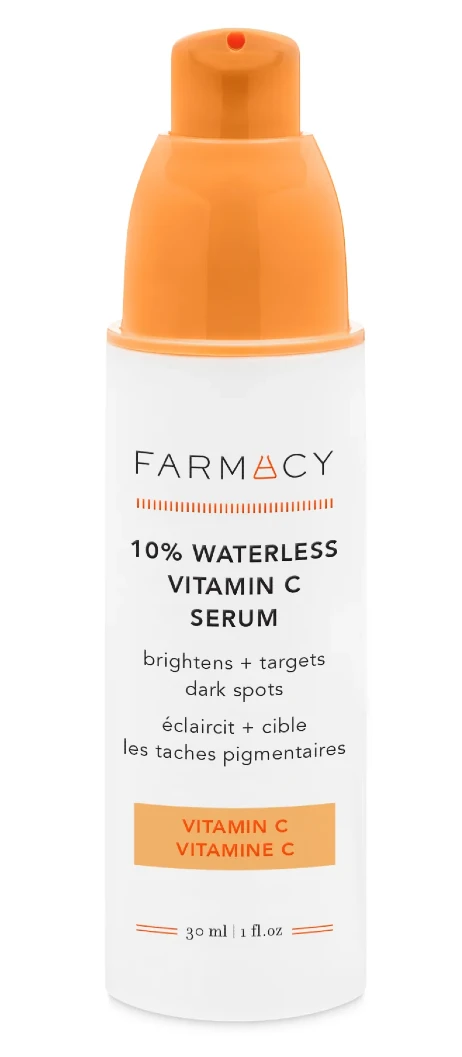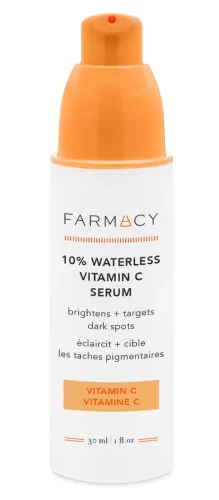 4
Farmacy 10% Waterless Vitamin C Serum
Water-free
Oil-free
Vegan
Clean formula
This serum addresses hyperpigmentation and loss of firmness with 10% L-ascorbic acid, plus 1% alpha-arbutin and ferulic acid, both great at fading dark patches while enhancing vitamin C's benefits. So, while it works hard to even tone, the serum prevents the apparition of further discoloration. We love it because the formula is made sans fragrances and alcohol, so there are fewer chances to sensitize the skin, plus the propanediol base gives it a silky-smooth feeling on the skin.
---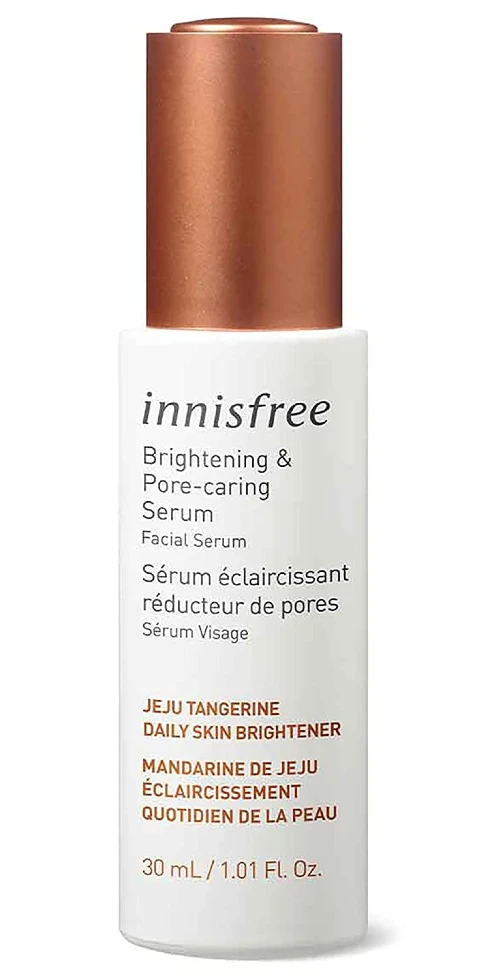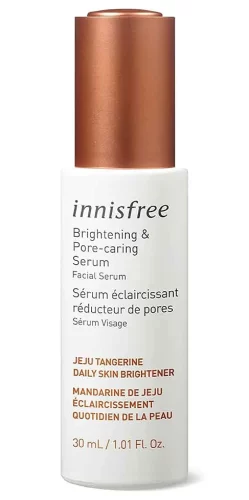 5
Innisfree Brightening & Pore-Caring Serum
Vegan
Triple vitamin complex
Great for pores
This lightweight serum comes from one of the most iconic K-beauty brands and is one of our favorites for sure. It touts a juicy concentration of niacinamide coupled with vitamin C and E to target uneven tone, dullness, and careless pores. Your skin will also enjoy the addition of honey-coated orange, a fruit cultivated in South Korea, as its peel extract is a great source of vitamin C that can promote a more radiant complexion. Plus, the formula is non-irritating and delivers a burst of hydration thanks to panthenol and hyaluronic acid.
---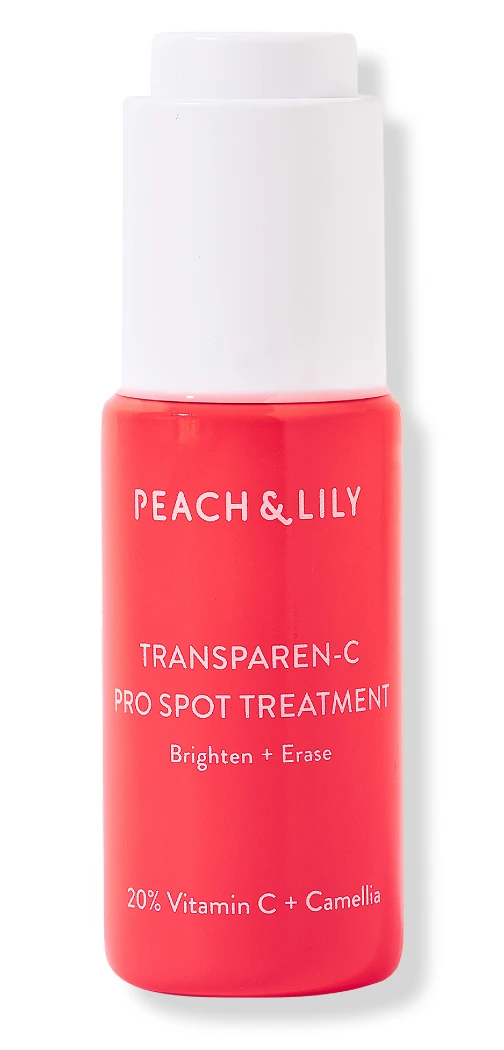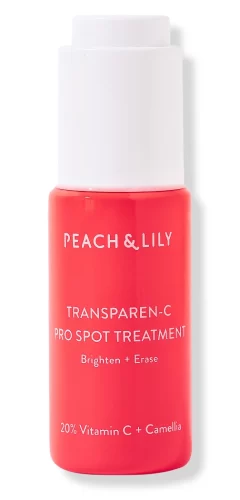 6
Peach & Lily Transparen-C Pro Spot Treatment
Alcohol-free
Fragrance-free
Potent formula
This is one of those cult-favorite serums that beauty experts (myself included) love. It's got several oils, including sunflower seed oil, green tea seed oil, and squalane to soften and trap moisture, and three sources of low molecular weight hyaluronic acid for long-term hydration. Last but not least, Peach & Lily Transparen-C Pro Spot Treatment packs a very stable form of vitamin C, licorice root extract, and tranexamic acid to even tone and diminish dark spots caused by sun exposure and breakouts.
---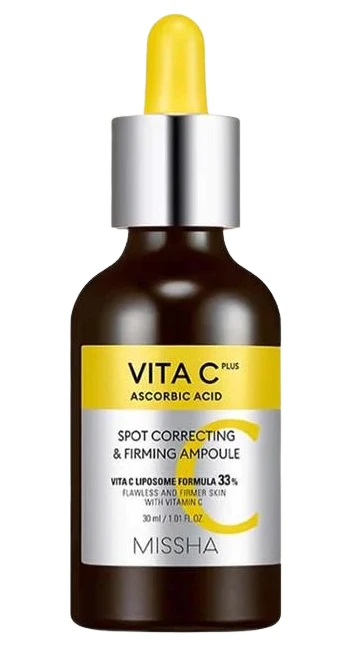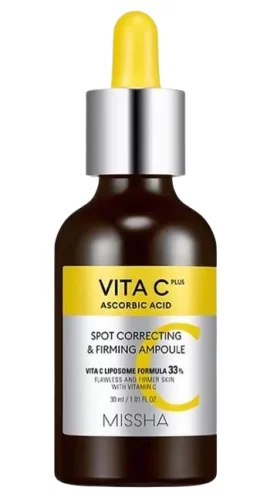 7
Missha Vita C Plus Spot Correcting & Firming
Lightweight formula
Doesn't feel greasy
Highly concentrated
This serum is pretty potent for brightening skin and leaving that luminous, even tone behind, as it features 33% of a combination of three vitamin C sources to help treat and prevent aging signs. Besides, it's filled with licorice root extract, niacinamide, and tranexamic acid to even tone, while panthenol, adenosine, and ceramides replenish skin. Bonus points for the texture that feels pampering and lightweight and never heavy or tacky.
---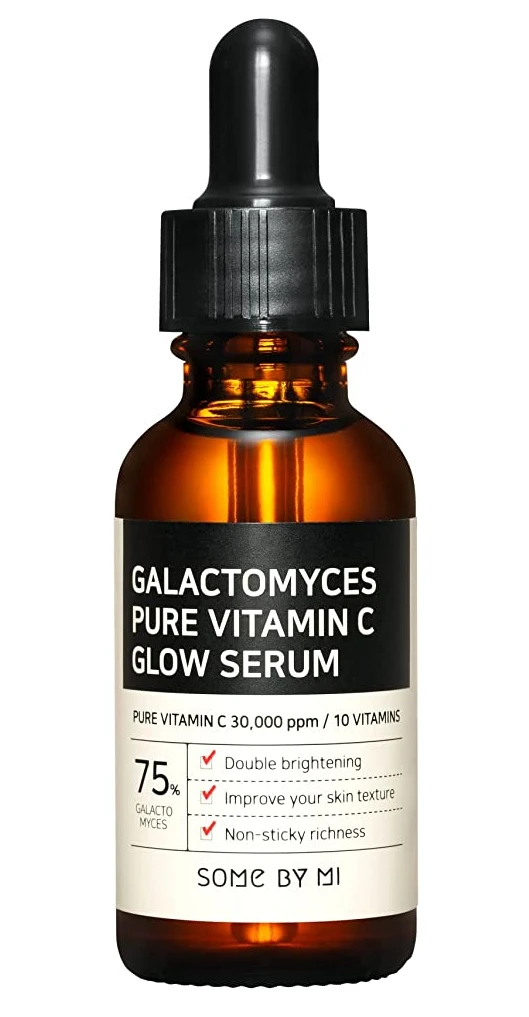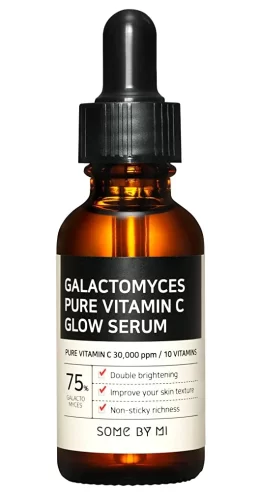 8
Some By Mi Galactomyces Pure Vitamin C Glow Serum
Fragrance- and alcohol-free
Non-sticky
Ok, this serum is serious business. Made on a 75% galactomyces ferment filtrate, chocked full of vitamins, amino acids, and minerals, it says more than enough about its skin-strengthening properties. Plus, it contains 3% ascorbic acid for anti-aging benefits, while other skin-loving ingredients give it nourishing, moisturizing, and replenishing effects. The texture is somewhat watery and absorbs quickly without ever feeling greasy — everybody raves about it!
---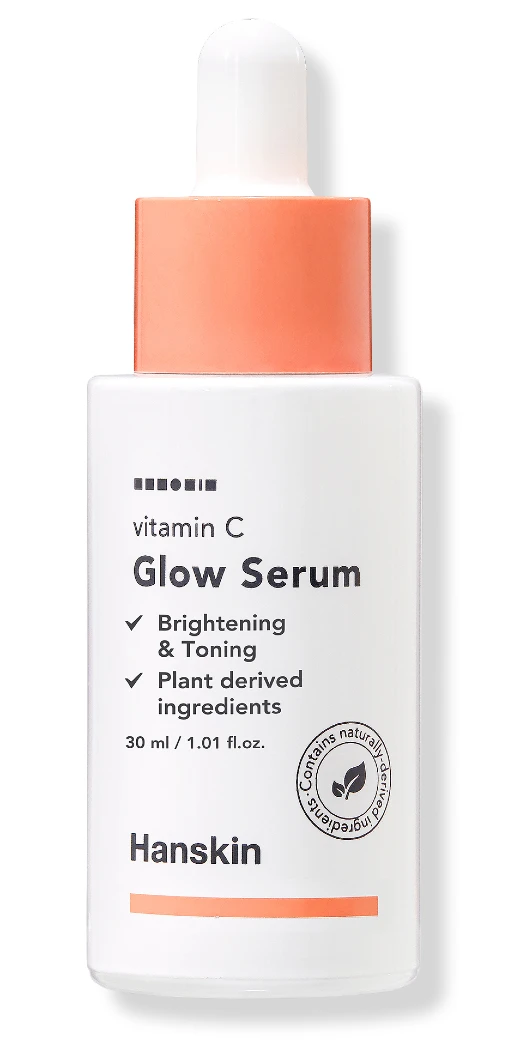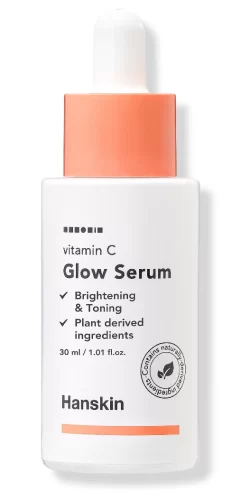 9
Hanskin Vitamin C Glow Serum
Plant-derived vitamin C and niacinamide
Light citrus scent
Adds an instant boost of moisture
Hanskin Vitamin C Glow Serum takes care of your skin with 5% ascorbic acid, promising to brighten, reduce hyperpigmentation and promote elasticity while revitalizing dullness. Additionally, the serum contains tocopherol and niacinamide to leave skin soft, hydrated and plump while skipping potential drying agents, such as alcohol and fragrance. Must mention: its five-star reviewers rave about its weightless texture that goes on smooth and absorbs quickly, without sticky residues.