Skin is constantly put to the test with seasonal changes, and now that winter is coming, seeking ways to give it a serious dose of hydration is nothing to bat an eye at. Even though you're a forever fan of hyaluronic acid serums and moisture-sealing occlusive moisturizers, an extra step to support hydration is never a bad idea. That's why a hyaluronic acid toner might be the perfect addition to your beauty ritual — because it helps fight dehydration and keeps your skin's thirst quenched.
Dehydration not only causes the skin to look dull and rough, but it makes fine lines appear more visible and can trigger the sebaceous glands to produce more sebum, making breakouts arise. No matter how you slice it, the best toners with hyaluronic acid are the perfect addition to everyone's skincare routine, regardless of skin type, age, or season.
How a hyaluronic acid toner can benefit your skin
Using a hyaluronic acid toner packs a bunch of benefits, from helping increase hydration and plumpness, balancing pH and excess oil, offering anti-inflammatory benefits, and easing redness. Besides providing an extra layer of hydration, the best toners with hyaluronic acid also allow thirsty skin to drink more water when applied before serum and moisturizer.
Pro tip: Pat your skin with toner and leave it damp when applying your serum because moist skin is more permeable than dry skin.
The best toners with hyaluronic acid
Without further ado, below are the best hyaluronic acid toners that promise to keep your skin hydrated, plump, and soft.
---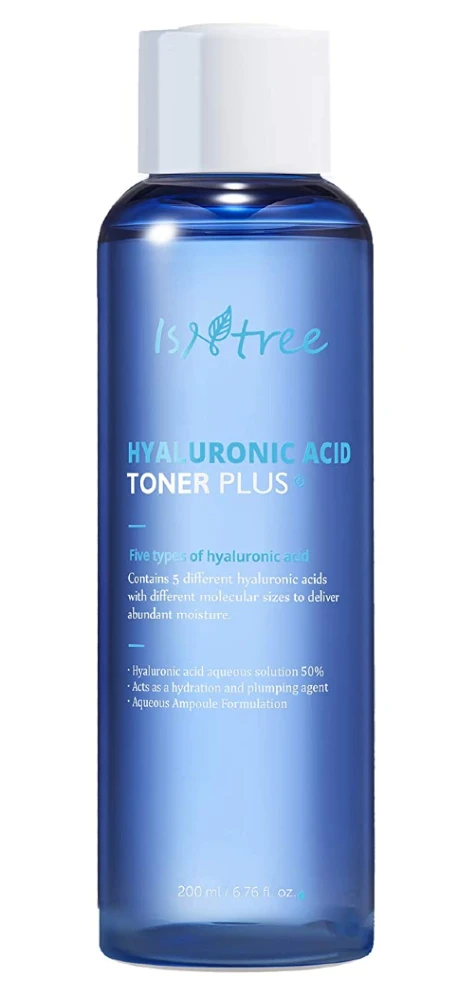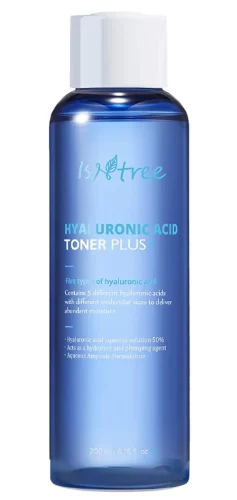 1
Isntree Hyaluronic Acid Essence Hydrating Toner
This one takes the stage for the best toner with hyaluronic acid because it's made with five types of HA. These increase hydration in the skin, supporting plumpness and softness, also helped by other natural humectants, such as trehalose, glycerin, and aloe leaf. Isntree's hyaluronic acid toner works wonders for all skin types, as it skips potential irritating and harsh ingredients and is formulated at a gentle pH of 6.5. Does it deliver? Yes. And then some.
---


2
Indie Lee CoQ-10 Toner Mist
Inspired by Japanese essences, this toner protects and balances with a serious dose of CoQ10 while hyaluronic acid and aloe vera burst hydration. We love that the toner includes a slew of natural extracts, including chamomille, papaya leaf, and cucumber, to soften and refresh the skin. The toner is cleanly formulated, sans alcohol, fragrances, or parabens, and people with sensitive skin claim it's gentle enough for them, so go ahead if your skin is easily reactive.
---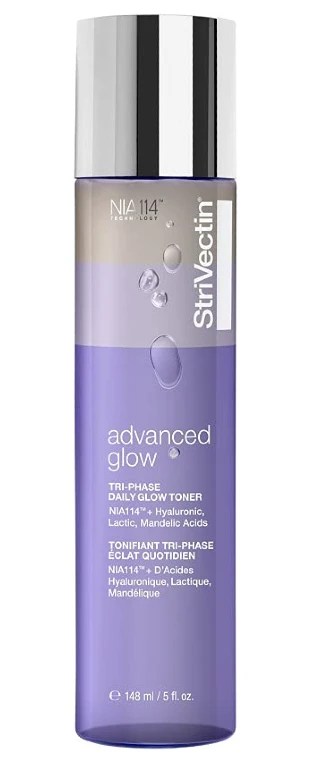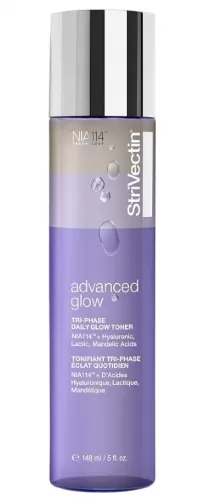 3
StriVectin Tri-Phase Daily Glow Toner
If you like multi-taskers and don't mind spending $39 on a high-end product, this is the best toner with hyaluronic acid for you. StriVectin Tri-Phase Daily Glow Toner supports hydration, smoothness, and brightness, helped by sodium hyaluronate, squalane, and a blend of AHAs. Once pat on the skin, the toner leaves a dewy glow, is never irritating, and helps refine pores by targeting excess oil and clogged pores with salicylic acid. In other words, it fights on multiple fronts to bring you a soft, velvety complexion and suits all skin types.
---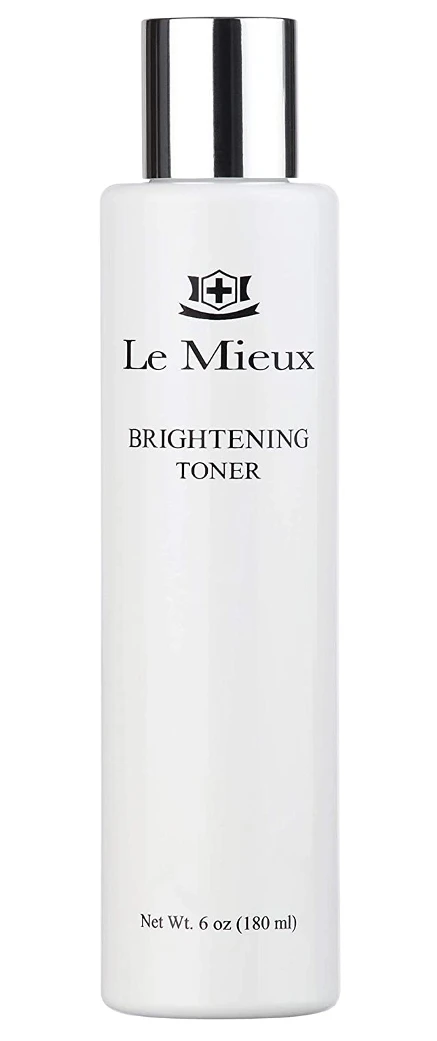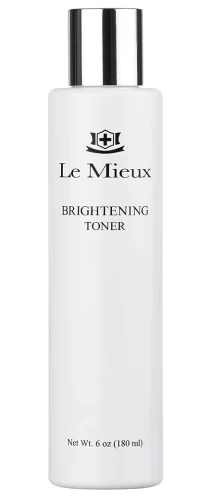 4
Le Mieux Brightening Toner
Unlike most toners, which are water-based, this one is made on orange and apple fruit water base for soothing and protecting bonuses, followed by hyaluronic acid to support hydration. It's the ideal toner with hyaluronic acid for those who prefer clean formulas without sulfates, alcohol, or parabens but with natural extracts and tried-and-true actives. Bonus points for the addition of vitamin C, mandelic acid, licorice root, and papaya, all of which help improve uneven tone.
---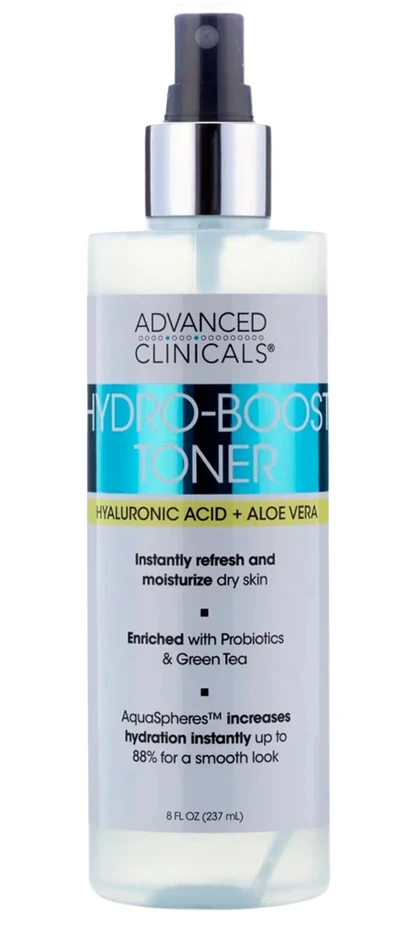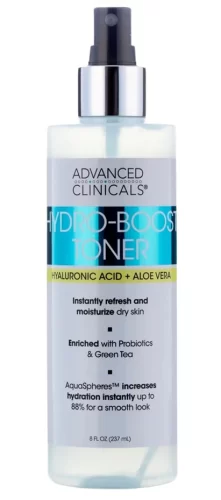 5
Advanced Clinicals Hydro-Boost Toner
This affordable toner has a cult following for its soothing and moisturizing benefits — credit a mix of sodium hyaluronate, vitamin E, green tea, probiotics, and glucosamine, to name a few. It's a perfect pick for those with dry skin because it touts humectants, including HA and aloe vera, plus plant extracts that nourish, soothe and relieve irritation that often comes with dryness. It has a lightweight, non-greasy formula that preps your skin for the next steps of your routine in a matter of seconds.
---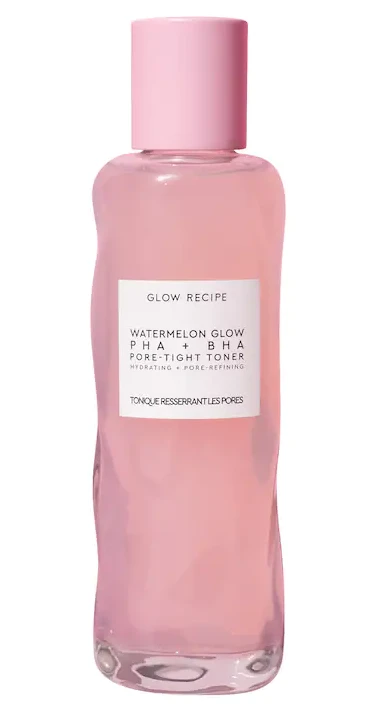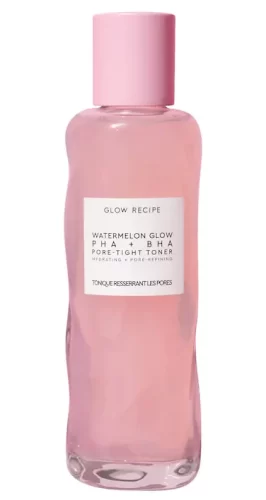 6
Glow Recipe Watermelon Glow Pore-Tight Toner
It's easy to keep your skin hydrated and pores tightened with Glow Recipe Watermelon Glow Pore-Tight Toner. It loads gluconolactone to exfoliate delicately, watermelon extract to nourish and soften, and glycerin, hyaluronic acid, and cactus water to add hydration and prevent moisture loss. The addition of betaine salicylate, willow bark, and tea tree offer antibacterial benefits and slightly shink pores look for a more even and radiant appearance. Not to say it's alcohol-free, so you never have to worry about it drying or stripping, and the ultra-fine fog mist makes it fast and easy to spray on.
---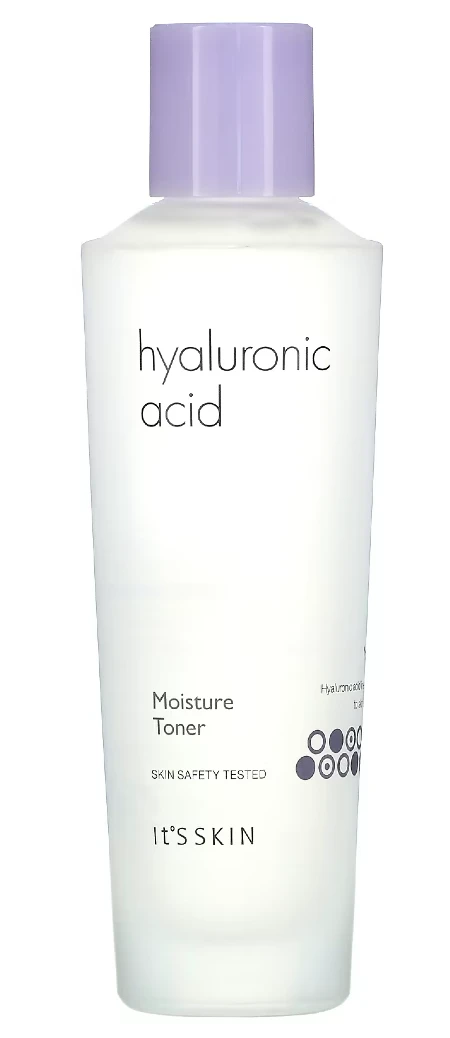 7
It's Skin Hyaluronic Acid Moisture Toner
Coming from one of the most popular K-beauty brands, this toner performs incredibly well at targeting hydration loss and keeping skin moist. It replenishes water levels with sodium hyaluronate and trehalose, while castor oil seals moisture into the skin, helping prevent further water loss. At the same time, acerola and blueberry fruit give some antioxidant benefits due to their rich vitamin C content. This toner works wonders for all skin types, but it especially addresses dry skin, and we give it extra credit for being free of moisture-stripping alcohol.