Features:
Alcohol-free
Fragrance-free
Oil-free
Water-free
Strengths:
Simple and clean formula
Affordable
Good at fading hyperpigmentation and brightening the skin
Rich source of antioxidants
Works for all skin types, including sensitive
Doesn't clog pores
Drawbacks:
It doesn't absorb that fast
May feel slightly oily when applied
Ratings:
The Ordinary Website: 4.2/5 from 146 reviews
Sephora: 4/5 from 397 reviews
Ulta: 4.2/5 from 130 reviews
Price: $10
I built my anti-acne skincare routine around The Ordinary brand with these products. And it worked! Then, in an attempt to get rid of the red and dark spots left by pimples, I still picked The Ordinary. This time the ascorbic acid and alpha-arbutin serum impressed me tremendously. So if you can't decide whether or not to try The Ordinary Ascorbic Acid 8% + Alpha Arbutin 2%, here's my honest review, which hopefully will give you enough insights to make the right decision. Keep reading to see what this The Ordinary product did for me and what I have learned after using it for more than 6 months.
First impression
My skin is oily and still prone to breakouts, so if I'm not using something that my skin likes, suddenly, a few pimples will appear. This didn't happen at all with this product. I have been using it for months now, and all I see is an improvement in skin tone and a healthy glow every time I layer it. I'm telling you, if you want to tackle hyperpigmentation or dark spots left by breakouts, give this serum a shot. It took my breath away when I saw this product is made only with only three ingredients. Simple formulas always get me easy. Its color is a bit yellowish but clear, not too thick or too thin, and somehow smells like vanilla. 
Why did I choose it?
The reason I chose this The Ordinary product is that it combines two of the most powerful brightening agents, aka 8% ascorbic acid and 2% alpha-arbutin. Actually, ascorbic acid is the purest form of vitamin C with the highest antioxidant power. Vitamin C not only can brighten skin tone but plump fine lines since it acts as a cofactor in collagen production. Plus, that strong antioxidant effect protects the epidermal barrier from the free radicals that the skin comes into contact with every day. 
Alpha-arbutin is derived from bearberries and is a great ingredient that prevents the formation of melanin. Basically, it works as a tyrosinase inhibitor to eliminate the pigment that causes dark spots, leading to brightening effects. By doing this, it fades hyperpigmentation and dark spots apparition. If you struggle with post-blemishes redness, acne scars, or age spots, alpha-arbutin does a wonderful job at reducing them. Also, if your skin is on the sensitive side, you should give alpha-arbutin a go since it's gentler than its brightener rivals, such as glycolic acid or retinol.
One of the best skincare mix for minimizing hyperpigmentation is alpha-arbutin with vitamin C. It's a winning combo that gives quick and safe results, bringing the skin an even tone and a healthy glow. 
Also, as an oily skin type prone to acne, I'm always seeking products formulated without oils. And guess what? The Ordinary Ascorbic Acid + Alpha Arbutin doesn't contain any trace of oil. Both ingredients are solubilized in a water-free and oil-free formula — water would lead to oxidation and make the ingredients unstable, while oil could clog pores. Oh, another reason I chose The Ordinary Ascorbic Acid + Alpha Arbutin? It costs no more than $10.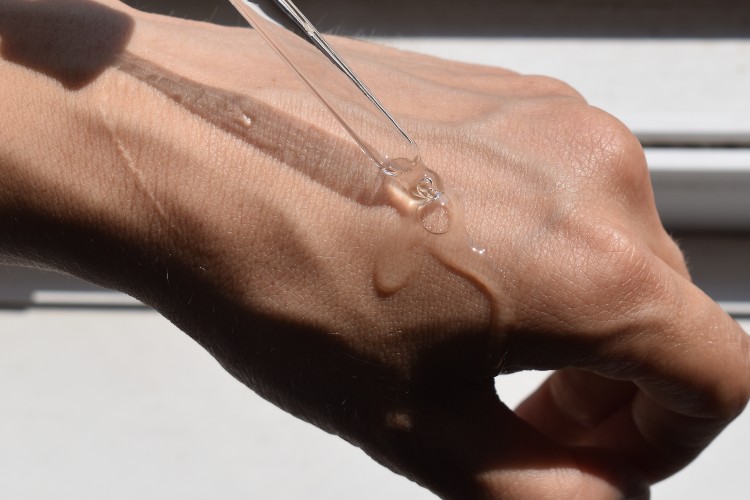 How does it feel?
The Ordinary Ascorbic Acid + Alpha Arbutin is an anhydrous (water-free) solution, not too thick or too thin, and definitely not sticky. It does take a while to sink into the skin and may feel slightly oily when applied. The reason? The propanediol (PDO) in its formula.
PDO is an ingredient similar to propylene glycol (which is known for causing contact dermatitis), thought to be safer, and it's used as a solvent, humectant, and emollient. Derived from corn sugar, is considered the natural alternative to propylene glycol. Used as a preservative booster, PDO can do much more for your skin. It prevents water loss, gives the product a light feeling, pulls moisture into the skin, and acts as a viscosity reducer. But don't worry, it won't clog your pores. It feels super light, despite the oily feel.
"Every time I apply it, my skin feels plump, and it's got that nice healthy glow which I absolutely love!"
How I used it
As I said, I'm now at a stage where I am trying to clear away all the spots of acne and sun left on my face, so my routine includes mainly hyperpigmentation-fighting ingredients. In the morning, I use it after cleansing, toning, and before my azelaic acid moisturizer and sunscreen. Four drops of it, I massage it gently on my face and neck, dodging the eye area. In my PM skincare routine, I do the same, just without the SPF. 
Some nights, I swap The Ordinary Ascorbic Acid + Alpha-Arbutin serum for a serum with glycolic acid or a retinol serum. But never together. Mixing vitamin C with retinol is a no-no. Speaking of, never mix vitamin C with AHAs or benzoyl peroxide. 
The package
With a clean, white box, the simplistic design easily catches attention. The serum is housed in an amber glass bottle, just what vitamin C needs to keep its properties integer and not oxidize. I like the pipette, which allows controlling how much product I use really effectively. Also, the package is completely recyclable, a round of applause for that.
Verdict
As someone who experiences breakouts even when I'm stressing out, or sweating, my skin is pretty sensitive. Well, The Ordinary Ascorbic Acid + Alpha Arbutin didn't irritate my skin nor clogged my pores. I love it! My skin appears more even and hydrated each time I use it. But don't you expect miracles overnight. Stick it to your daily skincare regimen and give the product time to show results. Please never forget about using SPF during the day! Now you're closer to a lit-from-within glow.
Product alternatives for The Ordinary Ascorbic Acid + Alpha Arbutin
Obagi Medical Nu-Derm Clear Fx Skin Brightening Cream: Made to tackle dark spots, this cream includes arbutin, vitamin C, and lactic acid, all great at brightening the skin. And it won't dry out your skin as it contains glycerin and saponins.
Urban Skin Rx Super C Brightening Serum: This one helps you cope with free radicals while aiming to make your skin more even. Besides vitamin C and alpha arbutin, it's got hyaluronic acid, salicylic acid, kojic acid, niacinamide, and a blend of plant extracts to nourish your skin a bit more – Buy on Amazon.
Obagi Clinical Vitamin C+ Arbutin Brightening Serum: Or you can try this concentrated serum, made with 10% L-ascorbic acid and arbutin. It addresses uneven skin tone, fine lines, and dullness, promising to brighten the skin in no time – Buy on Sephora.