Just imagine a product that not only hydrates and protects but also reduces blemishes and evens out your skin tone. That's exactly what the best brightening moisturizers do, providing the perfect balance between replenishing and treating. However, as much as we adore moisturizers, they can only do so much since they don't penetrate as deeply as serums. That's why it's best to use a more potent treatment (like a serum with vitamin C) and then layer on your chosen moisturizer to support the brightening effects. Now, if you have decided it's a good day to add the brightening moisturizer into your routine, the ones we found for you will definitely get you started on your path to more luminous skin.
How we chose the products
We know dark, uneven patches aren't easy to lighten and they need to be addressed with depigmenting agents. These agents are ingredients that reduce the pigment level (melanin) in the skin, either by reducing the activity of the enzymes responsible for melanin production (tyrosinase), sloughing off the pigmented cells, or reducing the damage caused by the sun.[1][2] So to find the best brightening moisturizers, we have looked through products containing high concentrations of actives such as:
Vitamin C (melanin suppressor, antioxidant)
Kojic acid (melanin inhibitor, antioxidant)
Azelaic acid (melanin suppressor, exfoliator, antioxidant)
Retinol (antioxidant, melanin regulator)
Glycolic or lactic acids (exfoliators)
Niacinamide (melanin suppressor, antioxidant)
Green tea (melanin inhibitor, antioxidant)
Licorice extract (melanin suppressor, antioxidant)
Resveratrol (melanin suppressor, antioxidant)
Our top picks
Whether you're dealing with dark spots or post-acne blemishes, our top picks will undoubtedly set you on the right track toward bright skin.
---
Best overall
SkinMedica AHA/BHA Brightening Cream
We have big hopes for this moisturizer because it packs a blend of naturally derived exfoliants (glycolic, malic, tartaric, and salicylic acids) to eliminate pigmented skin cells and reveal a smooth texture. There's also ascorbyl palmitate (a stable form of vitamin C) that boosts radiance and vitamin E, which provides additional antioxidant protection to ward off sunspots. This cocktail of acids mixed with vitamin C is just what the doctor ordered for brighter skin, and it's also very effective in minimizing wrinkles, post-acne scars, and hyperpigmentation.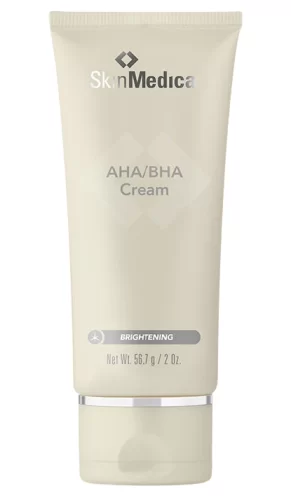 ---
Editor's choice
Caudalie Vinoperfect Instant Brightening Moisturizer
This beloved French brand has formulated a moisturizer featuring their patented ingredient, Viniferine, which is 62 times more powerful than vitamin C for brightening and evening out skin tone. Another key ingredient in this product is niacinamide, which prevents the formation of pigment-producing cells and repairs cellular damage. Caudalie Vinoperfect Moisturizer isn't just about long-term benefits; it also provides an instant radiance boost for a more luminous complexion from the first use, thanks to the inclusion of minerals.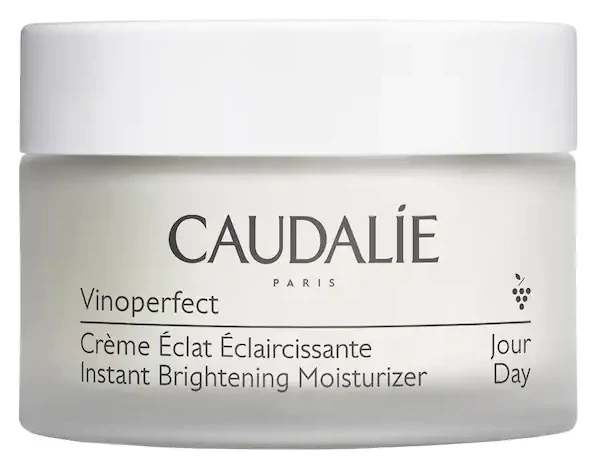 ---
Best refillable
Kora Organics Turmeric Glow Moisturizer
Let's be honest—the beauty industry creates a lot of waste. So, if you're passionate about using sustainable products, check out this moisturizer from Kora Organics, created by beauty icon Miranda Kerr. The moisturizer is refillable and made with natural ingredients, namely turmeric, vitamin C, and licorice root, proven to inhibit pigment and reveal more glowing skin.[3] Plus, you get a rich dose of moisture from nature-derived ingredients, such as microalgae, avocado oil, and shea butter, that also give the cream its rich consistency and a comforting feeling. While we absolutely love this moisturizer, it's important to note that its thick consistency and ingredients make it more suitable for those with normal and dry skin rather than those who are prone to congestion.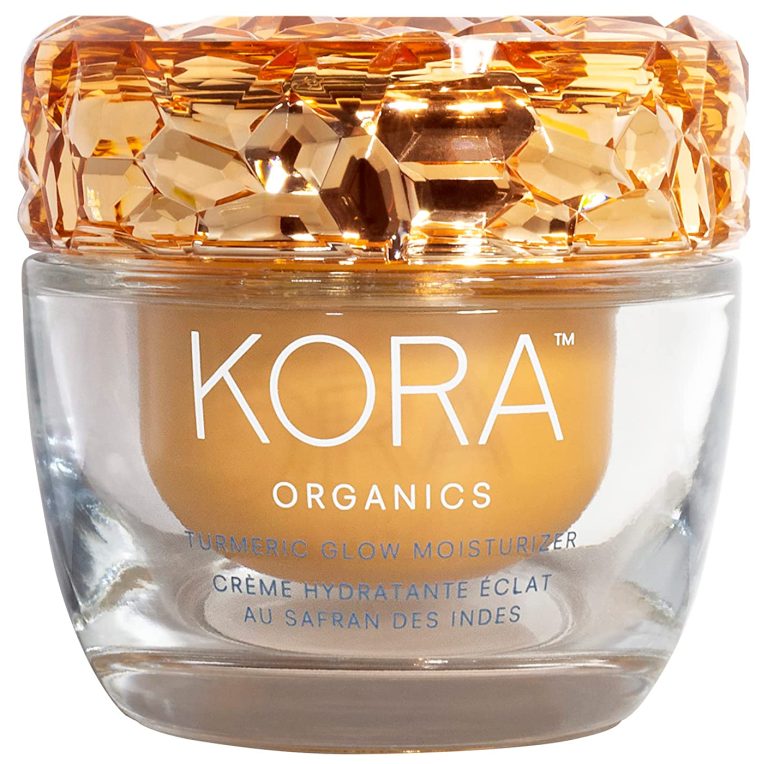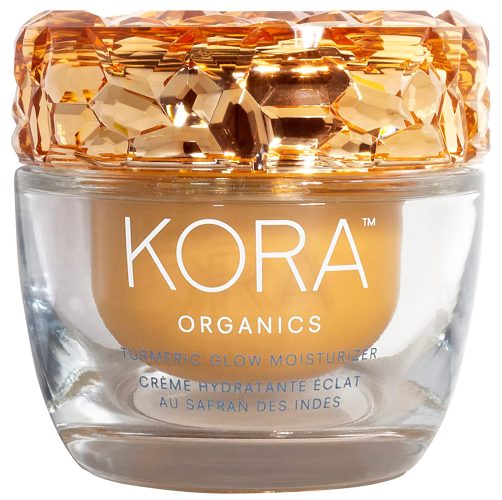 ---
Best for sensitive skin
Biossance Squalane + Vitamin C Rose Moisturizer
This double-duty moisturizer works gently to minimize discoloration thanks to a juicy cocktail of vitamin C and fermented lemon peel. In addition to providing tone-evening benefits, these two compounds also give an antioxidant shield, which is further supported by squalane and rose extract. So, you get brightening and protection and stay at ease knowing your sensitive skin is in the hands of a clean formula that skips unforgiving compounds. Bonus: It smells like a fresh bouquet of roses, and the cushiony texture makes it an absolute joy to apply.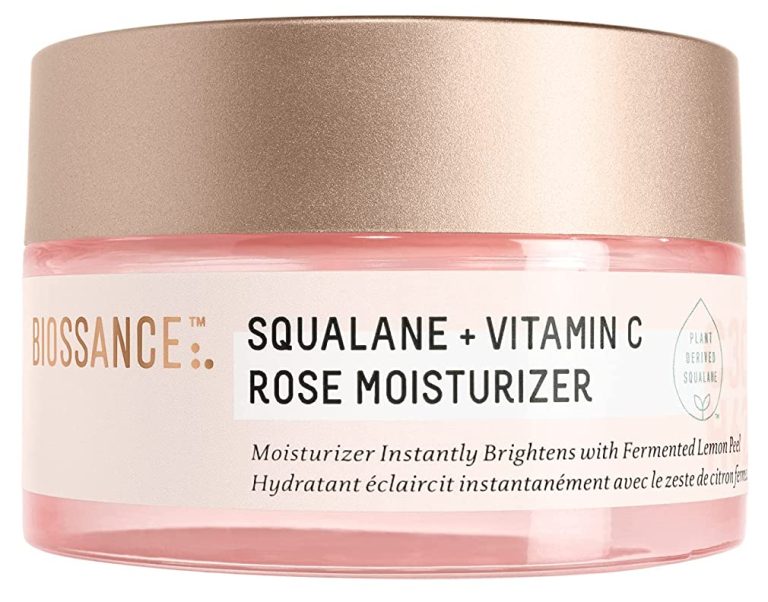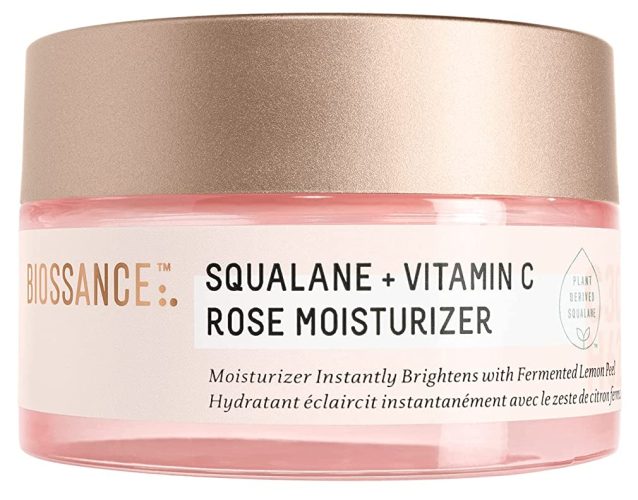 ---
Best for dry skin
Sunday Riley C.E.O. Vitamin C Rich Hydration Cream
Sunday Riley C.E.O is a great brightening moisturizer for dry skin because it combines the hydrating effects of shea butter, squalane, and sodium hyaluronate with vitamin C, turmeric extract, and Kakadu plum extract—a rich source of vitamin C with dark spot-fading properties. You can finally say goodbye to dark patches and dryness.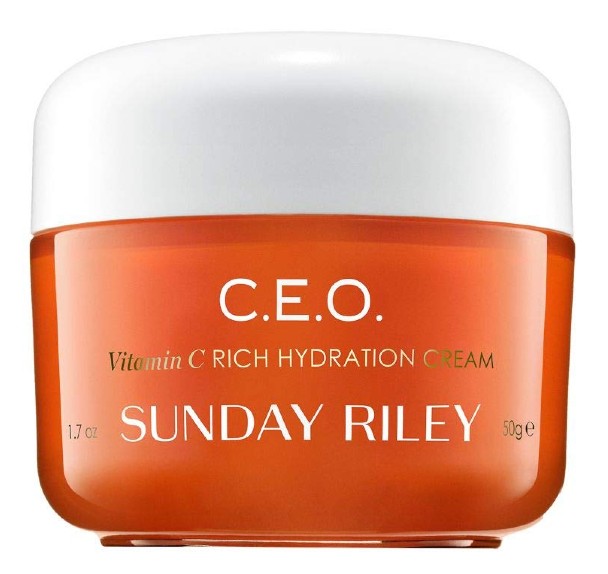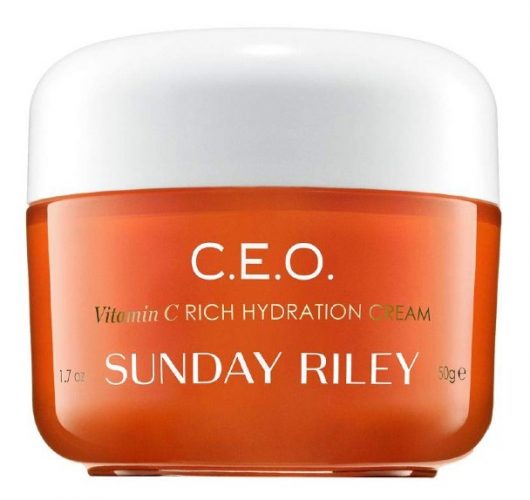 ---
Best exfoliating
Lancer Skincare Retexturizing Treatment
If you're willing to spend a little extra on a miracle moisturizer that delivers a natural glow, look no further than this option from Lancer. It contains 10% glycolic acid, a chemical exfoliating agent that prompts damaged cells to shed and allows fresh ones to flourish.[4] While the formula does include squalane and hyaluronic acid to offset potential irritation caused by the glycolic acid, it's still better to do a patch test before fully committing to this product. Also, since the product can make your skin more sensitive to the sun's rays, it's best to use it at night and apply sunscreen in the morning.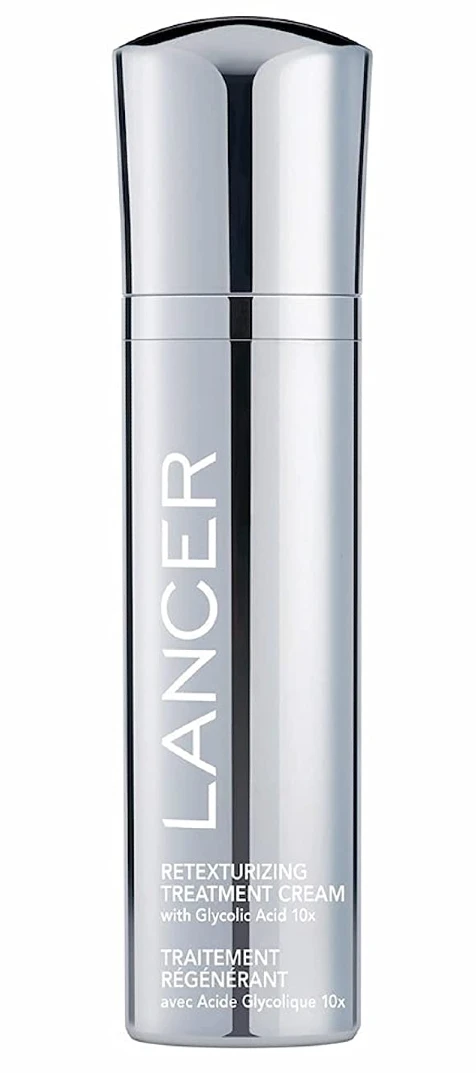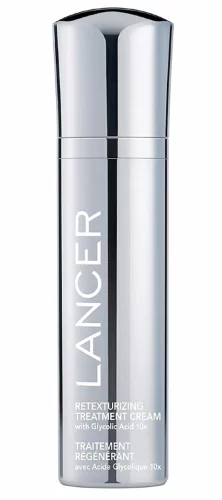 ---
Best drugstore
Bliss Bright Idea Vitamin C & Tri-Peptide Brightening Moisturizer
Want a good brightening moisturizer without shelling out the big bucks? There's no better option than this wallet-friendly drugstore gem that has garnered thousands of rave reviews across various online platforms. The reason? It has an effective formula loaded with skin brighteners, including licorice root and vitamin C, and delivers intense hydration for bouncier skin. Responsible for the latter is a complex of peptides that encourage collagen production, plus ceramides and probiotics that support repair and moisture retention.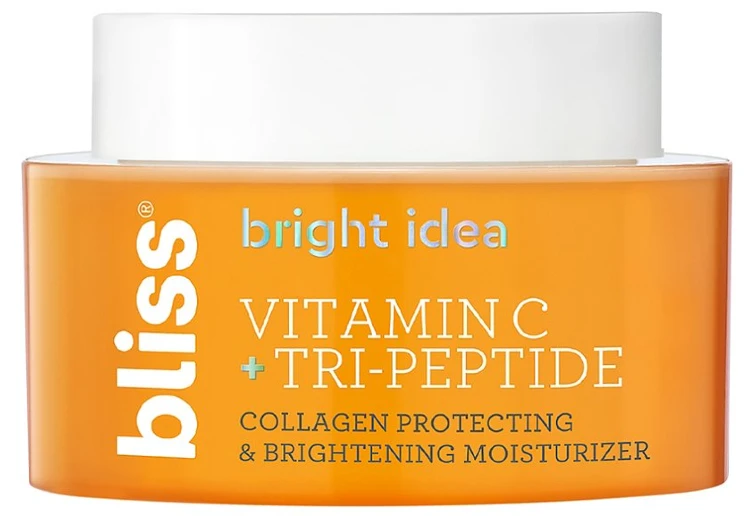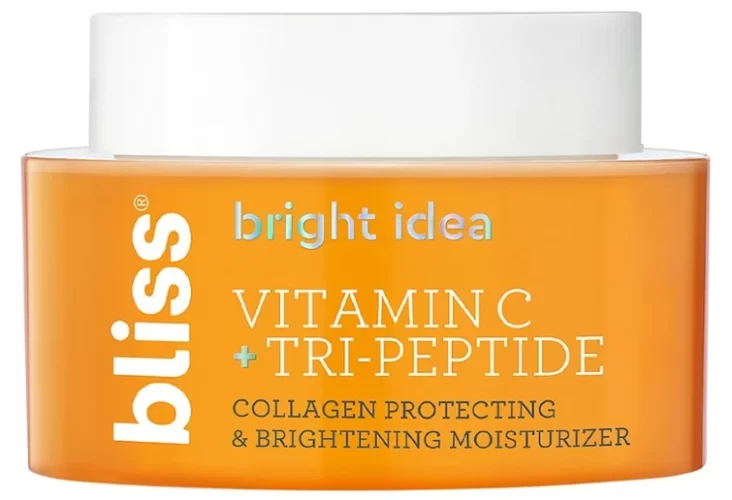 ---
Best with SPF
Perricone MD Vitamin C Ester Photo Brightening Moisturizer
Prevention is always better than treatment, and that's what this moisturizer does: It defends the skin against sun-induced dark spots by giving mineral protection with SPF 30. But here's the kicker: The key ingredient is a stable form of vitamin C that not only works to fade hyperpigmentation but also defends the skin against environmental aggressors all day long. This dynamic duo will leave your face looking radiant and even-toned. However, although this formula does contain some SPF, applying sunscreen afterward is the ultimate way to ensure maximum protection.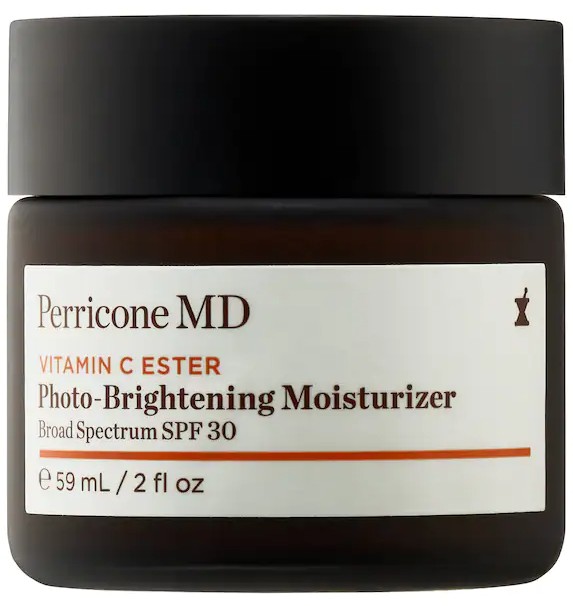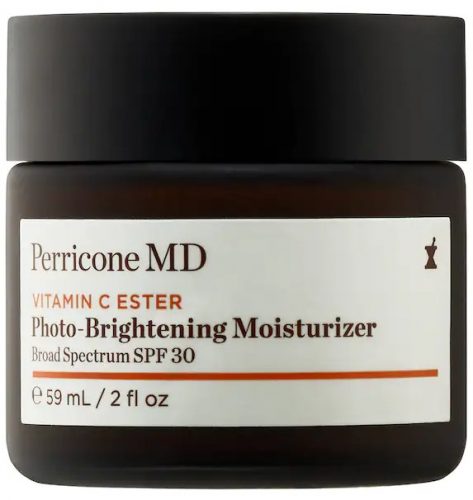 ---
Best natural
Acure Brightening Day Cream
This mild formula leans on the power of natural extracts to get the job done. Centella asiatica teams up with blackberry, rosehip, and pomegranate to minimize dark patches as gently as possible. At the same time, aloe juice and cocoa butter replenish moisture making the skin appear plumper and fine lines less noticeable. It's also fragrance-free and cleanly formulated, making it a great choice if you have sensitive skin.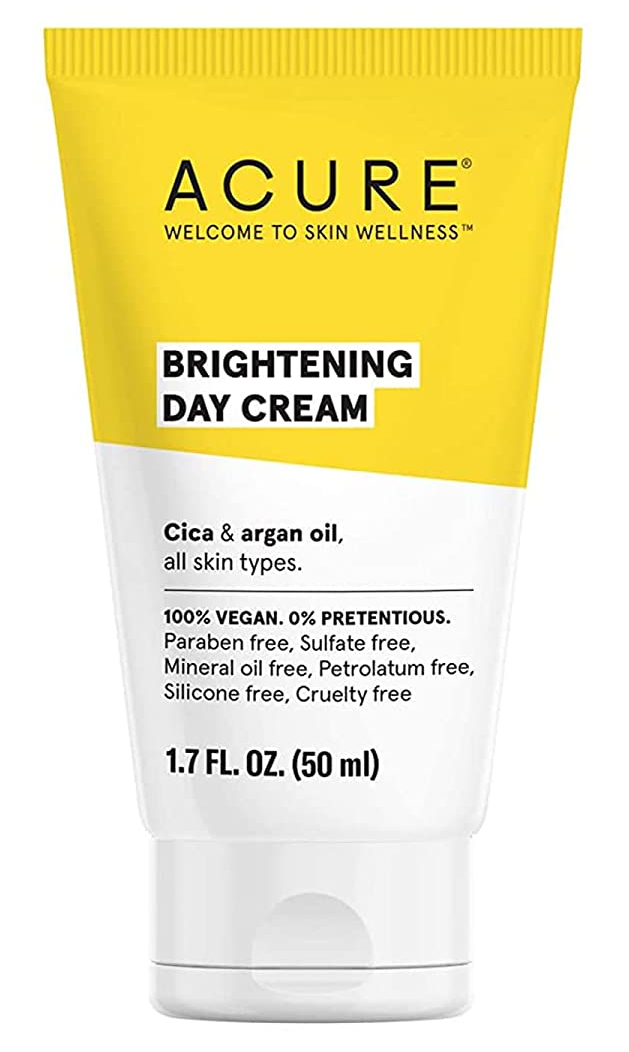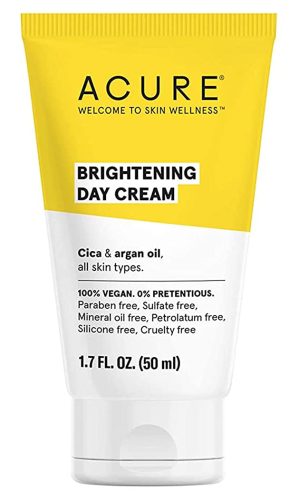 ---
Best with retinol
StriVectin Advanced Retinol Intensive Night Moisturizer
Retinol is the ultimate solution for combating pigmented and aging skin at the same time, and this moisturizer reigns supreme with its two forms of retinol. Not only do retinoids promote cell turnover for a more youthful complexion, but the in-house NIA-114™ niacinamide also amplifies retinol's efficacy while brightening the skin on its own. And to top it all off, the formula is also laced with resveratrol, which enhances brightness by decreasing melanin content in the skin.[5] Slather it on at night and let it do its magic while you sleep, so you can wake up to a bright and plump complexion.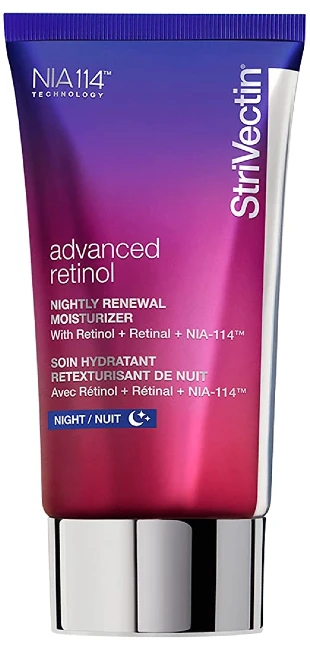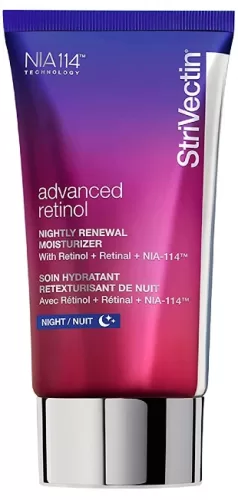 ---
The bottom line
At Women's Concepts, we're committed to bringing you only the best brightening moisturizers. Our team spends quality time vetting products, from bestsellers to up-and-comers, to find the most effective solutions for your skin goals. We rely on reliable sources such as dermatologists' insights, clinical trials, and scientific journals to ensure that our recommendations are based on facts, not hype. Our editorial policy ensures that all statements and claims have explicit references. Read our editorial policy to learn more about our sources of information and the process of researching and fact-checking the content.