A skincare routine is incomplete without regular exfoliation, regardless of which category your skin falls in. Exfoliation promotes cell turnover, allowing dead cell buildup to shed away, which makes room for new, healthy cells. Although the skin naturally sheds dead cells in a 28-day cycle, the natural exfoliation process slows down with age, and this is where the best exfoliators for mature skin come in handy. They speed up cell turnover, leading to less noticeable fine lines, wrinkles, dark spots, and evener texture over time. At the same time, face exfoliators give you the glow and increase product absorption, so you get more benefits from your skincare routine.
Is exfoliation good for mature skin?
Exfoliation is crucial for mature skin. When the skin ages, it becomes rougher, wrinkles deepen, and dark patches appear more prominent, so having an ally that helps skin resurface it's undoubtedly part of a robust routine. Once with the increased cell turnover from your exfoliator, you get a wide array of benefits, including enhanced firmness and elasticity, even tone and texture, increased moisture, and a healthy glow.
Types of exfoliants
Chemical exfoliators include alpha-hydroxy acids (AHAs) and beta-hydroxy acids (BHAs), and they break down the bond between skin cells, unclog pores, and eliminate flaky, dead skin. While AHAs are water-soluble and work more on the skin's surface, BHAs are oil-soluble and can reach deeper into the pores. Then, there's physical exfoliation which involves the mechanical action of manually stripping away surface cells with grainy particles or brushes. But this traditional method may be too harsh for mature skin, so better keep this one for the body.
Finally, enzymatic exfoliants are a gentle alternative to chemical acids. They work by removing the uppermost skin layer and digesting dead cells. This type of exfoliation uses fruit enzymes (think papaya, pomegranate, pineapple, cherries) to break down the protein in dead cells and smooth the skin. The thing with enzymatic exfoliators is that they act on the outer skin layer, so they shed away dead skin rather than encouraging cell turnover, unlike chemical acids, which penetrate deeper and help cells renew for a more radiant and smoother complexion.
What is the most effective exfoliator for mature skin?
The most effective exfoliators for mature skin are lactic and glycolic acids. Glycolic acid is the most potent AHA and has the smallest molecule, which allows it to penetrate deeper into the skin. In contrast, lactic acid is milder due to its larger molecular size, which makes it work on the surface. What these acids have in common is that they are humectants, meaning they attract water into the skin and help increase hydration. Moreover, they increase collagen production, a protein needed to maintain the structure, elasticity, and strength of the skin.
If your mature skin is sensitive and prone to reactions, however, consider enzymatic exfoliators or polyhydroxy acids (PHAs). The latter are gentle chemical exfoliants similar to AHAs that address easily reactive skin.
How often should you exfoliate mature skin?
Once or twice weekly is sufficient to exfoliate mature skin. It depends on the strength of the product you use. Equally important is not to over-exfoliate since it can lead to redness, irritation, swelling—in a word, hypersensitivity. As a side note, the best time to exfoliate is in the evening because exfoliants make the skin photosensitive. For this reason, you should always apply broad-spectrum sunscreen the next day.
The best face exfoliators for mature skin
Without further ado, here are our top picks for the best face exfoliators for mature skin that'll reveal your radiant complexion.
---
1
Sunday Riley Good Genes Lactic Acid Treatment
This leave-on treatment promotes gentle exfoliation with lactic acid to reveal a smoother and clarified complexion without harshness. Additionally, the formula loads licorice extract to diminish hyperpigmentation, plus squalane and yeast extract to increase moisture retention and plump the skin. So, with this product, you get rid of dull cells, fine lines appear minimized, and dark spots brighten, all without disturbing your skin's barrier — it sounds like a winner exfoliator for mature skin.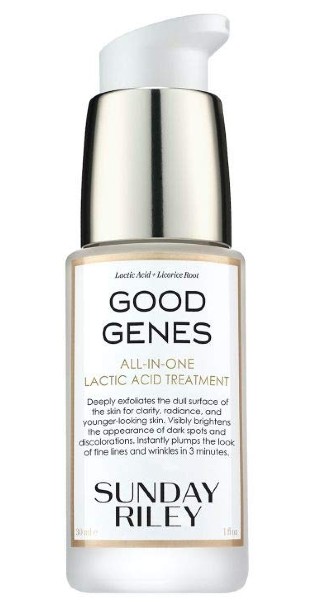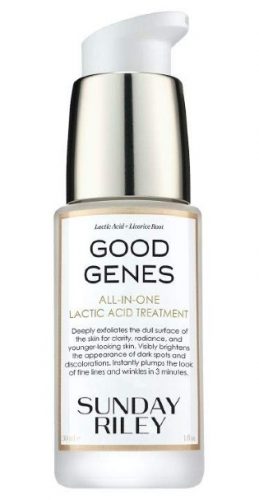 ---
2
Dr. Dennis Gross Alpha Beta Peel Exfoliator
Or you can try these exfoliating wipes by Dr. Dennis Gross. They're a two-step AHA/BHA peel soaked in seven acids to reduce fine lines, wrinkles, and scars and refine pores. The chemical acids in the first step encourage cell turnover for smoother and evener skin. The second step is infused with retinol, resveratrol, and vitamin C to renew and brighten the skin while also working to neutralize the acids and calm the complexion. It's the perfect prepping step before your PM skincare regimen.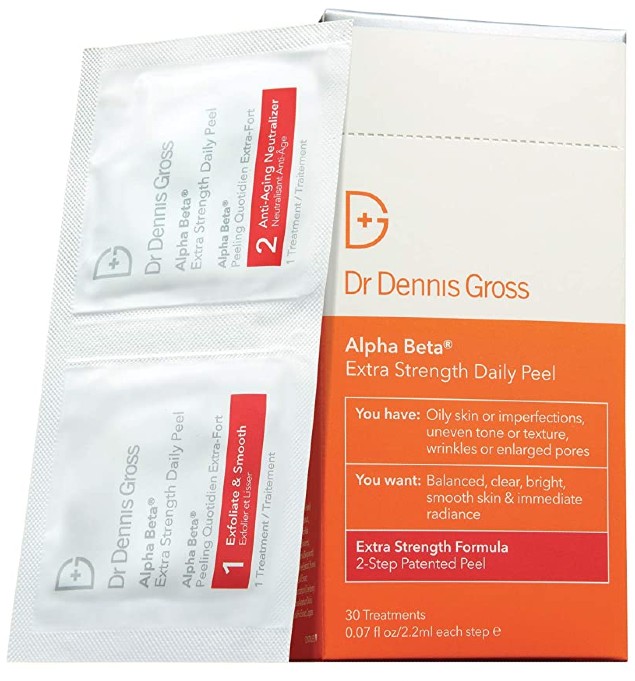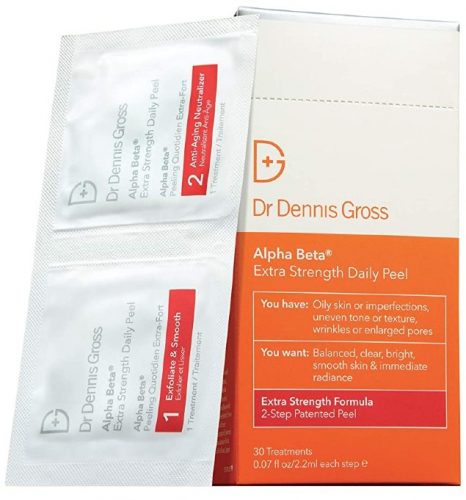 ---
3
Ole Henriksen Dewtopia 20% Acid Night Treatment
This exfoliating night treatment does everything from retexturizing and firming the skin to diminishing the look of dark spots and large pores — the reason it's a must-have for mature complexions. The formula is powered by a potent cocktail of exfoliants, including 10% AHAs (glycolic and lactic acids) and 10% PHAs (gluconolactone), that work the night shift to stimulate cell turnover. There are also soothing ingredients to comfort the skin. You'll instantly love the lightweight yet pampering texture that glides effortlessly and sinks into the tissue as you apply it.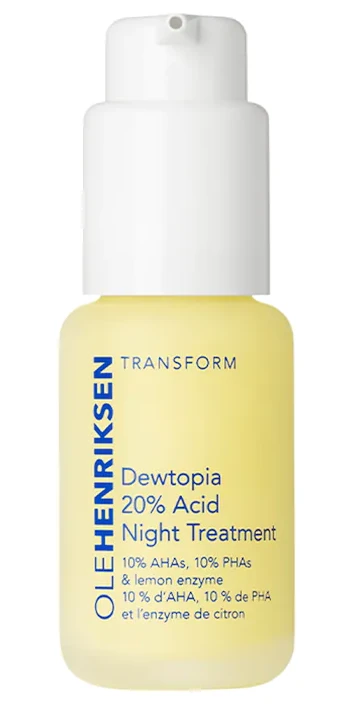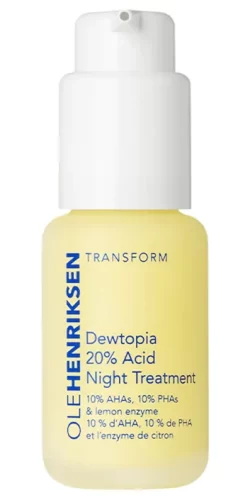 ---
4
Tata Harper Resurfacing Mask
A cult favorite made with a delicate formula, Tata Harper Resurfacing Mask is for sure one of the best organic products to exfoliate mature skin. It soothes and strengthens with aloe and probiotics and gently exfoliates with pomegranate enzymes, revealing soft baby skin after each use. Apply a thin layer on clean skin three times a week and leave it to act for 20 minutes. Rinse off, and smear on a few drops of your favorite facial oil. It's high time for an instant glow.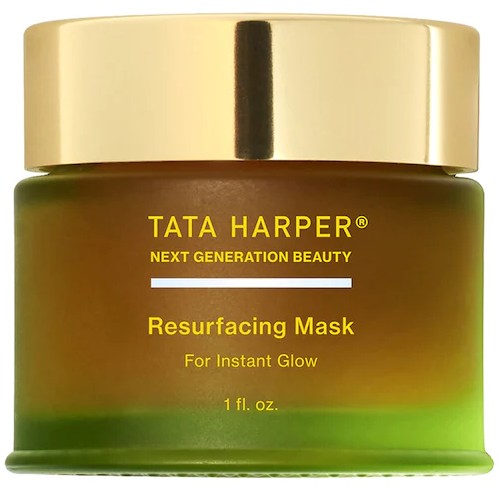 ---
5
Tatcha The Rice Polish Face Exfoliator
For uneven texture, dullness, and visible pores, try Tatcha Foaming Enzyme Powder. It dissolves dead cells and debris, promoting cell turnover that instantly pays off. This product uses Japanese rice bran powder and papaya enzymes to provide a non-abrasive exfoliation and is also rich in vitamins and proteins to reinforce the epidermal barrier. On top of that, it's made with green tea, amino acids, and lactic acid for brightening and nourishing effects. This calming face exfoliator is fun to use: the powder turns into a creamy foam once activated with water, and it only takes 15 seconds to slough off buildup and debris.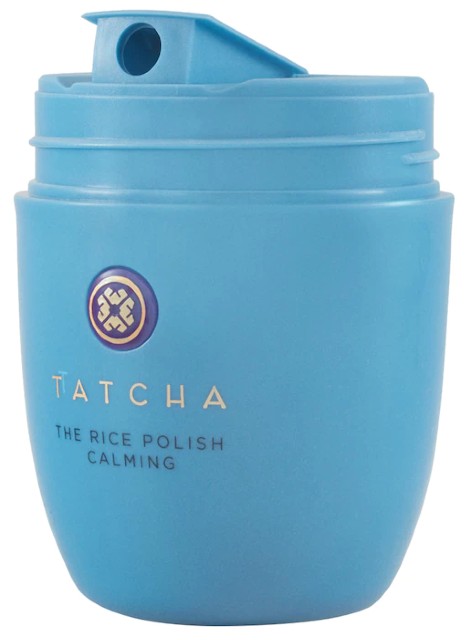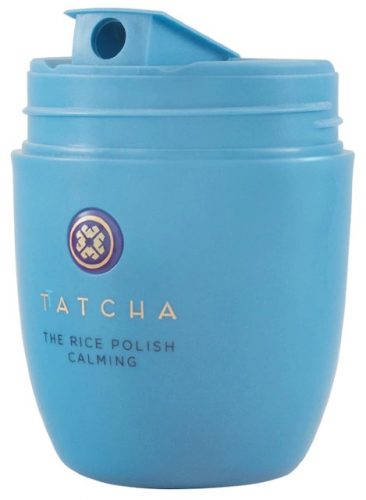 ---
6
Murad Vitamin C Triple Exfoliating Facial
It's easy to love Murad products, and this exfoliator is no exception. It combines the trifecta of exfoliants: physical, chemical, and enzymatic, so it's ideal for those looking for more potent products. Murad Triple Exfoliating Facial uses delicate micro-minerals to remove dead cells from the skin's surface, fruit enzymes to dissolve debris, plus chemical acids to exfoliate in-depth and resurface the skin. Massage a few drops onto clean, damp skin, and once the orange color becomes white, you know it's time to stop scrubbing — then leave it on for 10 minutes to do its magic.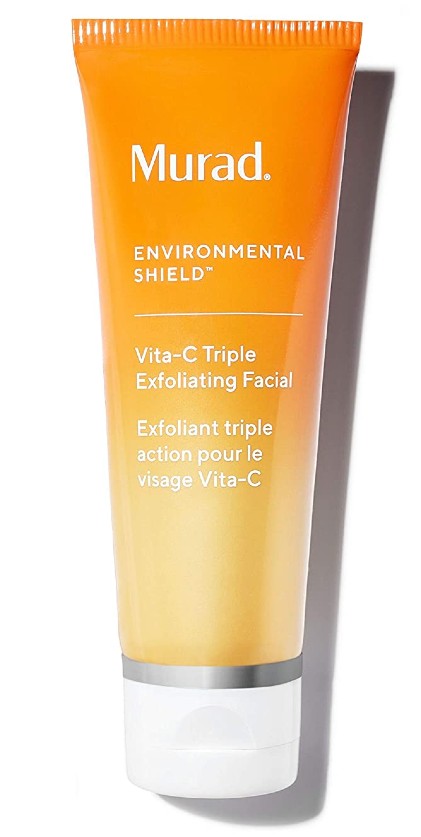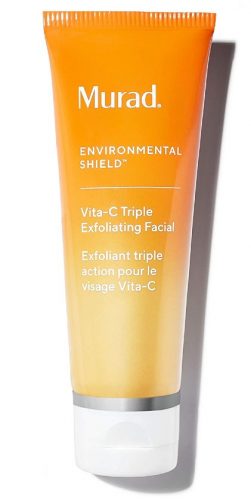 ---
7
Juice Beauty Stem Cellular Exfoliating Peel Spray
This exfoliator specifically targets mature skin and has a different type of formula than what we're used to. It's a spray that instantly exfoliates and smooths with a unique plant-derived complex of exfoliants that lift away old cells and soften the skin's surface. The addition of vitamin C and licorice extract minimizes dark spots over time and promotes a more radiant complexion. We genuinely believe it's the best anti-aging exfoliator for folks who fancy organic and vegan formulas. Shake it well and spray it all over your face. Let the product absorb for a few seconds, and then rub it into your skin using gentle circular motions. When you're done, rinse it off with lukewarm water.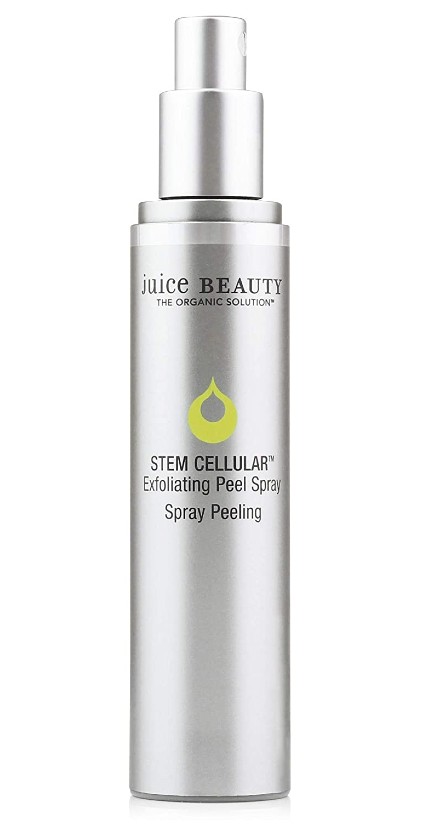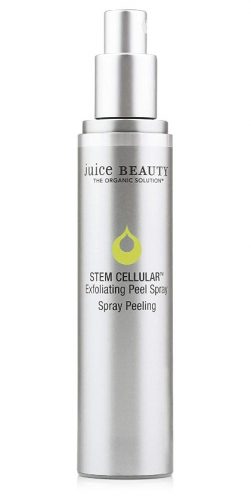 ---
8
Dermalogica Daily Microfoliant
This non-abrasive exfoliant is ideal for mature skin, especially if you have trouble with increased sensitivity, acne, blemishes, and uneven texture. Once rubbed into the hands with water, it releases papain, salicylic acid, and rice enzymes to polish and renew the skin in all aspects. At the same time, a mix of green tea, colloidal oatmeal, and ginkgo Biloba attracts water into the skin and locks it in to preserve your moisture barrier. The exfoliant does everything from retexturizing rough skin and unclogging pores to banishing wrinkles and dullness. Even better, it's as gentle as you can use it daily to make your complexion brand new.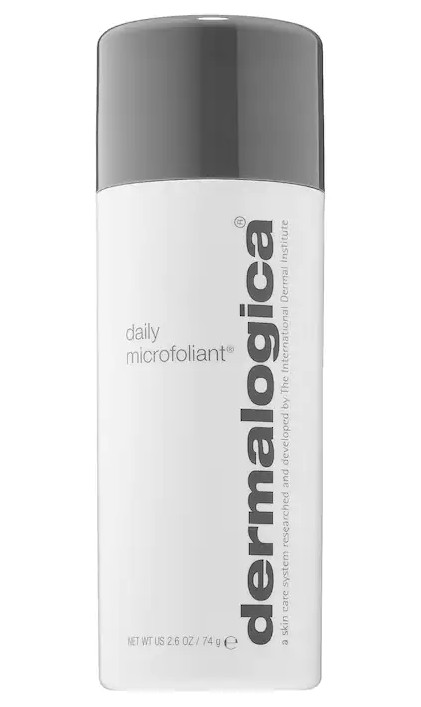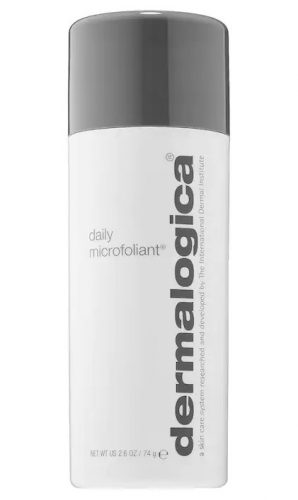 ---
9
The Ordinary AHA + BHA Peeling Solution
You can't go wrong with The Ordinary AHA + BHA Solution, a cult classic made with 30% AHAs and 2% BHA. Not only it's one of the most affordable products on the list (costs no more than $10), but from personal experience, it's super effective for aged complexions. The chemical exfoliator sloops off dead cell buildup immediately and encourages the skin to renew itself after the first use. Two humectants (hyaluronic acid and vitamin B5) also help alleviate dryness, and Tasmanian pepper berry reduces irritation linked to acid use. Give it a try if your skin is not sensitive.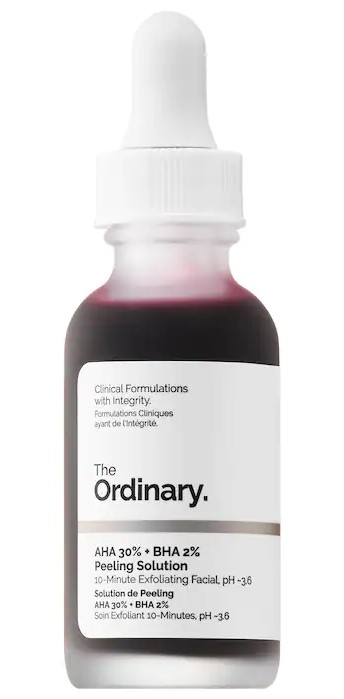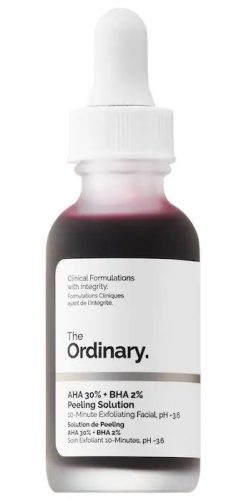 ---
10
Chanel Le Gommage Face Exfoliator
Why do we love this exfoliator so much, and what makes it such a great choice for people with mature skin? Well, it removes impurities and dead cells with jojoba beads suspended in a gel-cream texture for mild-yet-effective exfoliation. Plus, seawater helps exfoliate some more (the salt scrubs away dead cells and helps open pores), while glycerin and microalgae nourish and soothe. So you get exfoliation, moisture, and revitalization at once, a pampering feeling, and a heavenly scent. Sold!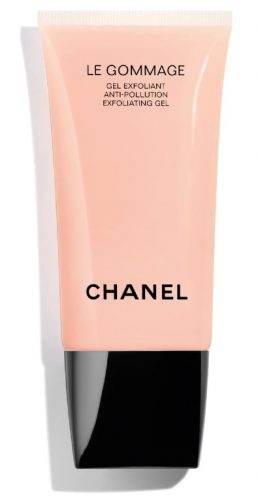 ---
11
Neutrogena Resurfacing Facial Exfoliator
Affordable and available at most drugstores, Neutrogena Resurfacing Facial Exfoliator is an excellent choice for those looking to get great results without spending a fortune. It combines mandelic and glycolic acids to banish dullness and boost brightness while it refines the pores and leaves the skin velvety soft. This chemical exfoliator is also perfect for mature skin since it helps to reduce the appearance of wrinkles and improve tone without being overly harsh on the skin. Massage it onto damp face with circular motions, rinse and follow up with the rest of your nighttime skincare routine. It sounds like the perfect recipe to wake up to a glowy complexion.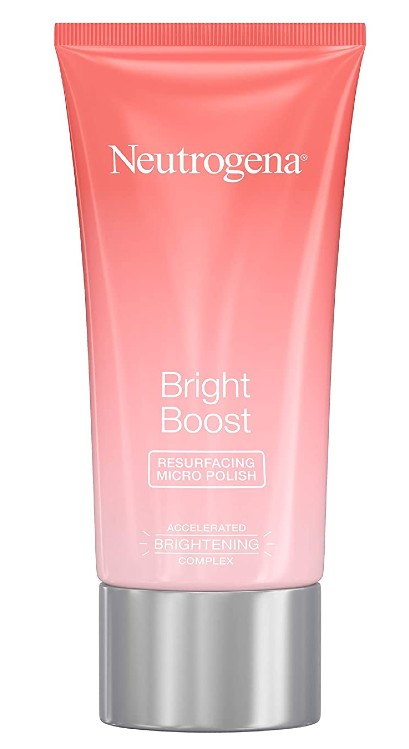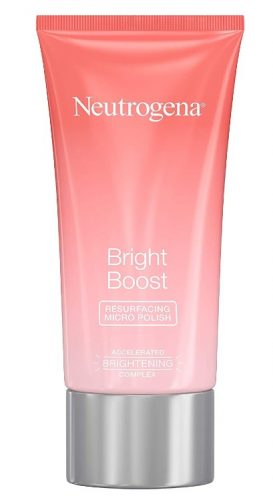 ---
The bottom line
Exfoliation is a crucial part of any skincare regimen and selecting the right product is essential in order to get the most out of it. But rest assured, all exfoliators featured above are ideal for mature skin because they work delicately to minimize aging signs and polish the skin without being too harsh or drying. For the best result, use them once or twice a week and always follow up with a replenishing moisturizer after each time you exfoliate to help your skin recover quickly.