Today we talk about the best skincare sets for oily skin. Because let's face it, who doesn't love a decent bundle? Better value for money, an ideal gift for beauty lovers, and often, a chance to try something without going into your overdraft. You can even get an all-in-one kit that functions as a whole routine, great for people who don't want to spend hours scouring the skincare aisles for the perfect products.
The kits we've chosen for you are made with your favorite ingredients to reduce excess sebum, unclog pores, and clarify skin, and contain antibacterial agents to help reduce breakouts. They're a great deal for anyone struggling with oily, acne-prone skin, offering what's needed to tackle most of your skin concerns so you can put your best face forward.
The best skincare sets for oily skin
---
La Roche-Posay Effaclar System
This dermatologist-recommended kit contains three products: a cleanser, a clarifying solution (toner), and a spot treatment. Combined, they treat multiple types of acne, reduce scarring and blemishes, and balance oily skin through fast-acting ingredients like salicylic acid and benzoyl peroxide. La Roche Posay designed this skincare system with sensitive complexions in mind too. It is the best choice as it can reduce up to 60% of pimples without inducing dryness or irritation—the 10,000 happy customers attest to it. Plus, it's easy on the wallet, offering full sizes of some of the brand's best sellers at a very reasonable price.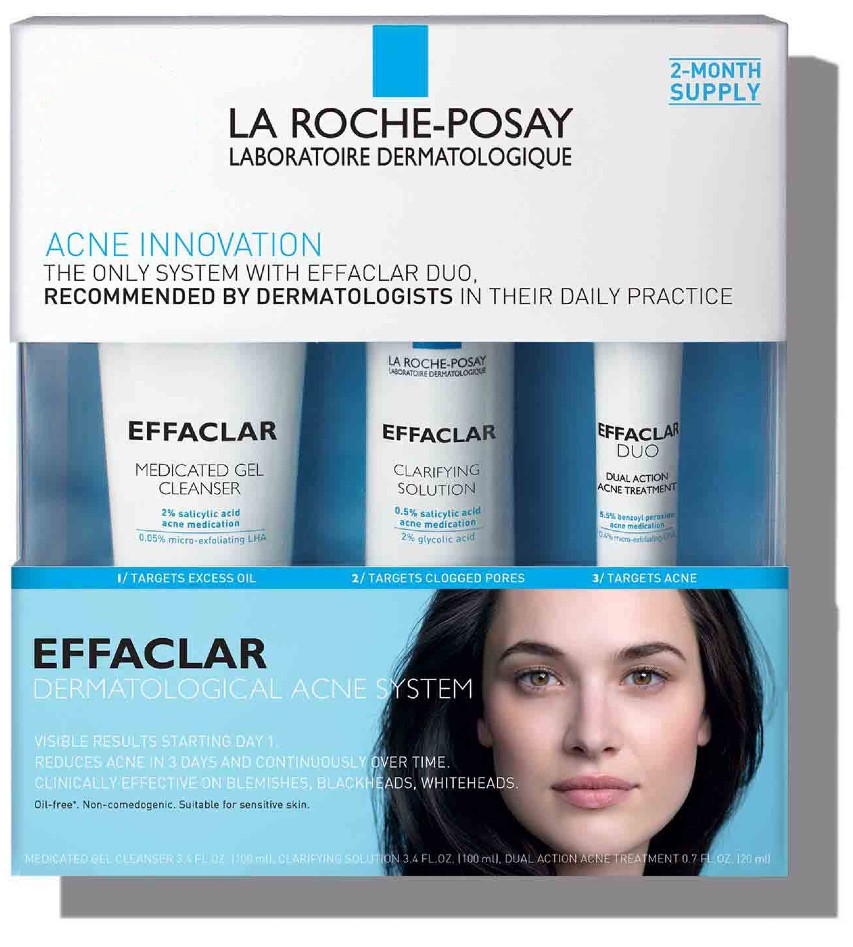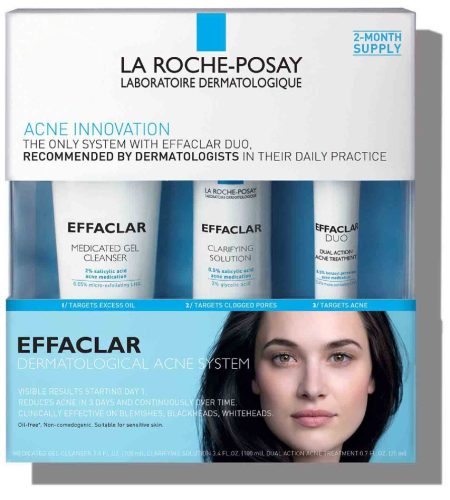 ---
Avène Cleanance Blemish Control Kit
With Avène Cleanance Blemish Control Starter Kit, you can work toward achieving a clear and mattified complexion. This is a wonderful place to start if you're new to the Cleanance range, with just two skincare essentials—a cleansing gel and an anti-blemish moisturizer. It uses Comedoclastin, an innovative active ingredient derived from milk thistle, to reduce sebum and fight pimples. Avѐne's very own thermal spring water, known for its soothing and softening properties, plays a big part in these products too.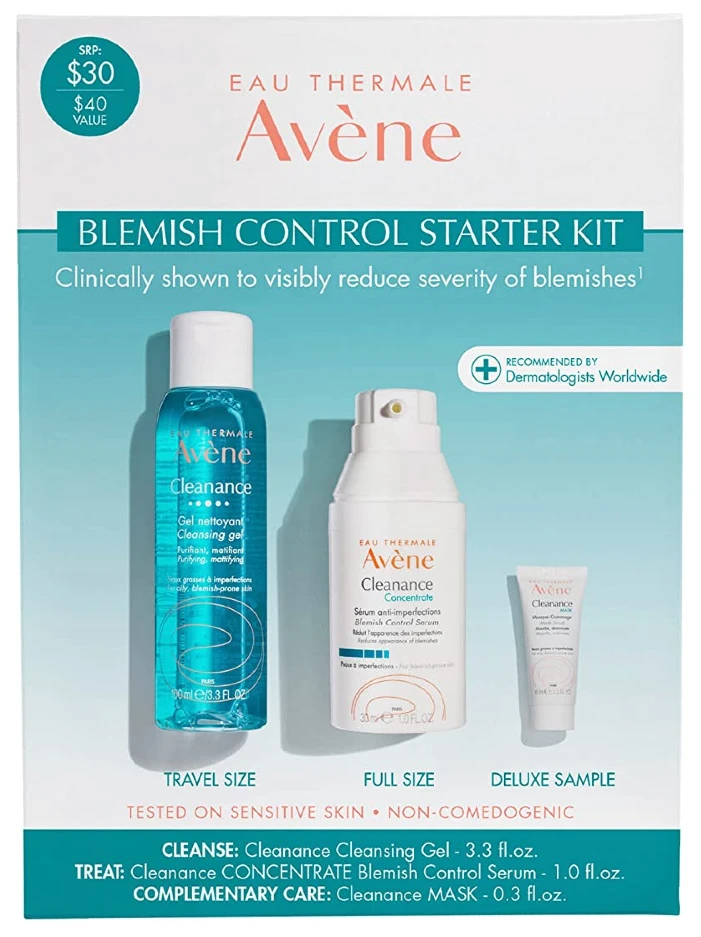 ---
Vichy 3-Step Acne Routine
Vichy 3-Step Acne Routine targets oily skin with large pores, uneven tone, and acne with three skincare essentials. The first step in this routine is a gel cleanser containing salicylic acid and zinc, which goes the extra mile to calm inflammation and decongest the skin. Next, a targeted acne treatment harnesses 10% sulfur, reducing current breakouts and stopping future ones. The final step is a moisturizer, which helps refine pores and visibly brightens skin through salicylic acid and vitamin C.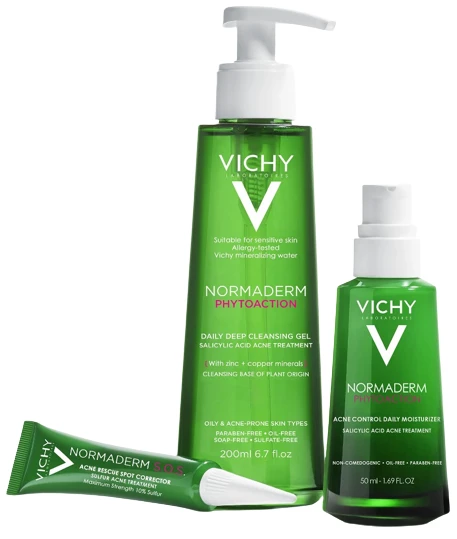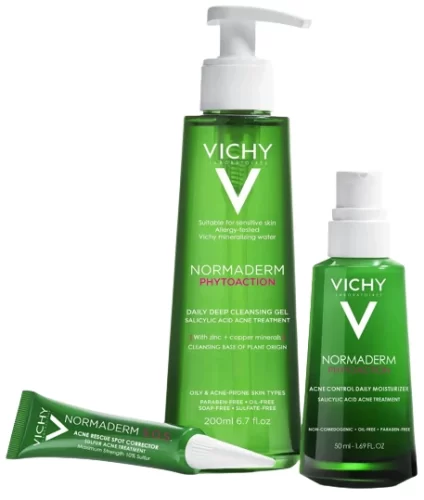 ---
Sephora The Clarifying Kit
This kit is a daily go-to for cleansing and purifying oily and breakout-prone skin, with three products to form the base of your routine. There's a gel cleanser containing aloe vera extract to kill acne-causing bacteria, soothe inflammation, and hydrate. Next is an exfoliating volcanic sand scrub to clear pimples and improve tone and texture. The final product is a moisturizer that will control your sebum levels through a clever mattifying powder. In other words: a winner combo.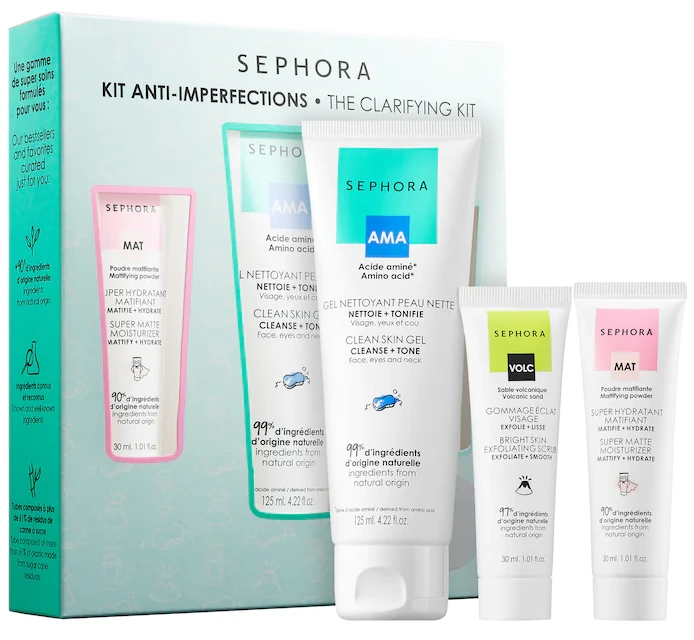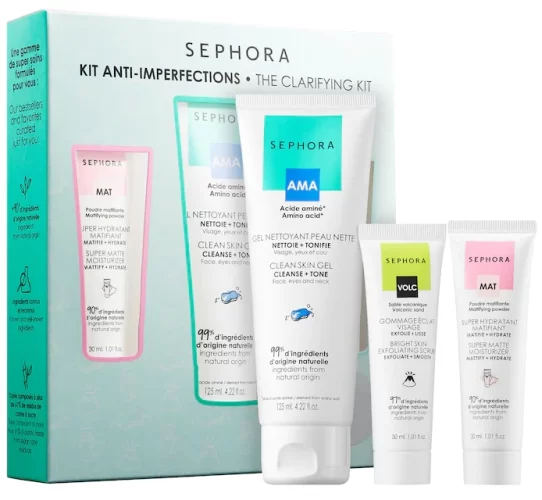 ---
Juice Beauty Blemish Clearing Solutions Kit
Juice Beauty takes the crown for the best skincare kit for those with oily skin who fancy organic formulas. This bundle is a natural solution that offers a clear path to healthier skin. The kit includes a blemish-clearing cleanser, a clarifying serum, an exfoliating mask, and an oil-free moisturizer. With enough product to last for three whole months, you can rest easy knowing you've got all your skincare needs covered. But what really sets this kit apart are its powerhouse ingredients. Malic acid, lemon, and aloe leaf juice are just a few of the amazing actives that work together to reduce blemishes, provide hydration, and balance oily skin.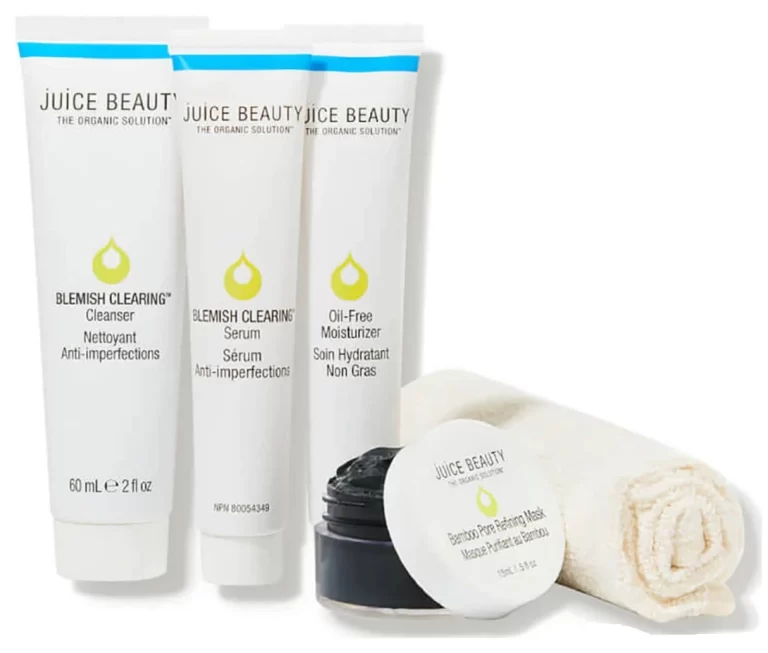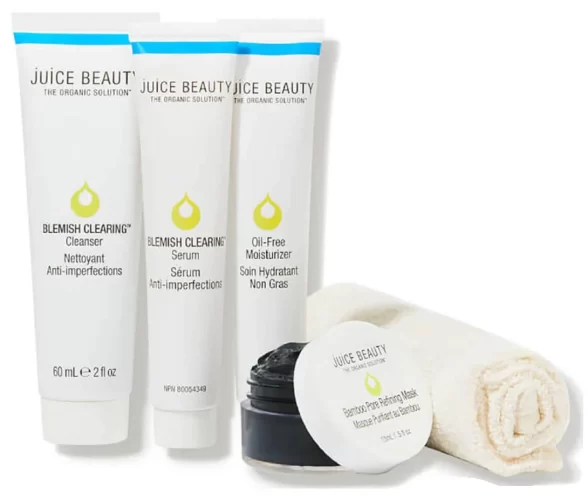 ---
Paula's Choice Essential Kit
Perfect for normal to oily skin, this skincare set contains a lineup of essentials—cleanser, BHA exfoliating treatment, daytime moisturizer with SPF, and nighttime moisturizer—to restore hydration and balance sebum. The product combination makes this kit the best choice if you want to purchase your whole routine in one go. We should also state that this advanced set boasts an impressive list of ingredients, including salicylic acid, niacinamide, vitamin C, and antioxidants.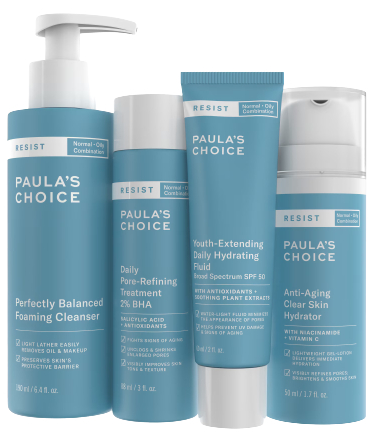 ---
The Ordinary The Balance Set
Trust us when we say that The Ordinary's formulas are beautifully simplistic and incredibly effective in transforming your complexion. If you're trying to save some pennies but still want results, this is the perfect skincare set for oily skin on a budget. The Ordinary The Balance Set contains a cleanser, mask, niacinamide treatment, and moisturizer. When used together, this combination works wonders at combatting sebum and breakouts. Ingredients to note are charcoal, salicylic acid, niacinamide, and zinc—basically the MVPs.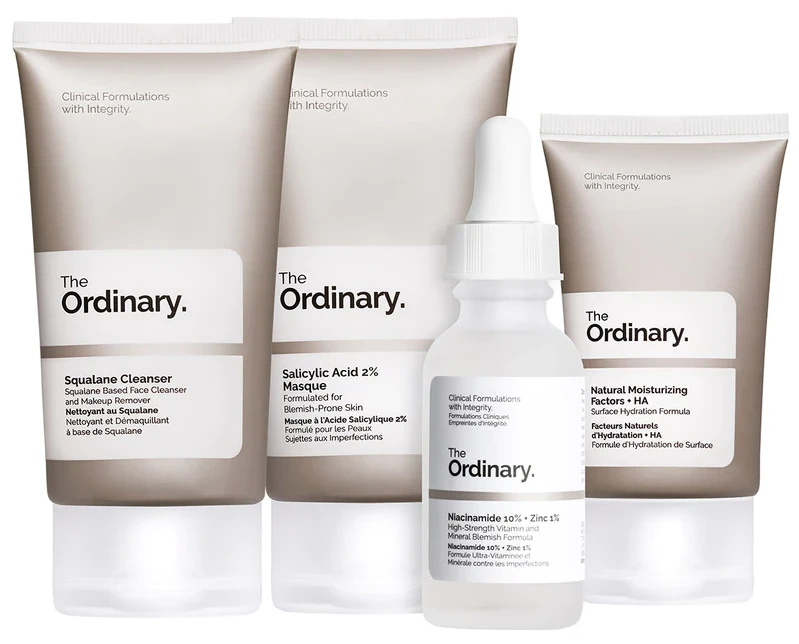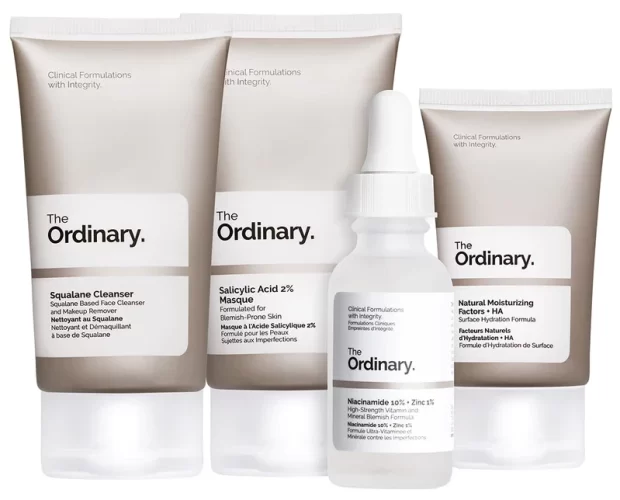 ---
Ole Henriksen Balance It All
This skincare bundle vows to reduce the look of pores and control oil production for clear skin with a natural glow. Inside the set is a cleanser, toner, and moisturizer. All three products contain Ole Henriksen's green fusion complex filled with active botanicals that absorb excess sebum and refine pores. We also particularly love the combo of lactic, glycolic, and salicylic acids across the three products because they'll result in reduced blemishes, more radiance, and better texture.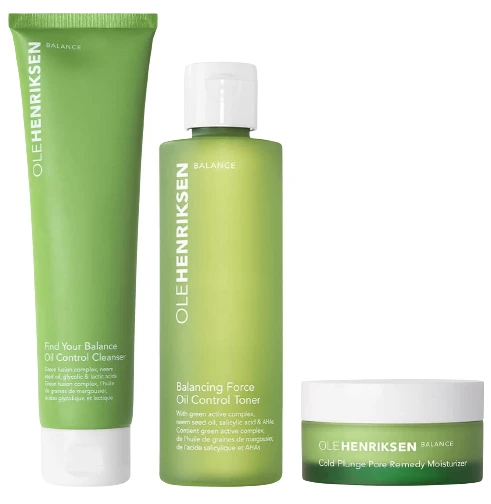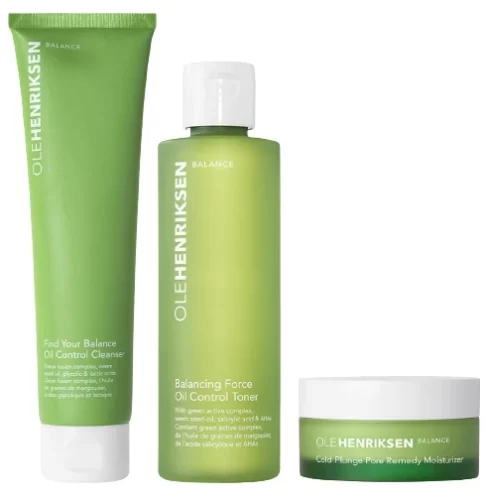 ---
Dermalogica Clear + Brighten Kit
Modern life can impact our sebum production and aggravate acne on a major level. Dermalogica sees this and aims to provide a solution through a set available at a mid-range price point. In order to clear acne, reduce oil, and brighten dark spots, they use ingredients like niacinamide and salicylic acid alongside natural extracts. Their kit has a daily exfoliant, brightening serum, and spot treatment, perfect if you're in the market for treatments that will reduce blemishes and boost radiance.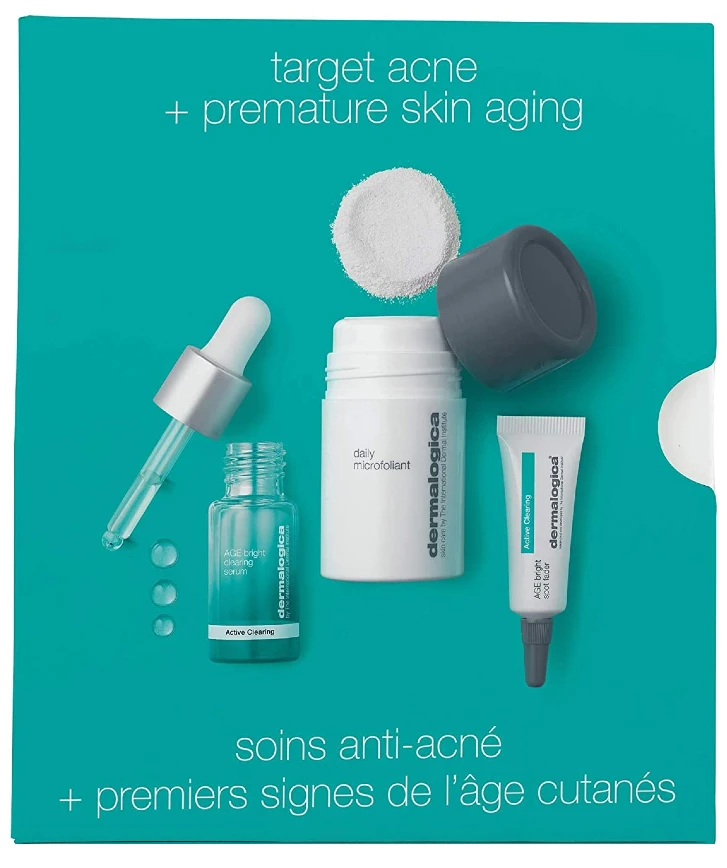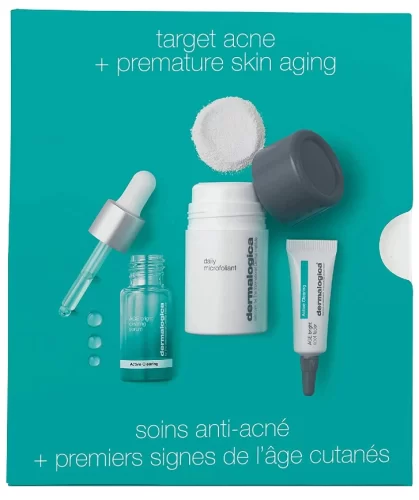 ---
SkinCeuticals Advanced Clear Kit
This skincare set makes the perfect introduction to SkinCeuticals' medical-grade and potent formulas, featuring full sizes of their best-selling products for oily and blemish-prone skin. The kit packs a vitamin C serum infused with ferulic and salicylic acids to reduce oiliness and refine skin texture, along with a clarifying mask loaded with two clays to soak up excess sebum and clear the pores. And hey, you'll even save some bucks with this set since you're getting $248 worth of products for just $206.
---
Final words
You can find plenty of skincare sets out there that'll support your skin if it's oily and acne-prone. You can narrow down your choices by deciding what you want from a set. Are you after a one-stop-shop routine, a treatment-focused kit, or just the essentials? The choice is yours, but whatever you decide, make sure you do your research on the ingredients. Don't just go for the first set you see with a catchy name or pretty packaging. Look for ingredients like salicylic acid, tea tree oil, and witch hazel to help manage sebum and combat breakouts. With a keen eye, you're sure to find the best skincare set to keep your oily skin in check.