While they may not give the dramatic results as serums or exfoliants do, the best face masks for hyperpigmentation are that form of TLC that you use intermittently to give your skin an instant boost of radiance. Which face masks are actually effective for brightening the skin, you ask?
Dark spots, discoloration, sun damage, and post-acne marks warrant a face mask that contains depigmenting agents, such as vitamin C, kojic acid, resveratrol, licorice, and niacinamide. They work to inhibit the enzymes responsible for producing melanin—the pigment that causes dark patches. Also, alpha-hydroxy acids, like glycolic and lactic, and fruit enzymes from pineapple, papaya, and pumpkin are good ingredients to have in your face mask. These are exfoliants that slough off the top layer of the skin affected by hyperpigmentation and reveal a brighter tone.
Before we go to the good bit, I want to point out that no matter how effective your skincare routine is, your efforts may only be worthwhile if you're diligent about sun protection. So, in addition to your dark spot-correcting serum and face mask, apply SPF 50 sunscreen every morning or at least when you plan to spend a lot of time outdoors.
We conducted hours of research to find the best masks to address dark spots and other forms of discoloration. We evaluated each product based on the formula, the concentration of brightening ingredients, and how most reviewers responded to them. Here are our top picks:
---
Peter Thomas Roth Pumpkin Enzyme Mask
This exfoliating mask has gone viral over the past year, and for good reason: It blends the trifecta of exfoliation, aka chemical, enzymatic, and manual, to act on multiple layers of the skin at once. While the tiny granules of crystals gently polish the surface, alpha-hydroxy acid and pumpkin enzyme clarify and retexturize to reveal a complexion that looks brighter.
When you apply this mask, you want to give your face a gentle massage in circular motions to allow the crystals to polish the skin and lift surface buildup. Leave it to act for 3 to 7 minutes, rinse and pat dry. While it may seem it has a steep price, at a closer look, you can see the container houses 5 oz of product, meaning it's enough to get the bung for your buck.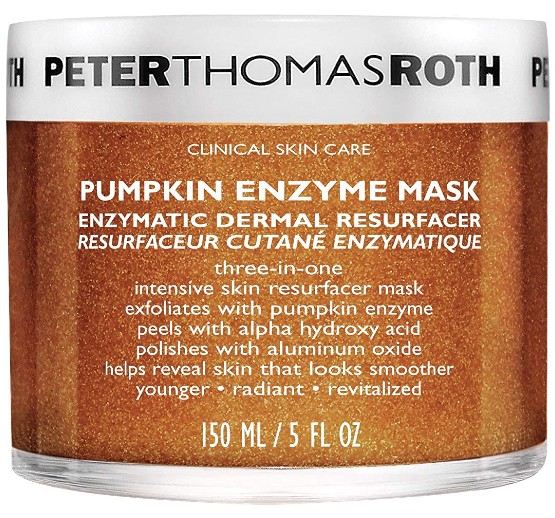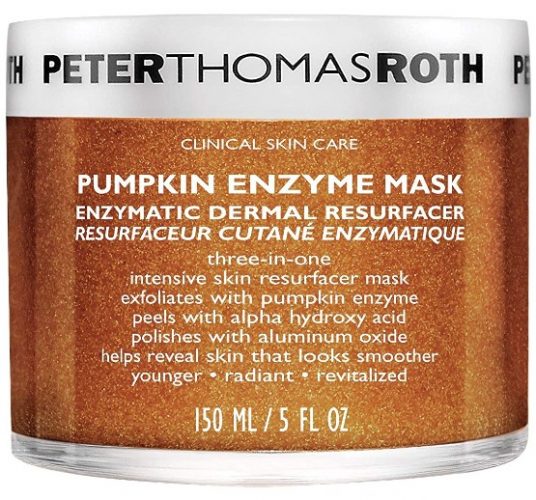 ---
Then I Met You Rosé Resurfacing Facial Mask
This is another face mask that does the job when it comes to diminishing hyperpigmentation and fading blemishes we're willing to stake our reputation for. It has a whopping blend of 6% glycolic and lactic acids, with an added punch of 0.5% salicylic acid to unclog pores and encourage gentle exfoliation. The addition of resveratrol improves skin luminosity, while the Damask rose petals—which you can see in every scoop—give the mask its lovely blush hue and hydrating properties. Plenty of satisfied users rave about how well it brightens and clarifies, as well as the pampering feel and light floral scent.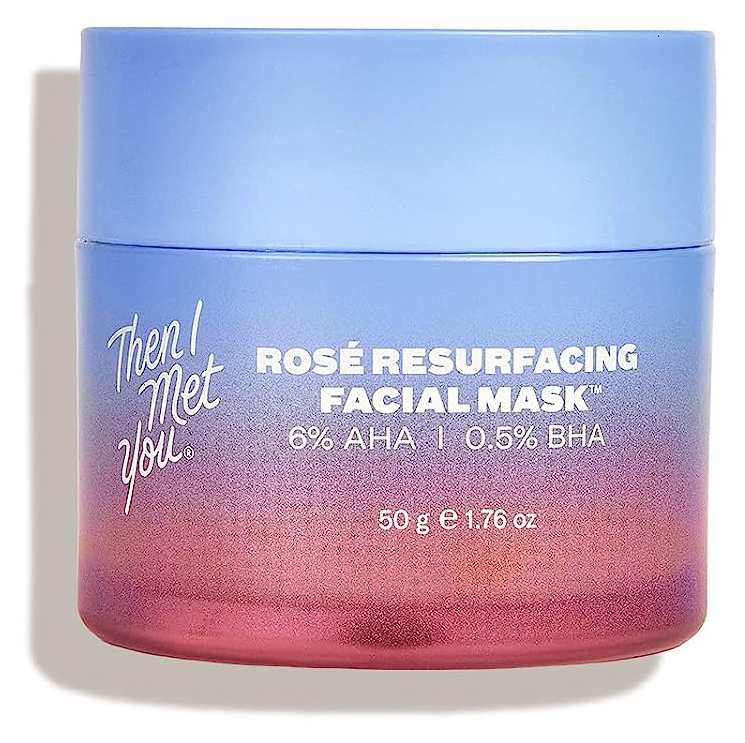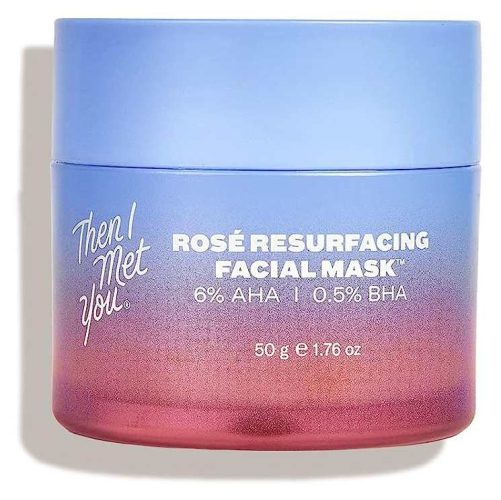 ---
Andalou Naturals Brightening Mask
If the thought of paying $60 for a face mask scares you, this affordable option is here to save the day. It packs exfoliants, vitamin C, and manuka honey, each working on different pathways to resurface the skin and minimize the look of dark spots. Although it can make your face tingle a bit, it leaves no redness afterward, only velvety smooth skin and a healthy glow. The formula is made with 98% nature-derived ingredients, is vegan and cruelty-free, and it's got over 5,000 Amazon shoppers who sing its praises.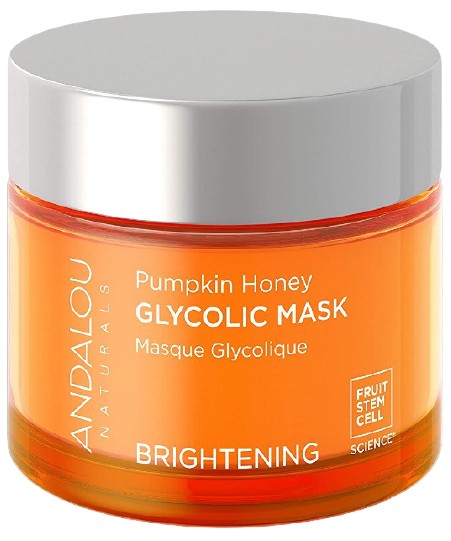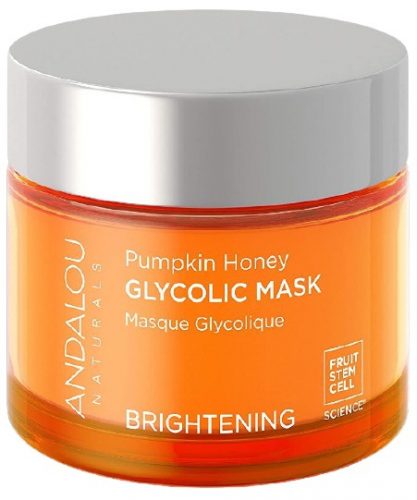 ---
Glow Recipe Watermelon Glow Sleeping Mask
Let aside this mask looks delicious, but it's got a 2.5% alpha-hydroxy acids complex in a pH-balanced formula to gradually exfoliate overnight. Also packed with niacinamide and quinoa peptides, the Glow Recipe Glow Sleeping Mask is able to not only fade spots and discoloration but improve the skin's overall tone and texture. We like that even though it has so many potent actives, the mask is still gentle and hydrating (thanks to seven types of hyaluronic acid), and it doesn't irritate. Consider using it two or three times a week in your nighttime routine after cleansing and toning for the best outcomes.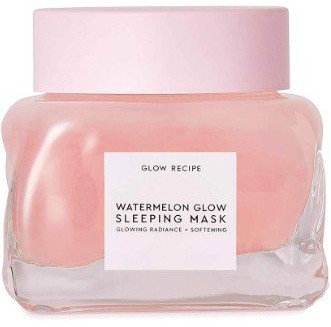 ---
Herbivore Natural Brighten Mask
This is a great option to consider if your skin is oily and prone to breakouts because it's made with a natural source of salicylic acid to refine the pores and sop up excess oil. The mask also relies on a blend of fruit enzymes to remove dead cell buildup delicately and leave you with a velvety smooth texture. Blue tansy oil—which gives the mask its blue color—was added to soothe redness and irritation. Satisfied people love the clean formula and report that, with consistent use, it works well to fade redness, post-acne marks, and pores, and laud it for how delicate it is.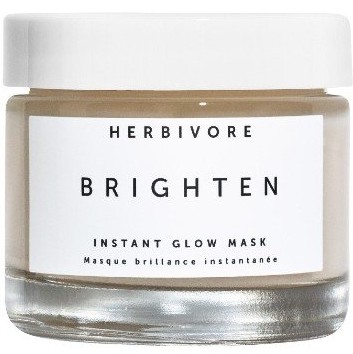 ---
Bliss Mighty Marshmallow Mask
In the world of spot-fading ingredients, vitamin C is the HG, and Bliss Mighty Marshmallow Mask contains three derivatives of it, including the most active form, ascorbic acid. The mask is not only effective for fading dark spots appearance but also for delivering a surge of hydration and purifying the skin with a blend of nature-derived oils. Also, thanks to the addition of marshmallow root, it provides soothing benefits and helps ease swelling, leaving you with a calm complexion and a lit-from-within glow.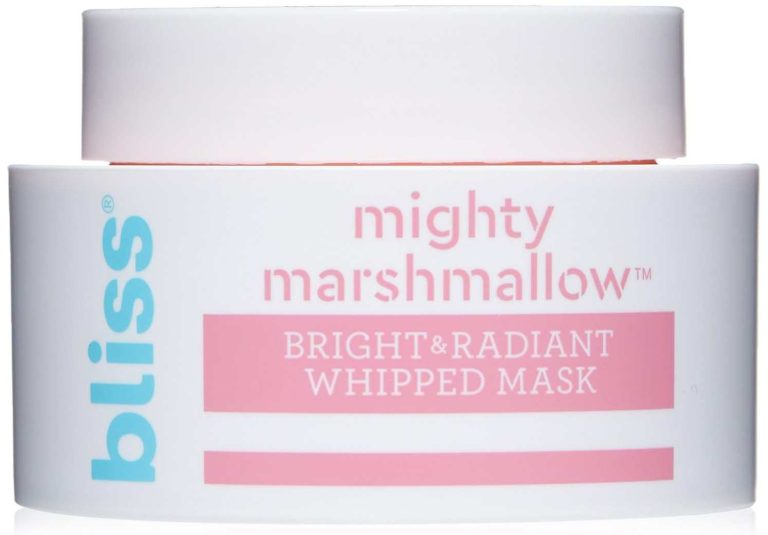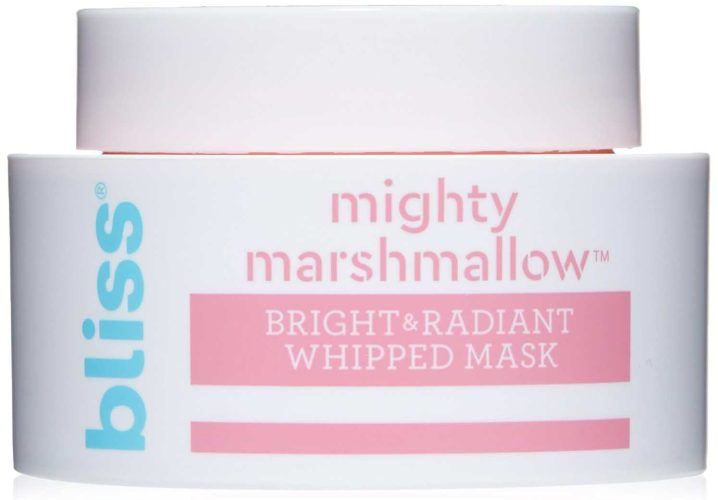 ---
Shiseido White Lucent Brightening Mask
For beauty on the go, this one might be the perfect pick. Shiseido brings the best sheet mask for hyperpigmentation inspired by iontophoresis, a technique that involves the use of a small electrical current to deliver active ingredients deep into the skin for maximum efficacy. This means a generous amount of actives, including vitamin C, are infused in the deeper layers to act on pigmented cells and help reduce stubborn discoloration and improve radiance over time.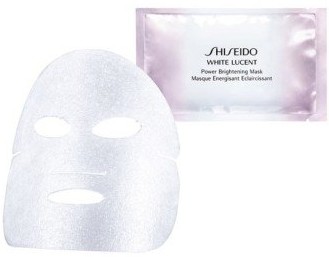 ---
Dr. Jart+ Dermask Brightening Solution
Or, you can try Dr. Jart+ Dermask Brightening Solution. It's a sheet mask formulated with three of the most potent brighteners: glutathione, vitamin C, and niacinamide. If you're not familiar with glutathione, it's called the mother of antioxidants, and it's quite impressive at diminishing dark patches by inhibiting the activity of pigment-producing cells. The mask is also powered by trehalose, and hyaluronic acid, which plumps and softens. You can bet on it to fade discoloration without drying your skin.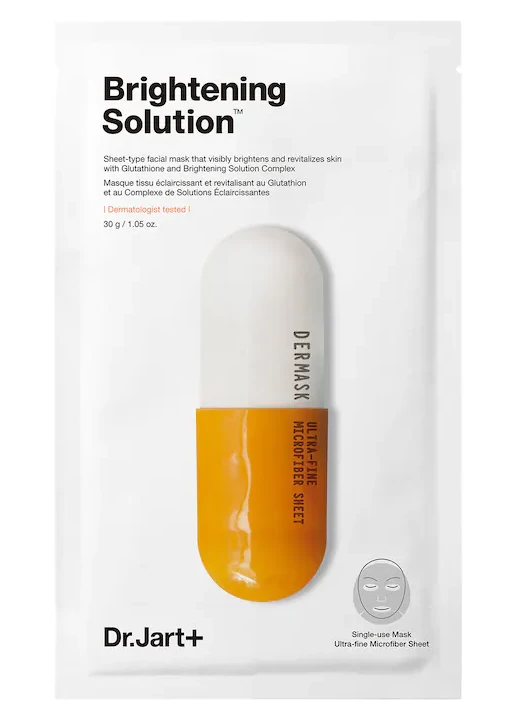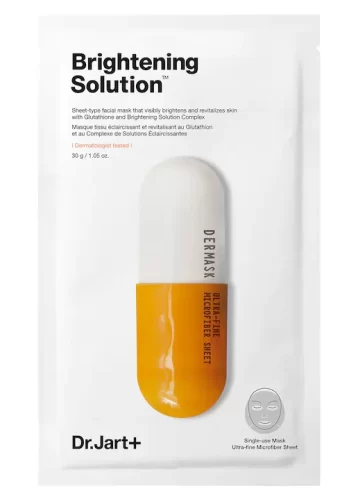 ---
Verdict
Our overall pick for the best hyperpigmentation face mask is Peter Thomas Roth Pumpkin Enzyme Mask, a triple-action formula that provides gentle yet effective exfoliation to remove the top layer of the skin that contains excess melanin. However, if you're on a budget, consider Andalou Naturals Brightening Mask, a wallet-friendly alternative powered by vitamin C and other bleaching agents that work hard to minimize dark spots look.