If you're here looking for the best serums for hyperpigmentation, it means you are familiar with skin discoloration, so no need for an introduction. Long story short, these darkened patches occur when an excess of melanin deposits in the skin. As such, reducing pigment content is the most effective treatment to fade hyperpigmentation and achieve a perfectly even tone. And the serums featured ahead do just that, working on a cellular level to banish dark spots and diminish blemishes once and forever.
How to find the best serum for hyperpigmentation
The best serums for hyperpigmentation should include restorative and brightening ingredients as well as antioxidants and pigment inhibitors.
Vitamin C is one of your BFFs since it blocks melanin production and gives antioxidant protection, shielding cells from free radical damage, so fewer chances to develop more dark spots. Also, it's the most potent regenerative vitamin — an essential factor in diminishing hyperpigmented spots. Tranexamic acid, kojic acid, alpha arbutin, and niacinamide are also great ingredients to have in your serum for hyperpigmentation as they interfere with melanin production, working to brighten the skin.
Another tried-and-true active for skin discoloration is retinol. Due to its ability to speed up cell turnover, retinol helps remove pigmented cells from the skin's surface and make room for healthier and brighter ones. It also blocks the transfer of melanin to the skin's cells. By the same token, serums for hyperpigmentation should include exfoliants like glycolic and lactic acids as well because they also work to get rid of pigmented cells.
Never skip sunscreen
Let me take a step back now, and clarify something. A crucial step in counteracting hyperpigmentation is to daily apply SPF 50 sunscreen as the last step in your AM routine — UV damage is the biggest culprit of dark spots and uneven tone. And if you need another reason, here it is: most serums for hyperpigmentation include alpha-hydroxy acids that may increase the skin's sensitivity to sunlight. If you don't use a UVA/UVB blocker, you might end up with more dark marks.
The best hyperpigmentation serums
Now that you have all your questions answered, scroll on to find the best serums for hyperpigmentation formulated to reduce discoloration.
---
Sunday Riley Brightening Serum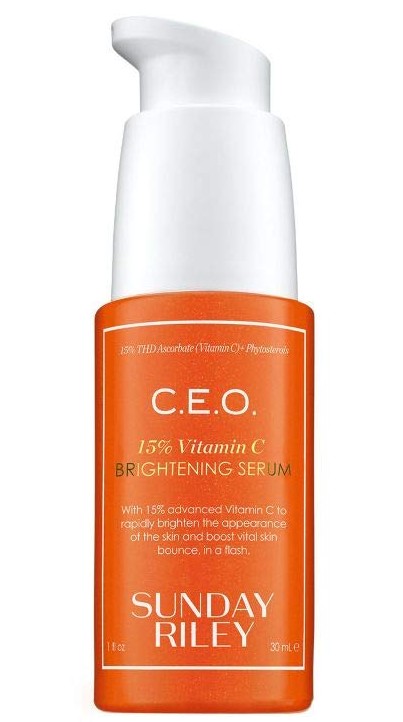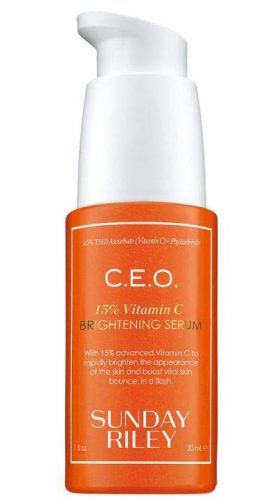 In the get-rid-of-hyperpigmentation world, vitamin C is one of the best actives, not only for its brightening properties but also for its antioxidant effect. This serum contains a generous amount of 15% oil-soluble vitamin C, meaning it penetrates into the skin to trigger chances at a cellular level. Additionally, the formula loads glycolic acid to gently exfoliate and resurface, leaving behind an even tone, while squalane and tocopherol nourish and trap moisture. It's no wonder Sunday Riley Brightening Serum is one of the best serums for hyperpigmentation out there.
---
StriVectin Brighten & Correct Serum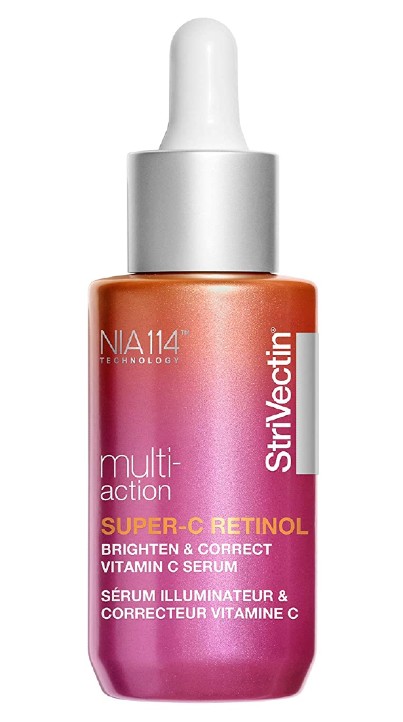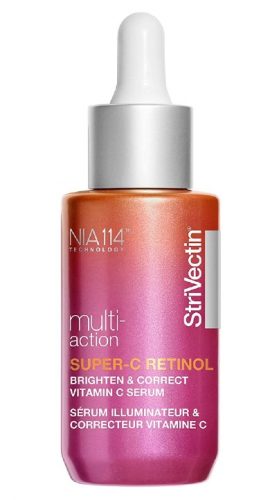 Vitamin C, acerola cherry (a highly concentrated source of pure vitamin C), and retinol join forces in this formula for intense brightening and clarifying effects. We like that the lightweight formula soaks easily into the skin without ever leaving a tacky feeling. Even more, Sunday Riley Correct Serum smooths rough texture while helping neutralize free radicals, thanks to the addition of NIA-114™ — the brand's proprietary form of niacinamide that strengthens the protective barrier.
---
SkinMedica Lytera Pigment Correcting Serum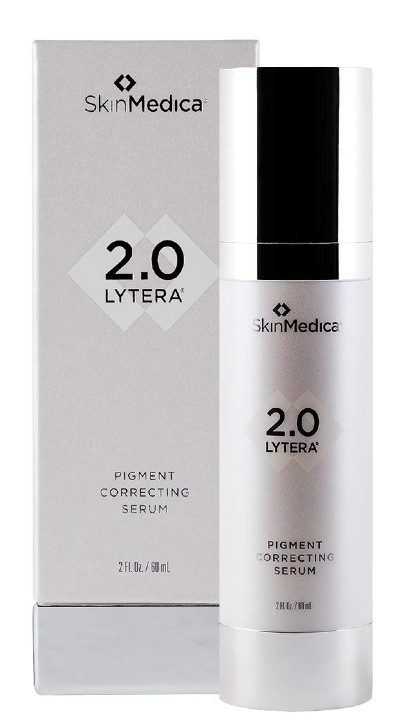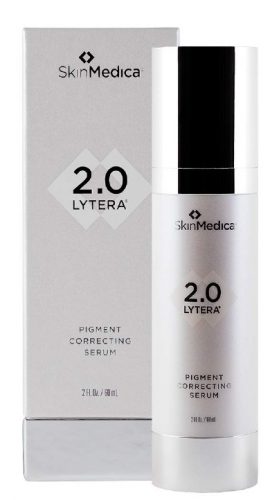 SkinMedica Correcting Serum uses phenylethyl resorcinol — a truly potent depigmenting agent and antioxidant — to help support melanin balance and diminish hyperpigmentation. Besides, thanks to niacinamide, tranexamic acid, and peptide, the serum works hard to prevent new dark spots from appearing and enhances texture while two ferments reinforce the barrier. Its rich texture feels like a refreshing gel, and the formula works like a charm for all skin types.
---
Allies of Skin Mandelic Pigmentation Corrector Night Serum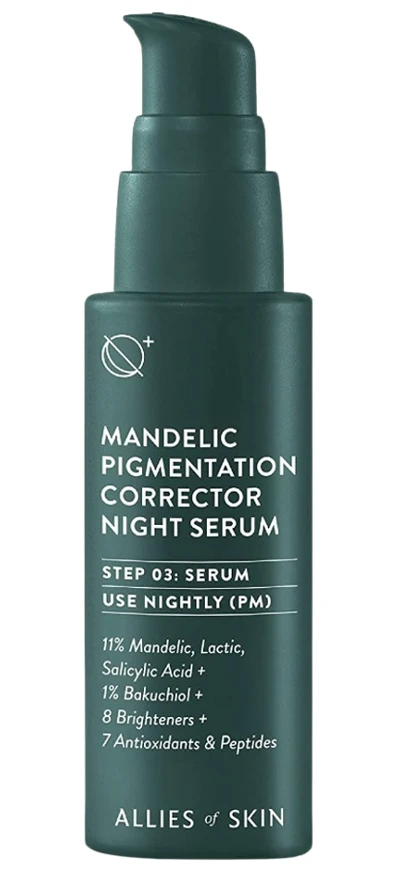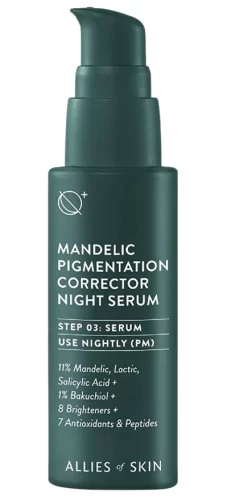 There's a reason Allies of Skin Mandelic Pigmentation Corrector is touted as one of the best serums for hyperpigmentation — it really works. Not only does it pack a concentrated blend of exfoliants to sweep away dead cells, but it includes eight brighteners and seven antioxidants to fight discoloration and protect skin from sun damage. There's mandelic acid, bakuchiol (a retinol alternative), three peptides, resveratrol, and niacinamide, all sharing the same goal: to put dark spots at bay.
---
Sesderma Azelac Ru Serum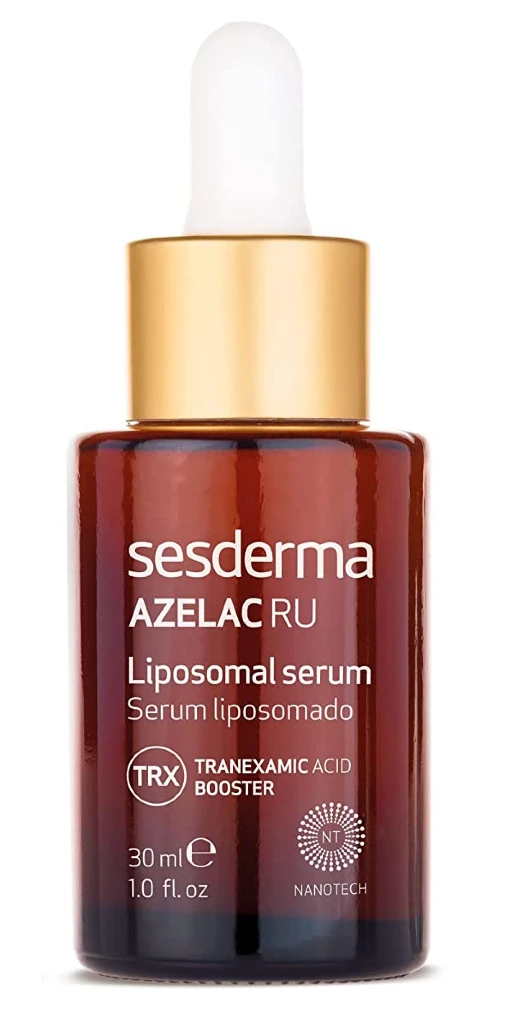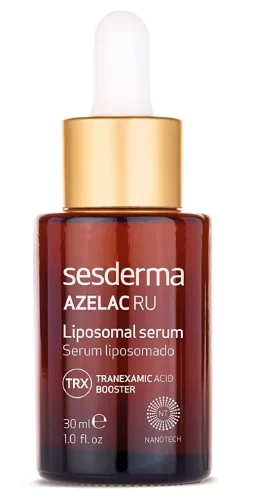 This lightweight serum touts azelaic acid, resorcinol, tranexamic acid, retinol, and vitamin C in a formula strong enough to battle all types of hyperpigmentation. Yet, the best part is that all actives are encapsulated in liposomes, tiny bubbles used as a delivery system to carry the ingredients in deeper layers of the epidermis for enhanced benefits.
---
SkinCeuticals Discoloration Defense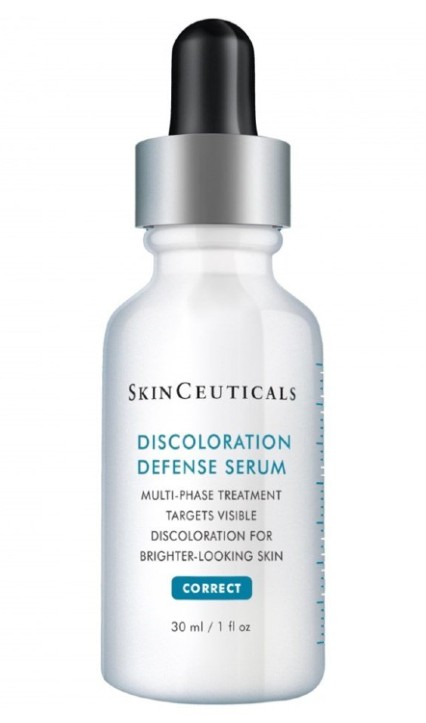 If your goal is a brighter, even complexion, SkinCeuticals Discoloration Defense might be your best match. It's clinically proven to reduce the look of discoloration and brighten skin in all tones — thanks to 3% tranexamic acid, 1% kojic acid, and 5% niacinamide. Whether you're dealing with post-acne marks or age spots, this serum will definitely come in handy, being one of the best to correct hyperpigmentation.
---
Murad Rapid Dark Spot Correcting Serum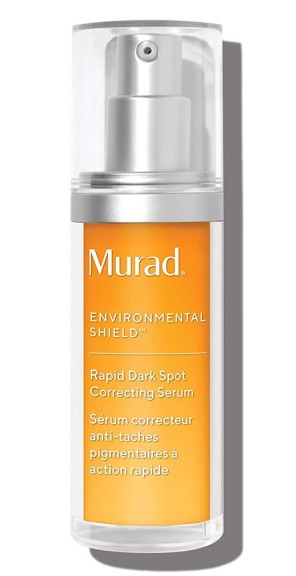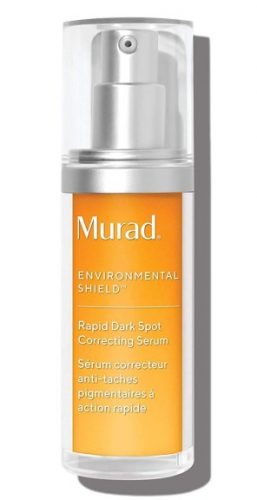 There's not much Murad Dark Spot Correcting Serum can't do. Thanks to the patented resorcinol and tranexamic acid, the serum works wonder to fix uneven skin tone and minimize dark spots. On top of that, glycolic acid enforces its potency by promoting cell turnover. And to prevent the skin from drying, the formula boasts peptides and amino acids to trigger collagen production and increase moisture retention.
---
Isdinceutics Day & Night Brightening Routine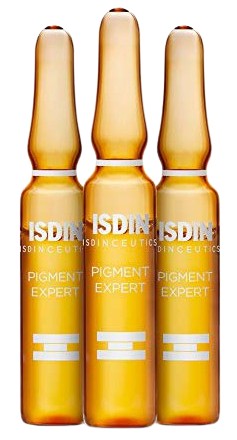 Exfoliation is the foundation of brighter, even skin. With this in mind, Isdinceutics made an intense duo set containing Night Peel and Pigment Expert. While the Night Peel exfoliates with glycolic acid, the Pigment Expert boosts radiance and delivers intense brightening effects with vitamin C, niacinamide, and licorice extract. Coming in ampoules, these formulas deliver more intense benefits as they're supercharged with a higher concentration of active ingredients to maximize results.
---
Ole Henriksen Banana Bright Vitamin C Serum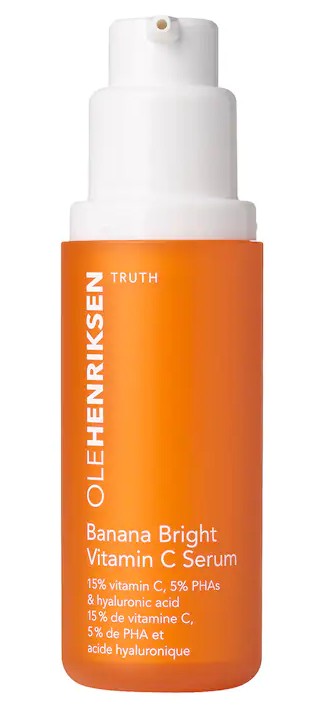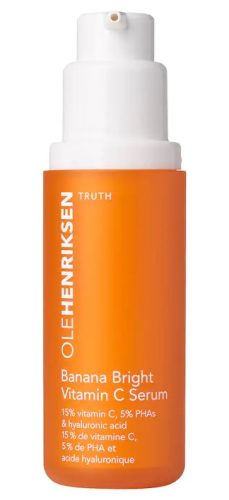 This one is one of the best serums for hyperpigmentation because it contains 15% vitamin C, plus polyhydroxy acids and hyaluronic acid. If you are not familiar with polyhydroxy acids, they are chemical exfoliants working more gently than AHAs to remove the buildup of dead cells. You've got antioxidants, exfoliants, and soothing ingredients in a single product if you'll go for Ole Henriksen Banana Bright Serum.
---
Perricone MD Vitamin C Ester CCC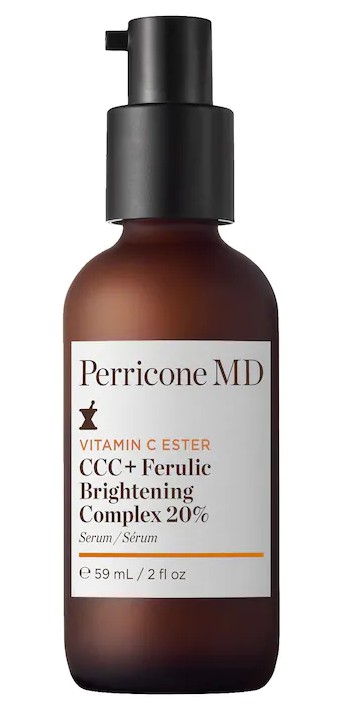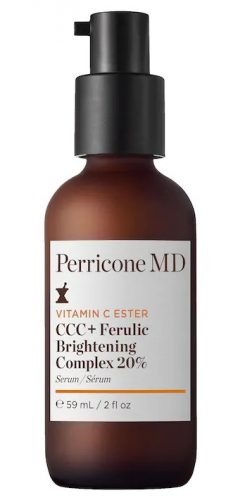 Perricone MD products are a cult favorite, and this one is no exception. Combining three forms of vitamin C (aka 20%) with ferulic acid, the serum vows to fade dark spots and brighten the skin, providing a perfectly even tone along with a smooth texture. It also contains vitamin E, meaning more antioxidants, plus jojoba seed oil for comforting the skin and preventing dehydration. Since it's highly concentrated in vitamin C, don't forget to perform a patch test to see if your skin can tolerate it.
---
Neutrogena Bright Boost Illuminating Face Serum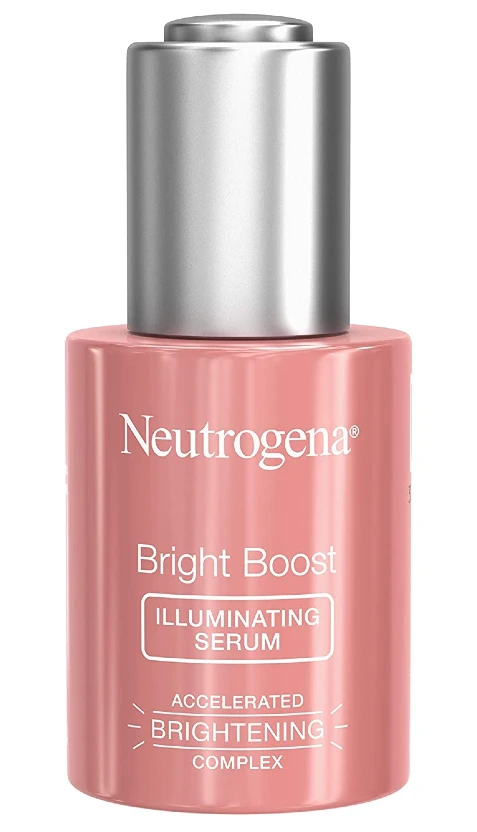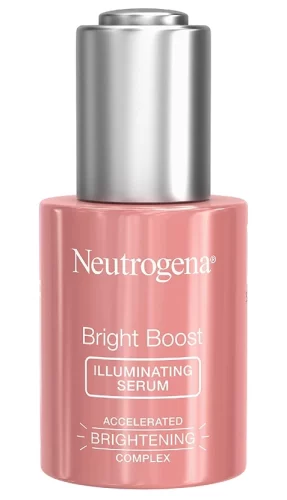 For a drugstore serum for hyperpigmentation, Neutrogena Bright Boost is definitely standing out. First, it contains turmeric extract, a known lightening agent that inhibits pigment production in cells, reducing hyperpigmentation and dark spots. Then neoglucosamine, which is a patented non-acid amino sugar that gently resurfaces the skin by encouraging cell turnover. In turn, this sheds away the darkened cells that have been affected by excess pigment, revealing a radiant complexion and imparting a fresh glow.
---
PCA Skin Vitamin B3 Brightening Serum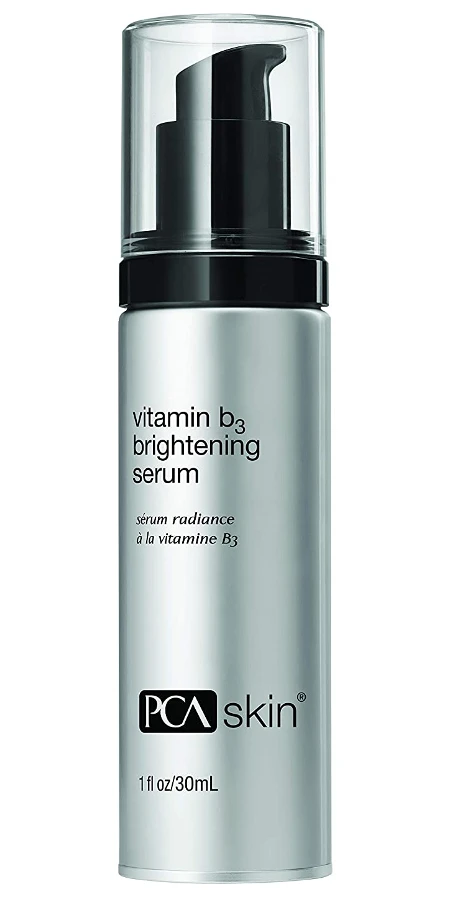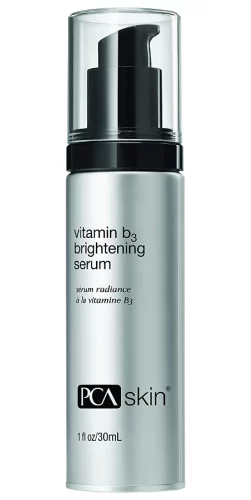 This one brightens dark spots and fades blemishes with 6% niacinamide, meaning it's super gentle for the skin. In addition, the serum loads green tea and mulberry extracts to support the lightening and depigmenting effects, while glycerin and peptides maintain skin moist and the barrier integer. As you may have guessed, this serum is ideal for everyone, including those with sensitive skin, because it skips potential harsh compounds like alcohol and fragrance.
---
Glow Recipe Guava Vitamin C Serum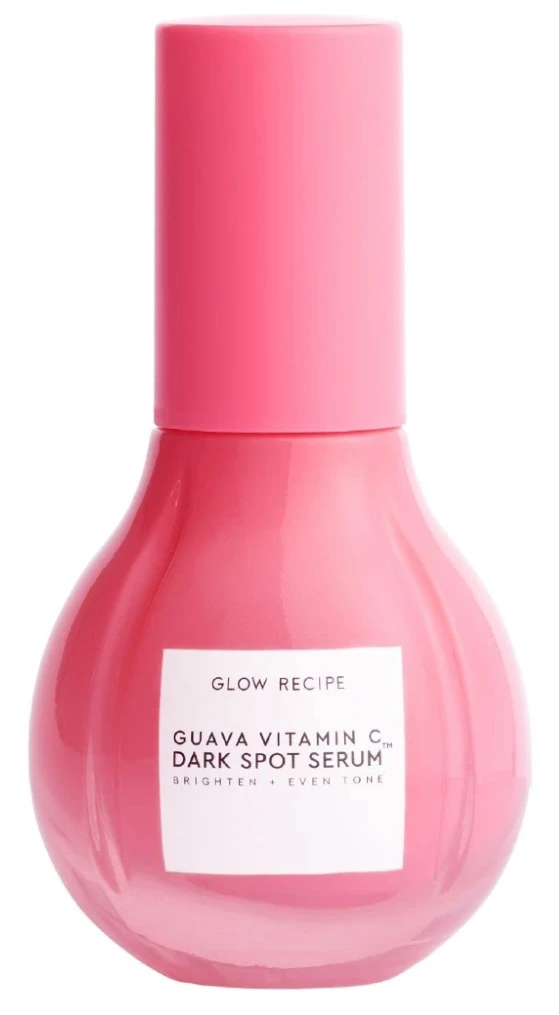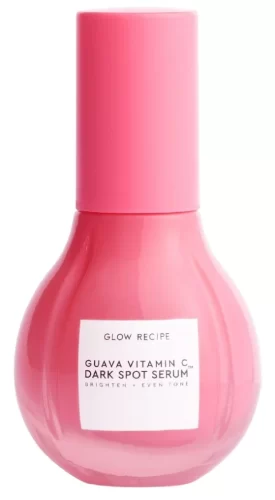 One of the best clean serums for hyperpigmentation comes from Glow Recipe. Skipping all skin enemies and packing five forms of vitamin C, the serum promises to brighten and even skin while preventing further discoloration for a more vibrant complexion. Besides, Glow Recipe Guava Vitamin C Serum is also spiked with ferulic acid to boost the antioxidant power of vitamin C, plus hyaluronic acid for a burst of hydration.
---
The Ordinary Ascorbic Acid + Alpha Arbutin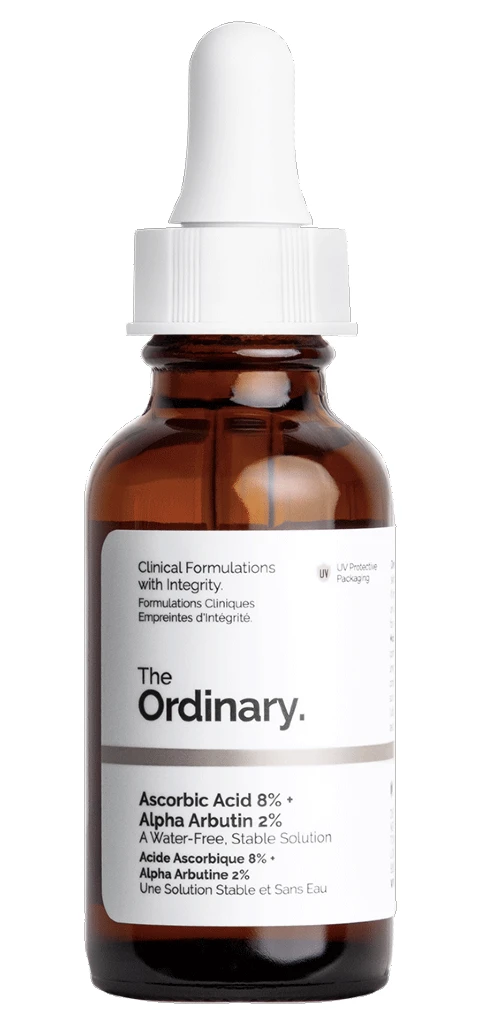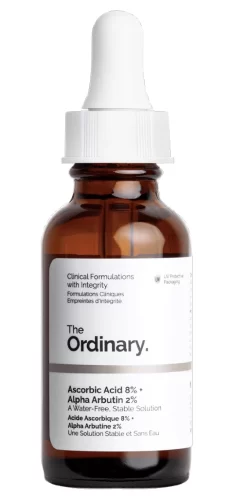 The Ordinary puts on the table one of the most affordable serums to battle hyperpigmentation. With 8% ascorbic acid and 2% alpha arbutin, you can finally say goodbye to uneven tone and welcome a clear, luminous complexion. We like that the formula is void of water to increase the stability of antioxidants and is made on a propanediol base, which is a solvent with moisturizing and softening properties. However, what we like less about The Ordinary Ascorbic Acid + Alpha Arbutin is that the texture has a slightly oily feeling at first, even though is oil-free.