Contrary to popular belief, acne-prone skin needs moisturizer as much as any other skin type. When skin gets dehydrated, the sebaceous glands produce more oil in an attempt to replenish the moisture loss, triggering breakouts. Besides, as an oily, acne-prone skin type, I'm aware nearly all treatments that target breakouts tend to dry the skin to some extent. Hence, moisturizer is essential to protect your complexion from winter wreaking havoc on your skin and causing peeling and flaking. More than that, using a targeted winter moisturizer for acne-prone skin helps control excess oil, a common cause of breakouts.
If you should look for lightweight, gel-like formulas during hot seasons, the focus must be on barrier protecting and repairing ingredients in the winter. Even if moisturizers for winter tend to be heavier and thicker, don't get trapped to believe they all would clog your pores.
Have no worries. By using the best winter moisturizers for acne-prone skin listed here, your skin will stay protected, nourished, hydrated, and maybe acne-free, who knows. And no, they won't block your pores.
How to find the best winter moisturizer for acne-prone skin?
Upfront, the best winter moisturizer for acne-prone skin shouldn't clog pores. Meaning it should lack comedogenic oils, such as coconut, linseed, palm, soybean, and flaxseed. Yep, not all oils clog pores, some are actually good for acne-prone skin, like rosemary, peppermint, sandalwood, lavender, and let's not forget about the MVP — tea tree oil.
In terms of ingredients, the best bet for you is to choose hydrating ones, those that pull water from the environment and trap it into the skin, like glycerin and hyaluronic acid do. On the flip side, you should avoid occlusive agents, such as lanolin, mineral oil, and silicones. These form an occlusive veil on the skin surface, which can clog pores and cause breakouts.
Also, to find the best winter moisturizer for acne-prone skin, we've looked through products containing acne-fighting ingredients. Those should aim to unclog pores, balance sebum production, have antibacterial effects, and speed up breakouts healing. Without any doubt, salicylic acid and tea tree oil are best at performing these tasks. Next, you want to pay attention to the texture. A heavy moisturizer is more likely to clog your pores, so focus on lightweight formulas in the form of gels or featherweight creams.
Last but not least, don't quit sunscreen. Just because it's cold, doesn't mean the sun's rays won't damage your skin. Both UVA and UVB rays can penetrate the clouds and damage your complexion. Do I need to repeat? Wear sunscreen 365 days a year.
---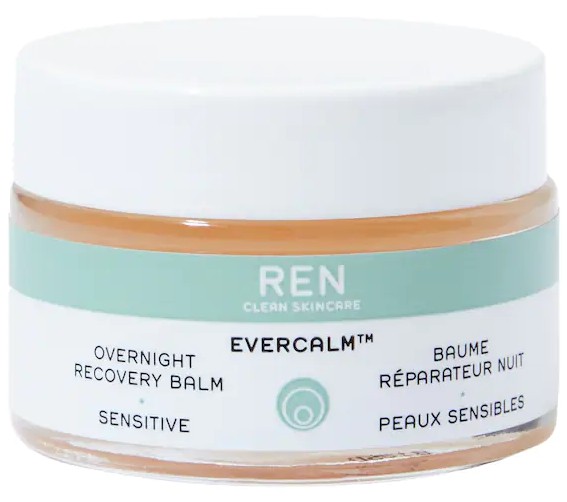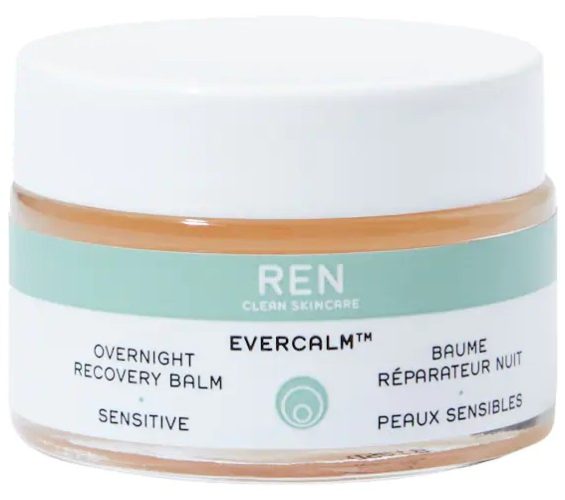 REN Clean Skincare Evercalm Overnight Recovery Balm
One of the best winter moisturizers for acne-prone skin comes from REN, a clean skincare brand that skips potential irritating ingredients. Instead, it uses rice starch to control shine and seals hydration with algae and yeast extracts. The formula also includes zinc oxide, great for inflamed pimples, working to heal, while glycerin hydrates deeply, balancing sebum production. It's the perfect addition to your PM skincare routine.
---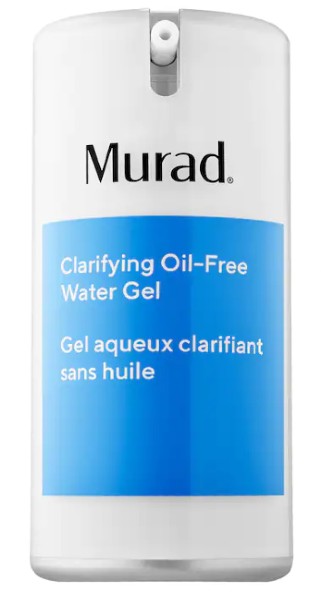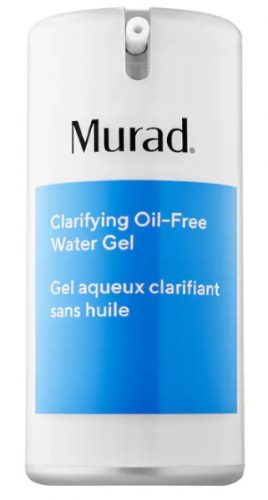 Murad Clarifying Oil-Free Water Gel Moisturizer
We're huge fans of Murad products, this moisturizing gel included. First of all, it contains salicylic acid, ideal for tackling acne. Then, glycerin, sodium hyaluronate, and niacinamide help hydrate the skin. Additionally, a blend of botanical extracts, such as bisabolol and ginger root extract, soothe the complexion while yeast amino acids work to improve smoothness. Briefly, it checks all the boxes to be recognized as one of the best winter moisturizers for acne-prone skin.
---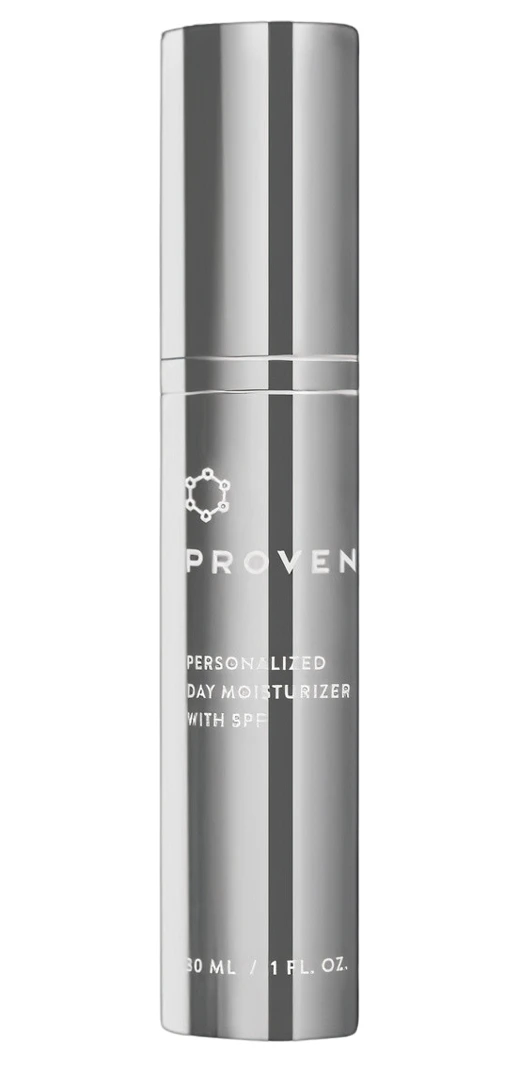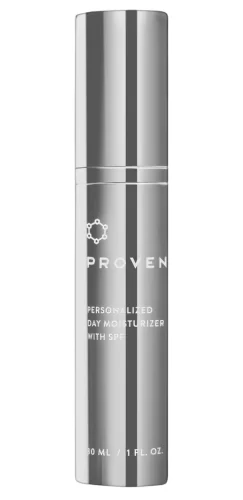 Proven Personalized Day Moisturizer
For those who want a personalized winter moisturizer tailored to their needs, Proven stands out. You just have to complete a quiz about your skin condition, type, and issues, and they create a moisturizer that tackles all of your concerns and addresses your skin, considering the weather, age, and even the area you live in. Proven uses only tried-and-true ingredients backed by science to provide benefits and meet your particular needs to reveal the best version of your skin. Not only it's incredibly effective, but it's fun creating your own winter moisturizer with Proven; you should try it asap.
---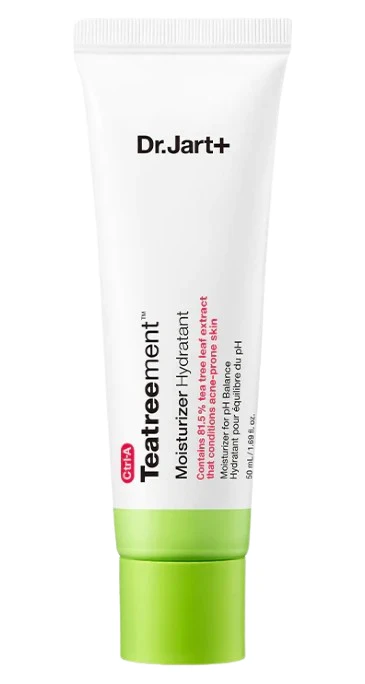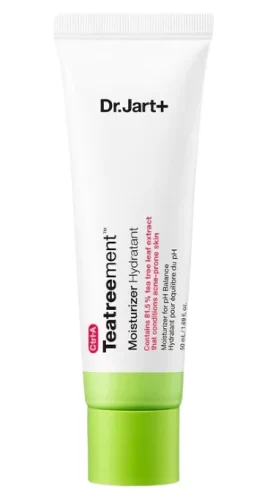 Dr. Jart+ Teatreement Moisturizer
If your pimples are caused by an overproduction of sebaceous glands, try Dr. Jart+ Teatreement Moisturizer. It's a dream for acne-prone skin for a few reasons. It helps heal breakouts with tea tree leaf extract, tea tree oil, and salicylic acid, calms skin with chamomile, aloe leaf, and green tea, and boosts hydration with glycerin, niacinamide, cica, and hyaluronic acid. In other words, if you're looking for a top-notch lightweight moisturizer that targets acne while hydrating blemish-prone skin, this is it.
---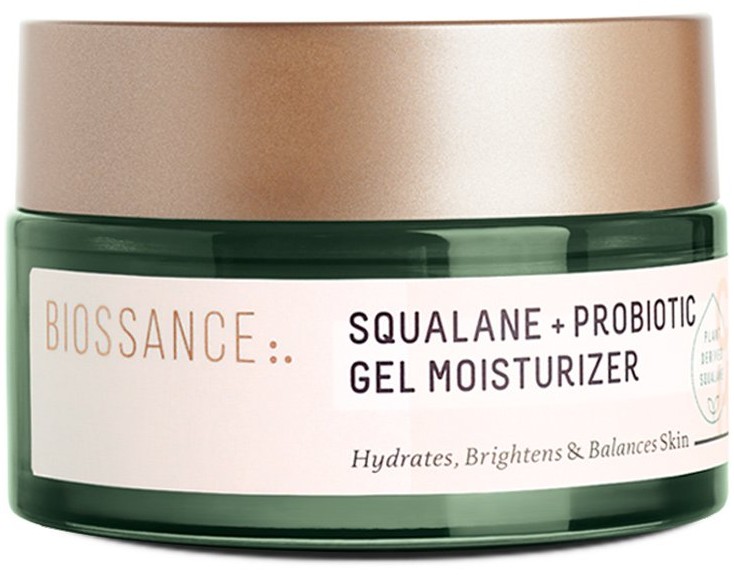 Biossance Squalane + Probiotic Gel Moisturizer
In the winter, protecting the skin barrier is a priority. And this weightless gel-like moisturizer does that while lacking oils or any other potential pore-clogging elements. It contains probiotics to balance and protect the skin, squalane to trap moisture in and control oil production, and a slew of botanical extracts to calm and nourish. Most people love it because it's clean, hydrating, and controls sebum, making it one of the best winter moisturizers for acne-prone skin.
---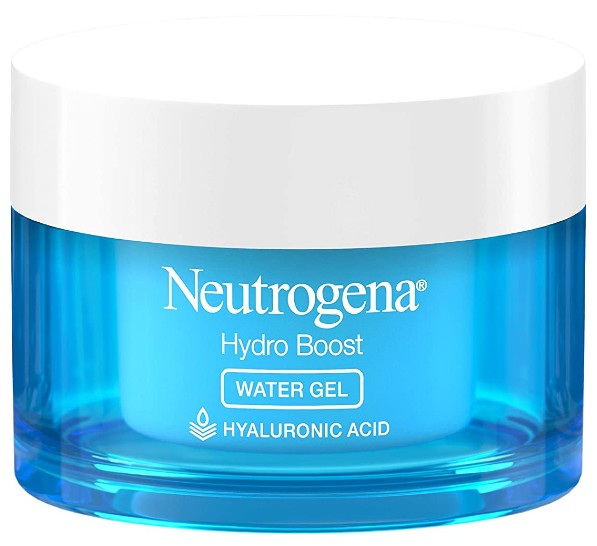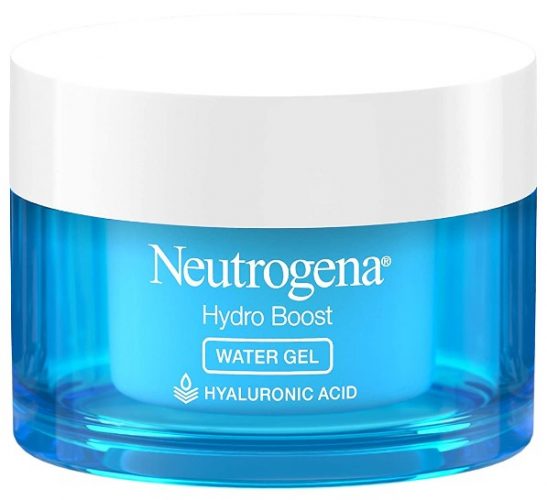 Neutrogena Hydro Boost Water Gel
Neutrogena products are a classic for good reason. This non-comedogenic, oil- and fragrance-free cream delivers the hydration you need during cold months through glycerin and hyaluronic acid. Then, traps the hydration with beeswax and olive extract. Everything is in a rich gel formula that has the power of a rich moisturizer, quenching your skin while also helping prep it for makeup.
---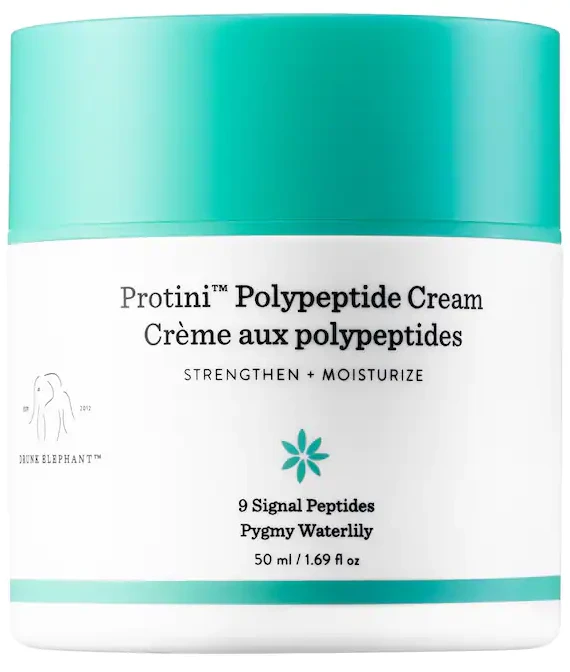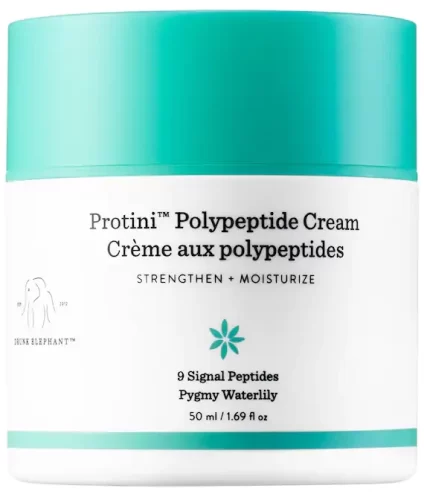 Drunk Elephant Protini Polypeptide Cream
Peptides are a go-to for whoever wants to rebuild and repair damaged skin, acne-prone skin included. Drunk Elephant Polypeptide Cream contains nine signal peptides to help bind moisture in the skin and restore bounce. More than that, it utilizes sources of antioxidants to protect against free radical damage and vitamin B from soybean folic acid, which is key for recovering tone and texture damaged by pimples. Now you know why this is one of the best winter moisturizers for acne-prone skin.
---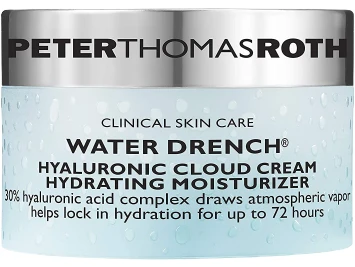 Peter Thomas Roth Water Drench Hyaluronic Acid Cloud Cream
This moisturizer has got your back all winter. It's hard to fail on hydration with a moisturizer made with 30% three molecular sizes of hyaluronic acid. Plus, it's made with five ceramides that act as a natural moisturizing factor needed for optimal barrier function, hydrolyzed silk to soften, plus yeast extract and vitamin E for an antioxidant shield. Yep, all these ingredients and its featherweight texture make it one of the best moisturizers to use in the winter for acne-prone skin.
---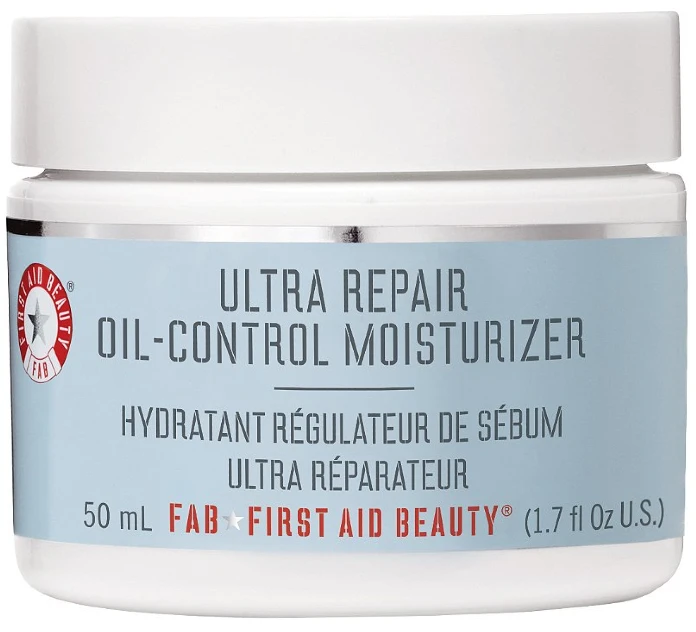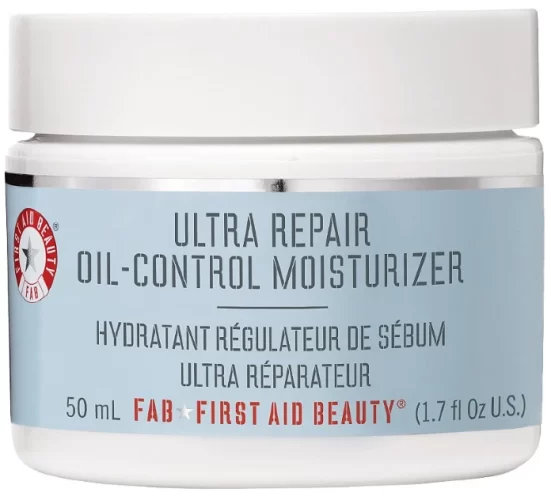 First Aid Beauty Ultra Repair Oil-Control Moisturizer
First Aid Beauty made a gel-like moisturizer in a lightweight mattifying formula that delivers hydration without leaving a greasy feeling. For those with excess sebum issues, you can get excited knowing that this moisturizer uses oil-absorbing microspheres to give an instant matte finish, plus niacinamide, also great at controlling sebum. Sodium hyaluronate plumps skin, while oat extract calms and soothes it.
---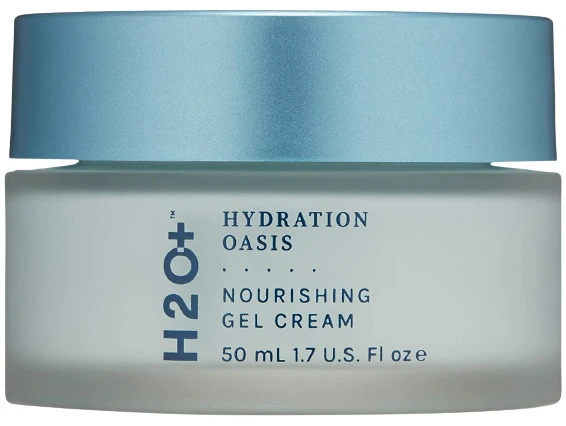 H20+ Hydration Oasis Nourishing Gel Cream
In the winter, acne-prone skin needs double hydration, and this moisturizer delivers just that. According to the brand, the effect is instant, making the skin bouncy for the entire day, and I've seen no one complaining so far. Besides glycerin and hyaluronic acid, H20+ Hydration Oasis Cream contains squalane to trap moisture into the skin and apple cell culture, known to repair damaged tissue and encourage cell regeneration, speeding up pimples healing.
---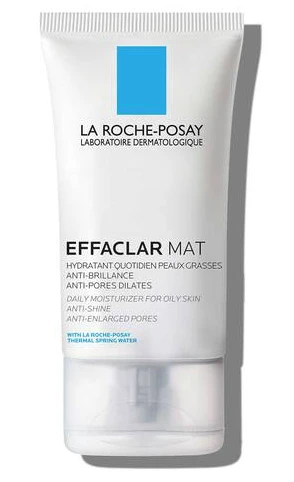 La Roche-Posay Effaclar Mat
This mattifying, non-comedogenic moisturizer is like a life jacket for acne-prone skin. As one of the best winter moisturizers for acne, it's made with micro-exfoliating lipo-hydroxy acid (salicylic acid derivative), lauded for its antibacterial and anti-inflammatory benefits, and salicylic acid to unclog pores. Its core of soothing La Roche-Posay thermal water and glycerin hydrate the skin, while sarcosine act like an oil-control agent.
---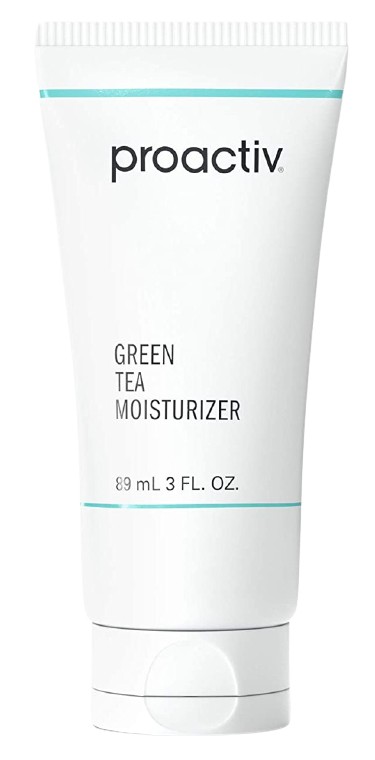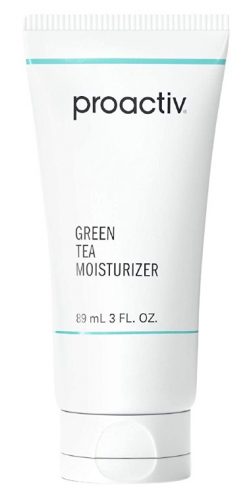 Proactiv Green Tea Moisturizer
Oil-free, non-greasy, and lightweight? Check, check, and check! Proactiv Green Tea Moisturizer is spiked with sodium hyaluronate to hydrate, zinc sulfate to help heal breakouts, and retinol to encourage cell turnover. Additionally, the formula includes EGCG to defend against free radical damage. It was made with acne-prone skin in mind, and most reviewers rave about it.
---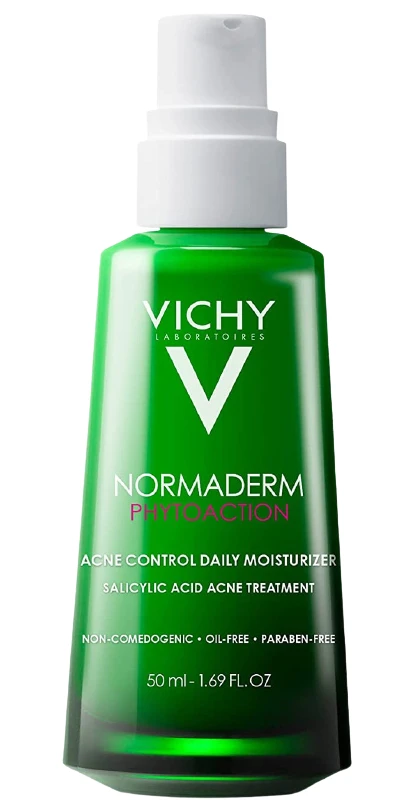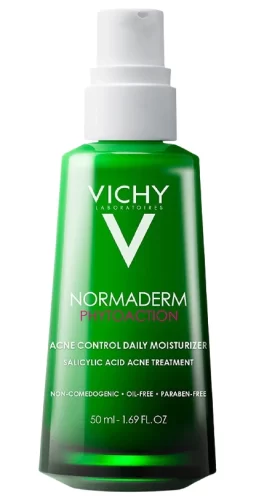 Vichy Normaderm PhytoAction Acne Control Moisturizer
My dermatologist recommended this to me, and I've been a loyalist since then. It's indeed one of the best treatment moisturizers for acne-prone skin, ideal for winter use. The gel formula features 2% salicylic acid, which aids in controlling sebum production, shrinks pores look, and helps eliminate pimples and blackheads. At the same time, it's made with kaolin, and zinc, which have antibacterial and anti-inflammatory benefits, ideal for breakouts. All while sodium hyaluronate brings hydration and soothes skin inflammation in a lightweight, serum-like formula.
---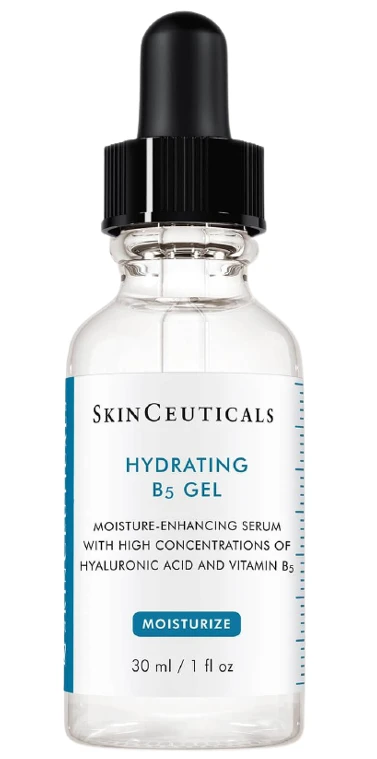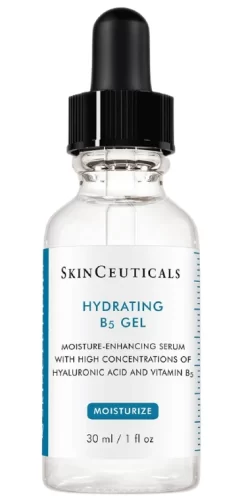 SkinCeuticals Hydrating B5 Gel
You'll love this one if you're into minimalistic formulas! SkinCeuticals Moisture-Enhancing Gel is made with four ingredients: a water base, an antimicrobial agent naturally derived from green tea, vitamin B5, and sodium hyaluronate. It replenishes moisture with a lightweight gel texture, vitamin B5 and hyaluronic acid being the ones that help bind moisture to the skin to keep it plump and hydrated all day long. So simple and effective.