There is no doubt that adding one of the best niacinamide toners to your routine is one of the many keys to unlocking great skin. Gentle and soothing, hydrating and brightening, niacinamide is an all-rounder that suits all skin types and tackles almost any skincare concern out there, being the must-have active in everybody's routine. That's why everybody sings the praises of products that focus on niacinamide, like our favorite niacinamide serums. Now, a toner with niacinamide is the ideal prepping step between cleansing and treating, which removes impurities while infusing skin with a dose of benefits. In turn, the complexion becomes more even, quenched, soft, and glowy — nor could you ask for more.
The benefits of using a niacinamide-infused toner
Depending on what other actives the formula includes, a toner with niacinamide can fight dehydration, help fade dark spots, balance the skin's pH, regulate sebum production and reinforce the protective barrier. It also works great to soothe and prep the skin for more intensive treatments associated with dryness, such as a retinol serum.
Scroll on and shop through these toners infused with niacinamide spanning a range of budgets, skin types, and concerns.
---
1
Cos De Baha Niacinamide 5% Toner
No doubt, one of the best niacinamide toners comes from Cos De Baha. Aside from loading a juicy concentration of niacinamide (5%), it's made in a base of aloe leaf extract that imbues the formula with high moisturizing and soothing benefits that any skin can enjoy. There are also a slew of humectants (glycerin, panthenol, and sodium hyaluronate) to hike up moisture levels, plus licorice extract for brightening effects. From dark spots, irritation, and breakouts to large pores and redness, this niacinamide toner addresses everything.


---
2
The Inkey List PHA Toner
The star ingredients in this toner are 3% PHA, which is a gentle exfoliant that sloughs off dead cells from the skin's surface, and 3% niacinamide to help even tone and balance excess sebum. The formula leaves skin clear and never parched or tight and even promises to fade the look of dark spots and improve texture with continued use. Plus, at $9 a bottle, it's a total steal.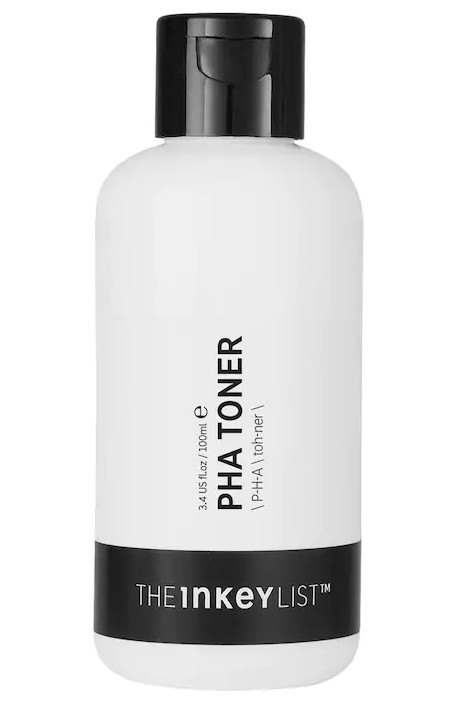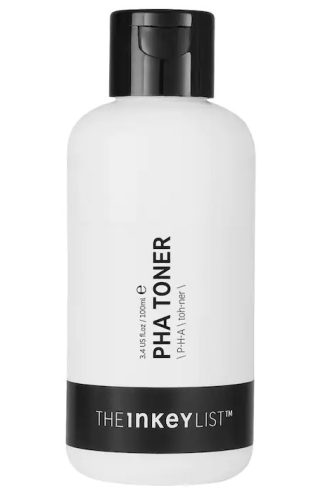 ---
3
The Klog Hydra Shield Anti-Pollution Jelly Toner
Unlike most toners, this has a fun-to-use jelly texture that feels incredibly hydrating, absorbs right away, and never leaves the skin sticky. The formula boasts 3% niacinamide plus peptide to balance, reinforce and moisturize the skin, while a gentle salicylic acid derivative, LHA, gives it pore-clearing benefits and enhances penetration. The Klog's toner addresses everyone, including people with sensitive skin.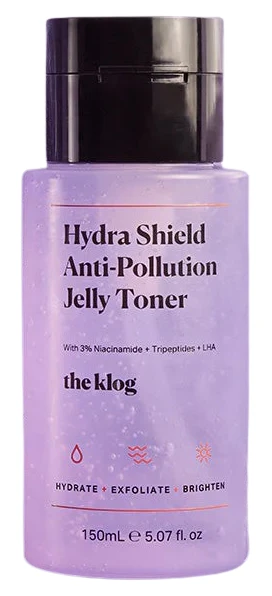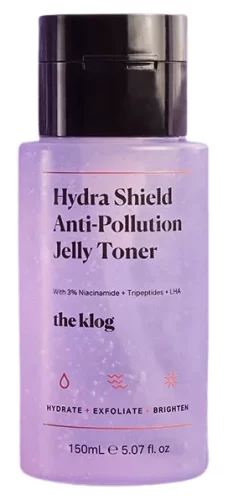 ---
4
Some By Mi AHA-BHA-PHA Miracle Toner
This is the best toner with niacinamide for whoever wants clear pores, luminous skin, and fewer breakouts. This guy relies on a blend of acids to dissolve oil, prevent pore clogging and exfoliate gently, and 2% niacinamide to counteract dryness and fade dark spots in a gentle, non-comedogenic formula gentle enough for reactive skin prone to pimples. It feels refreshing and soothing on contact, which is a nice surprise considering the acids in play.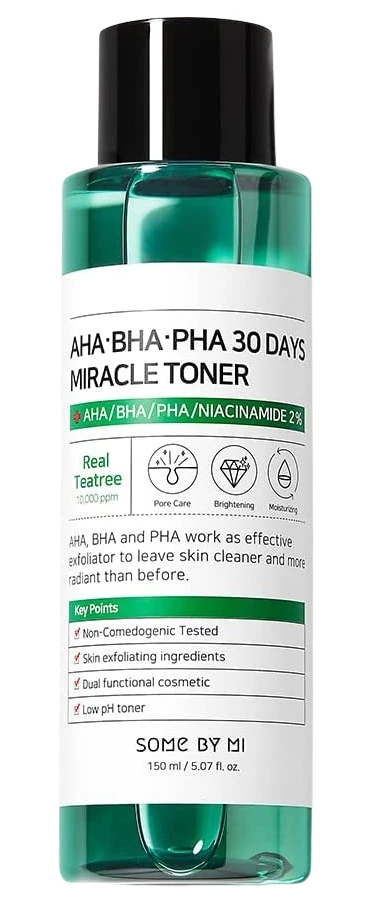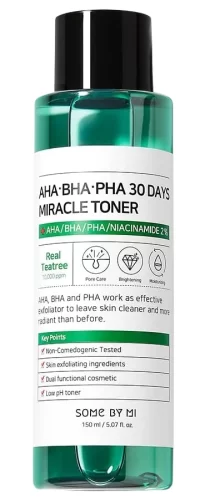 ---
5
I'm From Rice Toner
I'm From Rice Toner is made of about 80% rice extract, meaning it has high water retention and brightening benefits and helps with collagen production for bouncier skin. The added niacinamide and purslane extract give antioxidant benefits, soothe and encourage skin repair, and its gentle pH makes it super delicate. It's alcohol-free, so you never have to worry about it being drying or stripping.
---
6
Paula's Choice Skin Balancing Pore-Reducing Toner
This is the best niacinamide toner to make the pores appear less noticeable because it regulates sebum with niacinamide and a slew of hydrating actives, including hyaluronic acid and vitamin B5. Paula's Choice Balancing Toner is spiked more with skin-loving ingredients, such as soothing chamomile and ceramide, to comfort the skin and tamp down any redness or tightness. It's fragrance-free and has close to 7,000 five-star Amazon reviews.

---
7
Allies of Skin Molecular Saviour Probiotics Treatment Mist
As it's loaded with 5% niacinamide and 1.5% probiotics, this face mist is the perfect pick to restore your complexion and counteract dryness, regardless of your skin type. Other ingredients worth mentioning are gluconolactone (improves tone and texture), silk amino acids (soothe and protect), and mango fruit (boosts collagen and provides antioxidant defense). Plus, it comes in a very convenient spray bottle. Keep it in the fridge for an extra cooling hit of hydration.


---
8
Bliss Clear Genius Clarifying Toner + Serum
This product strikes the perfect balance between a gel-like toner and a light serum, ideal for self-proclaimed skin minimalists, but not only. As it's filled with hydrating niacinamide, sebum balancing with hazel water, pore-unclogging salicylic acid, and antibacterial tea tree oil, this formula acts immediately to clear the skin and prevent further pimples. The formula works like a charm for breakout-prone skin and sets the stage for all the subsequent steps in your routine.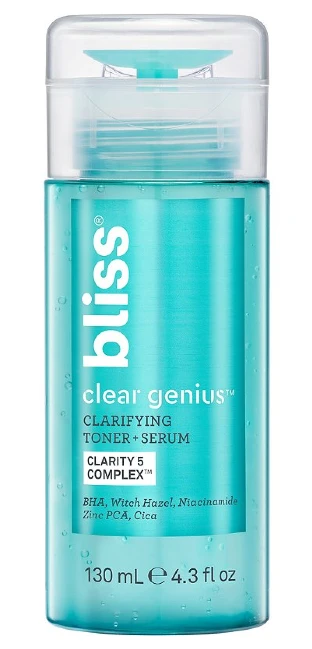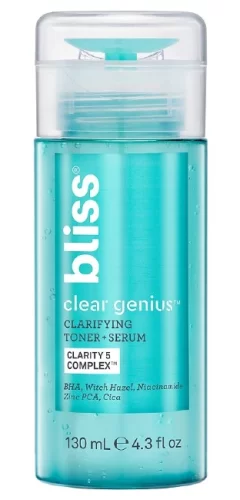 ---
9
Fenty Skin Fat Water Niacinamide Pore-Refining Toner Serum
The first thing to notice about this toner is the fat water consistency, aka a full-bodied texture that leaves skin visibly quenched and never sticky. Niacinamide targets large pores and excess oil, also helped by witch hazel water, while Barbados cherry (chocked-full of vitamin C) addresses dark spots and post-blemishes marks. Meanwhile, the formula is void of fragrance and alcohol.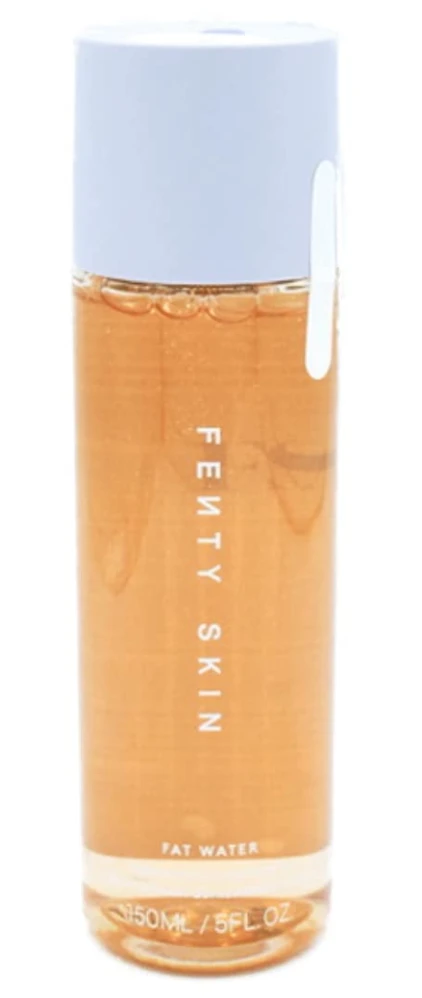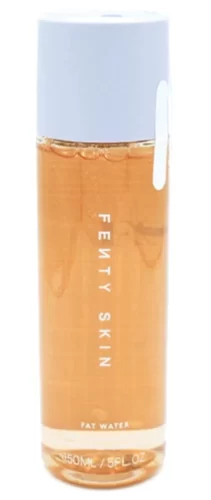 ---
How to use a niacinamide toner

Dispense a small amount of product onto a cotton pad and gently sweep over cleansed skin until fully absorbed.

How often should I use niacinamide toner?

You can safely use your niacinamide toner twice daily, once in the morning and once in your nighttime routine.

What should I not mix with niacinamide toner?

Due to its gentle nature, a niacinamide toner can be used along with any skincare ingredient and should not interfere with retinol, vitamin C, AHAs, or BHAs. However, if the toner you use also contains alcohol or high concentrations of exfoliants, it's best to avoid using it with any of the aforementioned actives.

Can I use niacinamide toner if I have dry, sensitive skin?

There shouldn't be a problem using niacinamide toner on dry, sensitive skin as long as the formula doesn't contain alcohol or other harsh and drying ingredients.

Can I use niacinamide toner if I have pimples?

A niacinamide toner can work great on acne-prone skin to heal pimples since it regulates sebum production and balances skin's pH.