Whether you're stressing over wrinkles, blemishes, rough texture, or dullness, the best glycolic acid peels address all of the above and then some. Glycolic peels work by supercharging your skin's natural renewal process, which comes with a ton of benefits for your skin that reveal a whole new level of radiance. The newly exfoliated skin appears more bright, smooth, and poreless. It's like hitting the reset button on your skin but with a twist. And unlike creams or serums, peels are more concentrated in glycolic acid and so they deliver bold transformations that will make you do a double-take in the mirror.
I'm not just spouting empty words here. I've personally seen the results these peels can provide, and I'm not the only one. From countless success stories on Reddit and TikTok to glowing testimonials from my own patients, the evidence is clear: glycolic acid peels work.
However, by no means am I recommending you buy the first peel you find at beauty retailers or your local drugstore. It's not just the concentration of glycolic acid that makes a peel effective, but also the quality of the ingredients, pH level, and the stability of the formula. I say from my experience when I once tried a peel with 25% exfoliating acids that was supposed to be highly potent but had no effect whatsoever.
To help you out, I've put together a list of some of the best glycolic acid peels that actually make you feel the tingling, which is a reminder that it's working. I picked a range of formulas that are suitable for various types of skin, including problematic ones like dry, sensitive, and acne-prone.
The best glycolic acid peels
---
1
Murad Replenishing Multi-Acid Peel
This peel comes in the form of liquid toner, and it's as gentle as you can use it daily on all types of skin. Still, it doesn't skimp on results, blending a complex of AHAs (glycolic, lactic, and malic acids) to deliver surface-level exfoliation and BHA (salicylic acid) to go deep into pores and unclog them. Another key ingredient, tranexamic acid, supports bright skin and diminishes blemishes by acting on the cellular level to reduce the amount of pigment in the cells. The peel even contains soothing ingredients like jojoba oil, sodium hyaluronate, and bisabolol to reduce sensitivities. Apply after cleansing and before serum in your nighttime routine—it creates a smooth canvas for other products to penetrate more effectively.
Price: $79
Size: 100 ml / 3.3 oz
Best for: Skin texture, hyperpigmentation, aging signs
Good to know: It's oily but doesn't leave a sticky residue. It has a minty scent that can be a bit overwhelming for some.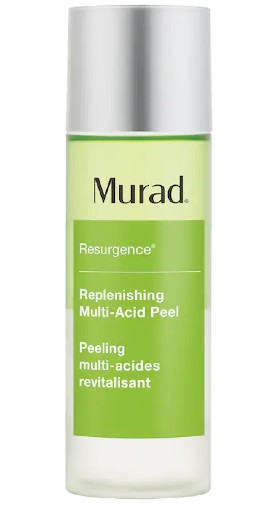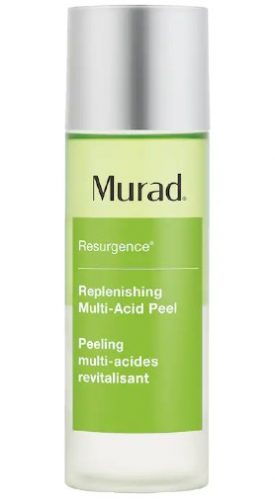 ---
2
Glytone Mini Peel Gel
Glytone Mini Peel Gel is the best choice if your skin is already accommodated to peels and you're looking for more intense exfoliation to retexturize your skin. It's made with a whopping 10.8% glycolic acid. The free acid value you see on the label indicates the percentage of glycolic acid that is in its active, acidic form. Why that matters?
A product with a higher free acid value is more likely to provide a stronger and more consistent exfoliating effect than a product with the same percentage of glycolic acid but a high (more alkaline) pH. This image shows what I mean. Being made with a 10.8% free acid value, this facial peel is really good at increasing cellular turnover and promoting collagen production, so you can expect some transformative changes.
Price: $65
Size: 60 ml / 2 oz
Best for: Photodamage, uneven skin texture
Good to know: It can be too harsh on sensitive skin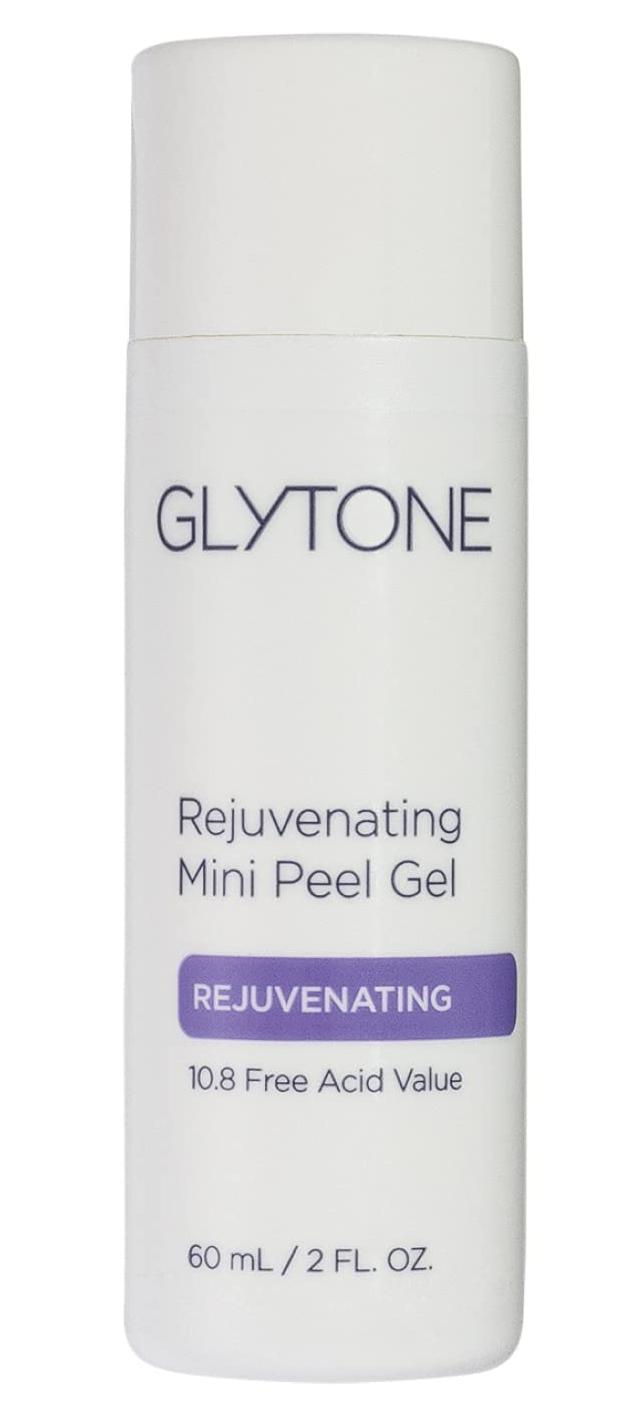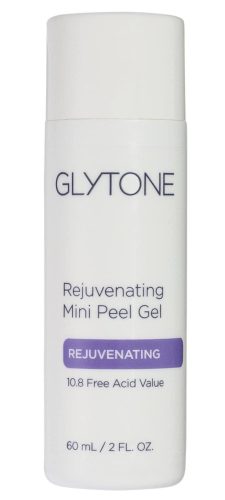 ---
3
Peter Thomas Roth Even Smoother Glycolic Retinol Peel Pads
I have been a loyal fan of Peter Thomas Roth PRO Exfoliating Clarifying Liquid, but since it has been discounted, I have switched to these resurfacing peel pads. They're soaked in a 20% glycolic acid complex. Yes, you heard that right. Better still, they're also infused with 1.5% retinol which works in tandem with glycolic acid to improve aging signs and resurface the skin. This combination can be harsh on the skin, no doubt, but PTR added soothing allantoin and adenosine, as well as moisturizing hyaluronic acid to reduce the risk of irritation and dryness.
Price: $52
Size: 60 pads
Best for: Dullness, textural irregularities, and aging signs
Good to know: Contains alcohol. Avoid on sensitive skin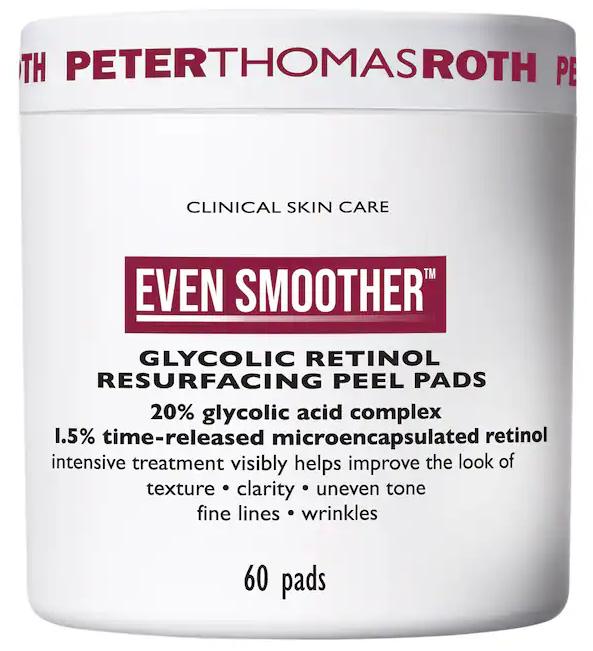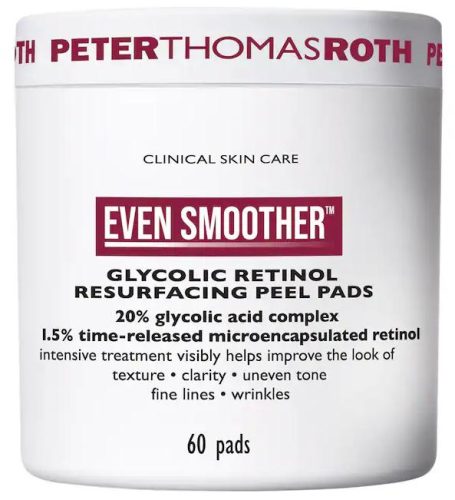 ---
4
Bliss That's Incredi-Peel
For a gentler (and more affordable) alternative to Peter Thomas Roth, Bliss made these pads drenched in 10% glycolic acid to improve skin tone and texture. Additionally, they are imbued with licorice root extract to fade dark spots and witch hazel water to soothe. Twice or thrice a week, wipe a pad over cleansed skin and massage it until the solution is fully absorbed, then slather a replenishing moisturizer. Bonus points because this leave-on glycolic acid peel is void of fragrance and alcohol.
Price: $32.99
Size: 15 pads
Best for: Uneven skin texture and lack of radiance
Good to know: Cut the pads in half to save money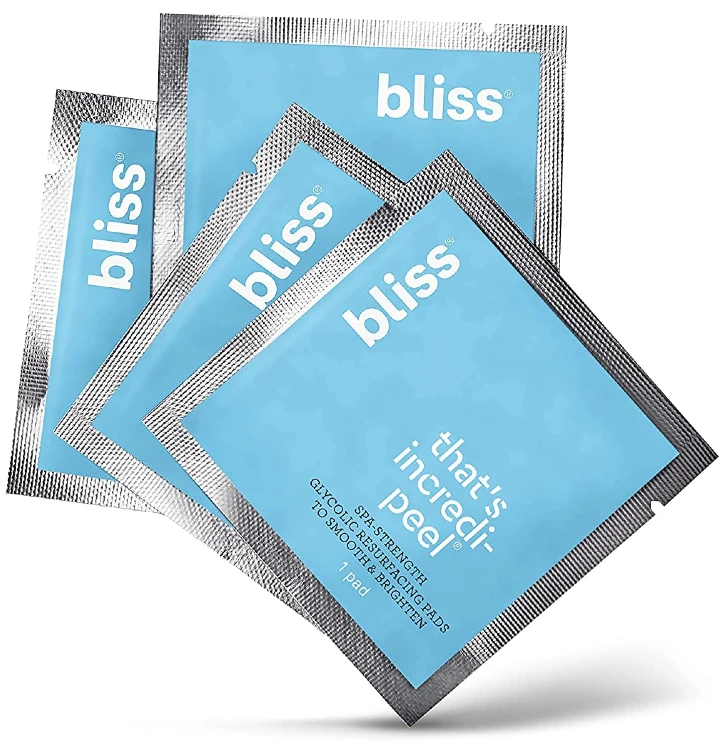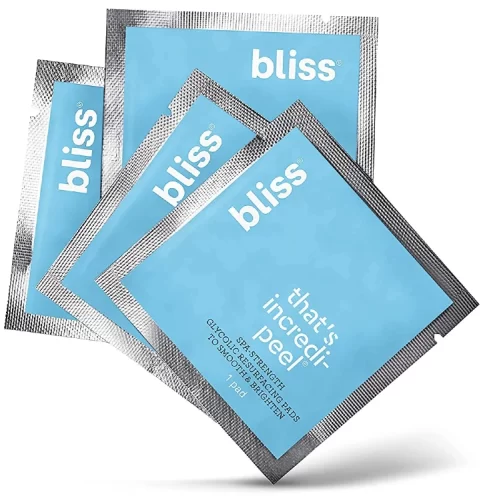 ---
5
Kate Somerville Resurfacing Overnight Peel
Hailed as a miracle product by people around the globe, Kate Somerville Resurfacing Overnight Peel is the best glycolic acid peel for aging signs, dullness, and large pores. The overnight peel is rich in glycolic acid to resurface, retinol to encourage cell turnover and promote collagen production, ceramides to restore the skin barrier, and niacinamide to tighten pores. It's a perfect choice if your skin is dry, oily, or combination, although those with reactive skin should be cautious.
Price: $98
Size: 30 ml / 1 oz
Best for: Wrinkles, lack of firmness, large pores
Good to know: It's a leave-on peel, so should be left overnight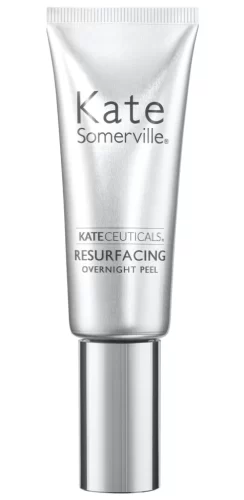 ---
6
Versed The Shortcut Overnight Facial
As gentle as a lotion, this glycolic acid peel is ideal for sensitive skin looking for a delicate formula that delivers effective exfoliation sans harshness. It's made with low concentrations of glycolic acid, lactic acid, and retinyl palmitate (a gentle ester of retinol) to gently renew skin while you Zzz. While the blend of AHAs and retinol break down dead cells and promote skin firmness, a slew of skin soothers, including allantoin, vitamin E, and rosehip oil, counteract dryness and irritation. Also, consider this product if you are a chemical peel newbie or on a tight budget.
Price: $12.99
Size: 15 ml / 0.5 oz
Best for: Sensitive skin, aging signs
Good to know: It likely won't be effective in the long run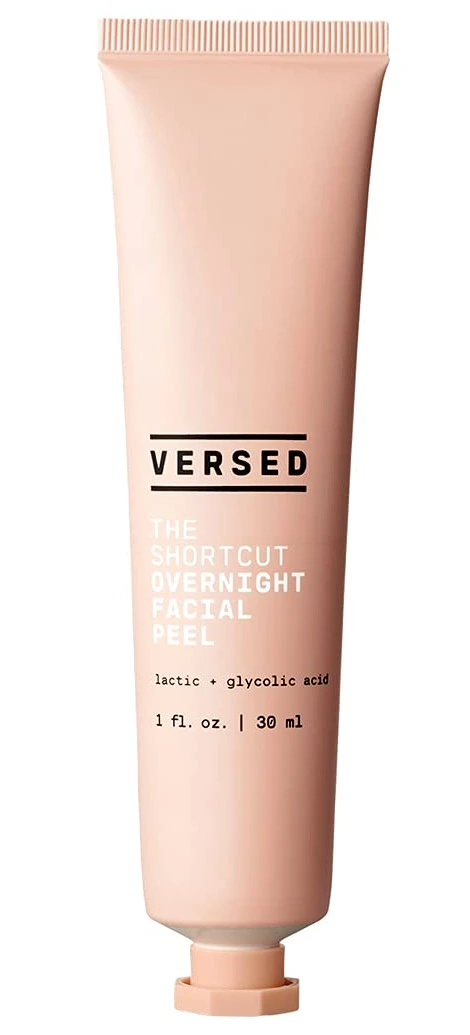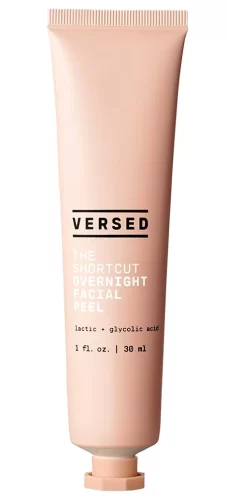 ---
7
PSA Follow The Light Radiance Peel
This glycolic acid-infused peel works best to correct sun-induced damage and skin discoloration. It packs all the good stuff to lighten up your skin tone, including AHAs, vitamin C, and fruit enzymes. Adding to this skin-brightening cocktail are licorice root and glutathione, two antioxidants serving as pigment-inhibitor agents that reduce blemishes and counteract environmental damage. The peel also boasts ingredients like Centella asiatica and hyaluronic acid to reduce redness.
Price: $46
Size: 50 ml / 1.7 oz
Best for: Dark spots, uneven tone and dull skin
Good to know: Free of oils and synthetic fragrances


---
8
The Ordinary Peeling Solution
An oldie but a goodie, The Ordinary Peeling Solution holds somewhat of a cult-like status among beauty editors and skincare enthusiasts. And it's easy to see why. The facial peel has a generous amount of alpha-hydroxy acids, more precisely 30% glycolic, lactic, tartaric, and citric acids, plus 2% salicylic acid, in a pH-optimized formula that deliver effective exfoliation from every drop. I've been using this for over a year, and while the tingling has disappeared, I can still see my old skin peel off after applying the solution. It actually works great on my oily, acne-prone skin, thanks to salicylic acid. P.S: Even if the peel contains some soothing ingredients, it's not recommended if you have sensitive skin.
Price: $9.50
Size: 30ml / 1 oz
Best for: Rough texture, congested pores, hyperpigmentation, wrinkles
Good to know: Leave it for 10 minutes and rinse thoroughly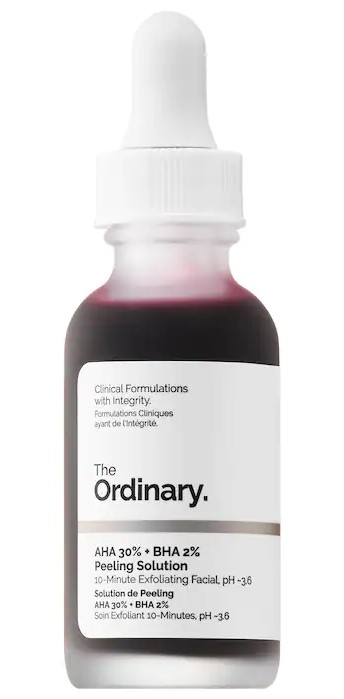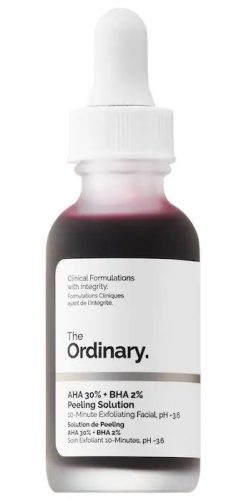 ---
9
Dr. Dennis Gross Clinical Grade Liquid Peel
This clinical-grade liquid peel comes in two steps and provides everything your skin needs to maintain its bouncy and firm appearance. The first step consists of a medley of AHAs, with glycolic in the highest concentration, BHA, and bromelain (exfoliating pineapple enzyme) to resurface and renew the skin. After two minutes of letting the liquid act, follow with the second step, which is rich in sodium hyaluronate, Centella extract, colloidal oatmeal, and green tea, to calm the skin and reduce sensitivities.
Price: $95
Size: 30ml / 1 oz
Best for: Skin texture and dullness
Good to know: Use it a maximum of three times a week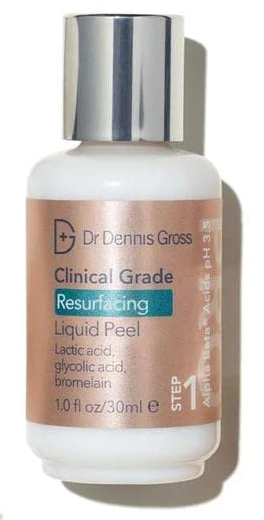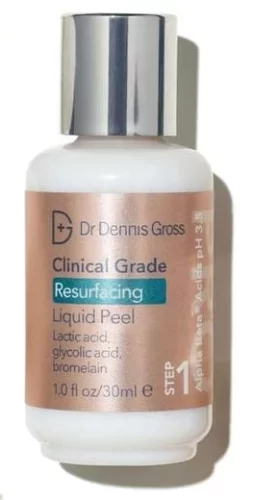 ---
10
The Inkey List Glycolic Acid Toner
This exfoliating toner is the HG for addressing acne, oily skin, and large pores. The formula is loaded with a generous amount of 10% glycolic acid to soften skin and eliminate acne triggers and 5% witch hazel (astringent) to tighten the skin and make pores appear smaller.
Price: $12.99
Size: 100 ml / 3.4 oz
Best for: Acne, excess sebum, enlarged pores, blackheads
Good to know: Contains alcohol. It's cruelty-free and vegan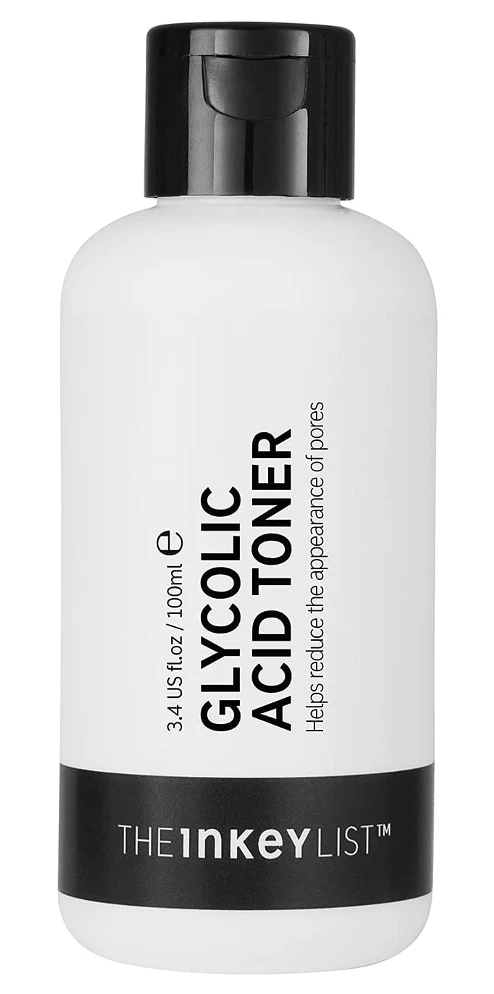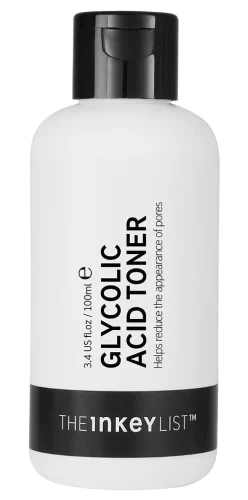 ---
How to use glycolic acid peel
Glycolic acid peels are very strong, so you should do a patch test to make sure the product won't irritate your skin. Apply a small amount of product under the chin and leave it on for a minute before washing it off. If your skin does not get irritated in the next 24-48 hours, you're good to go.
You may already know, but I'll repeat myself just in case: use the glycolic peel in the evening because glycolic acid is an ingredient that makes the skin photosensitive. It's absolutely necessary to use sunscreen with at least SPF 30 the next morning (as you should anyway) so you don't risk damaging your newly exfoliated skin. And never use the glycolic acid peel at the same time as tretinoin or other exfoliants.
When using glycolic acid peels, wash your hands first to avoid transferring bacteria to your face, and only apply a very thin layer. Do not leave the peeling solution for more than 10 minutes (depending on the product instructions) unless it is a leave-on peel. Then use lukewarm water to wash off the solution and continue with your nighttime skincare routine.
It's completely normal to feel a slight tingling sensation after the peel, particularly if it's your first time trying one. Also, redness, peeling, dryness, and flaking are common reactions as a result of the exfoliating action. These should subside as your skin adjusts to the peel, usually within 1 to 3 weeks. If sensitivity occurs even after this period, it might be a sign that the product is too strong for your skin, and you need to reduce the strength or the frequency you're using the peel.
Read more: How To Do A Chemical Peel At Home Like A Dermatologist
What to use after a glycolic acid peel?
The best ingredients to use after a glycolic acid peel are hyaluronic acid, ceramides, peptides, squalane, Centella asiatica, and fatty acid-rich ingredients like shea butter and jojoba oil. It's best to use them in a moisturizer to make your skin heal faster. Apply these ingredients right after your glycolic acid peel and until your skin is fully recovered. Here are some recommendations for moisturizers to use after glycolic acid.
You ask, we answer
What percentage of glycolic acid peel is effective?

Any percentage of glycolic acid is effective as long as your skin can tolerate it. Lower concentrations (5-8%) are suitable for beginners and people with sensitive skin, while higher concentrations (10%) are more effective in addressing concerns like aging signs, uneven texture and dark spots.

Should I moisturize after glycolic acid?

Yes, it's recommended to use a replenishing moisturizer after glycolic acid to encourage skin repair and reduce flaking and dryness.

How long to leave glycolic acid on the face?

Usually, glycolic acid peels should act for about 10 minutes before washing off. However, some formulas can be left overnight.

Can I use glycolic acid peels if I have acne?

Yes, glycolic acid peels can be beneficial for acne. The exfoliating properties can help unclog pores, reduce inflammation, and improve the overall texture and appearance of acne-prone skin. Even studies found that glycolic acid peels are effective for treating all types of acne.

Who should avoid glycolic acid peels?

People with very sensitive skin or conditions like eczema or rosacea should avoid using high concentrations of glycolic acid, which are typically found in facial peels. Also, if you're undergoing certain treatments like microneedling or laser resurfacing or using tretinoin or adapalene, you should exercise caution when applying glycolic acid peels. The same goes if you have open cuts on your skin.

Can I use glycolic acid peels if I have dry skin?

Yes, glycolic acid actually acts as a humectant to hydrate the skin and can help relieve flaky and rough patches. However, if you live in a dry climate with low humidity levels, it can exacerbate dryness.

Can glycolic acid peels be used during pregnancy?

Generally speaking, glycolic acid is considered safe to use during pregnancy. However, it's always best to consult your doctor before undergoing treatments during pregnancy or while breastfeeding.

What are the long-term side effects associated with frequent or prolonged use of glycolic acid peels?

Over-exfoliation from excessive or improper use of glycolic acid peels can cause skin irritation, redness, dryness, and increased sensitivity. Also, using glycolic acid peels without proper sun protection can increase the risk of sunburn and UV damage, which is why you should prioritize sunscreen.
Read next: Chemical Peel Before & After Care: How To Prepare Your Skin