Whether you're stressing over wrinkles, uneven tone, dehydration, clogged pores, or dullness, the best glycolic acid peels address all of the above and then some. Glycolic peels work by sloughing off the buildup of dead cells on the skin's surface and dissolving dirt and oil trapped beneath the outermost skin layer in a matter of minutes. More than that, glycolic acid peels trigger collagen and hyaluronic acid production, which, coupled with their exfoliating benefits, reveals a smoother complexion, reinforces the barrier, softens fine lines, fades dark spots, and helps improve texture.
How to use glycolic acid peel
Glycolic acid peels sometimes get a bad rap, so you should perform a patch test before going all in to ensure the product won't irritate you. Apply a small spot under your chin and leave it on for one minute before washing it off. Observe if you have any reaction in the next 24-48 hours.
Perhaps you already know it, but I'll repeat myself just in case: use your glycolic peel in the evening because glycolic acid is a compound that makes the skin photosensitive. Also, it's imperiously necessary to use sunscreen with at least SPF 30 the next day (as you should be doing anyway) so you won't risk having your skin damaged by UV rays.
What to use after a glycolic acid peel?
The best ingredients to use after a glycolic acid peel are hyaluronic acid, ceramides, peptides, squalane, and vitamin C. After the peel, your complexion is vulnerable, so what you apply afterward penetrates deeply into the skin layers. Consider this an opportunity and follow with products that address your concerns, like a hyaluronic acid serum for dehydration, ceramides and peptides for wrinkles, and vitamin C for uneven tone. And if we're here, steer clear of retinol, benzoyl peroxide, or other AHAs when performing a glycolic acid peel.
The best glycolic acid peels
Now that all your burning questions have been answered, are you ready to take the plunge and reap the benefits of these glycolic peels? They address everyone, from folks with easily reactive skin to those who crave dramatic results, so you can easily find the one for you.
---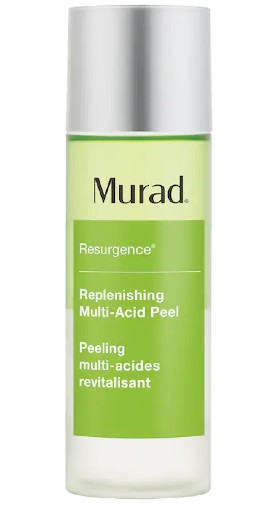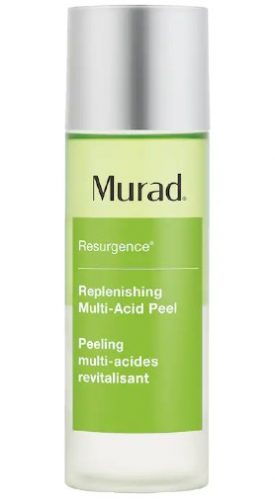 1
Murad Replenishing Multi-Acid Peel
This leave-on bi-phase peel is as delicate as you can use it daily, yet it doesn't skimp on results, making it a forever cult favorite. In the first phase, Murad Multi-Acid Peel exfoliates dull cells and accelerates cell renewal with AHAs, BHAs, and TXA. The second phase strengthens the skin with omega-rich oils and vitamins to ensure you go from dull to glow without irritation. Apply it after cleansing and before serum in your nighttime routine.
---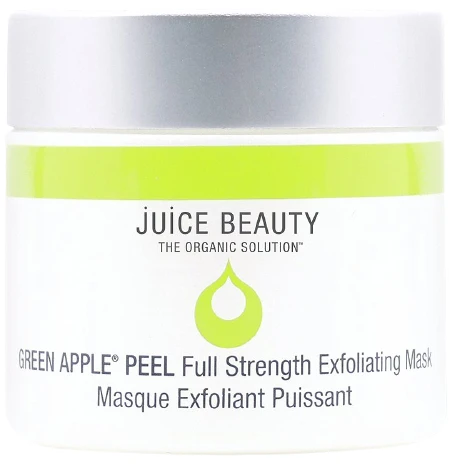 2
Juice Beauty Peel Exfoliating Mask
Juice Beauty created this peeling mask by drawing on the idea of a less aggressive — but no less effective — rendition of the mainstay exfoliating treatment. It was made with uneven tone and texture in mind and fusions a mix of glycolic, malic, and lactic acids to combat all of the above. Moreover, the formula is spiked with minerals and vitamins to fortify the protective barrier. Layer it on the skin and rinse with lukewarm water after ten minutes, 1-2 times weekly, and observe how it combats dullness, brightens, and smooths a little bit every time. P.S: This mask doesn't address very sensitive skin.
---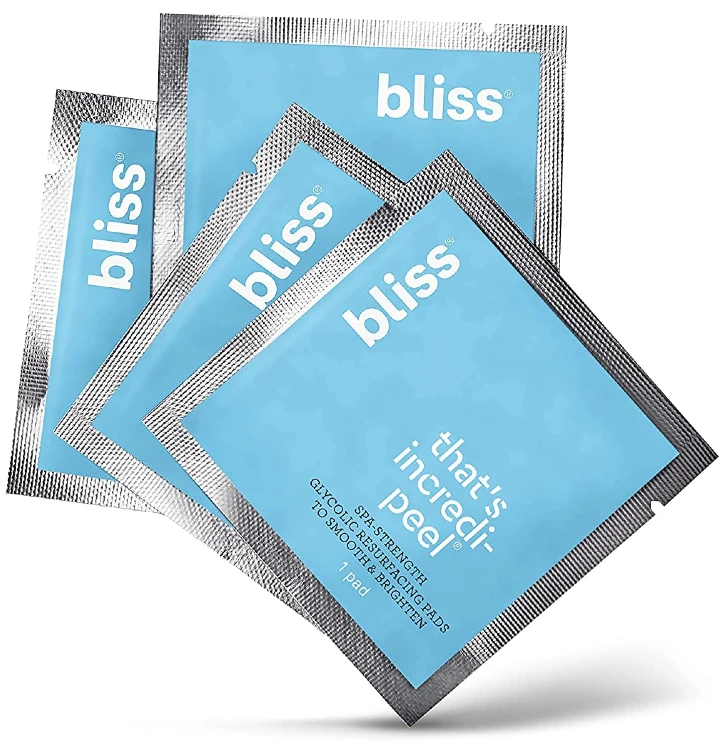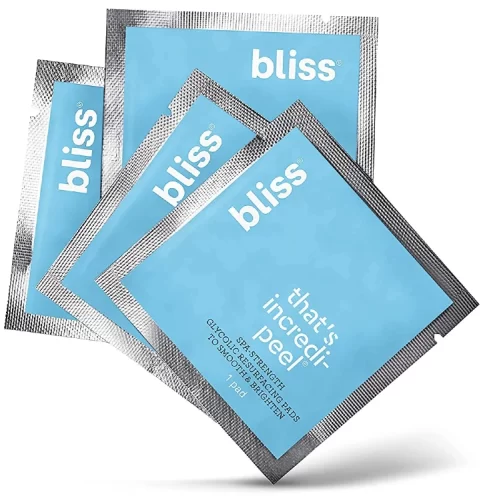 3
Bliss That's Incredi-Peel Glycolic Acid Face Pads
As one of the best glycolic acid peel, these pads are soaked in 10% glycolic acid (the maximum concentration allowed in OTCs) to improve tone and texture. Additionally, they are infused with licorice root extract to fade dark spots and witch hazel water to soothe. Twice or thrice a week, wipe the pad over the cleansed complexion and massage it until the solution is fully absorbed, then slather a repairing moisturizer. Bonus points because these peels are void of fragrance and alcohol.
---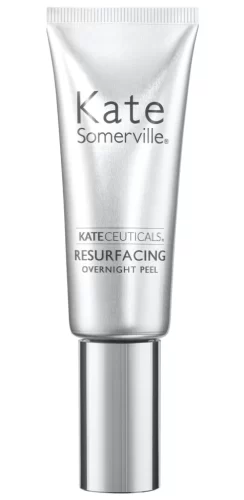 4
Kate Somerville Resurfacing Overnight Peel
Hailed as a miracle product by people around the globe, Kate Somerville Resurfacing Overnight Peel is the best glycolic acid peel for aging signs, dullness, and large pores. The overnight peel is rich in glycolic acid to resurface, retinol to encourage cell turnover, ceramides and niacinamide to reinforce the skin, and vitamin E to soften. Use it two-three times weekly, and in the long run, you'll notice softer fine lines, improved texture, luminosity, and increased radiance.
---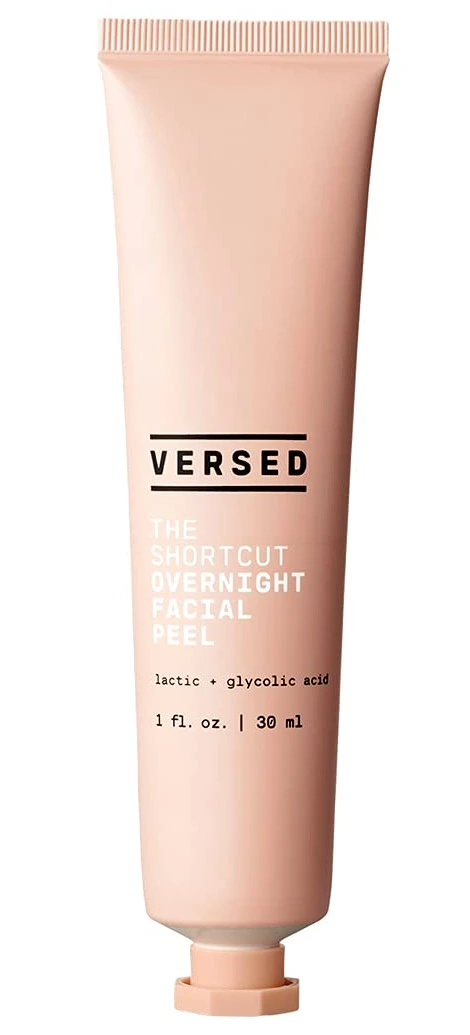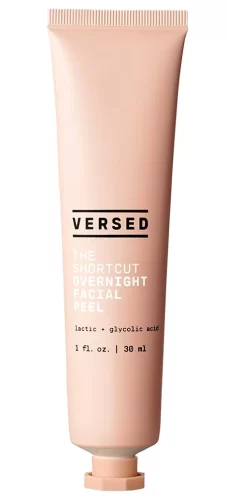 5
Versed The Shortcut Overnight Facial
As gentle as a lotion, this is an ideal glycolic acid peel for those looking for a delicate formula because it's made with 0.1% glycolic acid, 0.01% lactic acid, and 0.01% retinyl palmitate (a gentle type of retinol) to renew skin while you Zzz. While the blend of AHAs and retinol break down dead cells and brighten, a slew of skin soothers, including allantoin, vitamin E, and rosehip oil, counteract dryness and irritation. This is an ideal product if you're a glycolic acid starter or if you know your skin is easily bothered — either way, don't use it more than three times per week.
---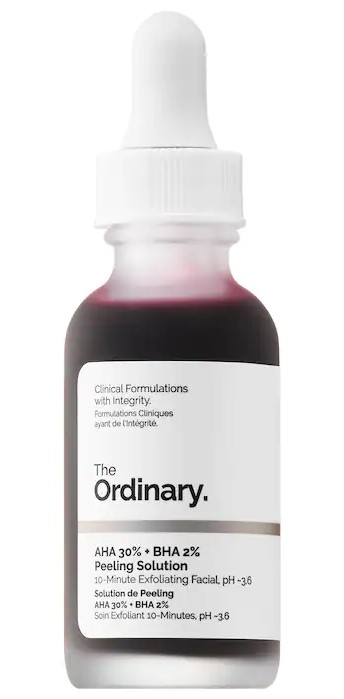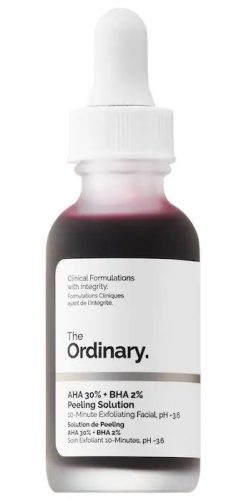 6
The Ordinary Peeling Solution
An oldie but a goodie, The Ordinary Peeling Solution holds somewhat of a cult-like status among beauty editors and skincare enthusiasts. And it's easy to see why. The formula boasts a generous amount of alpha-hydroxy acids, more precisely 30% glycolic, lactic, tartaric, and citric acids, plus 2% salicylic acid, the reason it works incredibly at unclogging pores, exfoliating dull skin, and brightening. Even if the peel loads some skin calmers, it's not recommended if you have sensitive skin or you're a first-timer with chemical acids.
---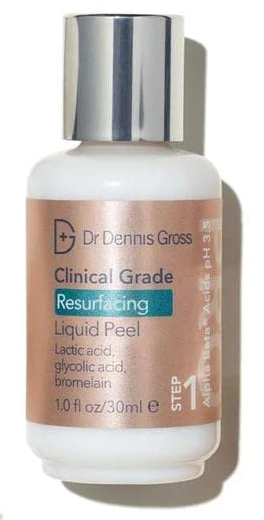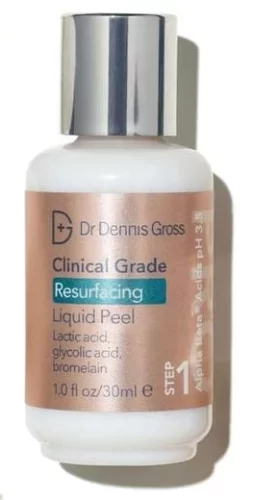 7
Dr. Dennis Gross Clinical Grade Resurfacing Liquid Peel
This two-step clinical-grade liquid peel promises to arrest hyperpigmentation, refine pores and soften wrinkles without bothering the skin. The first step consists of a medley of AHAs, with glycolic in the highest concentration, BHA, and bromelain (exfoliating pineapple enzyme) to resurface and renew the skin. After two minutes of letting the liquid act, follow with the second step, which is rich in sodium hyaluronate, Centella extract, colloidal oatmeal, and green tea, calming skin and reducing irritation.
---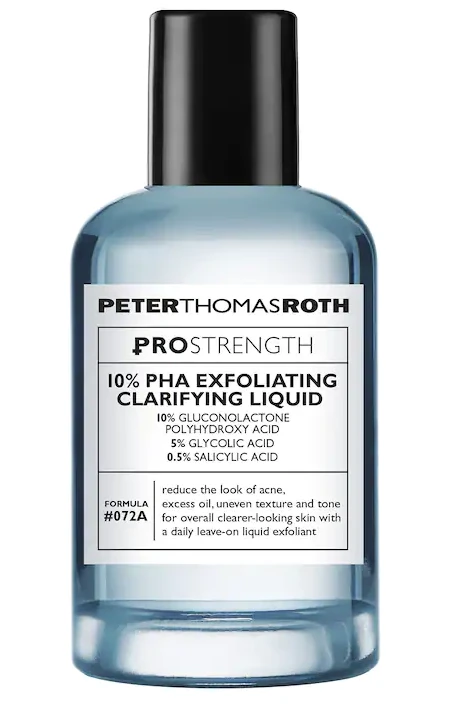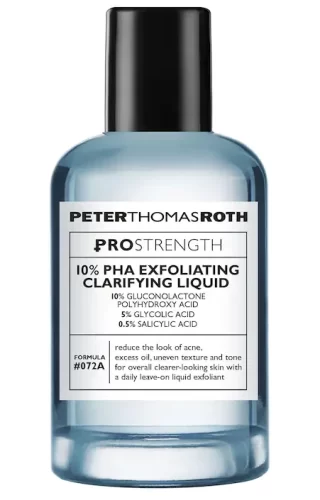 8
Peter Thomas Roth PRO Strength 10% PHA Exfoliating Clarifying Liquid
Peter Thomas Roth has crafted a nightly leave-on exfoliant packed with 5% glycolic acid, making it a mild peel that renders the effect of a more potent treatment. This is because the formula is reinforced by 10% gluconolactone — a large molecular exfoliant that dissolves dead cells on the skin's surface — and 0.5% salicylic acid to tackle congested pores and breakouts.
---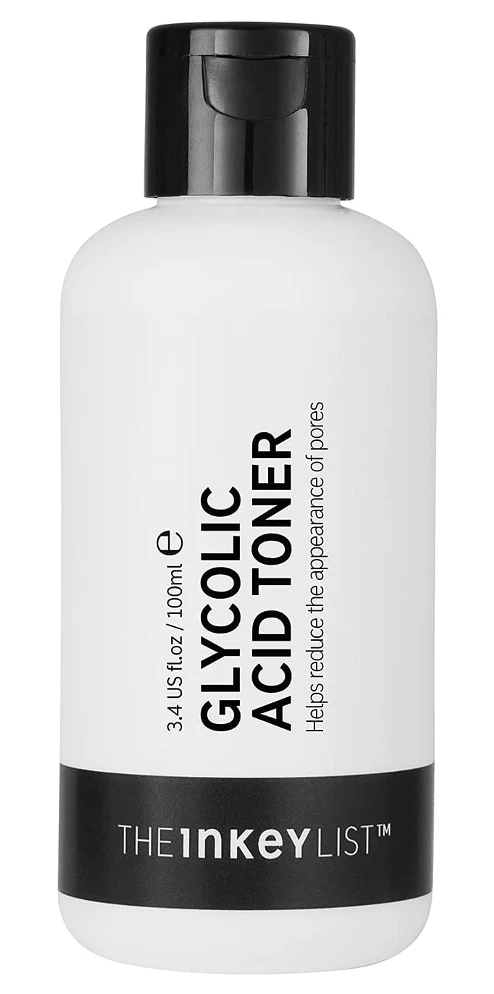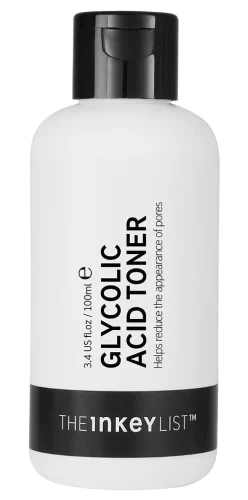 9
The Inkey List Glycolic Acid Toner
This is the best glycolic acid peel in the form of toner if you want clear skin without worrying about sensitivities. The formula loads a generous amount of 10% glycolic acid to eradicate blackheads, soften skin and reduce pores' look, while 5% witch hazel water helps minimize excess oil and soothe. All skin types can use The Inkey List Glycolic Acid Toner in their PM routines on its own or before serum and moisturizer.
---
Frequently asked questions about glycolic acid peels
What percentage of glycolic acid peel is effective?

Any percentage of glycolic acid is effective as long as your skin can tolerate it. First-timers should start with a low-concentrated product and gradually increase concentration to help your skin adjust.

Is 10% glycolic acid a lot?

The maximum glycolic acid allowed in over-the-counter products is 10%. If you're a beginner, this concentration might be too much, so always start with a lower concentrated product and increase as tolerated.

Should I moisturize after glycolic acid?

Yes, it's recommended to use a replenishing moisturizer after glycolic acid to encourage skin repair and help keep irritation at bay.

How long to leave glycolic acid on the face?

Usually, glycolic acid peels should act for about 10 minutes before washing off. However, some formulas can be left overnight, so you should follow the indications of the product at hand.