Whether you want to soften fine lines, enhance skin firmness, or prevent aging signs, there's a natural anti-aging cream for that. It may sound pretty easy to find the right products, but with the nebulous regulations about what "natural," "clean," or "organic" means in skincare, it's easy to get deceived. The good news is that we're here to help you find the best natural anti-aging creams that deliver benefits without compromising your skin. They are spiked with rich botanical extracts, nourishing oils, and other natural skin-loving ingredients ready to rejuvenate your complexion.
What to look for in a natural anti-aging cream and how to find the right product
At the bare minimum, a natural anti-aging cream should protect, hydrate, and moisturize your skin without bothering it. As such, the formula should be spiked with hydrating actives that bind water to the skin, like hyaluronic acid and glycerin. Furthermore, you should keep on your radar moisturizing and replenishing ingredients such as ceramides, squalane, coconut oil, and fatty acids, which form a film on the skin's surface to seal the moisture in.
Retinol, vitamin C, peptides, and niacinamide, are also key ingredients in natural anti-aging creams. All work to regenerate and firm the skin and reduce fine lines and wrinkles. You should also head towards antioxidant-rich formulas to protect your skin against the free radicals from sun damage and pollution, which by the way, are the main ones responsible for the premature aging of the skin. Potent antioxidants you'll find in natural face creams are vitamins A, C, and E, resveratrol, polyphenols from green tea, and coenzyme Q10.
Consistency also matters. If you have dry skin, look out for a heavy emollient cream sans alcohol to relieve dryness. On the flip side, if you have oily skin prone to pimples, head toward a lightweight and water-based moisturizer that is free of comedogenic ingredients. Lastly, if your skin is sensitive and easily reactive, avoid creams with high amounts of fragrances.
The best natural anti-aging creams
Now that all your questions have been answered scroll on to find the best natural anti-aging creams that promise to firm and renew the skin.
---
Juice Beauty Stem Cellular Anti-Wrinkle Moisturizer
Best for: Wrinkles and antioxidant protection
Price: $$
This is one of the very best natural anti-aging creams because it's chocked full of antioxidants from organic juices and is made on a base of apple juice to defend against free radical damage. Plus, the mix of natural oils and shea butter creates a protective layer on the skin's surface to help prevent water loss and diminish wrinkles look. And if it wasn't enough, the formula includes magnesium ascorbyl phosphate, a promising form of vitamin C that helps brighten dark spots while inducing collagen production to increase plumpness and radiance.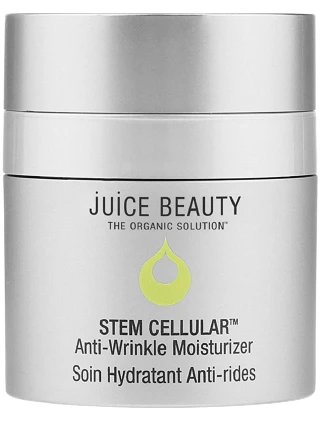 ---
bareMinerals Ageless Phyto-Retinol Face Cream
Best for: Skin firmness
Price: $$
This face cream is powered by retinol derived from natural plant sources to promote cell renewal and resurface the skin. The formula is also infused with natural peptides to restore skin resilience and support collagen, two sources of hyaluronic acid, plus squalane and shea butter to hinder water evaporation. Does it sound like the perfect recipe for restoring firmness and elasticity? Because it is.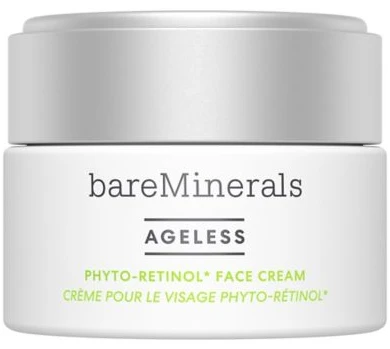 ---
Biossance Squalane + Omega Repair Cream
Best for: Skin repair
Price: $$
The key ingredients in this natural cream are squalane, which softens and traps moisture, and omega fatty acids that encourage repair and soften fine lines and wrinkles. Plus, this moisturizer is spiked with shea butter, ceramide, and jojoba esters, all known emollients that help trap water inside the skin to preserve hydration. Add that to the fact that it has a decadent, almost whipped texture that never feels greasy or heavy, and you've got the perfect recipe for the best natural anti-aging cream.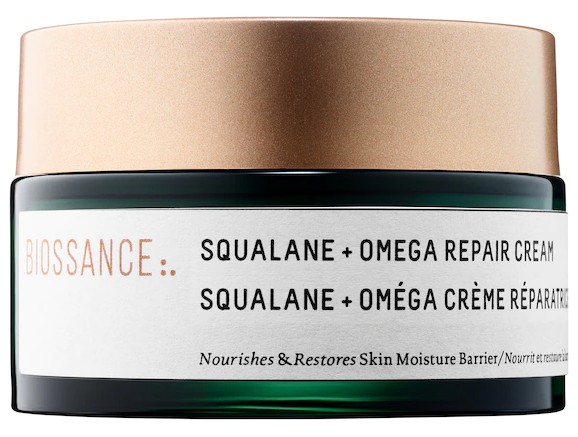 ---
Naturopathica Argan & Peptide Wrinkle Repair Cream
Best for: Mature skin
Price: $$$
Once you try this natural anti-aging cream, it'll be hard to go back to using anything else. Responsible for its repairing and moisturizing benefits are squalane, peptides, vitamin E, sodium hyaluronate, and probiotics, some of the most hardworking compounds for preventing and correcting aging signs. The light-as-air texture absorbs immediately, leaving skin nourished, moist, and dewy, and we give it extra credit because it's void of fragrance.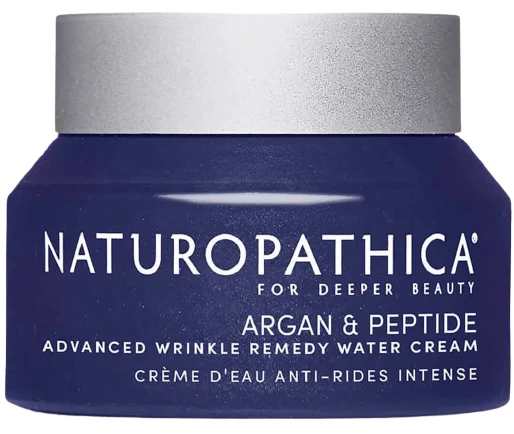 ---
Fleur & Bee Youth Fairy Moisturizer
Best for: Clean formula
Price: $
Fleur & Bee Youth Fairy Moisturizer combines the power of 0.03% retinol with a mix of collagen-boosting peptides to improve fine lines and wrinkles and reveal younger-looking skin. There are also evening primrose oil and squalane to smooth and moisturize without the heavy or greasy feeling. Actually, the moisturizer feels lightweight and has a rich, silky texture that leaves the skin velvety soft and with a healthy glow. We also love that it's cleanly formulated with organic and natural ingredients and skips fragrances, parabens, and alcohol.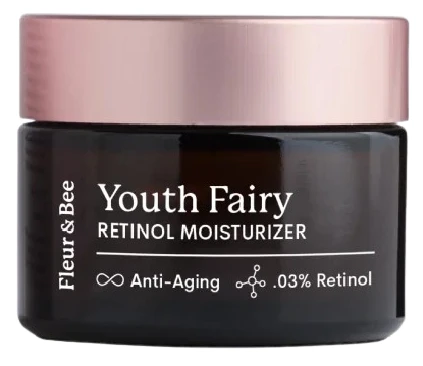 ---
Origins Plantscription Youth-Renewing Power Night Cream
Best for: Night use
Price: $$
The star ingredient in this anti-wrinkle natural cream is Anogeissus, a plant extract known to protect collagen and help boost fibrillin levels. Fibrillin is an important component of the dermal elastic fiber network, and its degradation leads to less firmness and elasticity. Plus, Origins Youth-Renewing Cream loads a mingle of botanical oils, peptides, and squalane to nourish and hinder water evaporation whilst comforting the skin all at once. We also like it because it's fragrance-free and it does all the hard work while you sleep without feeling heavy.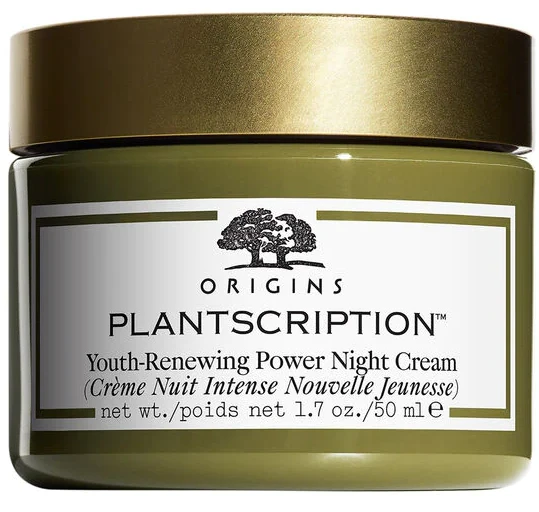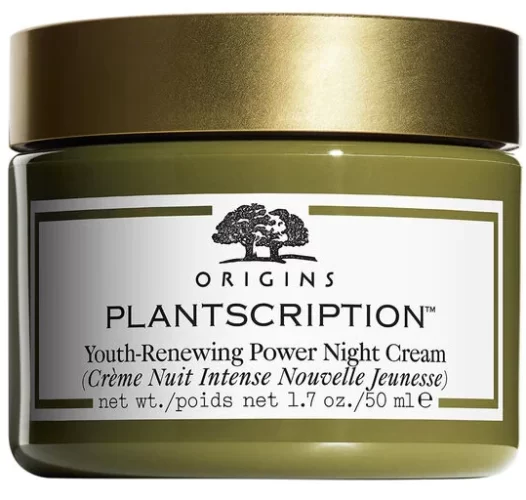 ---
Chantecaille Bio Lifting Cream+
Best for: Skin tightening
Price: $$$
Chantecaille's Bio Lifting Cream+ contains 85% natural ingredients, including a rosewater base as well as Matrixyl 3000 tripeptide and hexapeptide to diminish fine lines and wrinkles look. The blend of flower waxes and shea butter acts as a natural emollient that prevents moisture from evaporating. More than that, it's infused with five powerful plant stem cells that work to reduce wrinkles appearance and plump the skin.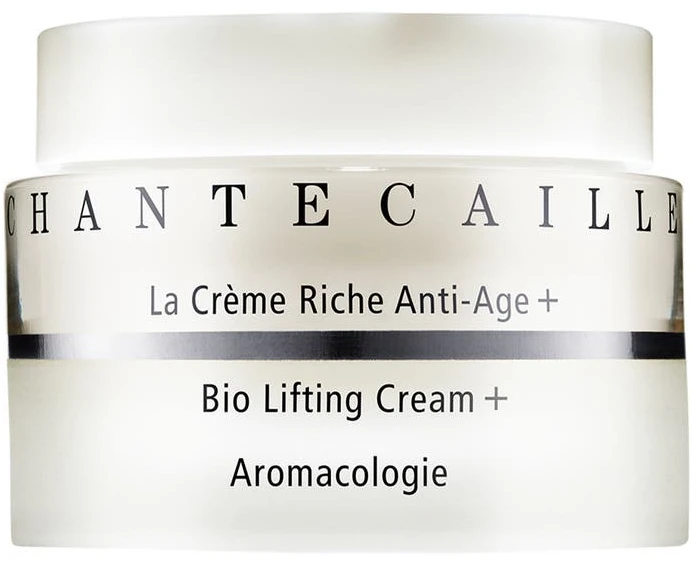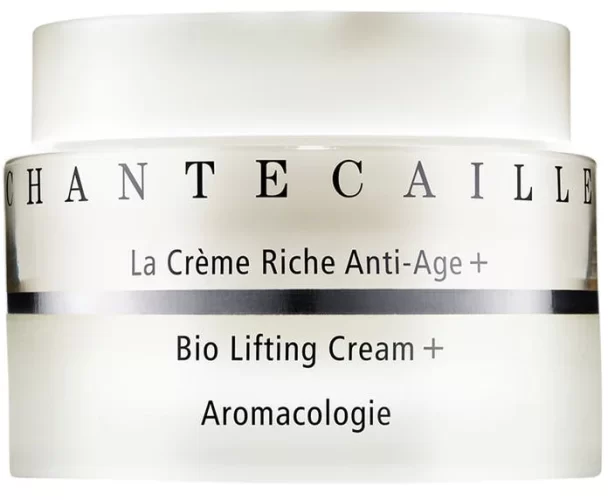 ---
Pai Skincare Salvation Jane
Best for: Dry skin
Price: $$
This natural moisturizer is formulated to reduce the look of fine lines and boost hydration with a blend of an impressive 9 organic oils. Moreover, the potent mix of ectoin, proteins, and shea butter consolidates the skin moisture barrier, making it more resistant to external foes. Its lightweight texture glides on effortlessly and leaves a healthy glow behind.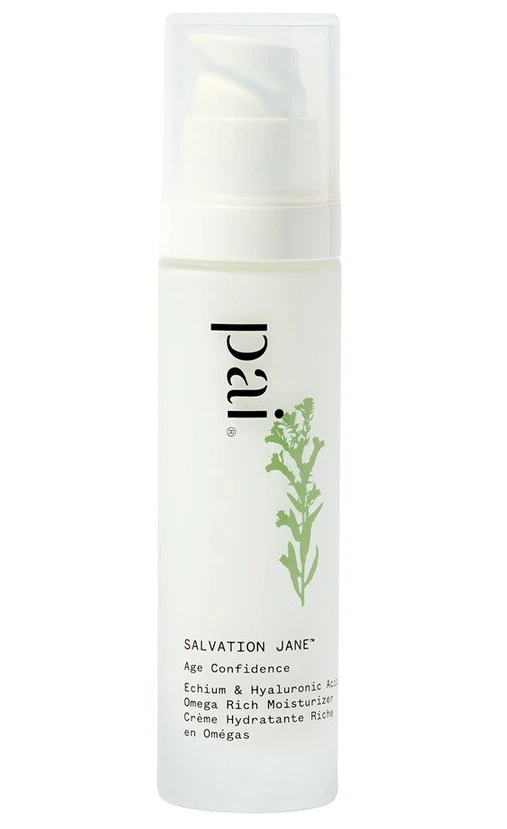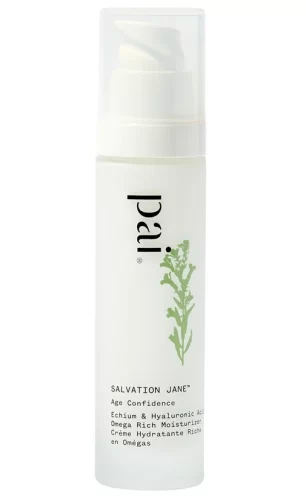 ---
Farmacy Honey Halo Ultra-Hydrating Ceramide Moisturizer
Best for: Hydration and plumpness
Price: $$
This heavy-duty natural cream contains honey, propolis, and royal jelly blend plus vitamin B5, which are all great humectants that plump the skin, plus ceramides, shea butter, and vitamin E to reinforce and soften. While most moisturizers might be too emollient, this one comes in a whipped, buttery-like texture that feels super comforting and it instantly melts into the skin. Most reviewers love the honey scent, which is absolutely natural.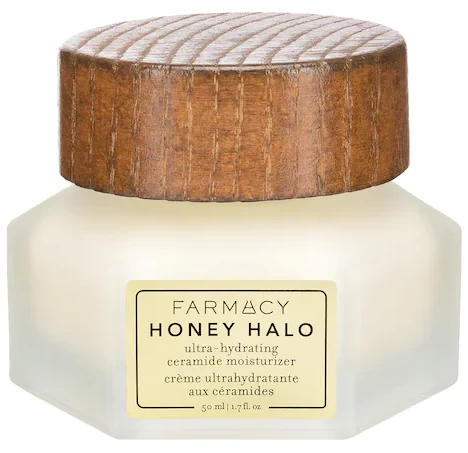 ---
Tata Harper Reparative Anti-Aging Moisturizer
Best for: Sensitive skin
Price: $$$
As the name suggests, this anti-aging moisturizer repairs the skin and replenishes lost hydration thanks to hyaluronic acid, natural butters, honey, and probiotics. Its silky and easily absorbable texture wraps the skin in a cocoon of moisture, leaving it protected against external aggressors and with a dewy, plump appearance. Long story short, the moisturizer is filled with twenty-two sources of hydration, four sources to minimize wrinkles, and six sources of vitamins and minerals.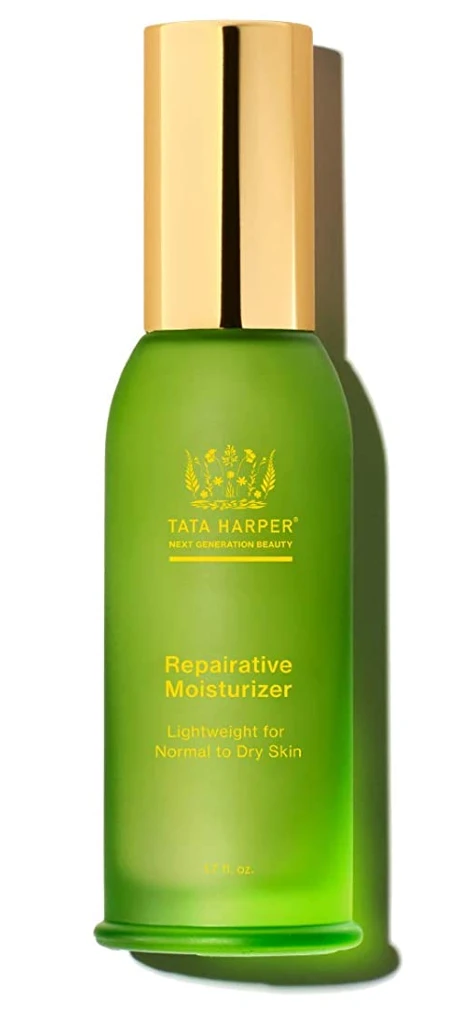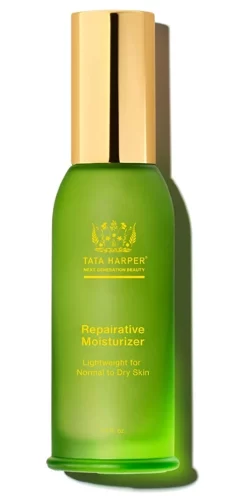 ---
LilyAna Naturals Retinol Cream
Best for: Retinol users
Price: $$
LilyAna Naturals Retinol Cream is made in a base of aloe vera juice and contains over 95% naturally-derived ingredients. The reason it's often touted as one of the best natural anti-aging creams is that it loads retinol, hyaluronic acid, Centella asiatica, vitamins B5 and E, and an amalgam of botanical extracts. This complex of anti-agers specifically targets the appearance of fine lines, loss of firmness, and blemishes, working just as great to rehydrate thirsty skin.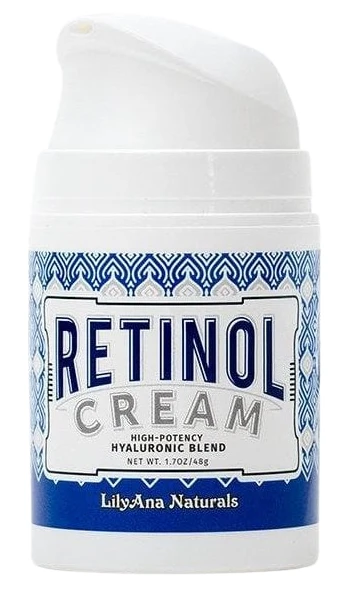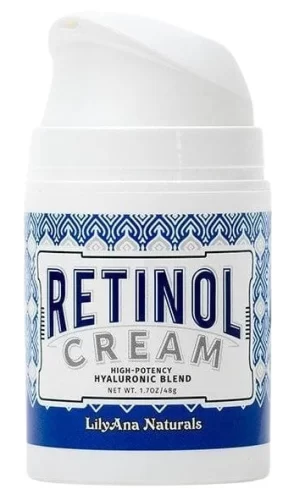 ---
Burt's Bees Renewal Firming Face Cream
Best for: Budget
Price: $
Burt's Bees comes with a solid budget-friendly option for a natural anti-aging cream promising to minimize wrinkles look as well as improve skin firmness and brightness. It does that thanks to bakuchiol, a natural alternative to retinol that works to increase cell turnover, thicken the skin, and reduce aging marks. On top of that, this cream also contains vitamin E, a powerful antioxidant that keeps skin defended plus a cocktail of natural extracts to soothe and nourish. And it's no more than $20.