The truth is that there's not much we can do about our chronological age (intrinsic aging). Yet, we can control how we age and how aging reflects on our skin (extrinsic aging). So yes, we can reverse the signs of aging, or at least make them less visible. It's not rocket science, and everyone can do it, but the results might be different from one to another — genes and lifestyle are crucial.
What you need to know to reverse your age by 20 years
First upfront, you need time, patience, and devotion. The reverse aging process involves a mix of habits, well-chosen skincare products, and of course, high-tech anti-aging devices and surgical interventions if needed.
Before digging deeper into the topic, you should be aware of a few essential facts regarding the skin and the aging process.
What happens to our skin as we age?
It's essential to know about the skin changes during the aging process. If you are aware of these, it's easier to reverse aging signs. Your skin cells and tissues are most affected when aging, followed by a decrease in collagen and hyaluronic acid levels, as well as broken elastin. By understanding this, you know that recovering the broken elastin, collagen, and hyaluronic acid should be your main priority.
How to reverse the aging process
Literally, it's not possible to reverse the aging process. But sticking to the right routine can actually help you a lot to reduce the look of wrinkles, while it makes skin more elastic and firmer. Rest assured. Soon, it'll become crystal-clear what "the right anti-aging routine" means.
Eat selectively
Surprisingly or not, your daily diet has a leading role in fighting and controlling the aging process. There's a reason for the saying you are what you eat. Frequently researched antioxidants such as carotenoids, tocopherols, flavonoids, vitamins (A, C, D, and E), essential omega-3-fatty acids, some proteins, and lactobacilli have been referred to as agents capable of promoting skin health. They can help protect skin from sun damage, stress, and pollution by reducing the inflammation in cells and preventing collagen loss. According to the specialists, the nutrition of someone who wants to control the aging signs needs to be rich in vitamins A, C, E, and B6.
What foods reverse aging?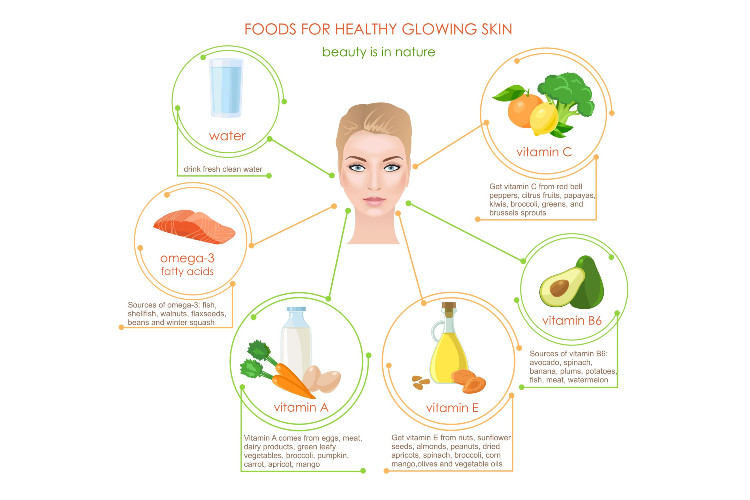 Broccoli — rich in vitamins C and K, including a variety of antioxidants
Spinach — contains vitamins A, C, E, and K / magnesium
Nuts — don't remove the skin because it will lose antioxidants
Kiwi — bags tons of vitamins C & E
Bell Peppers — rich in vitamin C, increases collagen production
Sushi, fish in general — chock full of omega fatty acids
Chocolate — has more beneficial outcomes for older people
You can find more skin-friendly foods here. And by the way, remember to drink between 6 to 8 glasses of water daily.
Protect your skin against sunlight
Actually, sunlight exposure leads to one of the most common types of aging: photoaging. Yes, that's right. The sun can dramatically accelerate the aging process, altering the normal skin structure. Fast fact: 80% of facial wrinkles are attributed to sun exposure.
To preserve your collagen in the skin, you should protect it against sunlight. UVA rays, with their longer wavelength, penetrate deep into the dermis, where they damage the collagen fibers. And when you think that 95% of the sun's ultraviolet rays are UVA, there's really no need to think twice. Another lesser-known fact about UV radiation exposure is that it can negatively affect retinoic acid receptors and retinoid X receptors. Also, it leads to a deficiency of vitamin A, which can result in cell damage.
To shield your skin against sun damage, use sunscreen with UVA and UVB protection with at least 30 SPF. We like these the most.
Use targeted skincare products
Hyaluronic acid, glycolic acid, retinol, and vitamin C are what you need from your skincare products. While hyaluronic acid hydrates and plumps your skin, glycolic acid exfoliates and vitamin C adds extra antioxidant protection, plus helps induce collagen production. Yet, retinol is the most important one. It's practically vitamin A, and as Amy Derick says "the foundation of any anti-aging bare-minimum routine." Retinol is an OTC retinoid that stimulates collagen production, accelerating skin renewal and wrinkles' reduction for smoother, evenly-toned skin.
Also, you'd want to add to your lineup peptides and ceramides, as they help give skin structure. So adding one of these peptide-infused moisturizers and ceramides creams to your beauty ritual will help you lots.
Serums are more beneficial as they usually contain more active ingredients and they shoot actives deeper into the skin due to their itty bitty molecules. Look at these retinol serums and hyaluronic acid serums, as we like them the most.
Skin tightening treatments
Last but not least, you should try skin-tightening treatments. They're probably the holy grail of any anti-aging regimen. Skin-tightening procedures work by using targeted energy to heat deeper layers of the skin. This is how collagen and elastin production is stimulated, gradually improving skin texture, elasticity, and firmness.
For instance, radiofrequency, the most common therapy used in skin tightening devices, heats the dermis to 50-75°C, eliminating wrinkles and rejuvenating the skin.
Exercise daily
Everybody knows exercising improves the overall body system's condition. It is believed that exercise tightens skin and reduces wrinkles through the collagen increase and also from muscles toning and pulling the skin tight. Also, exercise boosts blood flow in the skin, facilitating the anti-aging process, while toxins are eliminated through sweat. Besides, you most probably know the feeling after sport, when you feel stronger, more flexible, fitter, healthier, and with increased energy. If you are not really a sports person, you can just walk 30 minutes every day. That counts too.
Can exercise reverse aging?
Sport is the best friend of your body and mind. It's recommended to follow high-intensity interval training (HIIT) which has been proved to make tense improvements in mitochondrial energy production.
Take control of the stress-level, practice mindfulness
If you are not aware of that, you should. The stress can harm critical DNA in the cells. The length of DNA sections is called telomeres. People exposed to stress often have the shortest telomeres — when telomeres become too short, the cells can die or become damaged, resulting in the skin aging prematurely. Insiders agree that stress can cause wrinkles. So, breathe deep, listen to your favorite music, dance, meditate, read a book, or do anything else that helps you relieve tension.