For years chemical peels have been associated with high-end spas and expensive treatments most of us can't afford. However, with the onset of at-home peels, they aren't the unattainable luxury they once were. Now, you can use the best chemical peels for hyperpigmentation at home to get a brighter and evener skin tone.
Don't freak out. A chemical peel is simply a solution with a stronger percentage of acids that — you guessed it — chemically exfoliate the skin. By removing dead cells buildup and breaking up oil-clogged pores, hyperpigmentation fades, and clearer skin is revealed. However, no two chemical peels are the same, and while there's no right or wrong formula, what works best for you depends on your skin type and your skin tolerance.
Can chemical peels actually fade hyperpigmentation?
Yes! Chemical peels are not only known for their benefits in tackling acne, sun damage, or wrinkles but hyperpigmentation too. Simply put, when the skin produces too much melanin (the pigment that gives skin its color), it may develop spots or patches that appear darker. Chemical peels are well-known to reduce melasma by causing a controlled burn (hence, the sting feeling) within the top layers of skin that kills old, pigmented cells and allows new healthy ones to replace them.
What are the best chemical peels to treat hyperpigmentation?
The best at-home chemical peels for hyperpigmentation include AHA peels such as glycolic and lactic acids. Studies found that glycolic acid at concentrations of 30 to 50% can fade superficial scarring and hyperpigmentation. If your skin doesn't tolerate glycolic acid, you can go for a milder AHA, like lactic acid. Lactic acid, which is structurally identical to glycolic acid, has a lower pH than glycolic acid, thus it can work at lower concentrations, making it more suitable for sensitive skin. Also, its molecule is larger, making it work on top of the skin.
You should also look for products containing ingredients that regulate melanin production in skin cells, such as tyrosinase inhibitors (think vitamin C, kojic acid, licorice extract) and antioxidants to prevent further dark spots.
Without further ado, here are the best at-home chemical peels for hyperpigmentation.
---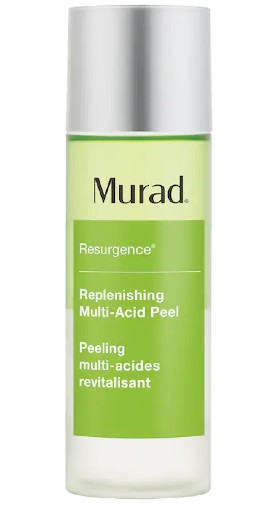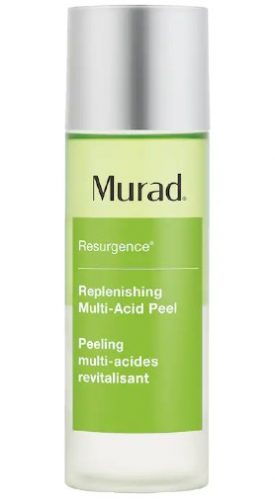 Murad Replenishing Multi-Acid Peel
Murad Replenishing Multi-Acid Peel is a cult favorite and derms-praised that'll help get back your flawless skin in no time. Besides including AHAs, it has added BHA to help unclog pores, and TXA, which aids in brightening dark spots and reviving dull skin. The peel packs glycolic acid, lactic acid, salicylic acid, and malic acid, so you may think it's harsh. But it's exactly the opposite, as the formula replenishes moisture with hyaluronic acid, glycerin, amino acids, urea, and botanical oils.
---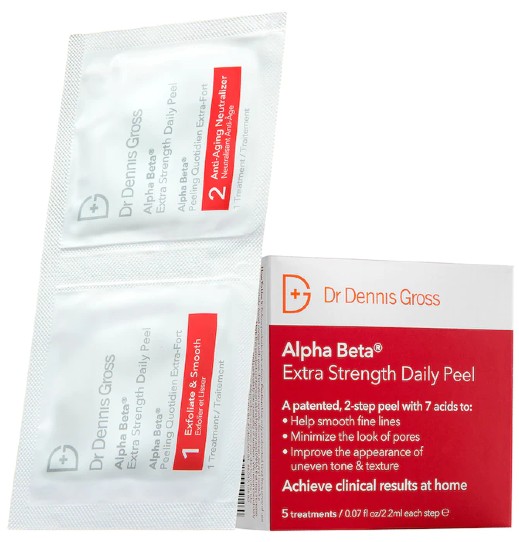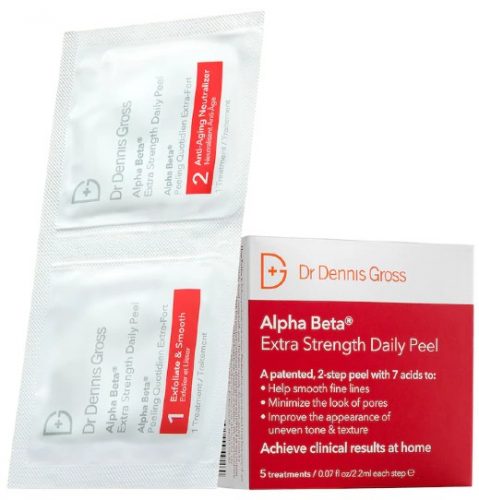 Dennis Gross Extra Strength Daily Peel
Dennis Gross Extra Strength Daily Peel is formulated with glycolic and lactic acids to gently exfoliate pigmented cells, vitamin C to lighten discolorations, and retinol to penetrate deeply and encourage cell turnover. The best part about it? The peel delivers its active ingredients in different steps to maximize the benefits of each, being one of the best chemical peels for hyperpigmentation out there. The skin is first penetrated with AHAs, followed by retinol to initiate exfoliation. For the grand finale, vitamin C is released to renew cells, reversing hyperpigmentation and fighting signs of aging.
---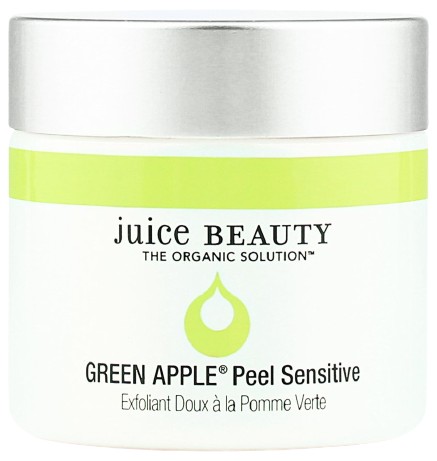 Juice Beauty Green Apple Face Peel Exfoliating Mask
Juice Beauty's exfoliating mask makes one of the best clean chemical peels for hyperpigmentation and uneven tone because it contains an amalgam of natural brighteners. These include malic acid from green apples, citric acid from lemons, tartaric acid from grapes, and vitamin C. There's also vitamin E and aloe to soothe and calm rough, irritated skin, while the organic base of botanical juices makes the peel even more delicate.
---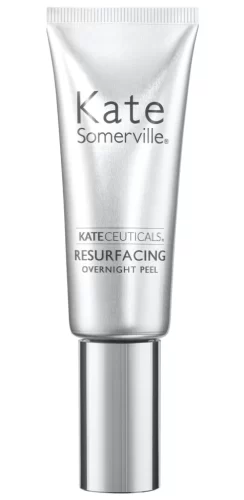 Kate Somerville Kateceuticals Resurfacing Overnight Peel
Combining the exfoliating power of glycolic acid and retinol with the melanin-suppressing abilities of licorice extract and glabridin, the peel promises to lighten even the deepest dark spots. Kate Somerville Kateceuticals Resurfacing Peel works the night shift to brighten the skin and smooth rough patches so that you wake up to a glowing, dewy complexion. The addition of glycerin, ceramide, and niacinamide revitalizes even more, making your skin look and feel brand new.
---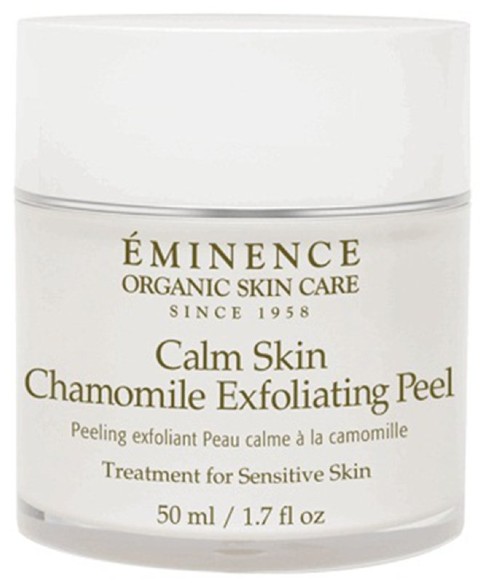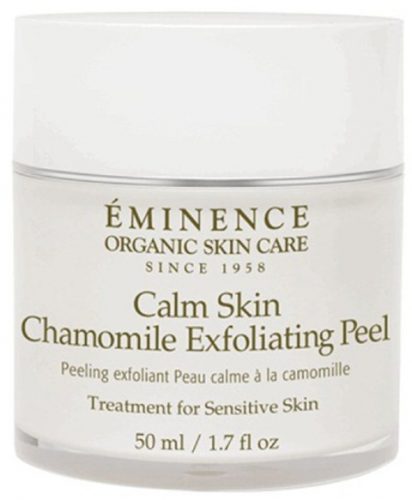 Eminence Calm Skin Chamomile Exfoliating Peel
Chemical peels can be intimidating, especially for sensitive skin, but you have nothing to fear with Eminence Calm Skin Chamomile Exfoliating Peel. It not only soothes irritation but also helps fade hyperpigmentation and enhance skin tone, thanks to lactic and mandelic acids. Chamomile and calendula refresh, soothe, and moisturize the skin, while Arnica flower extract reduces the chances of inflammation that can further cause hyperpigmentation. It's ideal for those with sensitive and dry complexions who want to help their skin adjust to chemical peels. It can be used two to three times a week before moving onto something stronger.
---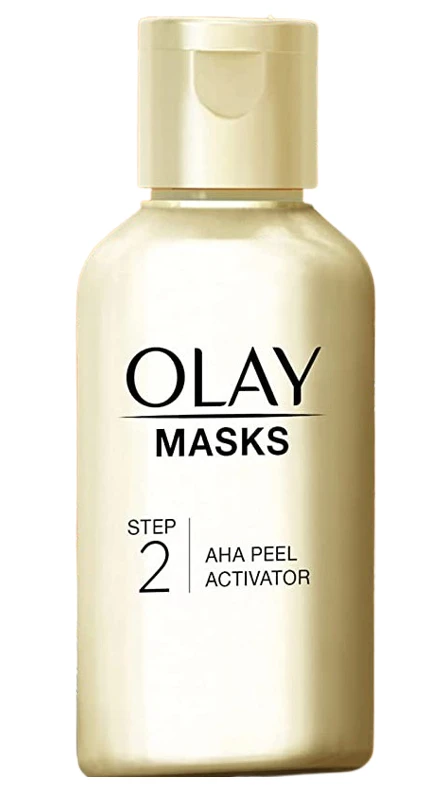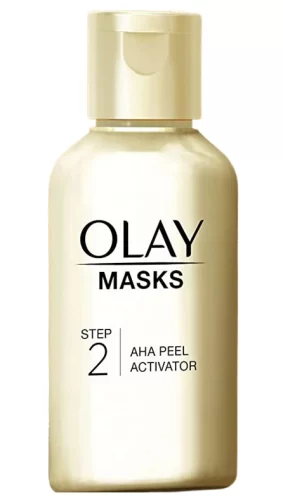 Olay Resurfacing Peel Vitamin C + AHA
Here's another two-step chemical peel that offers a spa-like experience. The first step comes in the form of a resurfacing mask that uses the most powerful brightening agent, aka vitamin C, to even out the skin tone. In contrast, the second step is powered by lactic acid to exfoliate and renew the texture, revealing the glowing complexion of your dreams.
---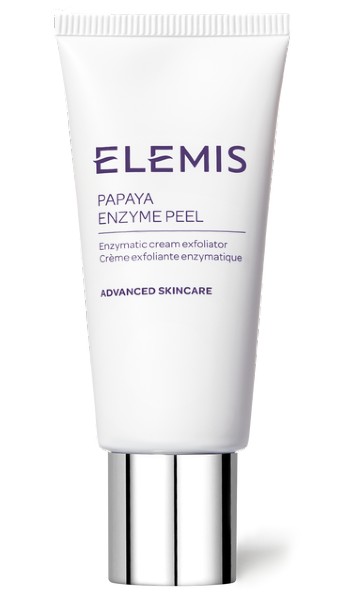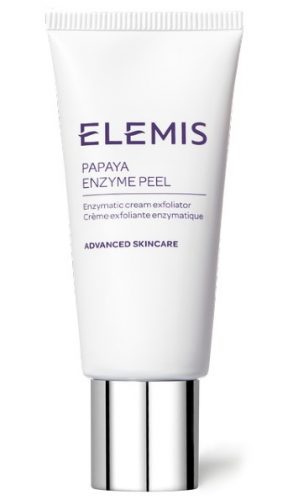 Elemis Papaya Enzyme Peel Enzymatic Cream Exfoliator
Twice weekly, apply this peel on your skin for 15 minutes to get it exfoliated and purified in a spa-like experience. With the help of a cocktail of natural papaya and pineapple enzymes, the peel exfoliates and regenerates the skin while niacinamide, bladderwrack, algae, and sunflower extracts plump and smooth it. With each use, it makes hyperpigmentation fade away for skin that's radiant and soft. Plus, since it has a non-abrasive cream formula, it's your go-to if your complexion is on the sensitive side.
---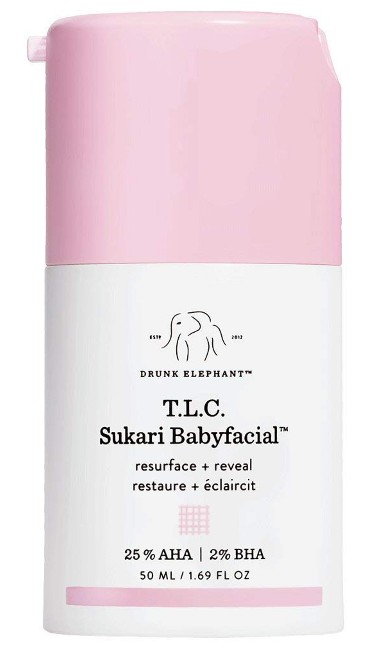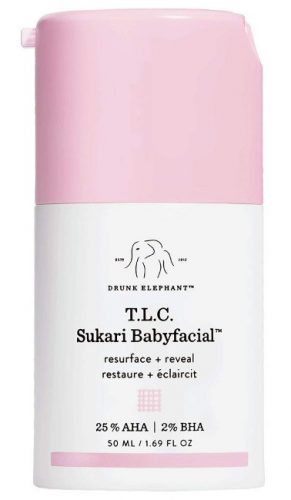 Drunk Elephant T.L.C. Sukari Babyfacial AHA + BHA Mask
The name says it all — use it for 20 minutes once a week and turn back time to reveal baby-soft skin. Drunk Elephant's products are known for their powerful formulas, and the Babyfacial AHA + BHA Mask is no exception. It's made up of a 25% combination of glycolic, tartaric, lactic acids, and, on top of that, it has 2% salicylic acid, great at unclogging pores. That's not it – exfoliating ferments from pumpkin and pomegranate add an extra touch of antioxidant benefits. It's by far one of the best chemical peels for hyperpigmentation all skin types can use.
---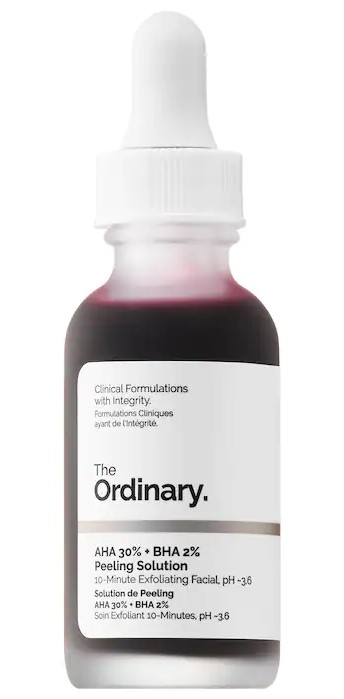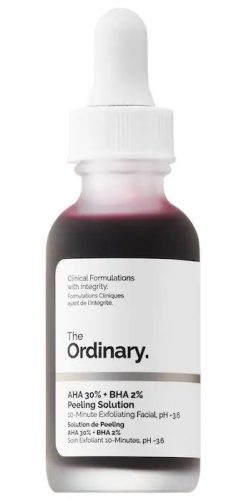 The Ordinary AHA 30% + BHA 2% Peeling Solution
For those who aren't ready to dish out the money for Drunk Elephant's Babyfacial, then The Ordinary AHA + BHA Peeling Solution comes in a close second at just under $10. If you haven't heard of The Ordinary already, you're missing out. Their products aren't just known for being effective but cost-friendly. At a slightly higher percentage than the Babyfacial, it has a strong blend of 30% glycolic and lactic acid and 2% salicylic acid to fight just about every skin problem. Dullness, fine lines, acne spots, and uneven texture will start to fade after using this chemical peel twice a week for 10 minutes.
---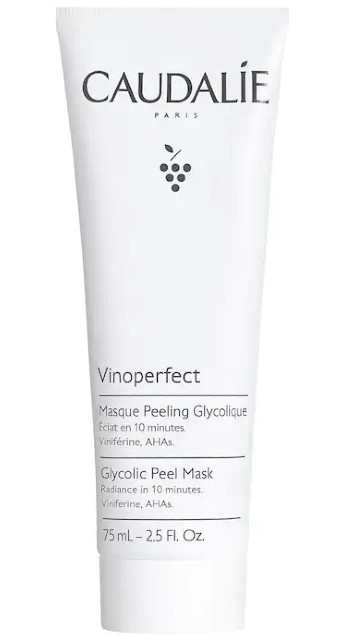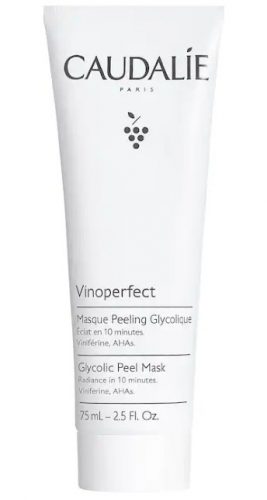 Caudalie Vinoperfect Brightening Glycolic Peel Mask
Caudalie Vinoperfect Brightening Glycolic Peel Mask is a must-try for those who don't want to jump into anything too strong. Their brightening peel targets dark spots and sun damage while hydrating the skin while you're sleeping. With a texture reminiscent of a cream rather than a peel, it's gentle enough to be used nightly. Its star ingredient is Viniferine, an extract derived from vine sap that's just as effective as vitamin C at reducing hyperpigmentation. Papaya extract and glycolic acid give this fan-favorite its reputation for being soothing while softly exfoliating the skin. Briefly, it has all it takes to be one of the best at-home chemical peels for hyperpigmentation.
---
What else
How do I prepare my skin before a chemical peel?

Prepping your skin for a chemical peel is nothing more than having your skin cleansed and dry when you do the peel. Each product comes with its own instructions in terms of how long you can keep it on the skin; some may even act all night or all day long. What you apply on the skin a week prior to the chemical peel it's tremendously important. Stay away from retinol, vitamin C, AHAs, or BHAs two days before the peeling, even more if you know your skin is sensitive. 

What to do after the chemical peel?

Equally important is what products you use after a chemical peel. You'd definitely want to apply soothing, moisturizing ingredients, like hyaluronic acid, ceramide, and peptide. It will also help if you use a calming or repairing sheet mask the next day to help your skin regenerate faster. At the same time, dodge laser devices, scrubs, waxing, or other skincare products with a high concentration of acids for the next two days. And (not like you don't know it already) use sunscreen!