While you nailed it with your brightening face mask, dark spot corrector, and cream, today's focus is on the best face washes for hyperpigmentation. Even if cleansers are not leave-on products and have short contact with the skin, they still possess benefits that can brighten uneven tone and clear pigmented spots a little more every time. They achieve this by either exfoliating or attacking the skin-darkening pigment through ingredients like vitamin C and licorice root.
However, you shouldn't expect overnight results from a cleanser. Hyperpigmentation is a condition that happens at a cellular level, and cleansers can't do as much as they are wash-off products that don't have enough time to penetrate the skin. To give your complexion the best chance to achieve a luminous tone, use a hyperpigmentation-targeting cleanser to complement your main treatment.
Ingredients to look for in cleansers for hyperpigmentation
Ingredients like vitamin C, licorice root extract, and niacinamide are key players in hyperpigmentation cleansers. These ingredients work soon after the application to promote a more radiant complexion.
Cleansers that stimulate skin renewal are also particularly beneficial for addressing hyperpigmentation, as they help accelerate the natural shedding of darkened cells. So keep an eye out for alpha-hydroxy acids (AHAs) and beta-hydroxy acids like glycolic acid and salicylic acid.
The best cleansers for hyperpigmentation
To help you in your search, we've whittled down the most effective face washes for hyperpigmentation. They're filled with ingredients that target dark spots and hyperpigmented skin, all while providing a gentle and thorough cleanse to leave your face squeaky clean and soft.
Elemis Dynamic Resurfacing Facial Wash
Elemis created a versatile cleanser that uses gentle exfoliating fruit enzymes to break down pollutants and remove dull skin with ease. And it does it without stripping away essential moisture, thanks to the addition of skin-balancing mushroom and fatty acids-rich babassu oil. This makes it a top choice for everyone, particularly for dry and mature complexions.
With so much to love, there is one con: It's not effective at washing off makeup. So for times when you wear foundation, we suggest using a dedicated makeup remover before cleansing with Elemis Resurfacing Facial Wash.
Price: $38 / $84
Size: 200ml / 400ml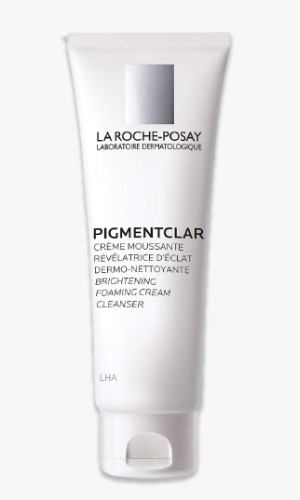 La Roche-Posay Pigmentclar Cleanser
La Roche-Posay Pigmentclar Cleanser is specifically formulated to clear pigmented spots and deliver a thorough cleanse, makeup removal, and pore unclogging with the help of lipohydroxy acid (a salicylic acid derivative). The first thing you'll notice when using this cleanser is its luxurious cream texture that transforms into a rich foam upon contact with wet skin.
Moreover, this dermatologist-recommended cleanser for hyperpigmentation is suitable for all skin types (particularly for oily and combination) and gentle enough for daily use.
Price: $26.99
Size: 4.2 oz / 125ml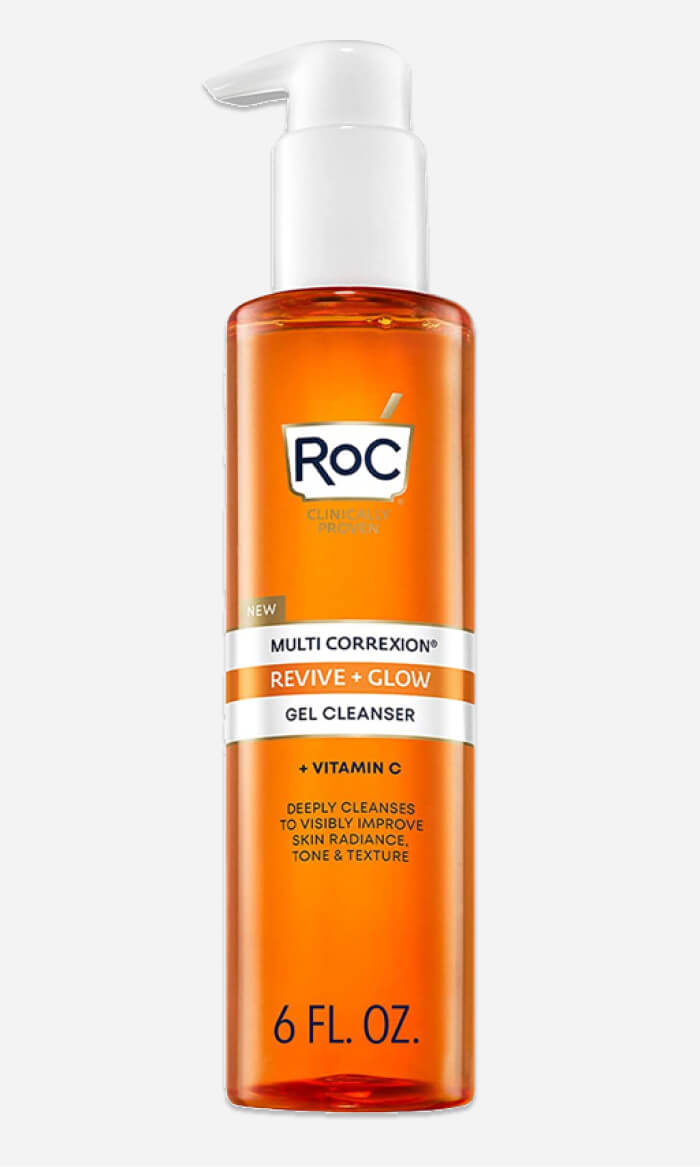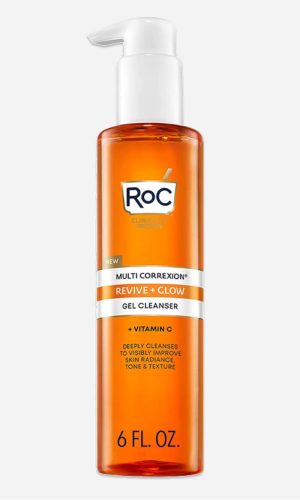 RoC Multi Correxion Gel Facial Cleanser
There's little need to spend a hefty sum on a cleanser that washes away in a flash anyway. With a potent 10% vitamin C formulation, this affordable cleanser is designed to target and diminish pigmentation and does it quite well. As you cleanse, exfoliating glycolic acid lifts skin-dulling impurities, unveiling a smoother canvas that sets the stage for your serum to penetrate your skin. Despite the potent formula, this cleanser is as gentle as you can use it twice daily, and the fact that it is made sans harsh sulfates makes it even better. Nevertheless, it's worth mentioning that people with dry skin had mixed opinions about this cleanser, with some noting that it left their skin feeling dry after rinsing.
Price: $11.99
Size: 6 oz / 177ml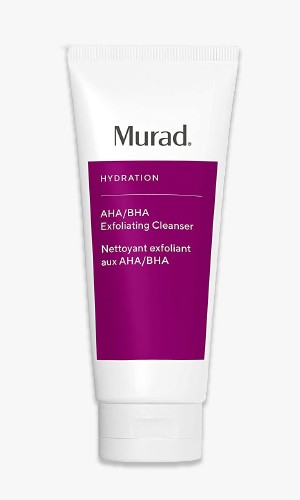 Murad AHA/BHA Exfoliating Cleanser
Murad Exfoliating Cleanser gives you an even-toned complexion with a complex of physical and chemical exfoliants. More precisely, jojoba polishing beads and a mix of AHAs and BHAs work to slough off dull, old cells and reveal the bright, radiant skin beneath. Aside from correcting hyperpigmentation, the cleanser is super effective in smoothing skin texture and creating a perfect canvas for the rest of your skincare routine. In other words, what you apply after your cleansing routine will work better, including your favorite vitamin C serum. Massage the gel into your face, and it'll turn into a foaming lather that removes everything from waterproof makeup and sunscreen.
Price: $60
Size: 6.75 oz / 200ml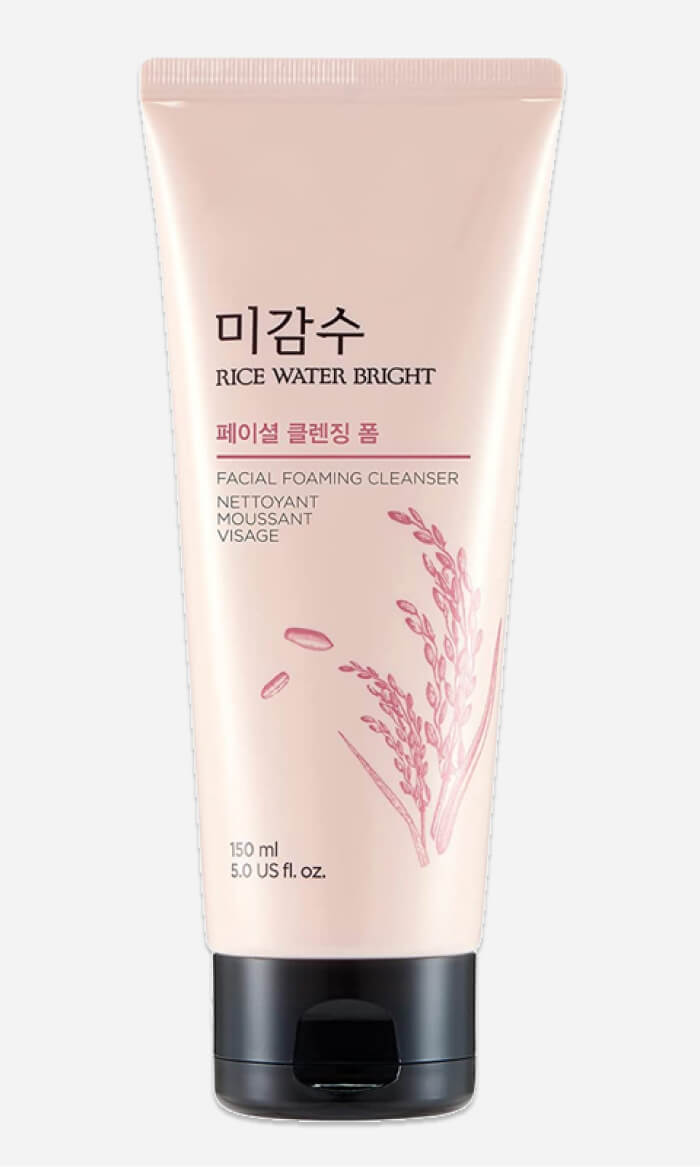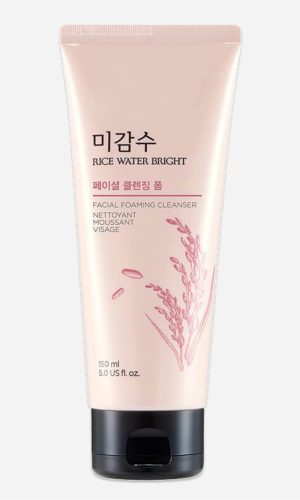 The Face Shop Rice Water Bright Cleanser
This is the most popular cleanser on the list and an Amazon best-seller. It has captured the hearts (and glowing complexions) of thousands of fans worldwide, and it's not hard to see why. It ticks all the boxes for effective cleansing and intense brightening. For starters, it's made with two sources of rice water, which contains enzymes that brighten the skin and minerals that strengthen it. The formula is gentle and non-irritating and removes oil, makeup, and toxins without stripping moisture. While this cleanser is ideal for sensitive skin that can't tolerate harsh exfoliants, it works really well on every type of skin, including acne-prone and oily.
Price: $12
Size: 5 oz / 150ml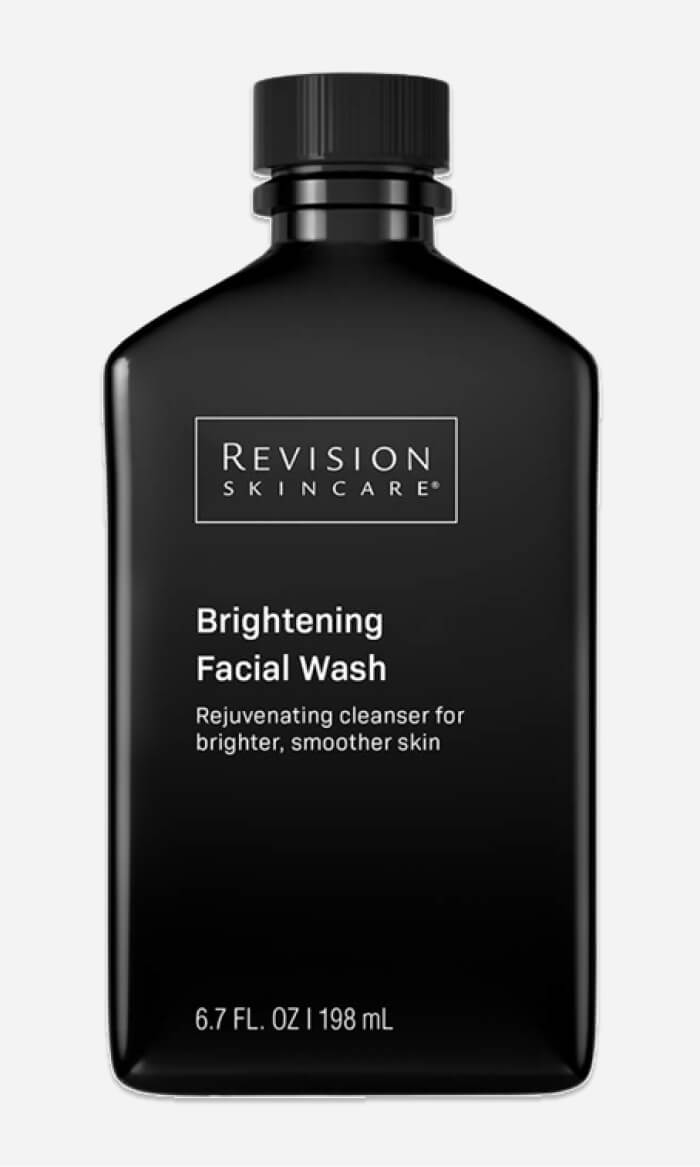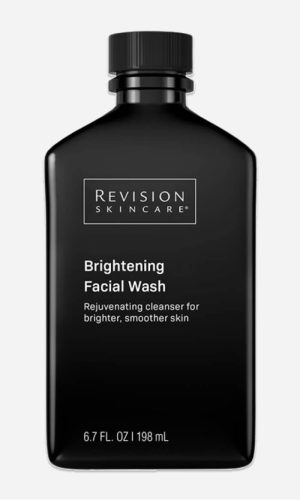 Revision Brightening Facial Wash
Glycolic and salicylic acids join forces in this face wash to accelerate cell renewal. This will indeed leave you with more radiant skin, but the product's goodness doesn't stop here. It also blends vitamin C and licorice root—two superstar ingredients known for their ability to fade dark spots and enhance skin brightness. If you have oily, combination, or normal skin, this will be a great pick. However, those with dry or sensitive skin should consider other gentler alternatives.
Price: $12
Size: 5 oz / 150ml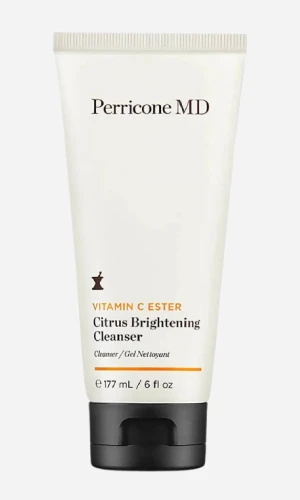 Perricone MD Vitamin C Citrus Brightening Cleanser
This brightening face wash is formulated with ascorbyl palmitate, a less irritating form of vitamin C that gently improves skin discoloration. The formula also offers a soothing cleanse thanks to zinc and copper, both with anti-inflammatory properties. Rub the product between your palms and watch it transform from a jelly texture to a rich foam. Massage it into dry skin, then rinse.
Price: $35
Size: 6 oz / 177ml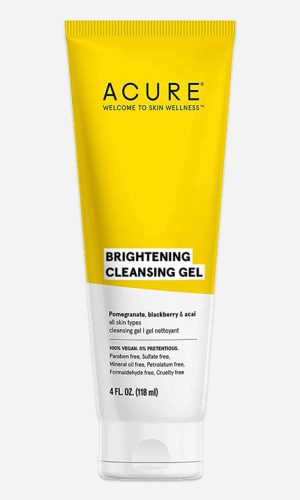 Acure Brightening Cleansing Gel
This cleansing gel relies on natural extracts to purify the skin and impart a healthy glow—more than 5,000 Amazon shoppers attest to it. A couple of protective antioxidants are in the mix with brightening properties, and the refreshing essence of orange and lemon oils revitalizes your complexion a little more with each use. Don't worry. The product is effective at cleansing too. And the best part is that it doesn't use harsh sulfates but natural surfactants that gently remove dirt and impurities from the skin.
Price: $10.99
Size: 4 oz / 118ml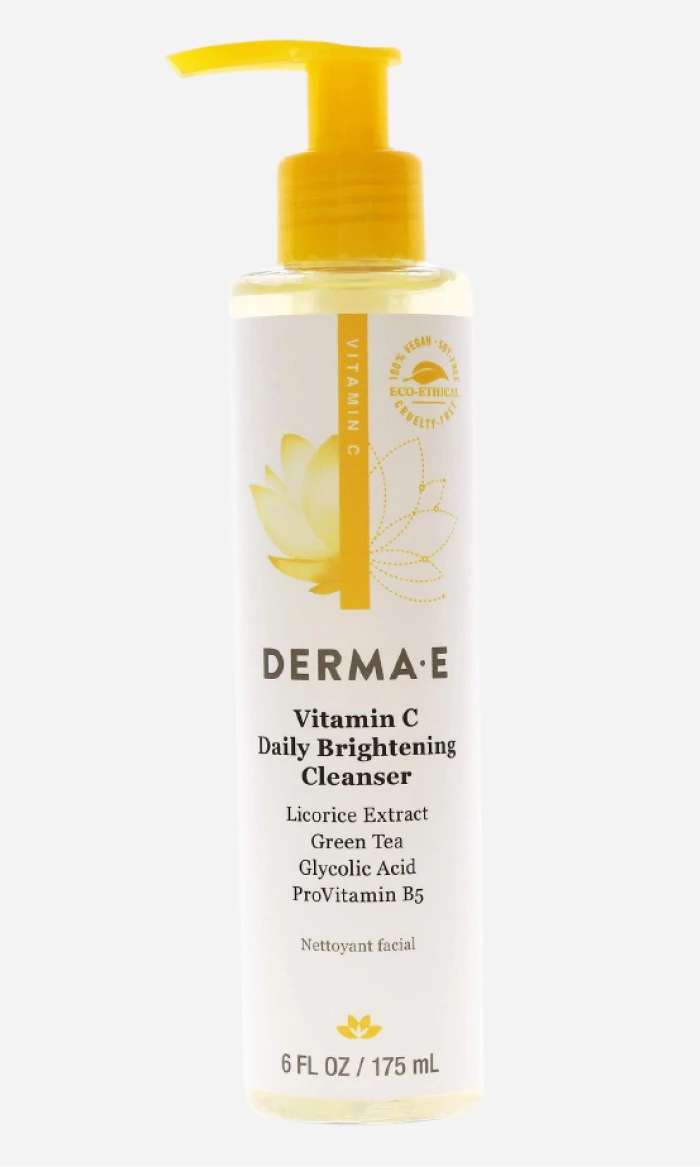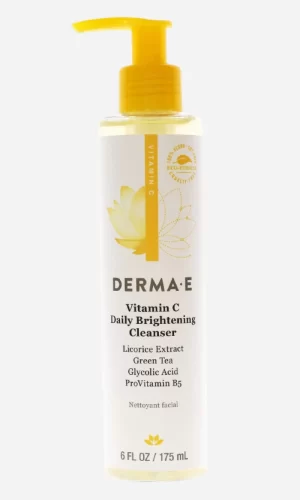 Derma E Daily Brightening Cleanser
This sulfate-free cleanser not only boosts skin clarity but it's super gentle and balances the skin's pH to reduce sensitivities. The all-natural cleanser is packed with a brightening trio—niacinamide, vitamin C, and licorice root—to combat hyperpigmentation, plus glycolic acid to fix textural irregularities. All while a complex of moisturizing ingredients restores hydration to the skin.
Price: $16.95
Size: 6 oz / 175ml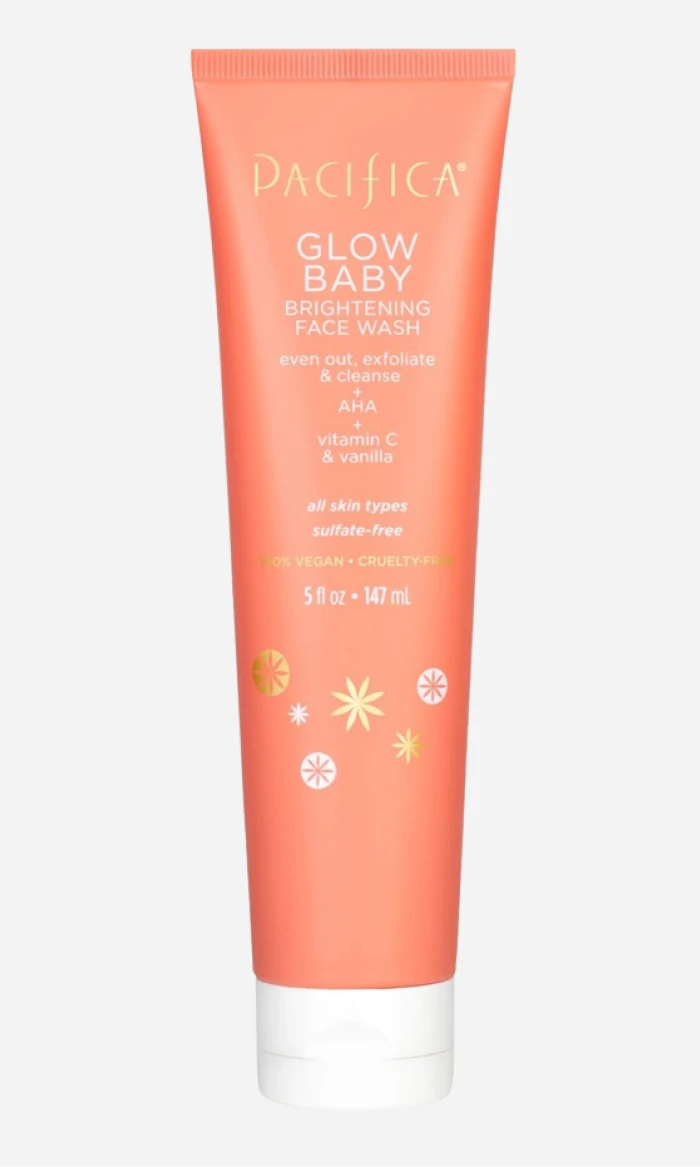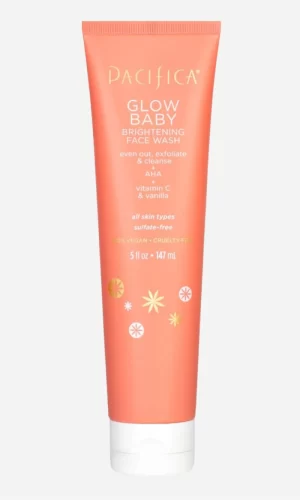 Pacifica Beauty Glow Baby Face Cleanser
Filled to the brim with ingredients that aim to reveal luminous skin, this is the perfect budget-friendly cleanser to target hyperpigmentation and uneven skin tone. For just $10, you get all those juicy skin-renewing benefits from glycolic and malic acids and the glow from vitamin C. The fact that it's made with mild sulfates and contains soothing allantoin means everyone can use it.
Price: $10
Size: 5 oz / 147ml